There is a variety of mala beads for customers in the market. No matter who you are, from a monk to a human, all of you can wear these mala beads. Mala is a precious material for making any kind of accessories: bracelet, 108 beads,…. Or you can even use this whole piece of wood to make decorations. It is also used in yoga and meditation. But they are no more than just trendy necklaces or bracelets. They have a deep connection to mental grounding and opening your mind to spirituality. Not only is mala beads an accessory, but also it is meant to connect to your deeper inner self. This one is a staff that helps you manage your emotions and attention span. What is a mala beads?  By this content, we will supply for you the information of them that help you  you know about it clearly.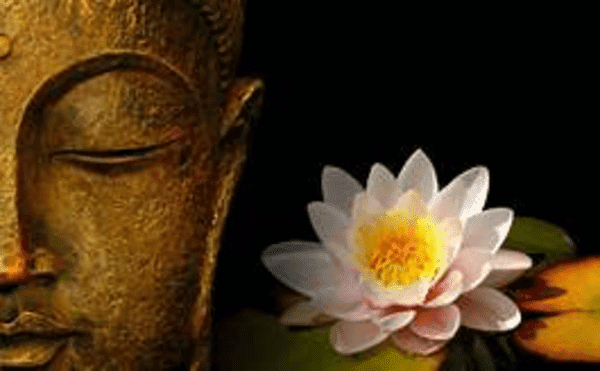 1. What is a mala bead?
1.1 The origin of them
In ancient times, mala meant garland. During the meditation, Hindus and yogis used string of beads to count mantra recitations or Japa for thousands of years. There are ancients and symbolic tools that were developed to keep your mind clear and more focus. The number 108 and tassel at the end of the bracelet also has a special meaning. 
Today, people asked what is this? Mala beads have their origin from India 3000 years ago. They are rooted in Buddhism and Hinduism. This helps you focus on your mind during meditation and yoga.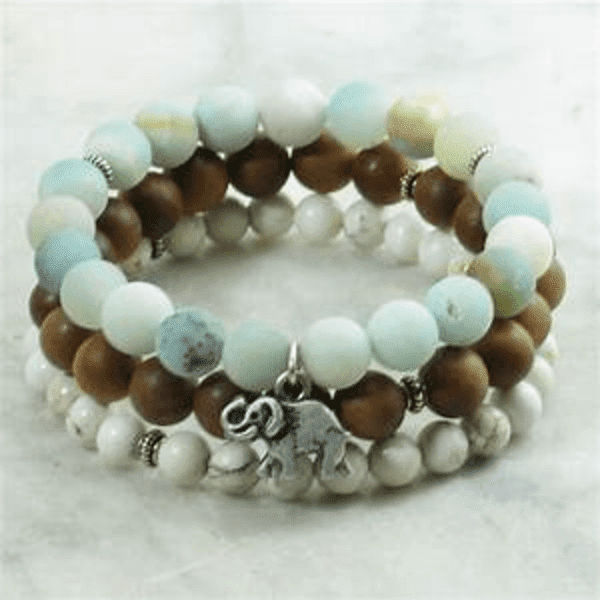 1.2 What are malas made from?
The knot:
A mala is typically strung with cotton or silk thread for strength and support. The knot is a simple Divine link between all beings, reminding us that all the aspects of life have a strong connection with the universal of life. 
The guru bead
The string 108 beads connects the counting beads to the tassel. People believed that mala wood represent a state of consciousness, which is the central goal of meditation practice. Beside, your perception in spirituality is enhanced more and more everyday. The Guru beads have the connection between the Gurus, which is good for teacher, form the student has received their recited mantra and mentorship. The monk also used the guru beads so much. Especially in meditation and reading mantras effectively. This could be really effective to attract whatever you want. Reciting you praying with guru beads helps you achieve your goals faster. Moreover, The Guru bead signifies gratitude and our connection to the Divine.
The Tassel
It also represents lotus in Buddhism. The tassel is a bracelet. Moreover, the monk usually really understands the mantras before this one.  Moreover, the tassels represent the blossom flower. Not only are the tassels meaningful and beautiful, they also have a secondary purpose of diffusing your essential oils. Due to this action, people who wear or have these bracelets. They can have the strong belief in spirituality and life. Besides, your target and desire will come true as soon as possible. This means that you do not need to do anything and finally receive the result. Besides, the tassel is the cluster of strings. In addition, the tassel also symbolises the thousand petals of Sahasrara, the Crown Chakra, transcending the energy created from meditation.
2. The origin of mala beads:
2.1 Mala beads and spirituality:
What is a mala beads? This question is one that many people wonder what it is. Mala beads necklace are usually finished with tassels, often made of silk or cotton. The tassel is a symbol of connection to spirit or your truth in spirituality. Diffusing favourite essential oil on the tassel brings for you a lot of Peace and Calm. Mala beads necklace help release anxiety and stress. Wearing mala beads during meditations can help you have more concentration on your work.  Moreover, it also helps decrease dramatically overactive mind. You should have one to eliminate these bad energies. This mean that  you are a sensitive person who easily absorbs the negative energy of other people
 The 108 mala beads also bring to you a strong belief in spirituality. Due to this strength, you will have much more strength to overcome storms and difficulties in your life. 
2.2 Profits of mala beads for your health
Reduce stressfulness: 
Wearing the mala beads usually is a good way to release stress and depression. You feel comfortable during touch. The feeling of smooth and silky. Meditation and yoga help you reduce pain which is a main cause of psychological problems. 
Physical health benefits:
When you meditate or yoga with mala beads can also help your physical health by reducing cholesterol. blood pressure and even heart rate. Your mind is reborn and refreshed after a hard working day. By this way, mindful meditation improves blood flow to your brain. From there, your study and working is more effective. 
Less need for medication:
Wearing mala as a precious medication. This bracelet always reminds you that you need to do exercise everyday. From that, your health also improved. Besides, focus and memory after doing exercise that will help you increase hormones which is good for the body:
 endorphin: the pain-masking chemical

dopamine: the goal achieving chemical

Serotonin:  the leadership chemical

Oxytocin:  the chemical of love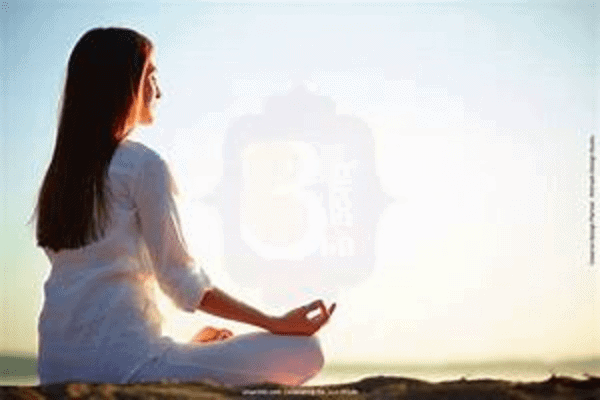 Cognitive benefits:
The perception of spirituality in Buddha, Catholic, Hinduism, or many different religions when you wear these mala beads. What is mala beads? This is one of the uses of mala beads. Starting mindfulness early with mala beads can have lasting extremely impacts on your life. The beginners can start with mala beads as tools to start practicing meditation. This is really good for you. Not only your mind, but also for your body health. 
Mala beads are really a great supplement to your journey to a higher self. The combination of mala beads and Feng Shui stone is a couple of perfection. The tarot reader which is usually used during tarot. 
3. How many beads in a mala ?
There are about four types of mala beads which are made into 108 guru beads: 27, 54  or any multiple of 9. Nine is a number that has a special meaning in Yoga. Let us tell you about the origin of number 108.
In Buddhism, 108 represents the number of desires of mankind that people have to overcome to achieve Nirvana. So people usually use 108 in any items which are related to Buddhism or attrition. The meditation tool is made from mala beads. The monk and human usually used 108 mala beads to pray and repent of the mistakes they have made
More than that, 1 stands for God, 0 is a symbol of emptiness and humility in spirituality, 8 stands for infinity and timelessness. The combination of these three numbers help your desire and your dream come true in real life. 
By this purpose, the Buddhist or none can read the mantras 108 times and stay on track. Moreover, there are 108 beads because it is hard to count and stay on track, there are 8 extra beads to allow for any mantras that may have been missed.
4. How to choose the right mala ?
There are a lot of features and criteria to choose a good mala beads. You need to base on the material, using that you want, purpose,… This is really important, because each of the products of this one is not cheap. The natural mala beads from nature are really precious and expensive. So, you need to have knowledge and information about it to have the best choice for you. 
Next criteria is the number of beads. Due to your purpose of using, you can choose the type: 27, 54 or even 108 beads. This is up to you. The monk are usually use the number 108. Because they use it in praying and repent everyday in Temper.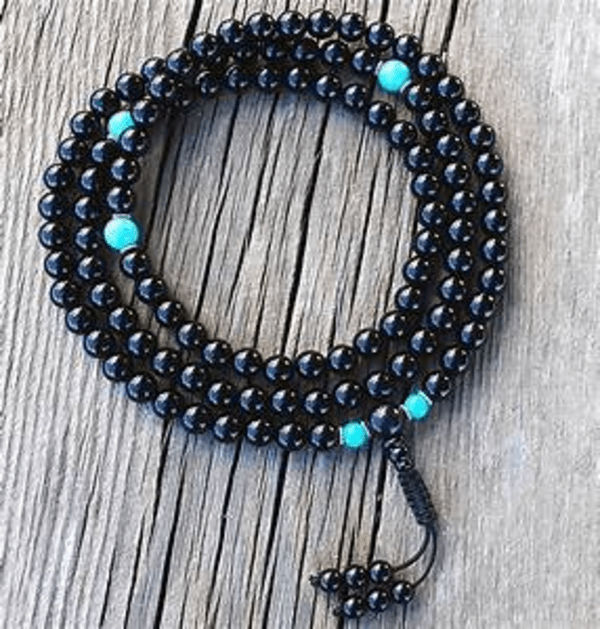 How to make this bracelet
When we begin making your own mala beads, it is critical to select the list of materials below. So, before you start making DIY bracelet, make sure you have the necessary materials on hand:
Materials that you need to have:
108 beads in 6 mm or 8 mm size

1 guru bead (A guru bead can be a large bead and smaller, charm that followed your preferences: Buddha Charm, stainless steel charm,….)

5 feet of 1 mm waxed cotton, hemp cord or transparent string. 

1 tassel (Be creative with your tassel; it can be made of a variety of different materials including silk, cotton or even leather). If you do not like it, you can not add in your beads. Be flexible! 

Scissors (Nail polish or glue to coat the ends of the string)

Lighter to permanent the string. 
You can see more detail at How to make you own mala bracelet
5. Top 5 hottest models of mala beads?
5.1 Agarmoon 108 mala beads- classic
This bracelet brings luck and happiness during you wear it. You can wrap into many layers on you wrist. The speciality of this one is a red Feng Shui stone combined with classic Agarmoon.
You can check out the product in below: Agarmoon 108 beads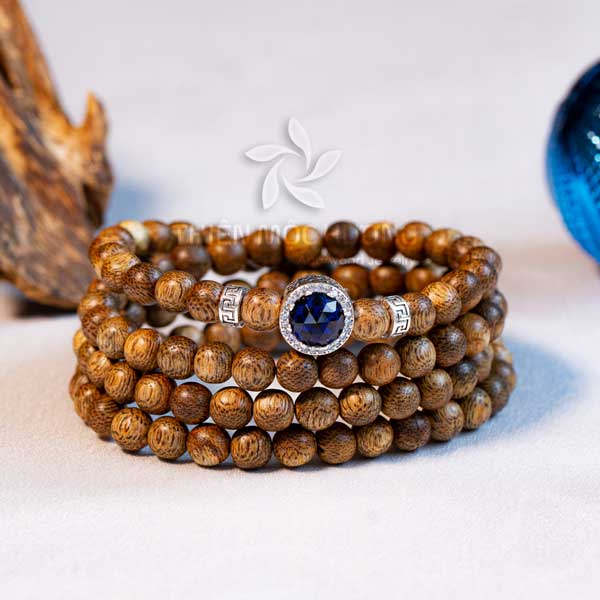 5.2 Gem 108 beads of mala with birthstone:
This bracelet can eliminate negative thoughts and bad energy. From that, your mind can be calm and pure. Dispelling bad feeling after hard-working days.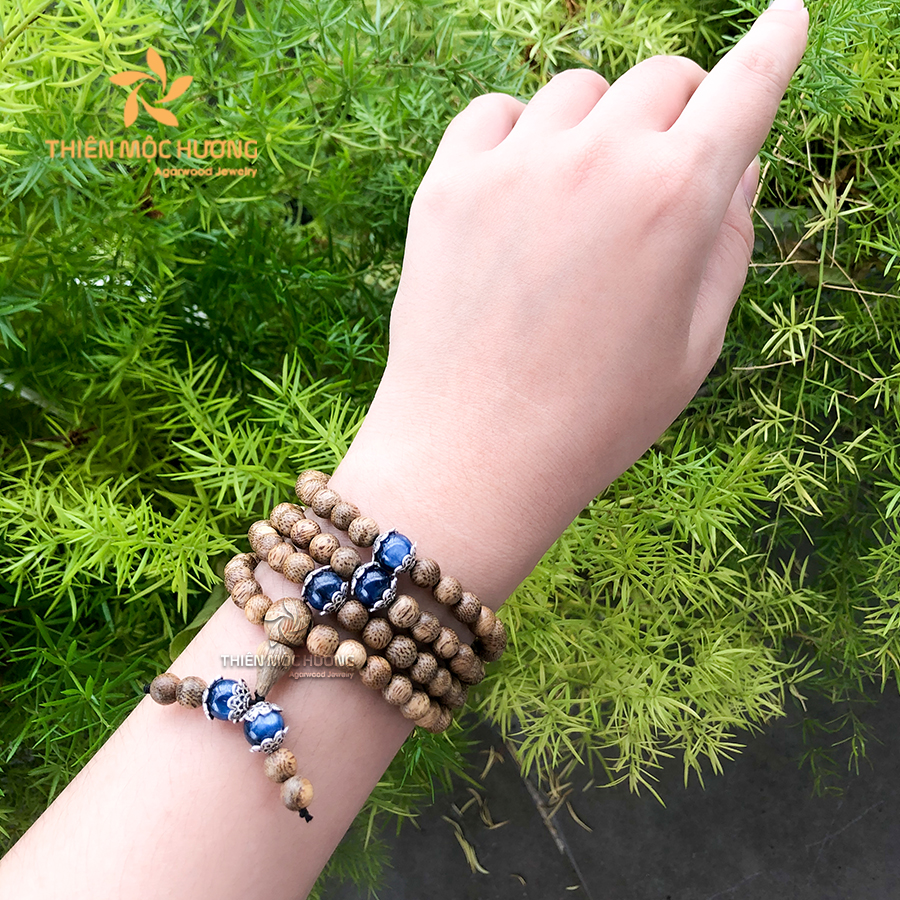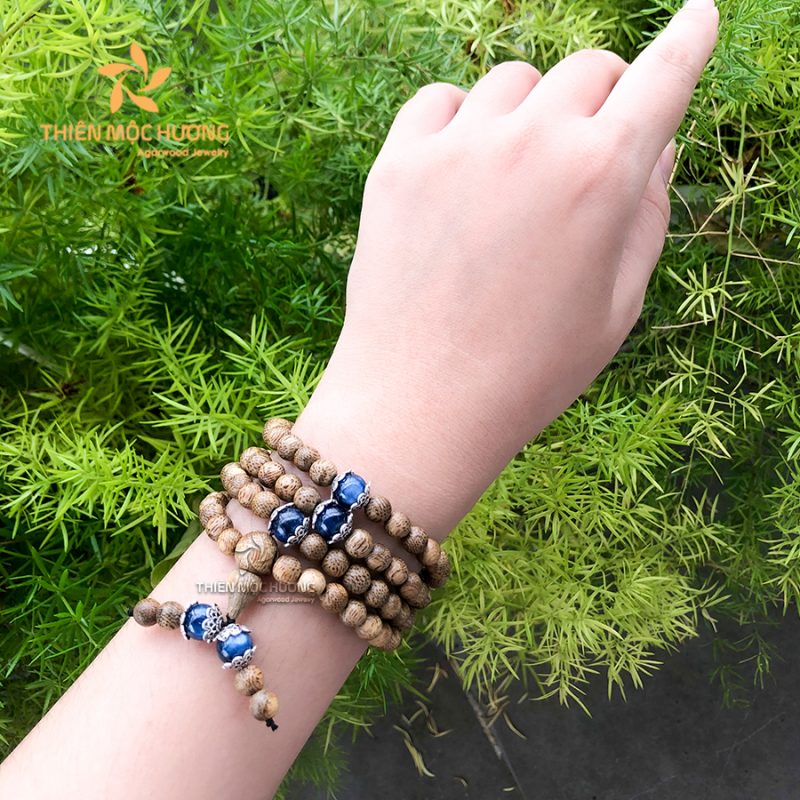 If you are interested in this product, you can refer it at: Gem 108 beads of mala with birthstone:
5.3 108- bead starlight mala beads bracelet:
Agarwise Blissful can wash the evil and negative thought away your mind. This bracelet eliminate sorrow, sooths your sooth. Due to that, your mind had a good vibe.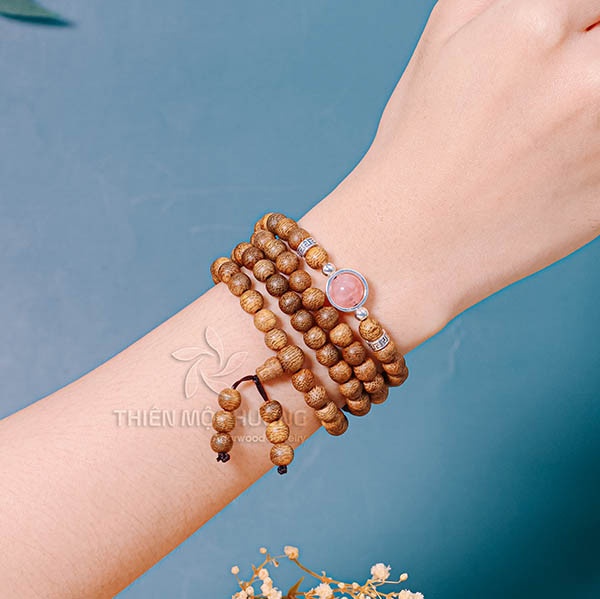 Here is the information of product:  108- bead starlight mala beads bracelet:
5.4 Maitreya agarwood beaded bracelet with silver s925 classic:
This one with the stainless steel charm is a point of the beads. This is a good choice for whom like the simple and minimalism. The design of this bracelet make you feel comfortable during wear it on your wrist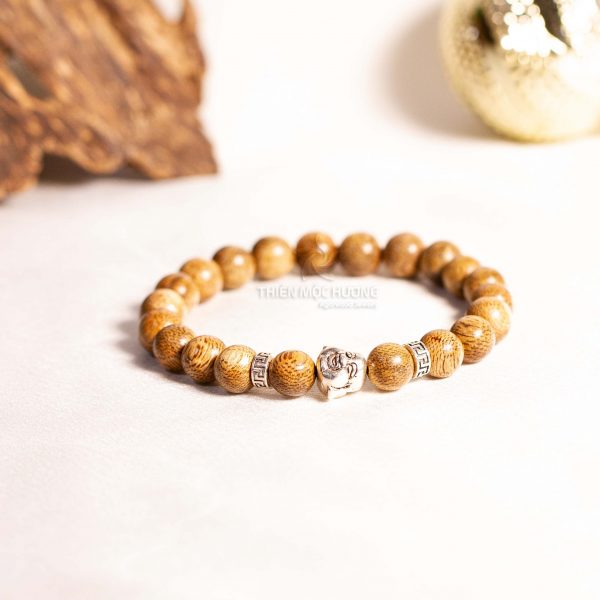 You can check out and buy this bracelet here: Maitrenya agarwood beaded silver s925 classic:
5.5 Guardian Buddha agarwood beaded bracelet:
The Buddha charm help you eliminate evil, ghost as well as the negative out of your mind.
All of the materials to make this bracelet is agarwood. Wearing it can make your skin look brighter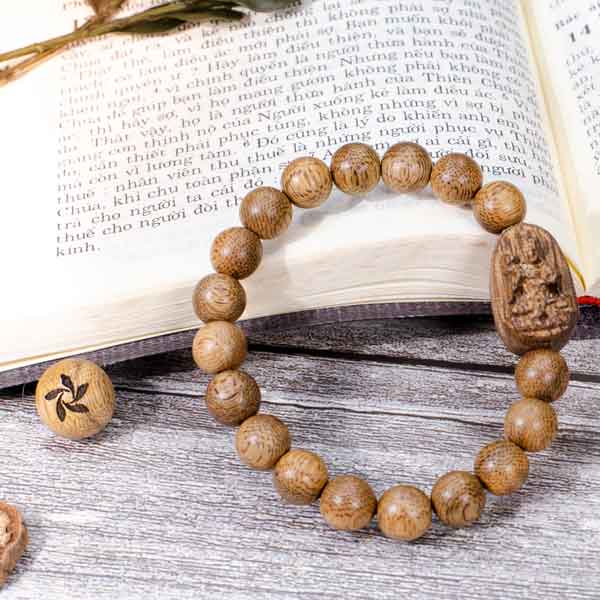 For more detail about the product, you can check out at: Guardian Buddha agarwood beaded bracelet
Address of our store:
To see and buy the product of Thien Moc Huong store, you can contact with us directly at:
71 Nguyen Khac Nhu, Co Giang Ward, District 1, Ho Chi Minh City
120 Hai Ba Trung, Cua Nam Ward, Hoan Kiem District, Ha Noi