Product Description
The product is made from Vietnam Toc Agarwood which is taken from the natural environment, not affected by human hands. In particular, agarwood originates from Ha Tinh forest, growing naturally, so the ring quality is much better than other fasteners on the market. With the characteristic dark brown color and deep, sharp veins, the product promises to bring high aesthetics and many great uses to the wearer.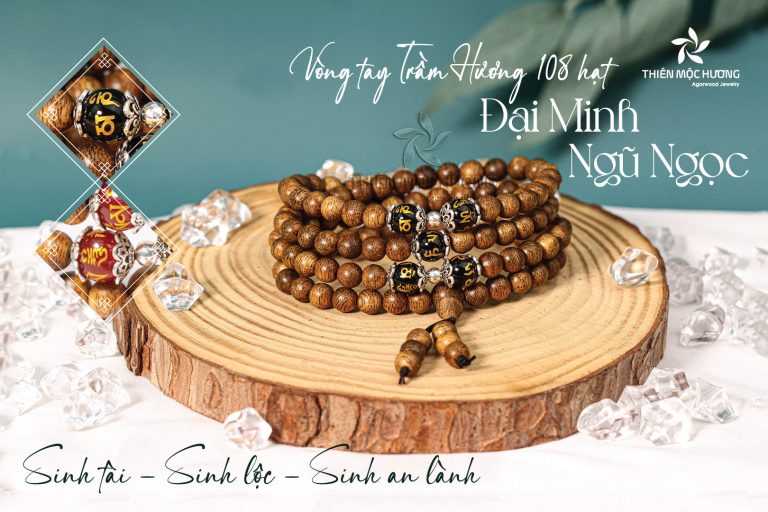 I. Information about Dai Minh Nhu Ngoc Agarwood Bracelet
Material Agarwood 100%
Country of Origin: Vietnamese Toc Agarwood
Number of seeds:  108 seeds (depending on arm size)
Agarwood ages: 12 – 14 years sedimentary
Usage:
+ Female
+ Gifts for relatives, friends or colleagues, subordinates
+ Brings good luck, eliminates sorrows
+ Meaningful presents toward Buddha
II. Product Description of Dai Minh Nhu Ngoc Agarwood Bracelet
Agarwood with 108 Dai Minh Nhu Ngoc beads is a delicate and luxurious piece of jewelry with high aesthetic value. It also shows the meaning of resilience, indomitableness, wishing peace for the family, towards a happy family and prosperous life.
In Buddhism the number 108 means Full and Deep. Besides, it is also 108 types of human afflictions. People are born with ears, eyes, nose, tongue, body, and consciousness. Eyes see the scenery. Ears listen to sounds. The nose perceives the scent, the tongue touches the sweet and sour taste. The body feels hot and cold, causing a feeling of joy-sadness. These emotions make our body and mind pure or confused. In another word, 108 mixed emotions from past, present and future.
Agarwood bracelet radiates an almost eternal fragrance, helping the wearer dispel the feeling of fatigue, melancholy, relieve stress, and soothe the sadness in life. Besides, silver is windproof, which will help the wearer avoid toxic wind entering the person. This is perfect for gifting your lover.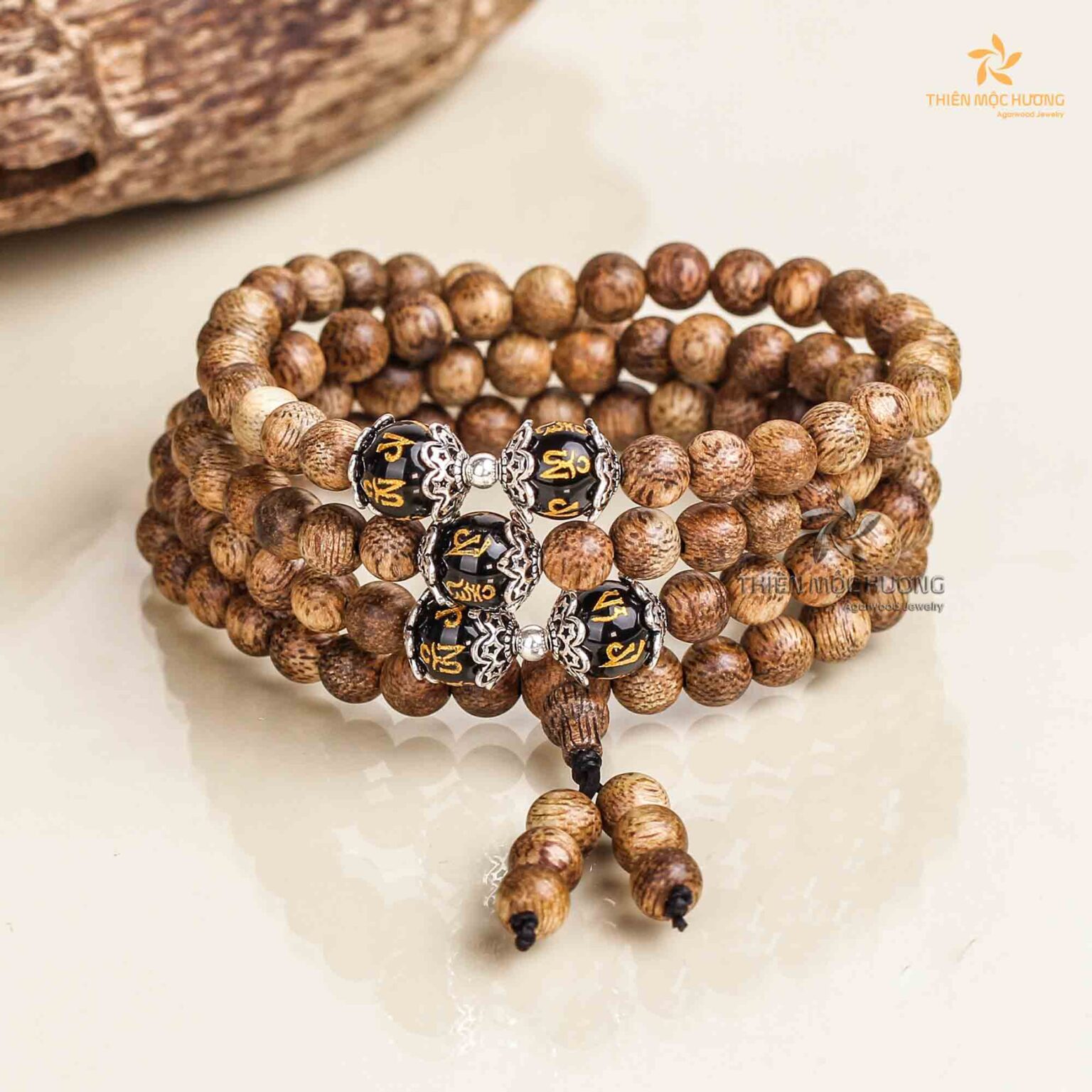 III. The meaning of Dai Minh Nhu Ngoc
The Great Mantra Om Mani Padme Hum protects the mind from delusions, cuts through ignorance, and opens up wisdom. It brings immeasurable blessings and allows us to attain peace. This mantra can help alleviate hundreds and thousands of sufferings and hardships.
Mysterious Pearl: A powerful and mysterious gem. It contains endless mysteries within itself. It radiates the black color of the universe, absorbing unfavorable things and negativities around its owner.
Pink Pearl: A captivating and prestigious gem. Hidden inside is an abundant source of vitality and attraction. Because of its attractive beauty, it also creates vigilance and caution against negative influences from the outside. It helps the owner have a safer and more peaceful life.
IV. Trendy Jewelry
As a feng shui bracelet, it brings a sense of serenity and enhances intellectual and emotional clarity in both work and personal life, especially for modern women. The simplicity of the Agarwood bracelet adds to their charm and confidence. It is simple yet elegant and sophisticated.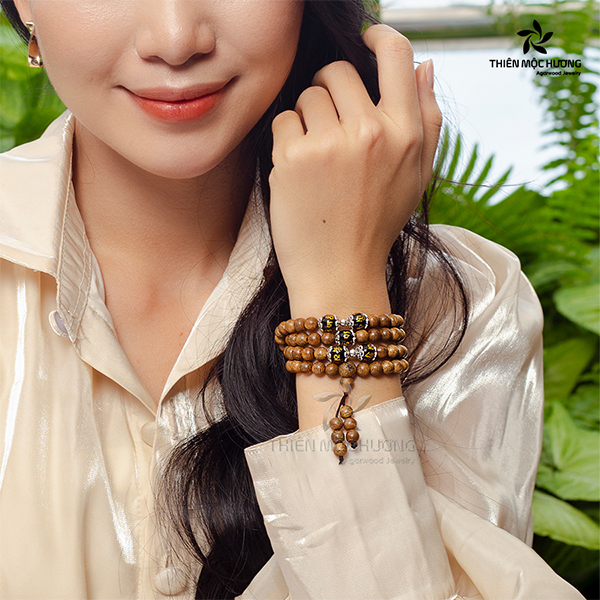 VI. Benefits of the Agarwood Bracelet
The Agarwood Bracelet serves as a lucky charm for the wearer. The scent of agarwood helps dispel heaviness, reduces stress, resolves negative energies, attracts good luck and fortune, and brings about peace. In marital life, harmony and understanding between spouses prevail, with daily emotions blossoming and a strong bond. Seek out the bracelet that aligns with your destiny and brings wealth to yourself.
VII. Agarwood Production Pipelines