The product is made from Vietnam Toc Agarwood which is taken from the natural environment, not affected by human hands. In particular, agarwood originates from Ha Tinh forest, growing naturally, so the ring quality is much better than other fasteners on the market. With the characteristic dark brown color and deep, sharp veins, the product promises to bring high aesthetics and many great uses to the wearer.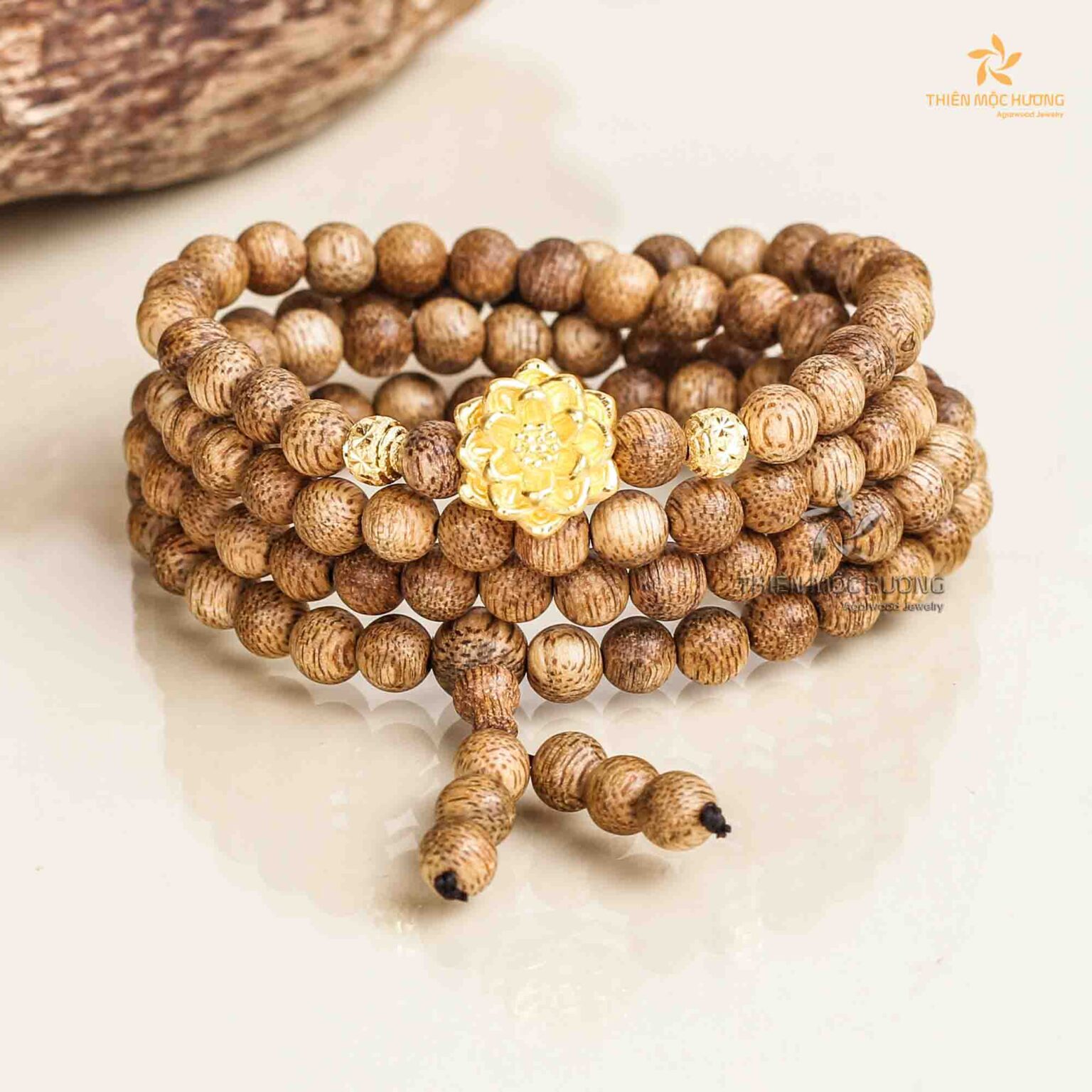 I. Information about Lotus 108 mala beads Agarwood Bracelet with 24K Gold
Material: Agarwood 100% + 24K Gold
Country of Origin: Vietnamese Toc Agarwood
Number of beads: 108 beads
Agarwood ages: 12 – 14 years sedimentary
Usage:
+ Female
+ Gifts for relatives, friends or colleagues
+ Brings good luck, helps mental comfort, reduces anxiety and stress
II. Product description of Lotus 108 mala beads Agarwood Bracelet with 24K Gold
This agarwood beaded bracelet product belongs to 108 Mala Beads Collection hence it is the most preferable product for women at Thien Moc Huong store. Most notably, they used silver material to create a bracelet that has a compact design, precise but very aesthetic, charm bell. It has many very attractive uses that not all types of bracelets have.
The bracelet is crafted from 108 beads of Agarwood, exuding a gentle and delicate fragrance that brings a sense of comfort and ease to the wearer. The Agarwood bracelet also carries spiritual symbolism in Buddhism. With its 108 beads, it becomes a meaningful gift and jewelry piece for everyone.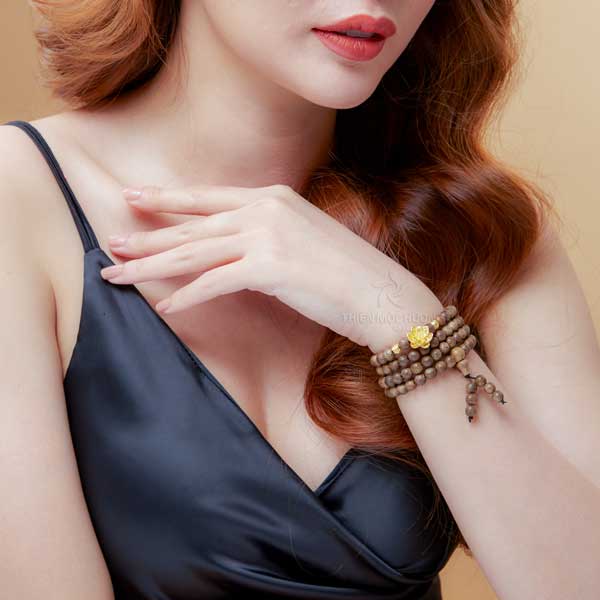 1. Meaning of Golden Prosperous Lotus Charm
The charm of a 24K gold lotus flower symbolizes sacredness, sincerity, and radiance, captivating with its allure and captivating shine. The delicate petals signify perseverance and resilience, representing elegance, freedom, and self-sufficiency.
2. Meaning of 108 Mala Beads
A 108-bead prayer bead necklace, also known as Japamala, is one of the Buddhist artifacts used to eliminate 108 types of mental afflictions, worries arising from ignorance, and the difficult paths that each individual must overcome to reach the shore of peace.
3. Trendy jewelry for women
Inspired by the flower that symbolizes the vitality of spring, combined with the premium sinking Agarwood material that embodies the essence of heaven and earth, the Golden Prosperous Lotus bracelet is a sophisticated and luxurious jewelry piece with high aesthetic value. Above all, it represents wishes for peace in the family and steadfastness in life.
It is already not restricted by fate, but this combination adds an extra touch of refinement to the bead bracelet. The graceful presence of the Agarwood offers more choices for people when purchasing this Feng Shui item.
AGARWOOD PRODUCTION PROCESS