The product is made from Vietnam Toc Agarwood which is taken from the natural environment, not affected by human hands. In particular, agarwood originates from Ha Tinh forest, growing naturally, so the ring quality is much better than other fasteners on the market. With the characteristic dark brown color and deep, sharp veins, the product promises to bring high aesthetics and many great uses to the wearer.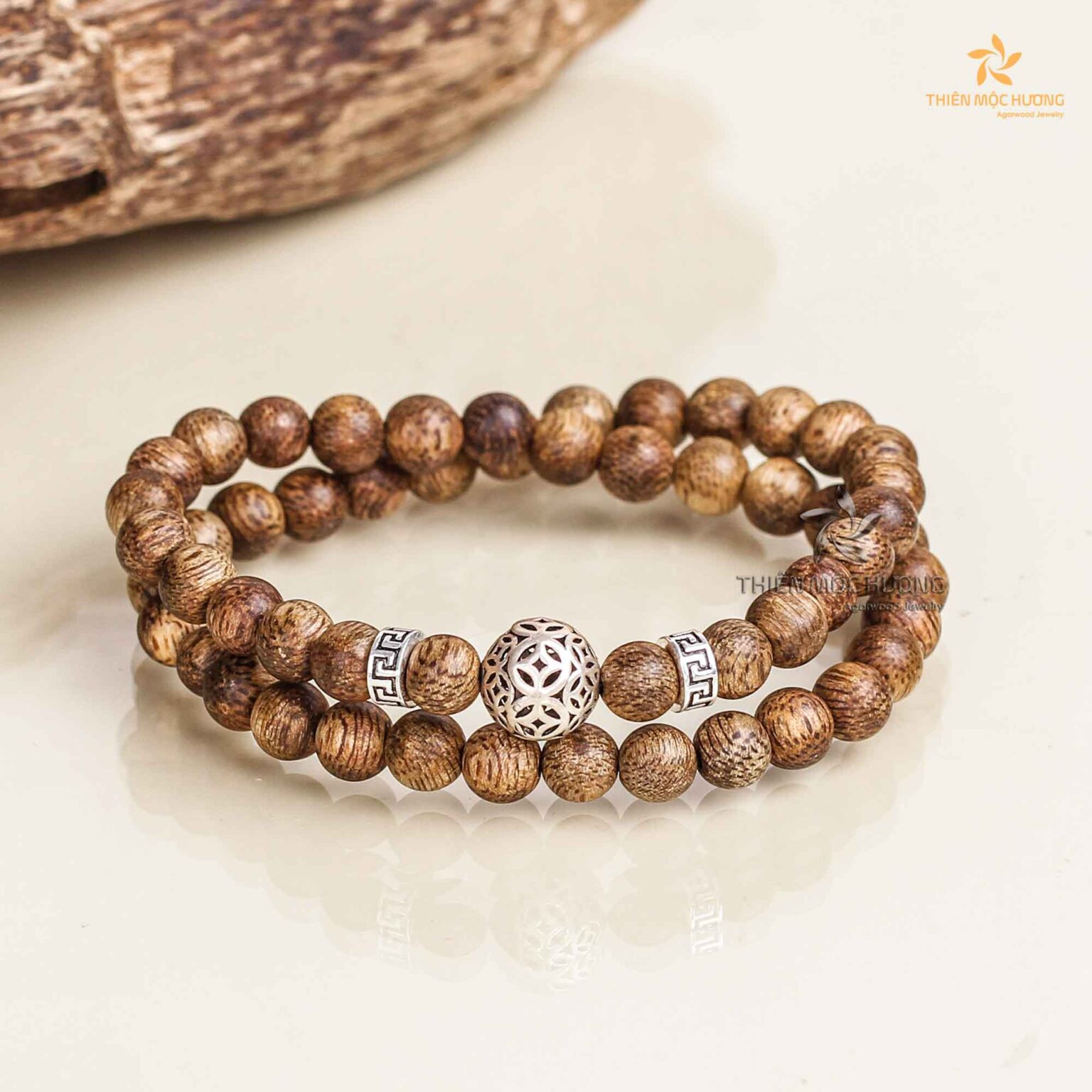 I. Information about Ngan Kim Cau Agarwood Bracelet 
Material Agarwood 100%
Country of Origin: Vietnamese Toc Agarwood
Agarwood ages: 12 – 14 years sedimentary
Usage:
+ Female
+ Gifts for relatives, friends or colleagues
+ Brings good luck, helps mental comfort, reduces anxiety and stress
+ Meaningful presents toward Catholicism
II. Product Description of Ngan Kim Cau Agarwood Bracelet
The Ngan Kim Cau Agarwood Bracelet is crafted from agarwood, aged between 10 to 14 years, sourced from Vietnam. Typically, the bracelet consists of 54 agarwood beads. The number of beads is chosen based on the cyclic rule of "birth – aging – illness – death" to bring good luck to the wearer. It is recommended to choose a number that is divisible by 4 with a remainder of 1 or 2.
The last bead will correspond to the "birth" or "aging" category. The Agarwood bracelet emits a long-lasting fragrance, helping the wearer dispel fatigue, melancholy, and stress, as well as soothing sorrows in life.
III. The significance of the Ngan Kim Cau
True to its name, the Ngan Kim Cau represents wealth, abundance, and greatly influences career advancement, success, and financial growth. The Ngan Kim Cau is also associated with lucky charms, aiding in promotion, abundant wealth, smooth work, fortunate business ventures, and dispelling negative energies.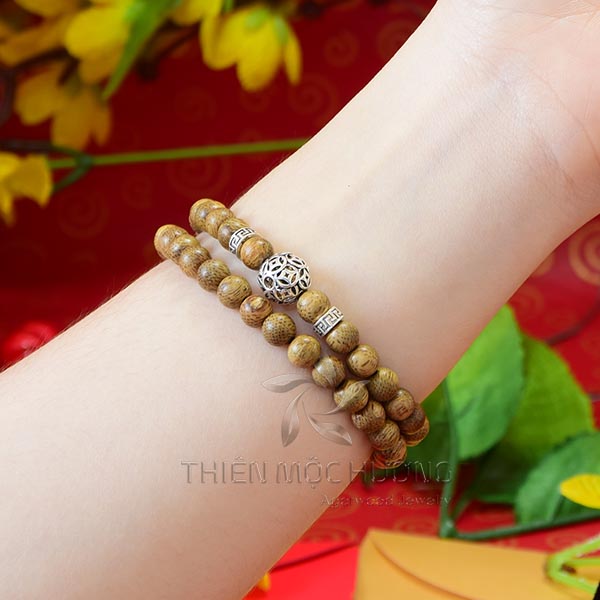 IV. A symbol of prosperity for women
The Ngan Kim Cau Agarwood Bracelet also serves as a Life Talisman, warding off negative energies and resolving bad omens around the wearer. Additionally, the agarwood brings a sense of freshness through its exquisite and fashionable design, exuding an air of elegance, especially for women.
By wearing a Trầm Hương bracelet, one can easily and subtly experience positive changes. It brings greater convenience in work, study, life, relationships, and invites fortunate happiness, improved health, and various other transformations.
Become one of the modern customers owning this fashionable bracelet TODAY.
V. The combination of the Ngan Kim Cau and Agarwood Beads
Agarwood is considered the "convergence of the cosmic energy" and a valuable treasure that has absorbed profound sentiments and spirituality over many years.
Formed in deep forests, agarwood carries the energy of life from Mother Nature, combined with the image of the Golden Money Ball, bringing emotional balance and a sense of love for life, joy, and enthusiasm. It helps the owner become increasingly youthful, happy, confident, and vibrant from the inside out.
Furthermore, agarwood emits a gentle fragrance that blends into the air, making us and those around us feel comfortable, refreshed, and at ease, dispelling discomfort and fatigue.
Agarwood is a Feng Shui item that brings a sense of safety, convenience in life, improves health, and eliminates harmful elements, creating a healthy and harmonious life for you and your loved ones.
The bracelet is suitable for all elemental zodiac signs and is not restricted by age. Therefore, Trầm Hương products are always an excellent and meaningful gift choice for your loved ones. This is one of the designs from the women's Agarwood bracelet collection at Thien Moc Huong.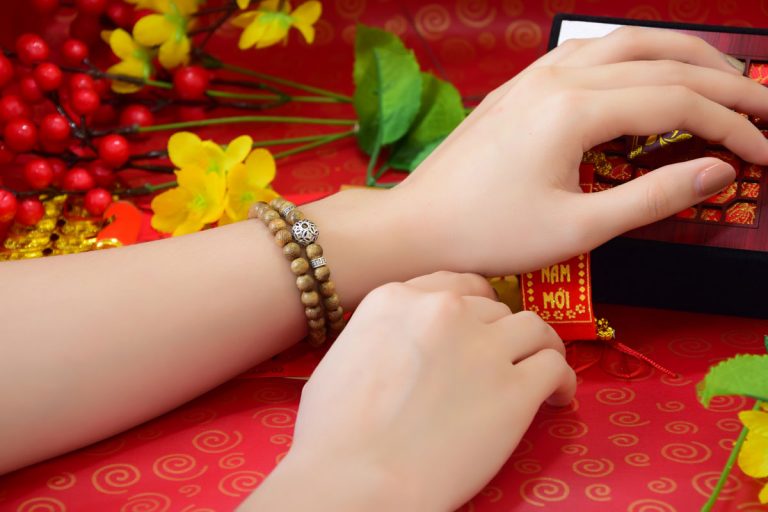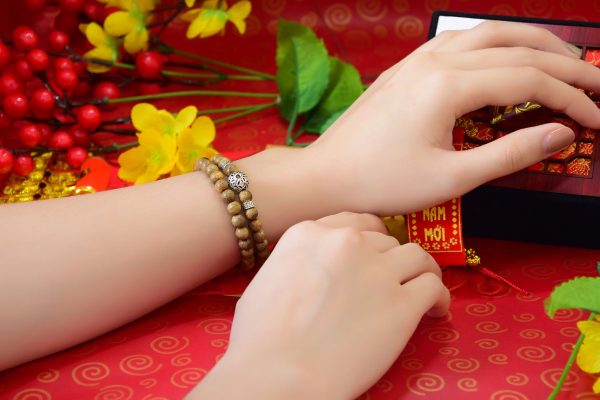 Quickly become one of the modern customers who own this trendy bracelet TODAY
III. Peace Agarwood beaded Bracelet with Silver S925 Production Process