Symbol of life reunion – peace
Product information
Material

submerged Agarwood – Gold 9999

Source

Philippines

Number of beads

108 beads (depending on the size of the wearer's hand)

Age

30 years

Use for

Women

This is a gifts for relatives, superiors or friends.

Overcoming 108 types of afflictions.

Meaning reunion, peaceful fun.
Description
About Philippines Blossom agarwood beaded bracelet
The meaning of 108 beads: The rosary of 108 beads, also known as Japamala, is one of the Buddha's teachings used to eliminate 108 types of disturbing emotions, worries from ignorance, and difficult paths that every human must pass to reach the peaceful shore.
Bracelet made from Agarwood originating from Philippines. The bracelet is also made of 108 Agarwood seeds with a soft, faint aroma that makes the wearer feel comfortable. It also bears a symbolic image of Buddhism, which is the representative of the witness of the Three Paths of Dharma eliminating disturbing emotions. With the number of beads is 108, this will be a gift, extremely meaningful jewelry for everyone.
The meaning of Blossom Philippines agarwood beaded bracelet
Golden apricot 24K Charm: In the cold winter weather, when everything is still shaky and clustered, the apricot blossom still flourishes with young buds. Although it fragile but strong, pure, carrying in itself a gentle fragrance, discreet. The ancients took the mettle of apricot blossom like a gentleman. Confucian scholars often compared themselves as apricot blossom blooms in the winter wind to keep themselves clean. Elderly people like the old age of the apricot blossom, they want to have a healthy and long life. And the physique of the flower is likened to a noble girl. Above all, apricot blossom also refers to the family reunion in the new year.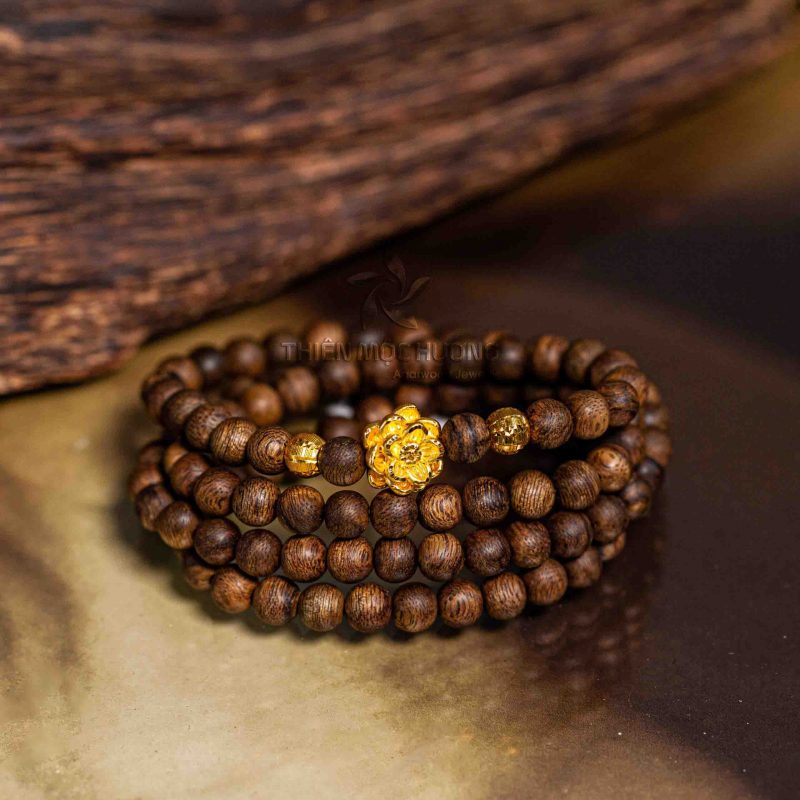 Trendy Bracelets for Women
Inspired by the flower that symbolizes the vitality of spring, resonating with high quality submerged material that brings the essence of heaven and earth, golden apricot blossom submerged Agarwood Bracelets is a luxurious delicate jewelry, It is highly aesthetic and above all expresses the meaning of wish for peace for the family, towards a full and rejuvenated life.
AGARWOOD PRODUCTION PROCESS