Due to the increasing demand in jewelry, the jewelry market place has become variety with diverse bracelets such as bracelets with stone charm, silver charm or as luxury as gold charm Bracelet, gold-wrapped charm. What is the meaning of them? Let us recommend three bracelets with golden charm in which have been interested by businessmen.
I. Some information about Agarwood gold charm Bracelet
Jewelry has been known as a symbol of wealth and prosperity so far. Agarwood also has been a precious treasure and is often used by the king and the noble. It has been become a symbol of luxury and estate. The artisans ingeniously combined these two factors into one and created the bracelet which has powerful meanings. This treasure aims to bring happiness, prosperity, and luckiness for the owners. Golden Charm Agarwood Bracelet becomes popular, especially with businessmen.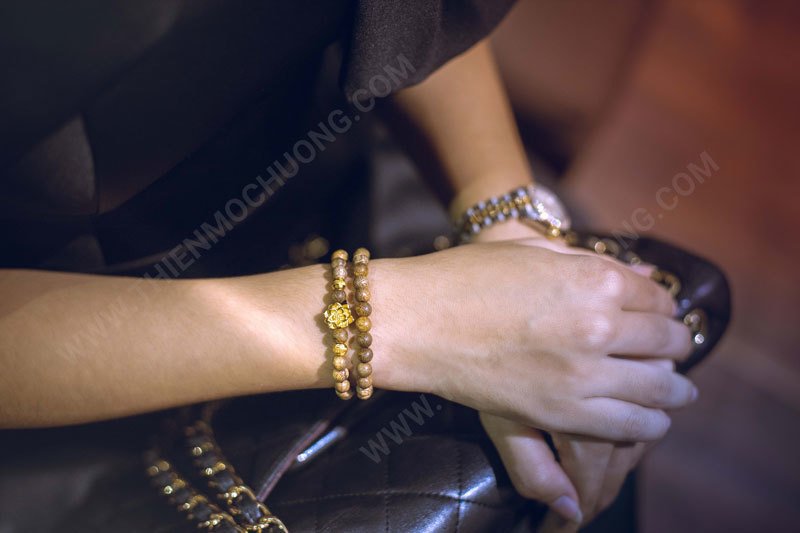 II. The meanings of gold charm Bracelet with the owners.
1. The uses of Golden Charm Agarwood beads bracelet
In term of Health
For a long time ago, Agarwood has been known to bring a lot of benefits in health. Not only being aesthetical, but also it is one of the best things which has well impact on you health. The benefits are: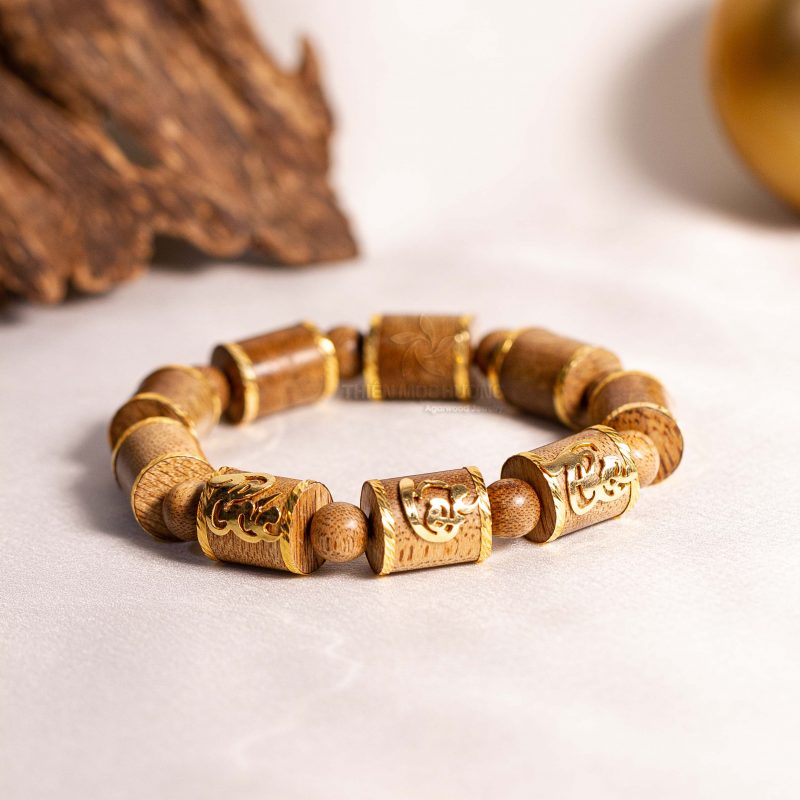 Peaceful: it helps refresh and relax your mind. Agarwood has a pleasant fragrance but unit, cannot be mixed up. Agarwood oil essence mix with Musk oil can be a perfect couple due to its fascinating smell.

Painkiller: It helps reduce headache, stomachache, chest pain.

Good for digestion: Agarwood helps reduce sputum, avoid vomiting.
In term of Spirituality
Agarwood is considered as the mascot to absorb the essence of the Sky and Earth. With the strong Yangqi, Agarwood also has an effect of chasing bad luck and disaster. Burning incense increases the effect in order to bring good luck to the home-owners. Many people believe that Golden Charm Agarwood beads bracelet an purify the badness of people, help us get rid of negative energy, and calm the mind to the prosperity.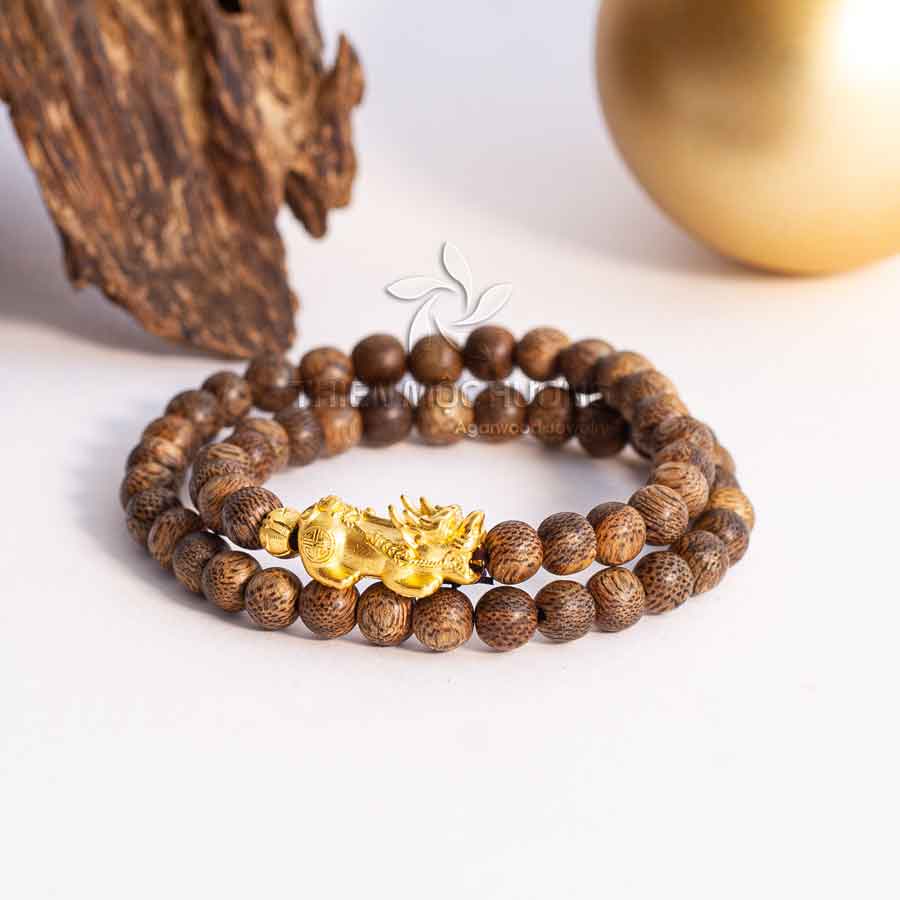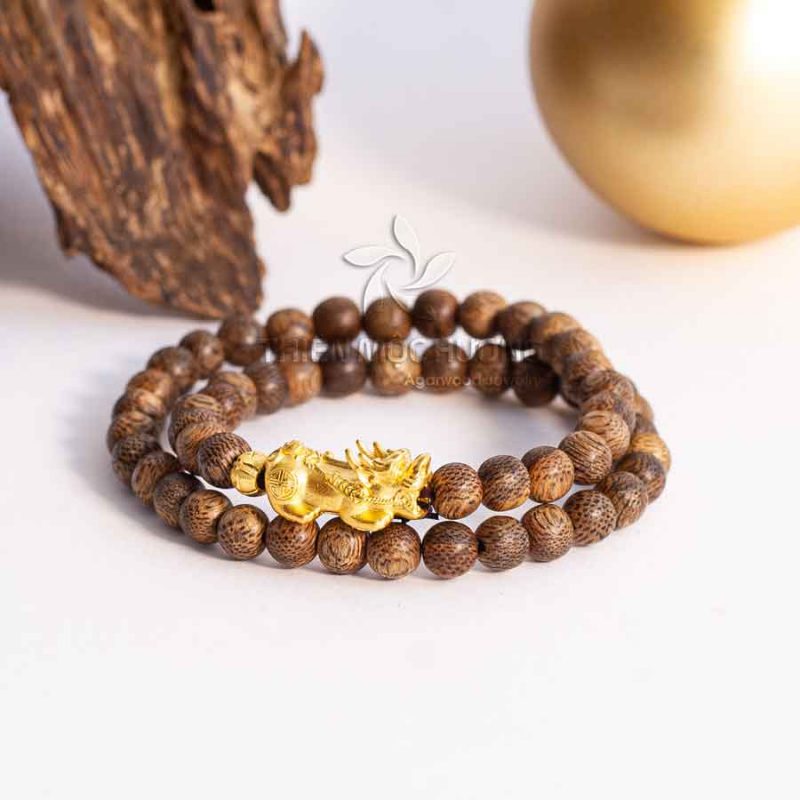 READ MORE: WEARING AGARWOOD BRACELETS – REMEDY AND PREVENTION
2. The aesthetic and fashion of Agarwood Bracelet
It totally cannot be denied that Agarwood Bracelet is designed delicately day by day. Not only a feng shui bracelet, but also it is a fashionable accessory for the owner. Agarwood Bracelet can also be mixed with variety charm such as jade charm, silver charm, golden charm … All in one which has a powerful beauty.
3. The most special present
Agarwood Bracelet is always the first choice to be gifted in most situation such as housewarming, grand opening … Gifting a feng shui bracelet seems like a lucky and peaceful message for your friends or partners, wishing them the best things in life due to its feng shui abilities.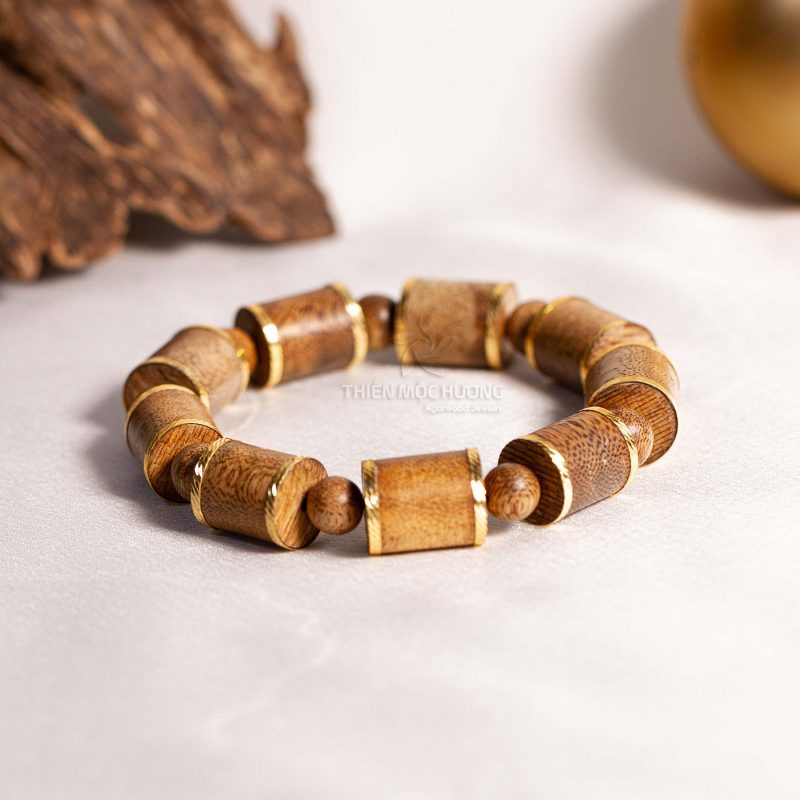 The three most popular Golden Charm Agarwood Beads
Pixiu agarwood beaded bracelet with 18k gold charm – classic
Pixiu (also called Tianlu or Bixie) is one of the five auspicious animals of traditional Chinese culture. The Pixiu is both ferocious and powerful so it works as a security guard of Heaven, resisting demons and ghosts, brings happiness good luck for people. Gold, silver, jewels and all other treasures are the Pixiu's staple food but it didn't have anus so it just keeps the food inside.
Therefore, Feng shui experts say that the Pixiu can protect homes, exorcise devils and raise fortune and power for the master. This bracelet is suitable for those who are doing the business, especially for men.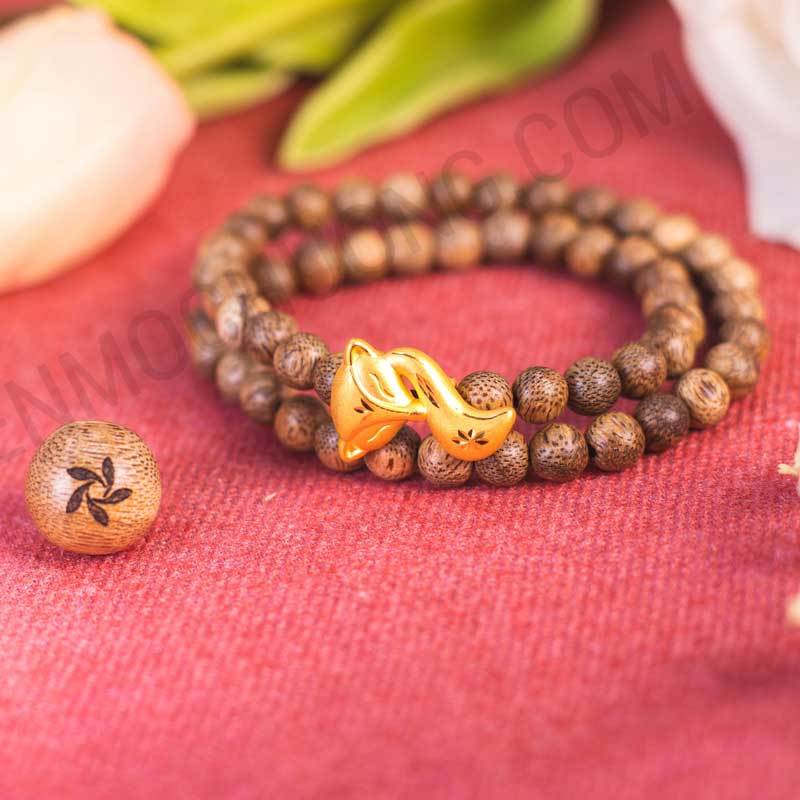 2. Golden Phuc Loc Tho bamboo agarwood beaded bracelet – classic
The three gods Phuc, Loc and Tho symbolize the three nebula systems in the sky. Phuc god symbolizes Jupiter, is one of the 9 planets of the solar system, also known as Tue planet, governs the air, bringing joy and happiness to humans. Loc god is the sixth star in the Court of Osteopathy, specialized in learning and recognition. And Tho god is the star of Enlightenment in 28 constellations, is the Thuong Long Dong Phuong Cluster, bestowing human health, long life and no illness.
Phuc Loc Tho talks about three basic things of a full and fulfilling life that people always dream of: Good things, children, happiness (Phuc), prosperity, luck (Loc) and longevity (Tho). Without one of the three things, a person's life will not be complete and fulfilled.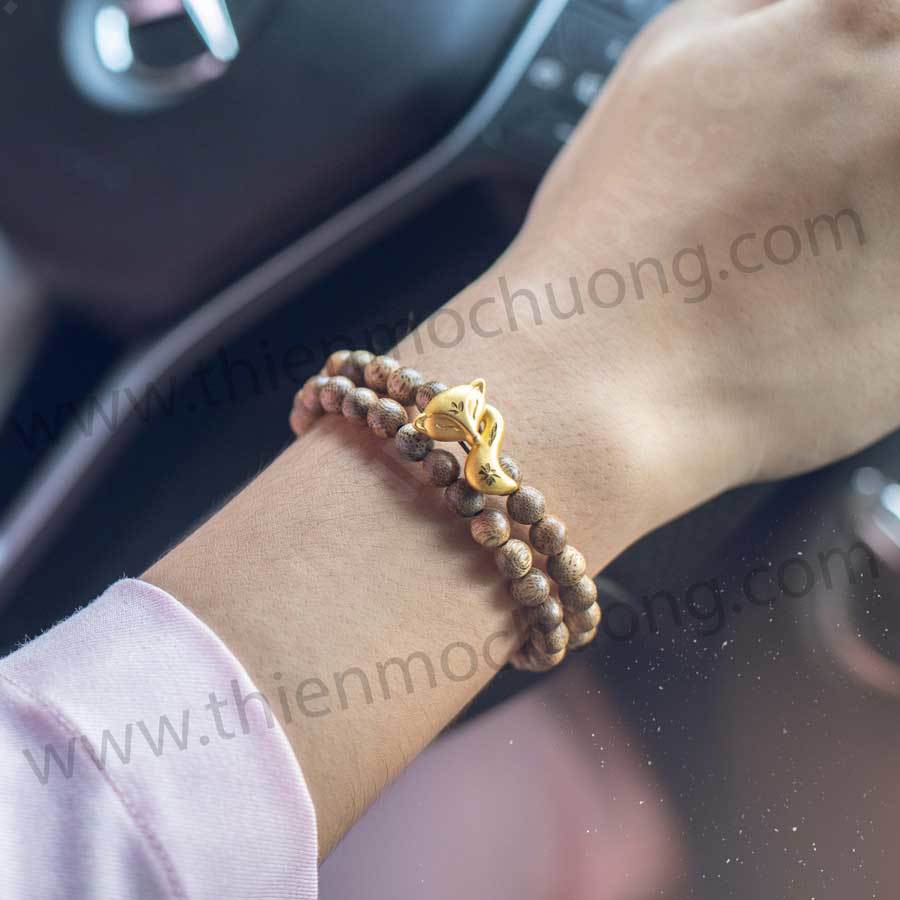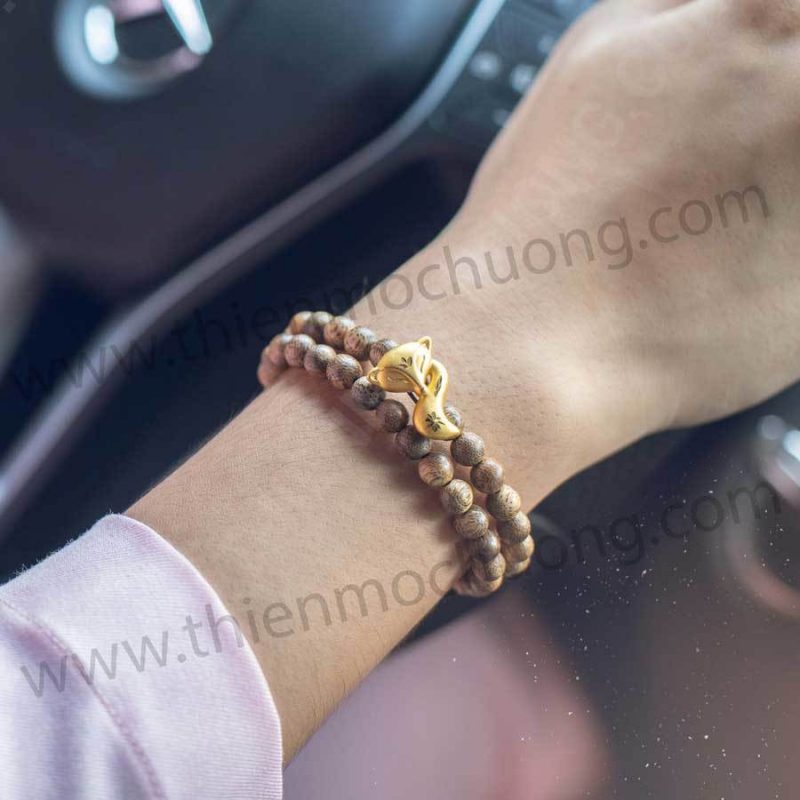 3. Pixiu bamboo agarwood bracelet with 18k gold – classic
This bracelet made from Laos. It is made from 9 pillars and 9 beads which is the highest number in a natural number line. Therefore, it brings positive and good meanings..A special thing is that this bracelet not only has gold wrapped around bamboo agarwood bracelet which mean about simple and primitive appearance, it also made from cylinders. These cylindrical particles are coated with an extremely luxurious gold layer.
Pixiu bamboo agarwood bracelet show your strength and decisiveness. This is one of the designs of Thien Moc Huong bracelet collection. As feng shui bracelets, it will bring peace of mind, mental intelligence about work and life, especially for men. 
If you want to learn more about Agarwood as well as our golden products, with 40 years of experience in the field of Agarwood Jewelry, we believe Thien Moc Huong Tram Huong is the most trustable brand for you
READ MORE: HOW TO USE THE AGARWOOD (OUD) BRACELET AND TAKE CARE OF IT