The product is made from Vietnam Toc Agarwood which is taken from the natural environment, not affected by human hands. In particular, agarwood originates from Ha Tinh forest, growing naturally, so the ring quality is much better than other fasteners on the market. With the characteristic dark brown color and deep, sharp veins, the product promises to bring high aesthetics and many great uses to the wearer.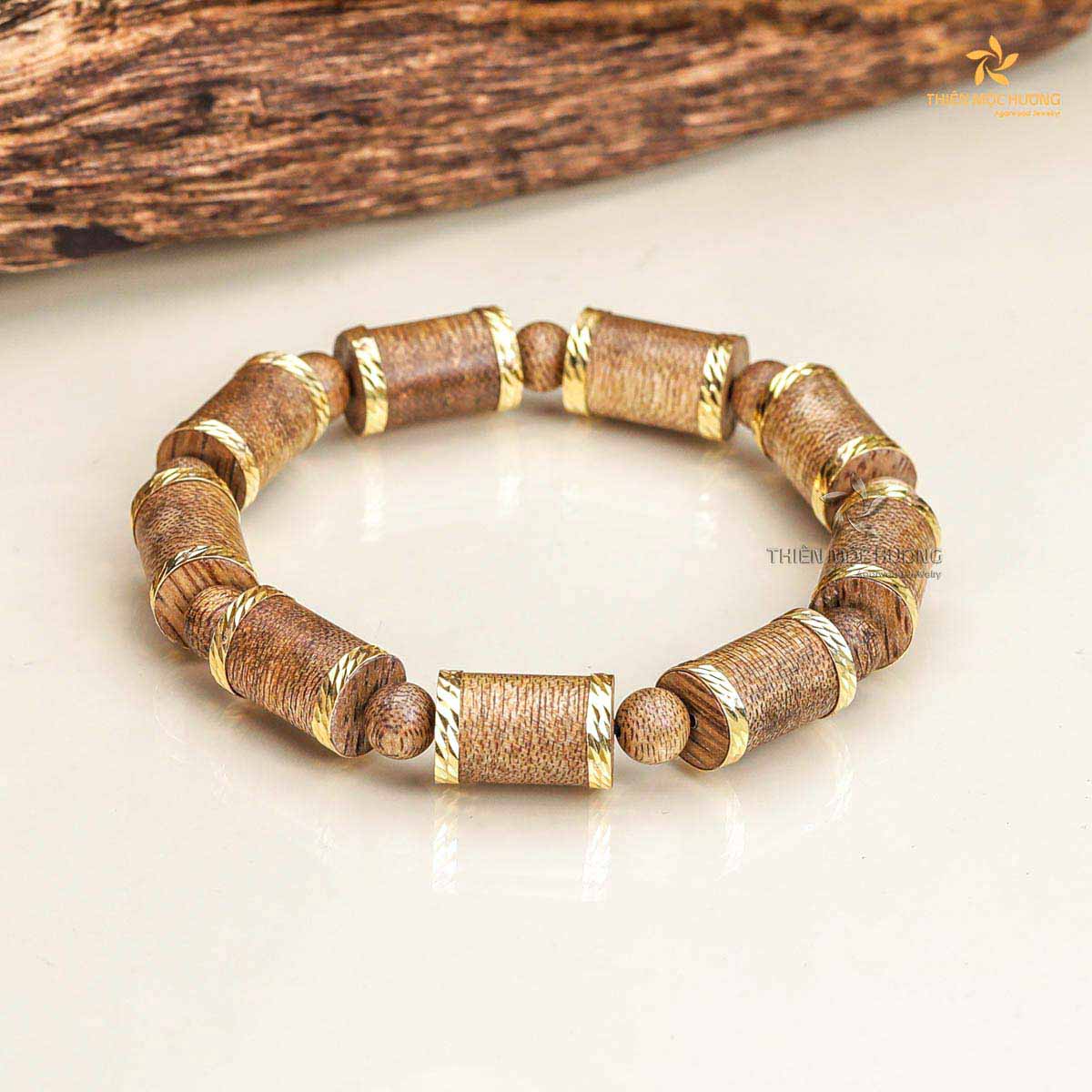 I. Information about Golden Bamboo Agarwood Bracelet
Material Agarwood – Gold 9999
Country of Origin: Vietnamese Toc Agarwood
Number of seeds: 9 bamboos, 9 beads (depending on size)
Agarwood ages: 12 – 14 years 
Usage:
+ Male/Female
+ Gifts for relatives, friends or colleagues
+ Brings good luck, helps mental comfort, reduces anxiety and stress
+ Meaningful presents toward Buddha, Business
II. Product description of Golden Bamboo Agarwood Bracelet
This agarwood beaded bracelet product belongs to Golden Heritage Collection hence it is the most preferable product for women at Thien Moc Huong store. Most notably, they used silver material to create a bracelet that has a compact design, precise but very aesthetic, charm bell. It has many very attractive uses that not all types of bracelets have.
The Golden Bamboo Agarwood Bracelet is made from 9 bamboo beads, commonly known as the "nine-nine" bracelet. According to Eastern beliefs, the number 9 is the largest number in the natural number sequence, carrying strong positive energy and holding many auspicious meanings. Number 9 is also a symbol of sustainability, signifying long-lasting wealth and abundant blessings.
The package of the Thien Moc Huong Agarwood bracelet includes:
One natural agarwood bracelet, accompanied by a premium box to commemorate the 40th anniversary of TMH's establishment.
An elegant Thien Moc Huong membership card.
An instruction manual on how to properly care for the bracelet to maximize its feng shui effects.
Additionally, the high-quality box comes with a set of spare beads and cords.
The cords and beads allow customers to easily adjust the size of the bracelet to fit perfectly. The Member card enables customers to receive lifetime warranty services (such as cord replacement and bead polishing) at any Thiên Mộc Hương store free of charge.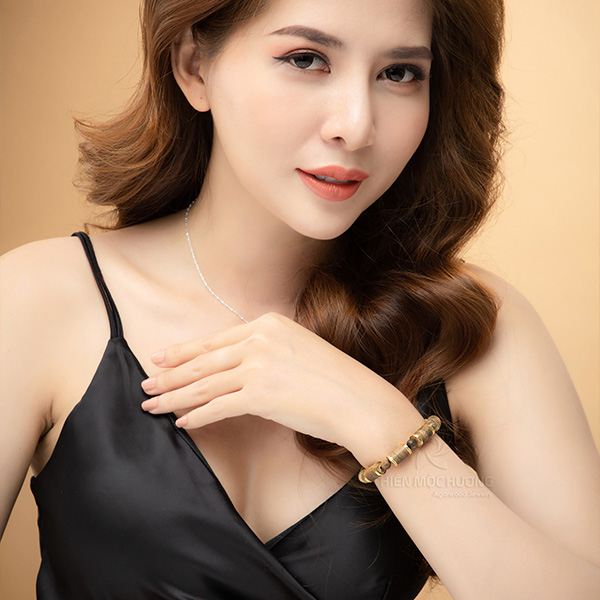 III. The symbolic meaning of the Bamboo Cylinder Beads
Taking the image of the Bamboo, which is resilient and unwavering even in the face of storms and difficulties, it represents the strength and perseverance of individuals. Bamboo remains fresh and green all year round, just like human health, withstanding various challenges without compromise or deviation. The bamboo bracelet, with its cylindrical beads resembling bamboo nodes, provides the wearer with positive energy, confidence, determination, and enhances business success and overall well-being.
IV. A fashionable bracelet for women
The Golden Bamboo Agarwood Bracelet features an exquisite design, with the cylindrical beads wrapped in gold, adding a modern, youthful, and refined touch to each layer of gold wrapping.
Being a feng shui bracelet, it brings tranquility and mindfulness to the wearer in both work and life, especially for women. Owning a Golden Bamboo Agarwood bracelet will bring good luck in love, enhance communication skills, and improve social interactions in life. It is particularly beneficial for female entrepreneurs or managers, giving them more confidence in their authority. Get yourself a lucky Golden Bamboo Agarwood Bracelet to bring prosperity and open up new opportunities.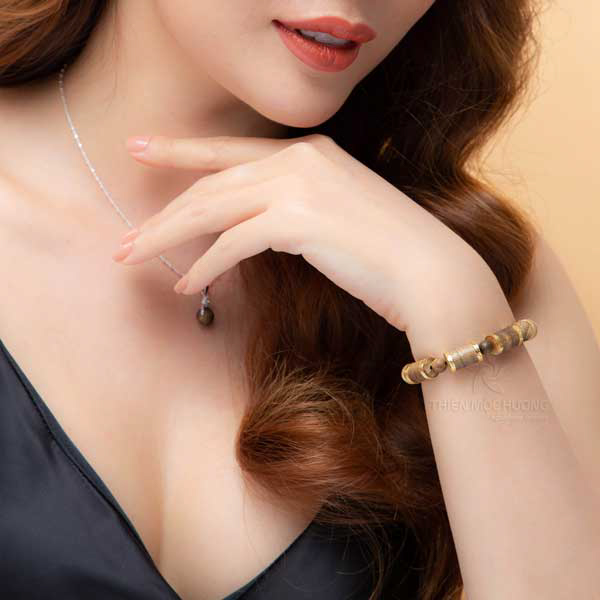 V. The delicate combination of Agarwood and Golden Bamboo
The Golden Sandalwood Bracelet is a delicate combination of sandalwood and bamboo. The earth and heaven's spiritual energy from agarwood help the bamboo thrive, develop, and remain strong. The gold-wrapped bamboo cylinder forms a simple yet elegant bracelet, attracting wealth and enhancing luck, ultimately facilitating smooth sailing in business and remarkable transformations in commercial transactions.
Agarwood is also a spiritual talisman, providing the wearer with a sense of safety, convenience in life, improved health, and dispelling harmful influences, negative energy, and resolving unfavorable circumstances. Without intricate details such as charms or sculptures, this bracelet represents simplicity, gentleness, combined with a touch of mystical spirituality that Thien Moc Huong wishes to present to its customers. Moreover, the bracelet is suitable for all elemental signs and age groups.
VI. Agarwood Production Process