Product Description
According to legend, the three-legged toad is considered a symbol of luck and fortune, so those in business often display the image of a toad holding money with the desire to earn a lot of profit. Besides the statue, THIEN MOC HUONG also offers Kim Thiem a silver charm bracelet with the meaning of bringing luck and prosperity to the owner. At the same time, Kim Thiem also has a meaning in feng shui that brings peace, has the ability to turn evil into the sand, and protects homeowners from bad omens.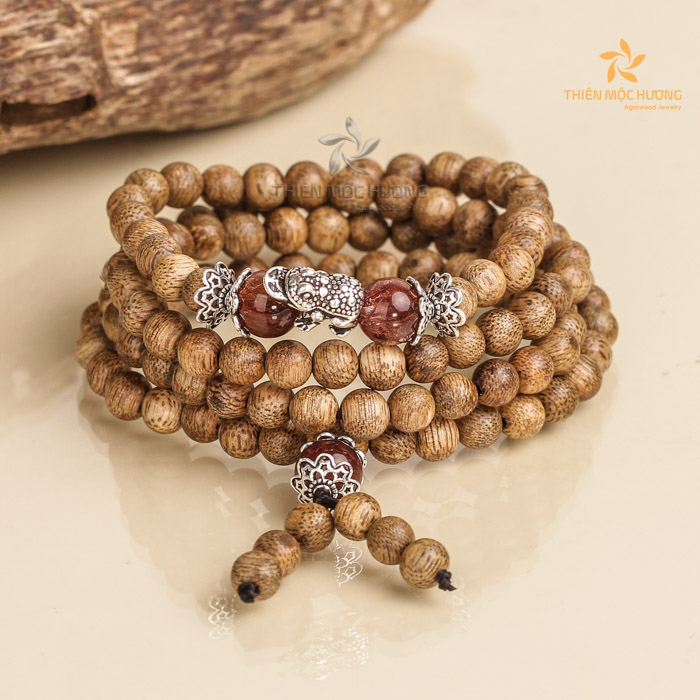 I. Information about Money frog agarwood beaded bracelet 
Material Agarwood 100%
Country of Origin: Vietnamese Toc Agarwood
Number of seeds: 108 beads (8-10mm/seed) (depending on size)
Agarwood ages: 12 – 14 years sedimentary
Usage:
+ Female favourites
+ Gifts for relatives, friends or colleagues
+ Brings good luck, helps mental comfort, reduces anxiety and stress
II. Product Description
This agarwood bracelet product belongs to Pandora Agarwood Collection hence it is the most preferable product for women at Thien Moc Huong store. Most notably, they used silver material to create a bracelet that has a compact design precise but very aesthetic charm bell. It has many very attractive uses that not all types of bracelets have.
1. Money frog agarwood beaded bracelet Research
The Jin Chan is usually depicted as a bullfrog with red eyes, flared nostrils and only one hind leg (for a total of three legs), sitting on a pile of traditional Chinese cash, with a coin in its mouth. On its back, it often displays seven diamond spots. According to Feng Shui beliefs, Jin Chan helps attract and protect wealth, and guards against bad luck.
Money frog charm is made from silver s925, suitable for each destiny of Metal – Wood – Water – Fire – Earth. Money frog is also called Thiem Thu in Vietnamese. From past to now, Vietnam believed that the money frog icon often brings fortune to everyone and their family. According to folk, a three-leg frog with a round fat body, whole body exudes wealth that can release gold, the prosperity icon.
2. Money frog – Jin chan agarwood beaded bracelet
The money toad statue is made of high-quality resin and painted gold color.

The money frog represents a popular Feng Shui charm for prosperity.

A frog with red eyes sits on a pile of traditional Chinese cash with a coin in its mouth.

On its back, it displays seven spots symbolizing the Big Dipper, which plays an important role in Chinese astrology.

The most auspicious Chinese symbol of money-making. Place it in your home, office, or store for good luck.
Situated in a very significant location, in the heart of the mainstream campus, the head of the frog up and back toward the roots shows a strong will to enrich and develop for many generations of Vietnamese people.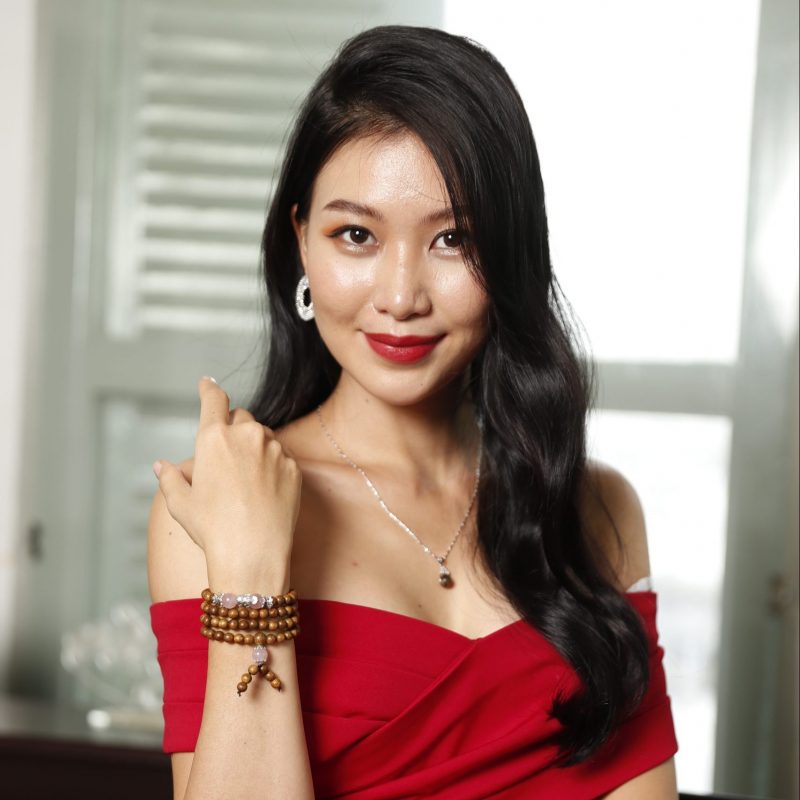 III. Number "108" meaning
In Buddha, the number 108 means "Full" and "Intellectual"; besides, the same 108 number represents 108 human sorrows. Humans are born with ears, eyes, noses, tongues, bodies, and minds. The eyes see the scenery. The ears listen to the sound. The nose smells the scent. The tongue tastes sweetness, sourness, and bitterness. The body feels the heat, and the cold, which brings happy-sad. These feelings either make humans at peace or in confusion. 108 feelings come from the past, the present, and the future.
III. Agarwood Production Process