Product Description
Jade Lotus 108 mala beads Agarwood Bracelet
The product is made from Vietnam Toc Agarwood which is taken from the natural environment, not affected by human hands. In particular, agarwood originates from Ha Tinh forest, growing naturally, so the bracelet quality is much better than other fasteners on the market. With the characteristic dark brown color and deep, sharp veins, the product promises to bring the wearer high aesthetics and many great uses.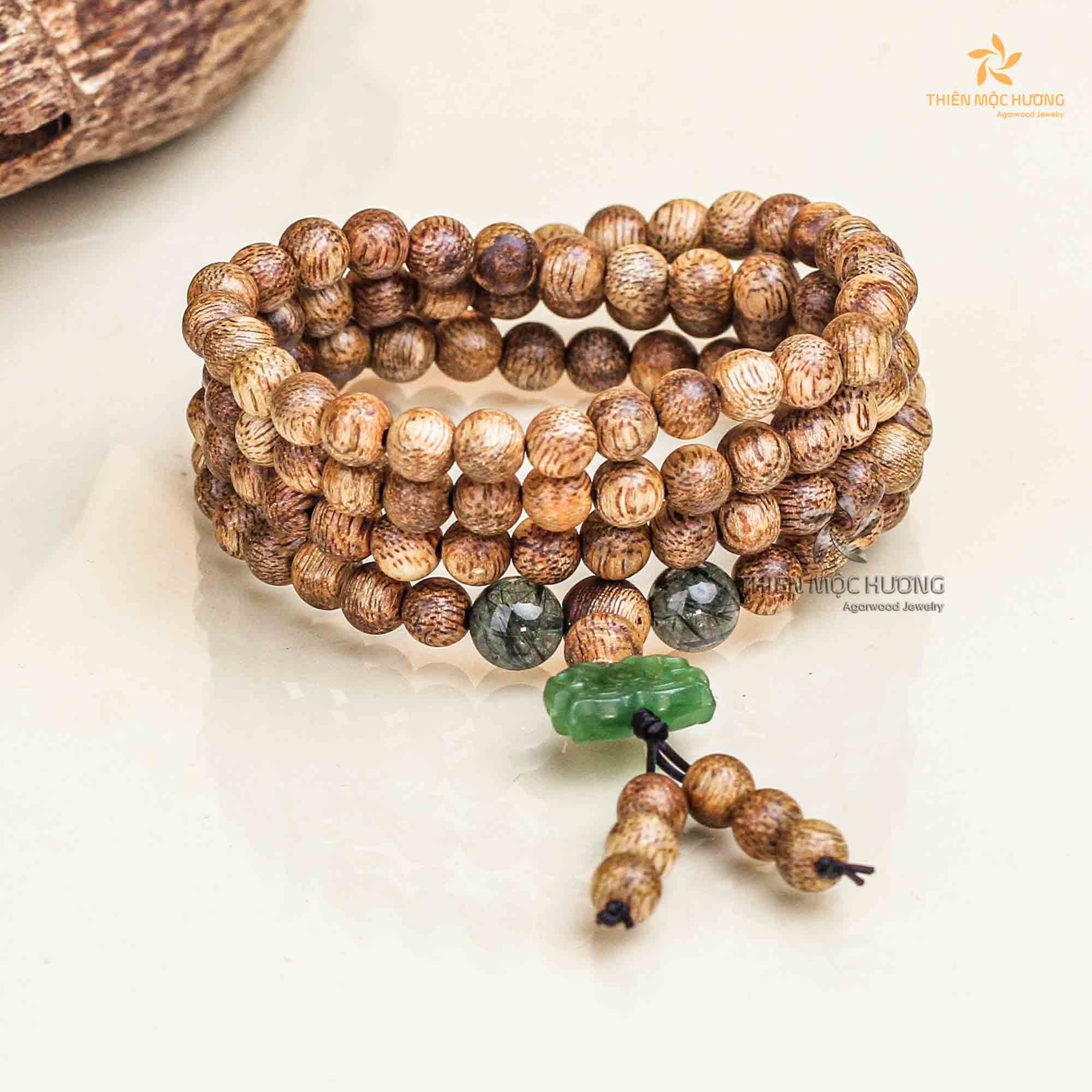 I. Information of Jade Lotus 108 mala beads Agarwood Bracelet
Material: Agarwood 100%
Origin: Vietnam
Number of beads: 108 beads (depending on arm size)
Size: 6mm
Agarwood age: 12-14 years of sedimentation
Using:
+ Women's Bracelets
+ Gifts for relatives, friends or colleagues, subordinates
+ Brings good luck, relieves troubles
+ Meaningful gifts toward Buddha
II. Meaning of Jade Lotus 108 mala beads Agarwood Bracelet
The lotus flower in the spiritual life of Vietnamese people is considered as a flower that fully converges with its philosophical meaning – noble human dignity.
In the filthy mud, the lotus flower still blooms and emits a sweet fragrance. Although fragile but strong, pure, with a gentle, discreet fragrance. The ancients likened the mettle of the lotus to a person of noble quality. The flower shape is likened to a noble girl. Above all, the lotus flower also speaks to the mettle of the Vietnamese people – strong and fierce.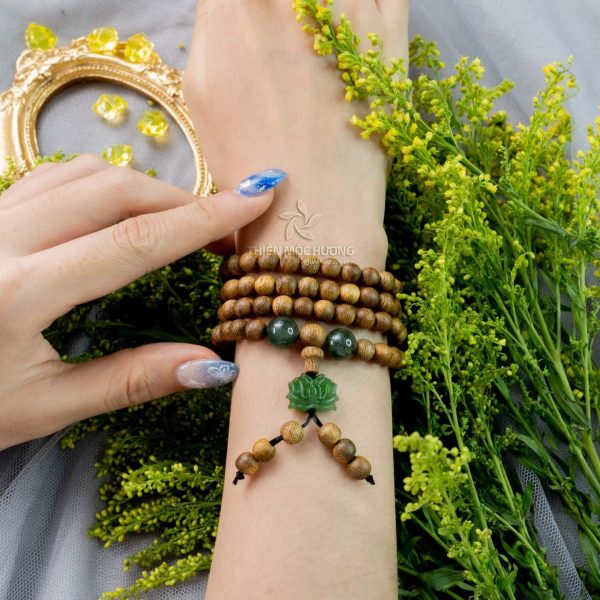 The stylized lotus charm is made from natural jade stone, containing positive energy to help the owner's spirit be excited, happy and calm. Stone lotus charm combined with Agarwood as a treasure brings fortune and prosperity to the wearer.
III.

Uses of agarwood bracelet
Agarwood bracelet is a lucky charm for the wearer. Agarwood incense helps dispel feelings of heaviness, relieve stress, neutralize bad omens, attract luck, fortune and bring peace. In married life, husband and wife are always in harmony, understanding each other, sublimated and strong feelings. It also bring serenity, mental clarity and emotional intelligence at work and in life, especially for modern women. A simple Agarwood bracelet will make them more charming and confident. Simple but noble, sophisticated.
IV. Agarwood production pipelines – Thien Moc Huong