The product is made from Vietnam Toc Agarwood which is taken from the natural environment, not affected by human hands. In particular, agarwood originates from Ha Tinh forest, growing naturally, so the ring quality is much better than other fasteners on the market. With the characteristic dark brown color and deep, sharp veins, the product promises to bring high aesthetics and many great uses to the wearer.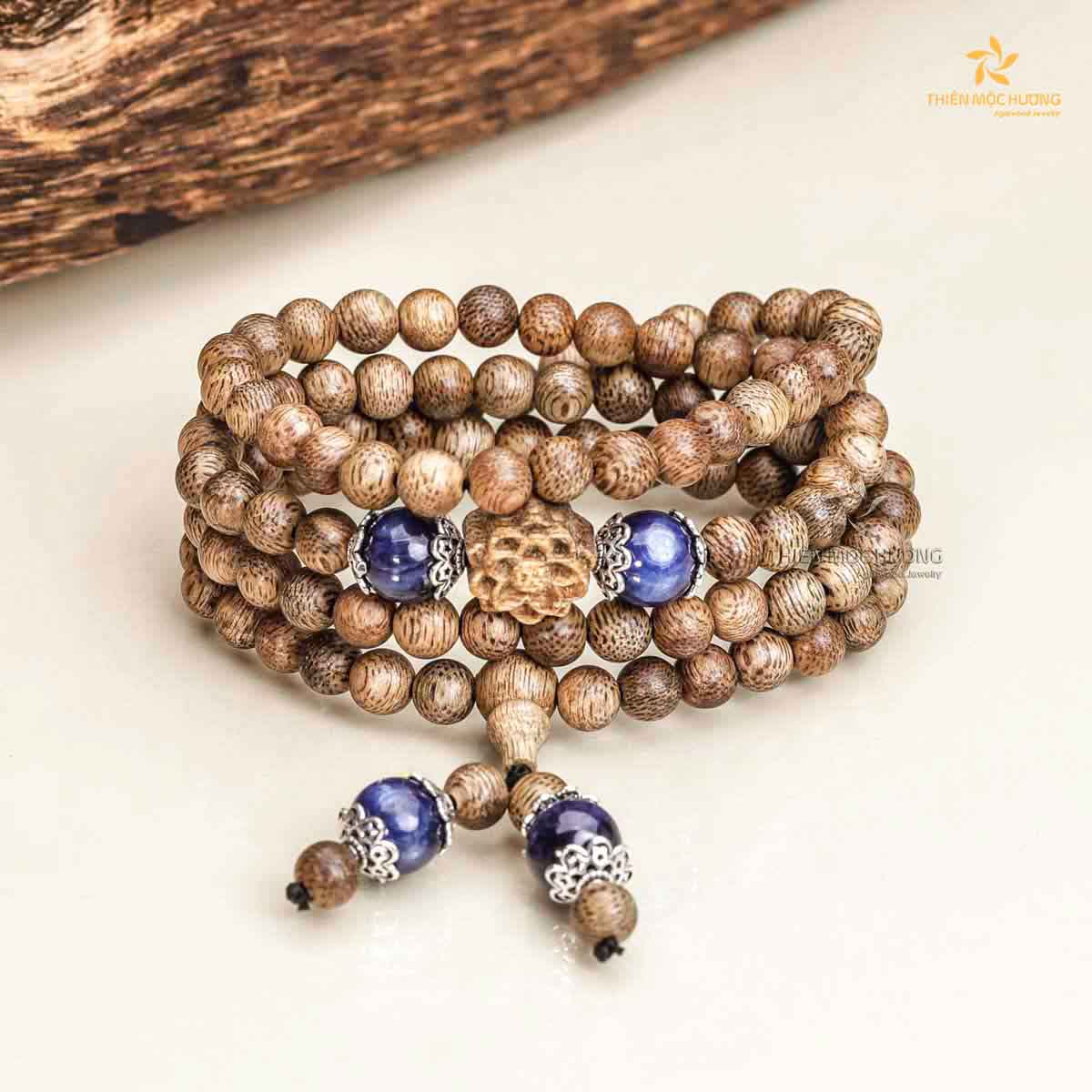 I. Information about Lotus 108 mala beads Agarwood Bracelet with Gemstone
Material: Agarwood 100%
Country of Origin: Vietnamese Toc Agarwood
Number of seeds: 108 beads
Agarwood ages: 12 – 14 years
Usage:
+ Female
+ Gifts for relatives, friends or colleagues
+ Brings good luck, helps mental comfort, reduces anxiety and stress
+ Meaningful presents toward Buddha, Business
II. Product description of Lotus 108 mala beads Agarwood Bracelet
Each bead is carefully hand-selected to ensure the highest quality and authenticity, making this bracelet a powerful tool for meditation and mindfulness practices. The sacred number 108 holds great significance in various spiritual traditions, representing harmony, enlightenment, and the connection between the mind, body, and soul.
Embodying the elegance of the lotus flower, a symbol of purity and spiritual awakening, this bracelet features a beautifully crafted lotus charm adorned with sparkling gemstones. The gemstone, chosen for its mesmerizing beauty and positive energy, adds a touch of luxury and glamour to the bracelet, elevating its aesthetic appeal.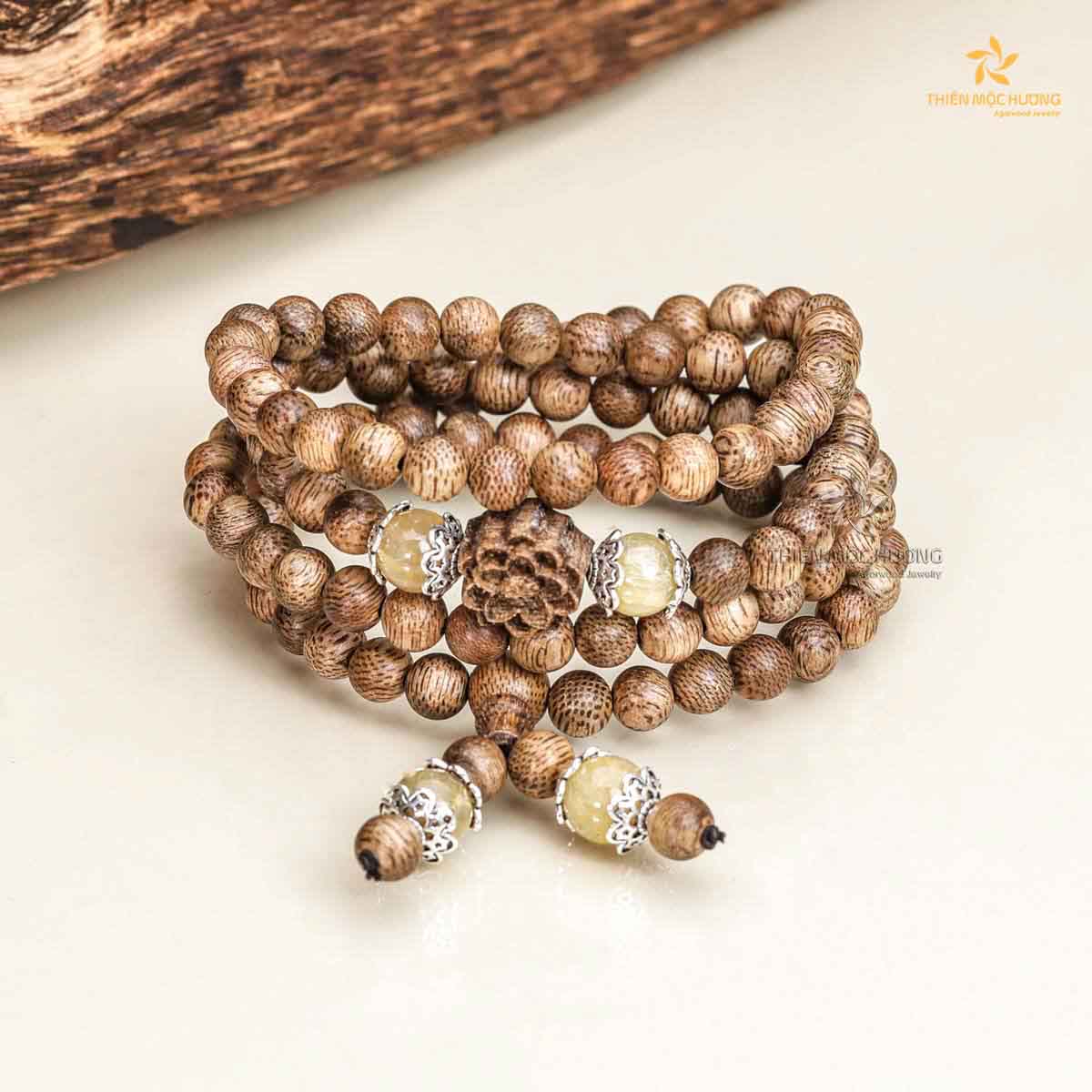 The Lotus 108 Mala Beads Agarwood Bracelet is a fashionable accessory and a powerful tool for spiritual growth and self-reflection. It serves as a constant reminder to embrace inner peace, seek enlightenment, and nurture a deeper connection with oneself and the world around.
Whether worn as a fashion statement or used in meditation, this bracelet is a perfect companion for those seeking balance and tranquility in their lives. Its soothing aroma, coupled with the rhythmic counting of the 108 beads, creates a serene and meditative experience.
III. The meaning of Lotus 108 mala beads Agarwood Bracelet
The lotus represents the supreme flower, the symbol of Buddha. The meaning of lotus flower is also associated with the idyllic beauty, the strong and resilient spirit of the people and the nature of Vietnam.
The lotus charm represents preciousness and brings a sparkling, glittering beauty that attracts all eyes. The color symbolizes friendship, shows prestige and trust.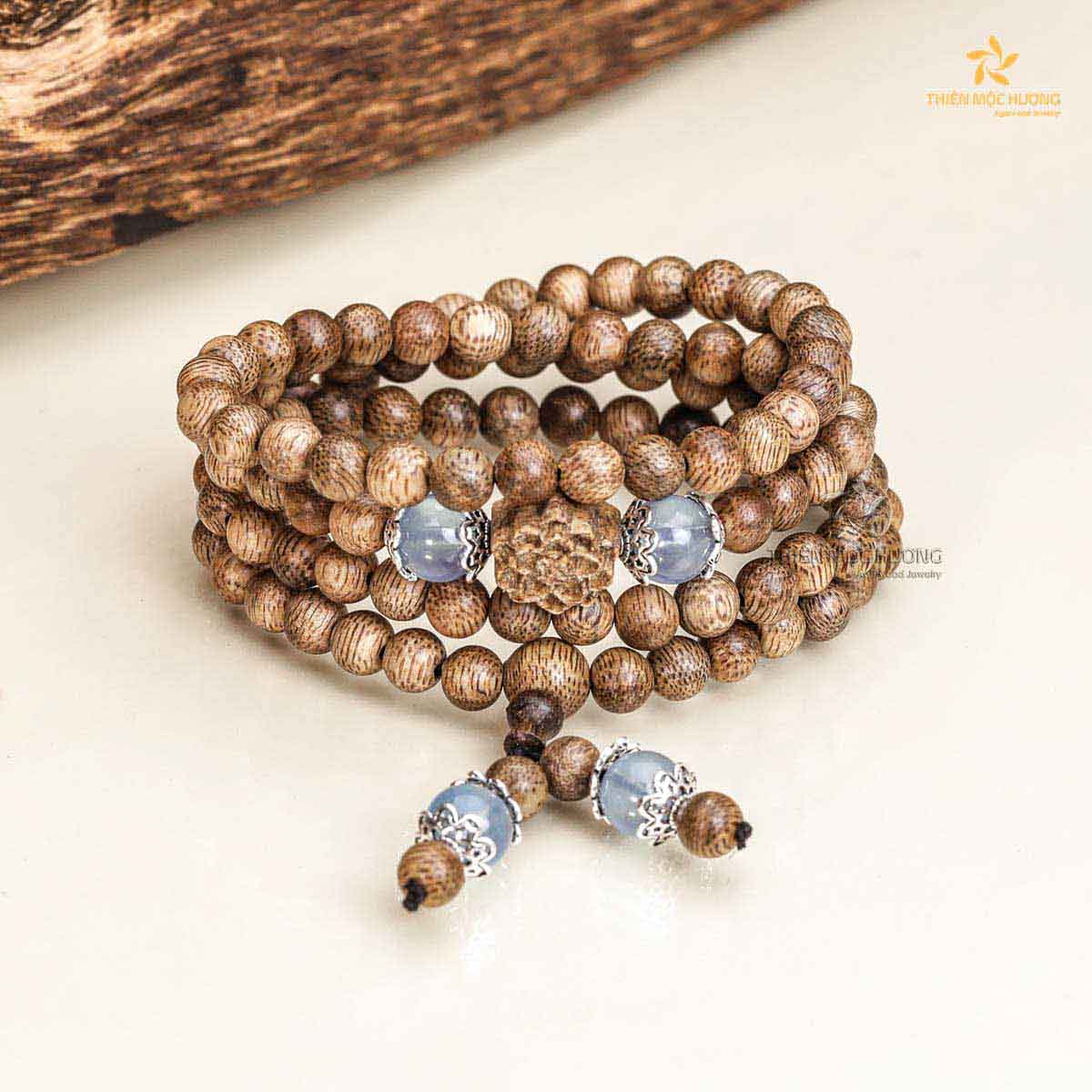 Indulge yourself or gift a loved one with this extraordinary Lotus 108 Mala Beads Agarwood Bracelet. Its fusion of natural beauty, sacred symbolism, and luxurious design makes it a remarkable piece of jewelry that resonates with spirituality and elevates personal style.
IV. Process of making

Lotus 108 mala beads Agarwood Bracelet