Philippines pixiu agarwood beaded bracelet can improve the fortunes of the wearer in good way, protect the peace of the wearer, bringing luck
Double talented – Double rich
Product information of Philippines Pixiu Agarwood beaded Bracelet with 24K Gold
Material

Submerged Agarwood + Gold 9999 

Source

Philippines

Number of beads

21 beads (depending on the size of the wearer's hand)

Age

30 years

Use for

Men

This is a gifts for relatives, superiors or friends.

It bringing luck, fortune in the way of fame.

Fashion accessories
Philippines pixiu agarwood beaded bracelet Description
This agarwood beaded bracelet product belongs to Philippines agarwood beads Collection hence it is the most preferable product for women at Thien Moc Huong store. Most notably, they used silver material to create a bracelet that has a compact design, precise but very aesthetic, charm bell. It has many very attractive uses that not all types of bracelets have.
About Philippines Pixiu agarwood beaded bracelet
Pixiu agarwood beaded bracelet is crafted from the type of agarwood originating from Philippines. Normally, bracelets will be made into 21 beads (may vary depending on the size of the wearer's hand). The number of beads will be selected based on the rules of the cycle of "birth – old – disease – death" to bring luck. You should choose the number of beads divided by 4 remainder 1. Accordingly, the last bead will fall into the word "birth".
This is one of the designs of the Thien Moc Huong bracelet collection Ty Huu Agarwood, delicate in each layer of gold.
The meaning of "Pixiu"
Legend has it that Ty Huu is the mascot that prevent the five elements of killing – the type of killing that is detrimental to health and fortune. If you have a Ty Huu on your side, you can be assured of its spiritual value.
Ty Huu liked eating gold and silver, but it didn't have anus, so Ty Huu ate only without releasing. Because of that, it has a very good effect of fortune.
In addition, Ty Huu is brave and specializes in biting the blood of the devils, so they dare not come near. So bring with you Ty Huu also be a palladium. Not only that it can improve the fortunes of the wearer in a good way, acting as a god to protect the peace of the wearer, sponsoring the health of the family, bringing luck on the status and career.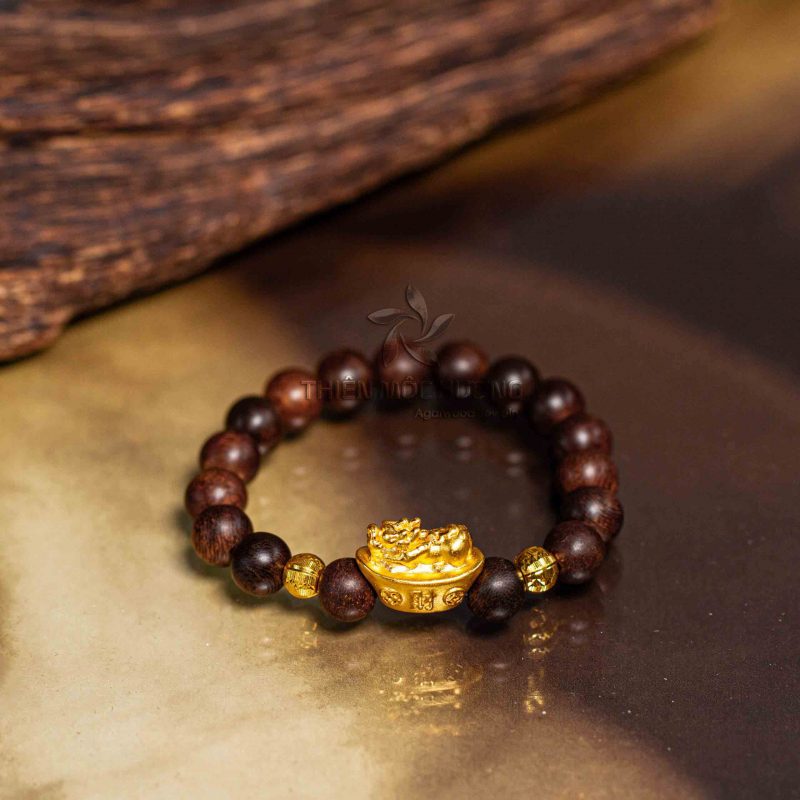 It can be seen that gold ingot is one of the feng shui products used most in business and life. The image of gold ingot symbolizes fortune and material wealth. The gold ingot in feng shui has a biological effect, brings wealth, attracts fortune constantly into the house.
The symbol of "Ty Huu Kim Tien" means that the image of Ty Huu lying on a gold ingot. And it means the means of fortune and wealth. Great for business people.
Trendy bracelet for men
Because they are feng shui bracelets, when you worn, they will bring peace of mind, mental intelligence about work and life, especially for men. Wearing a bracelet on the left hand in important meetings, auctions, and conferences will help homeowners get the chance and good luck.
Round Agarwood seeds bring with you the ultimate simplicity but extremely delicate combined with the charm of the Golden Ty Huu. The design is extremely suitable for men, especially those who pursue minimalism, classic but full of aesthetics.
SHOP NOW for Pixiu agarwood beaded bracelet for career advancement and good luck in life.
AGARWOOD BEADED BRACELET PRODUCTION PROCESS