Product Description
Lotus-Tibet 108 mala beads Agarwood Bracelet
The product is made from Vietnam Toc Agarwood which is taken from the natural environment, not affected by human hands. In particular, agarwood originates from Ha Tinh forest, growing naturally, so the bracelet quality is much better than other fasteners on the market. With the characteristic dark brown color and deep, sharp veins, the product promises to bring the wearer high aesthetics and many great uses.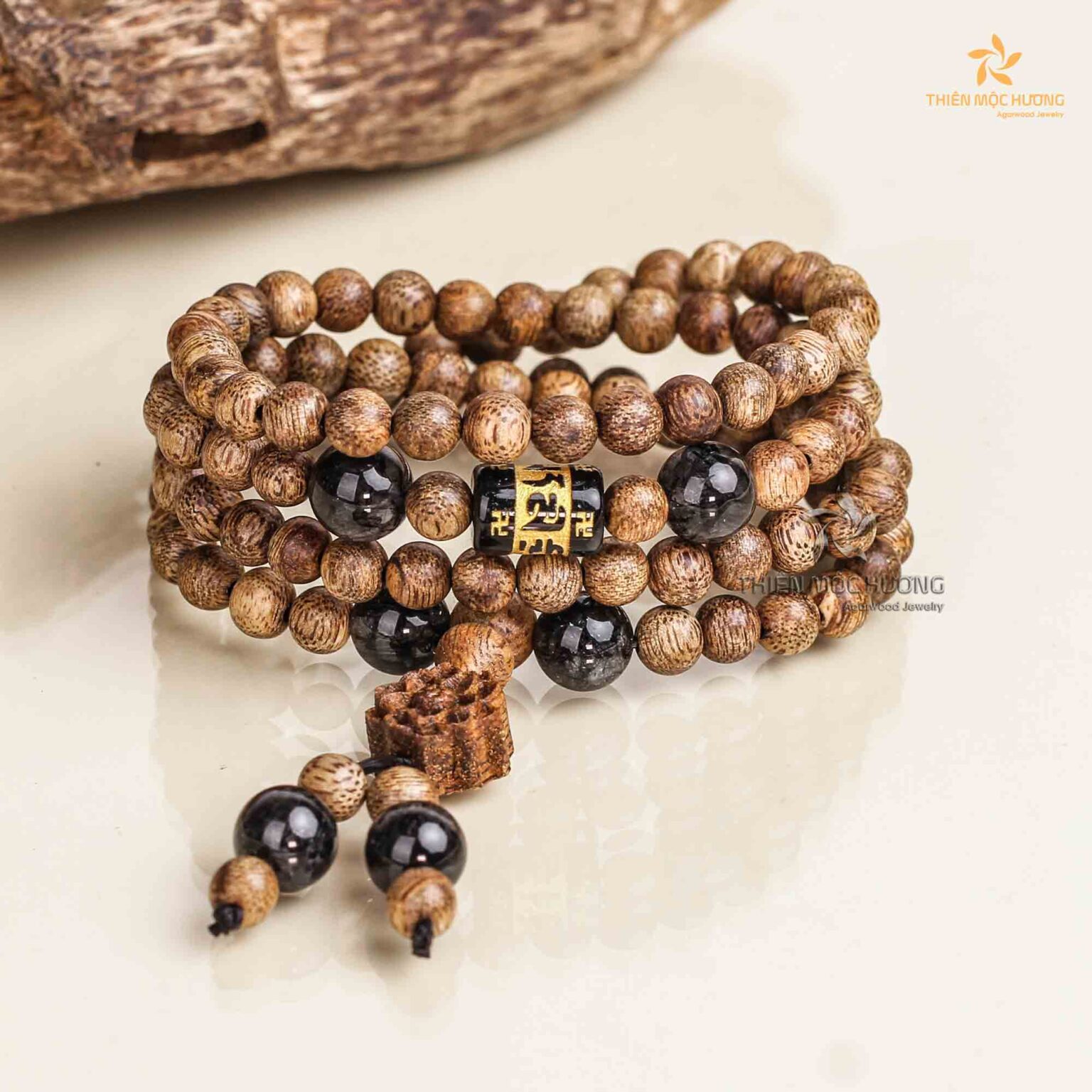 I. Information about Lotus-Tibet agarwood 108 mala beaded bracelet
Material Agarwood 100%
Country of Origin: Vietnamese Toc Agarwood
Number of seeds: 108 beads (depending on size)
Agarwood ages: 12 – 14 years sedimentary
Usage:
+ Female favorites
+ Gifts for relatives, friends or colleagues
+ Brings good luck, helps mental comfort, reduces anxiety and stress
II. Product Description
1. About the Lotus-Tibet 108 mala beads Agarwood Bracelet
Lotus-Tibet 108 mala beads Agarwood Bracelet is a jewelry accessory known for its simplicity but creates depth and sophistication, allowing you to coordinate with clothes, watches, bracelets, bracelets, bags and personal style changes. In particular, Thien Moc Huong offers a wide range of models and sizes, ensuring everyone can find the most suitable product.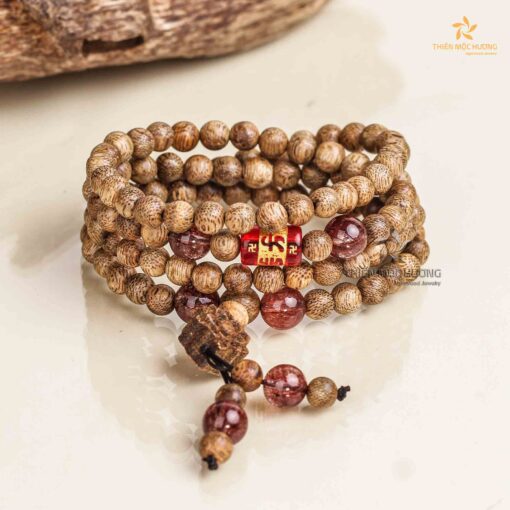 2. The meaning of agarwood bracelet 108 Phu Lien beads
The unique and harmonious combination of Agarwood and Tibetan amulet has a special meaning in Buddhism – it opens the mind of compassion and charity, brings many blessings to oneself and spreads positive energy.
Inspired by the flower symbolizing high quality, resonated with high-quality Agarwood material with the quintessence of heaven and earth, the ring is delicate and luxurious jewelry with high aesthetic and high quality. Above all, it also expresses the meaning of wishing peace for the family towards a prosperous and reunion life.
The ring of 108 beads of Phu Lien incense will have its meaning to help eliminate 108 kinds of afflictions, wear it for peace of mind, not be disturbed by the market, and double its function.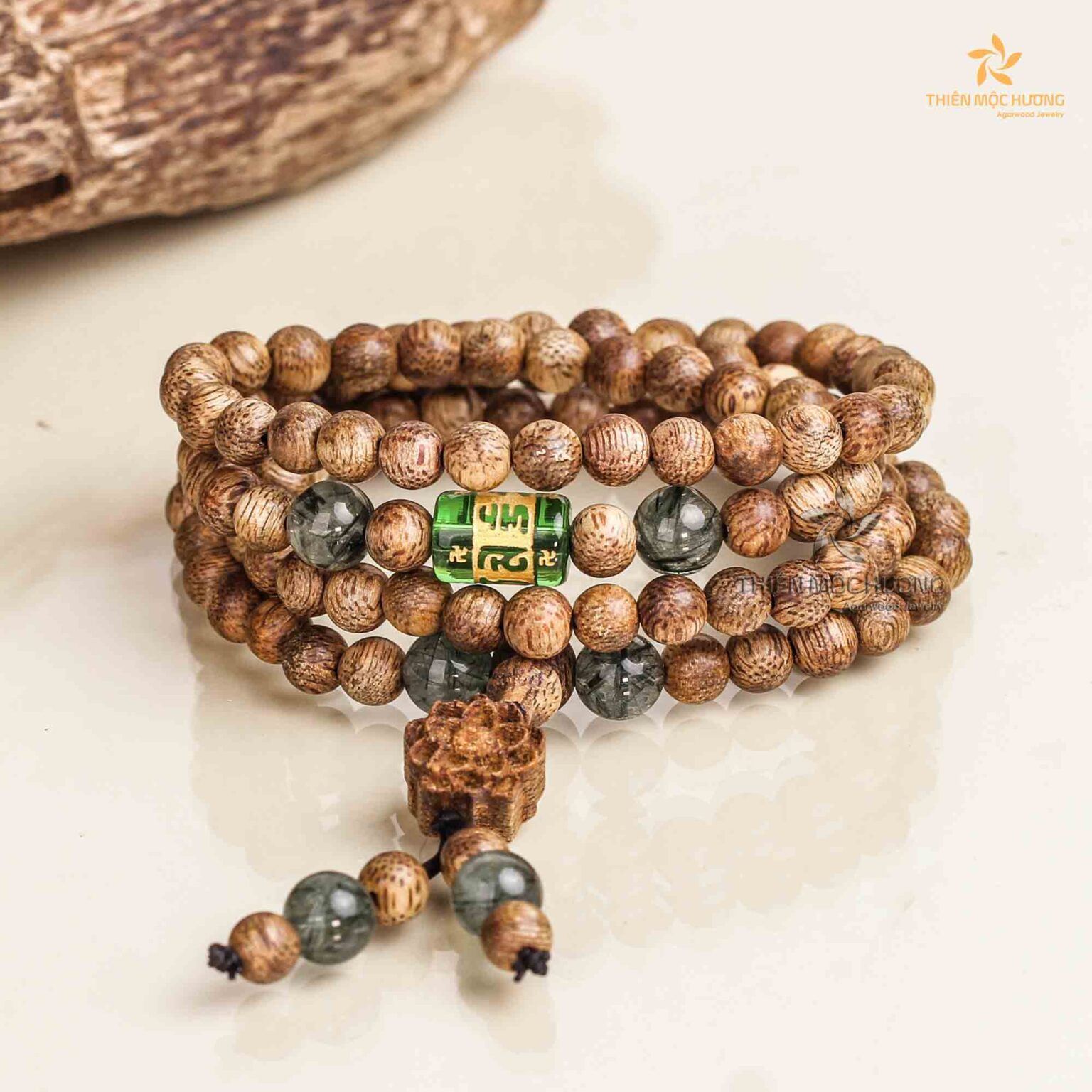 III. Agarwood Production Process