Product Description
Eight-treasure agarwood 108 mala beaded bracelet – classic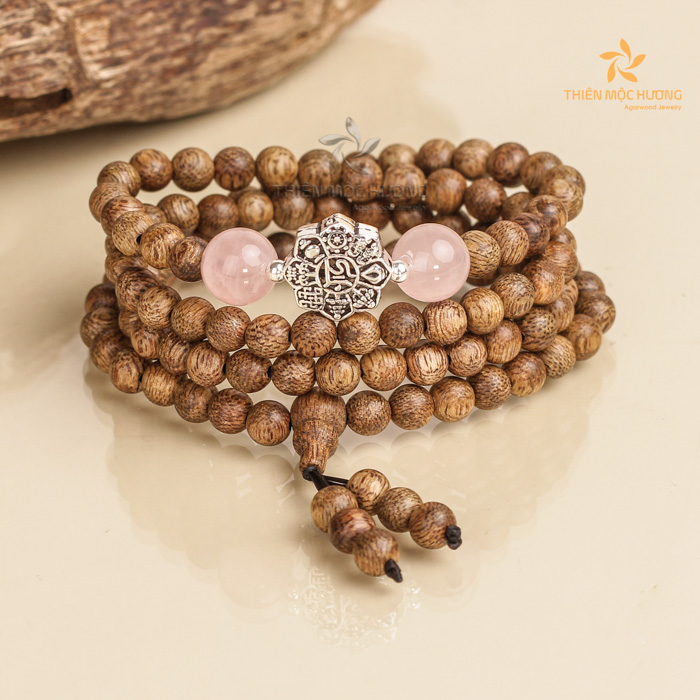 I. Information about Eight-treasure agarwood 108 mala beaded bracelet – classic
Material Agarwood 100%
Country of Origin: Vietnamese Toc Agarwood
Number of seeds: 108 beads (8-10mm/seed) (depending on size)
Agarwood ages: 12 – 14 years sedimentary
Usage:
+ Female favorites
+ Gifts for relatives, friends or colleagues
+ Brings good luck, helps mental comfort, reduces anxiety and stress
II. Product Description
The Eight Buddhist Treasures, also known as Ashtamangala, are a suite of eight auspicious symbols relating to Buddhism. They often feature in the arts of Buddhist cultures, including sword mounts. The classic eight, commonly encountered on Tibetan and Chinese art, are:
Wheel of Dharma: Represents Gautama Buddha and the Dharma teaching.
Endless knot: Symbolizes love and the intertwined unity of everything.
Conch shell: Refers to the Buddha's teaching spreading in all directions like the sound of the conch trumpet, awakening his subjects from the deep slumber of ignorance.
Victory banner: The symbol represents the Buddha's victory over the four hindrances in the path of enlightenment; pride, desire, disturbing emotions, and the fear of death.
Lotus flower: Emerging from the murky, muddy depths, growing towards the light and producing a pristinely white flower above the surface, the lotus symbolizes the path toward enlightenment.
Pair of fish: Symbolizes moving freely and spontaneously, without fear of drowning in the ocean of suffering.
Treasure vase: Symbolizes long life, wealth, and prosperity.
Parasol: A symbol of protection from the suffering experienced in the lower realms of existence.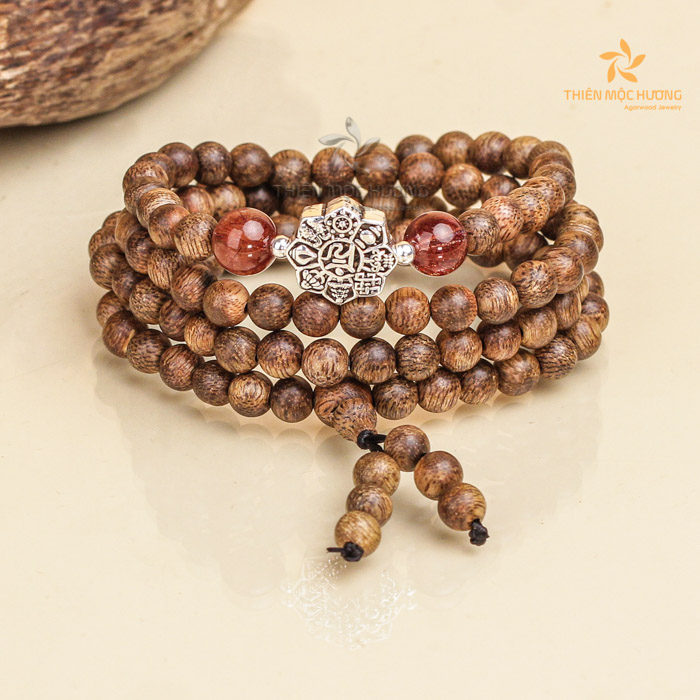 In Buddha, the number 108 means "Full" and "Intellectual"; besides, the same 108 number represents 108 human sorrows. Humans are born with ears, eyes, noses, tongues, bodies and minds. The eyes see the scenery. The ears listen to the sound. The nose smells the scent. The tongue tastes sweet, sour, and bitter. The body feels the heat, and the cold, which brings happy-sad. These feelings either make humans be at peace or in confusion. 108 feelings come from the past, the present, and the future.
Combining the eight treasures with 108 Agarwood bracelets will bring meaning to the wearer about perfect protection, luck and blessings.