Product Description
Vietnamese 108 mala beaded bracelet – classic
The product is made from Vietnam Toc Agarwood which is taken from the natural environment, not affected by human hands. In particular, agarwood originates from Ha Tinh forest and grows naturally, so the ring quality is much better than other fasteners on the market. With the characteristic dark brown color and deep, sharp veins, the product promises to bring the wearer high aesthetics and many great uses.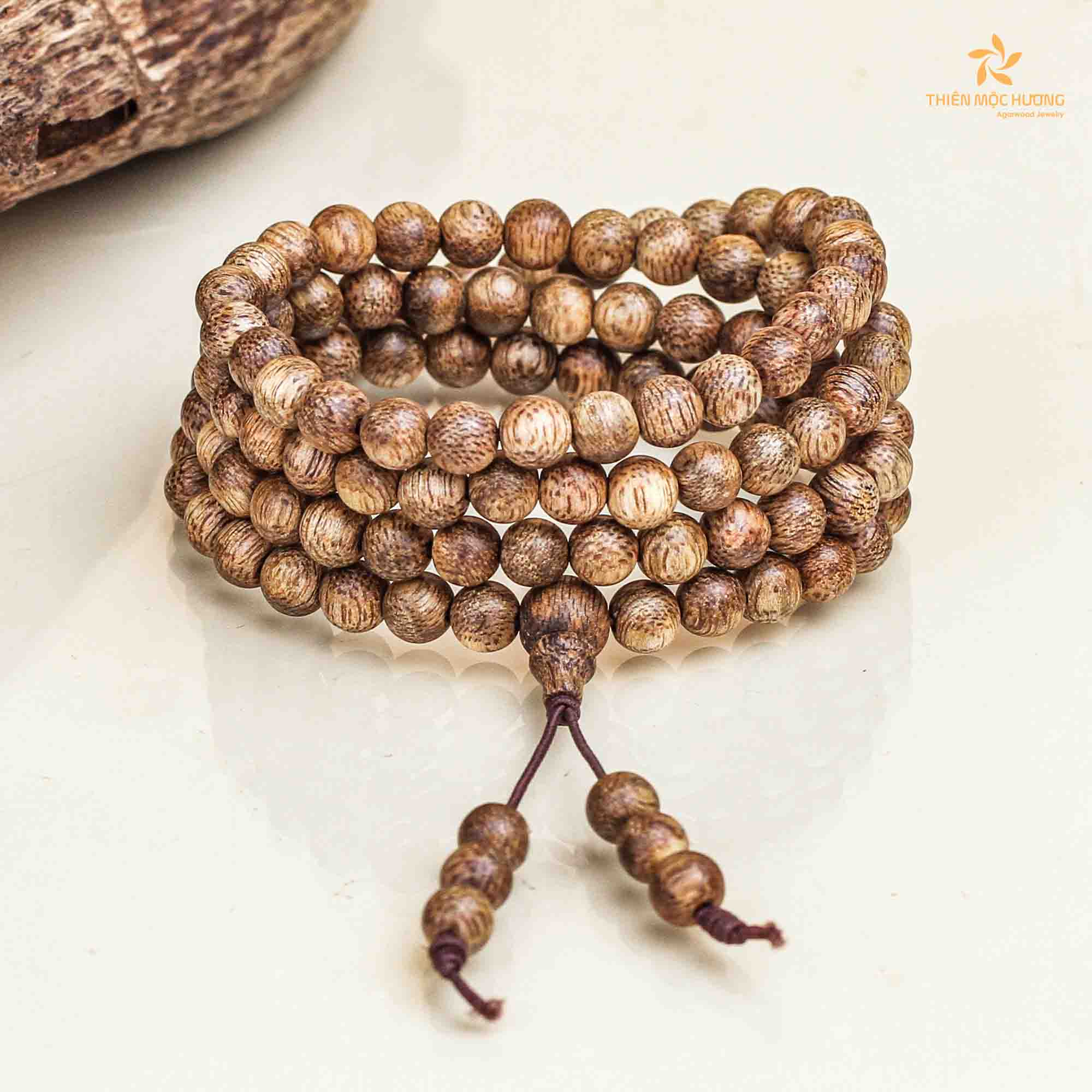 I. Information about Vietnamese 108 mala beaded bracelet
Material Agarwood 100%
Country of Origin: Vietnamese Toc Agarwood
Number of seeds: 108 beads (8-10mm/seed) (depending on size)
Agarwood ages: 12 – 14 years sedimentary
Usage:
+ Female favorites
+ Gifts for relatives, friends or colleagues
+ Brings good luck, helps mental comfort, reduces anxiety and stress
II. Product Description
1. Agarwood beads bracelet 108 beads
The Vietnamese 108 mala beaded agarwood bracelet is made of natural agarwood from Vietnam. Agarwood, originating from Vietnam, has the highest value and is the most expensive because of its rarity and medicinal use. The bracelet is made from 108 Agarwood beads with a gentle, faint scent that makes the wearer feel comfortable. The bracelet carries a spiritual symbolism in Buddhism, representing the quest for the Samadhi Dharma to eliminate defilements. With the number of beads of 108, this will be an extremely meaningful gift and jewelry for relatives and Buddhists.
2. Meaning of the number 108
In Buddhism, the number 108 means Full and Deep. In addition, it is also 108 types of human afflictions. People are born with ears, eyes, noses, tongues, bodies, and consciousness. Eyes see the scenery. Ears listen to sounds. The nose perceives the scent. The tongue touches the sweet and sour taste. The body feels hot and cold, causing a feeling of joy-sadness. These emotions make our body and mind pure or confused. 108 mixed emotions from past, present and future.
3. Peaceful – fashionable
Because they are feng shui bracelets, they will bring serenity and emotional intelligence to work and life. Agarwood bracelet 108 Beads exudes a delicate, luxurious, strong and assertive beauty in a special way. Thien Moc Huong is sure that both men and women will choose this product. Wearing a bracelet on the left hand in important meetings, bidding sessions, and conferences will help homeowners with bad luck and gain convenience..
4. Agarwood bracelet 108 has a unique look
Agarwood bracelet 108 Beads combines a rosary that brings peace and a trendy jewelry bracelet. Owners of agarwood beads will keep their minds at peace, stay away from the bad, always stay in mindfulness, and also exude a gentle, sophisticated but no less luxurious and noble fashion style. The bracelet can also be combined with other charms, depending on the wearer's preference.