Choosing mala beads is an exciting process in the path of perception in spirituality. Manifesting goals and dreams, healing to enhance your meditation practice. To choose the right mala beads, you should know about the significance of many types of mala, color, usage,… No matter who you are, despite being a monk or human, all of you can wear these mala beads. Mala beads can combine with many different other materials: gold, silver, stainless steel,… Moreover, it is also used in meditation and yoga. If you do not like to wear it on your wrist, you can wear it as a necklace. This one has a deep connection to mental grounding and opening your mind to spirituality. In addition, there are a lot of questions about these topics of mala beads. One of them is "How to choose mala beads". In this content, we will answer the question for those who wondered about it. 
1. What are mala beads meaning?
1.1 Do mala beads have to be 108 beads?
The rosary of 36 beads and 18 beads are argued to not represent any number in Buddhism. It was thought that to facilitate wearing, it is divided 108 beads into three chains, each with 36 beads, or divided the 108 beads into six, each with 18 beads, without any connotation at all. With the 108 meaning, it represents eliminating 108 sorrows and repentance in Buddhism. This is a highly symbolic number, it also represents 108 challenges that we must overcome. Some other lengths of mala beads are 54 beads or even 18, 21 or 27 beads.
If you care about the number of beads in mala, you can see them here: How many beads in a mala bracelet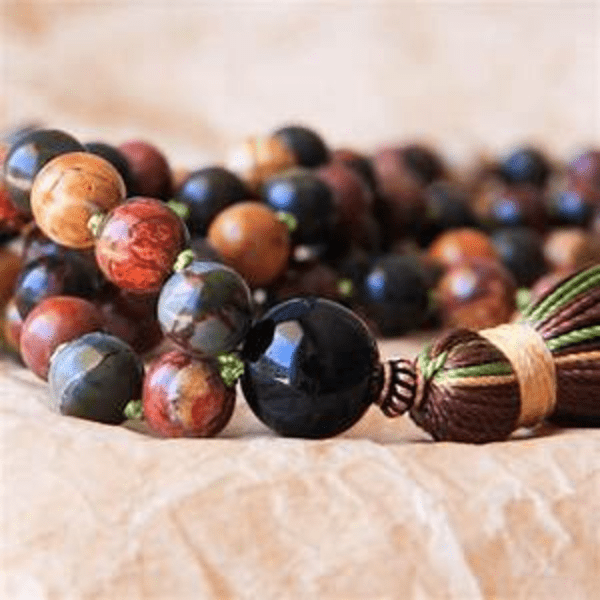 1.2 Mala beads in intentions and goals:
The healing energy and energetic properties inside the mala beads will affect your body and mind. It is important to align these energies with many activities: meditation, yoga and reading mantras,… The advantages of these mala beads are so much more than you think. 
Firstly, reducing stress. Wearing mala beads usually is a good way to release stress and depression. You feel comfortable during touch. The feeling of smooth and silky. Meditation and yoga help you reduce pain which is a main cause of psychological problems. 
Secondly, less need for medication: Wearing mala as a precious medication. This bracelet always reminds you that you need to do exercise everyday, focus and memory after doing exercise will help you increase hormones which is good for the body: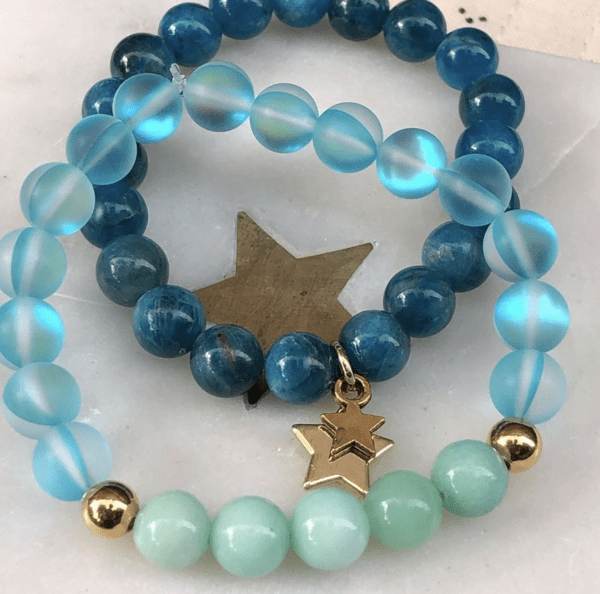 Finally, Cognitive benefits in Buddha, Catholic or other religions. How to choose mala beads? This is one of the problems when choosing an appropriate mala bracelet. The perception in your mind is like a tool to heal yourself. This is really good for you. Not only your mind, but also for your health. 
1.3 Color meaning of mala beads
According to many articles about mala bead bracelets, most have a certain spiritual meaning. The particular mala bracelets also have precious meaning especially when combined with suitable colors that follow your destiny. This one is really important to people who follow Feng Shui or are passionate about it. In addition, there are five colors that are quite suitable for the Earth. Yellow is the symbol of metal, blue for water, green is wood, brown is Earth. Finally, red represents fire. With the variety of this special product, nowadays there is also a special bracelet made from 100% agarwood. However, it can be affirmed that it is a masterpiece not for many people. And with mala beads meaning of Buddhism is also an important product.
To know deeply about this kind of beads, you can take a look at what is mala beads
2. How to choose the right mala beads? 
2.1 The way to pick up right mala beads
The features and criteria of good mala beads are so many. The most important thing is choose the suitable material that makes you feel comfortable when you wear it. You need to base on the material, using that you want, purpose,… Because each of the products of mala beads is not cheap, but it is not extremely expensive that you can not afford it. The next one is the number of mala beads.  Depending on your purpose of use, you can choose the type: 27, 54 or even 108 beads. This is up to you. The monks usually use the number 108. Because they use it in praying and repent everyday in the Temper. On the other hand, these mala beads bracelets are so good for babies. Wearing this bracelet while sleeping is to wash the bad energy away from the body of babies.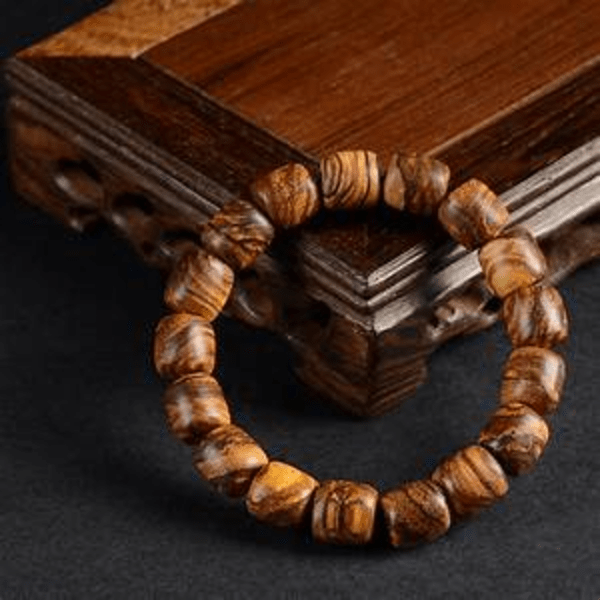 In summary, despite having a lot of criteria to choose a mala bracelet, the decision is up to you in the end. Because of the different needs and preferences. So the user should have the information or be consulted by experienced people. By the way, if we have knowledge about it, this helps us save a lot of time and money. How to choose mala beads? To answer this question, we need to clarify the useful function of it released into our life.
If you want to know the way to make mala beads, you can refer to this: How to make your own mala beads 
3. Where can we wear mala bracelet correctly?
3.1 You can wear it as a necklace
This method is the convenient way to bring mala beads to you. Wearing it on your neck, you will be protected by your Guardian and ancestor from evil and negative thoughts. Not only are they a tool for reading 108 mantras, but they are also really magnificent, beautiful and natural to wear. In addition, mala beads are made of different stones and materials (stainless steel, gold, silver,…). Wearing mala beads is the best way to connect with your inner voice and your physical body. How to choose mala beads? This is one of the elements answering this question. 
3.2 Wrap mala beads on the wrist
Nowadays, there are many types of mala beads in the market. For the smallest size malas: 21 and 27 beads. You just need to wear it in the normal way that you usually wear it. In contrast, if these have a bigger length, you can wear it into many layers. It can be one, two, or three as many as you like. Seeing and touching this bracelet all day can remind of the positive thoughts. Moreover, The extension of malawoods will bring  a sense of comfort to you when touching it. 
3.3 During meditation
Mediation is a good way to turn inward and observe your mind. If it had negative thoughts, it will return to the previous state. The more modern life is, the more people have to face stress and pressure. So, wearing mala beads as a reminder that you do not forget to take care of yourself as well as your mental health
4. Should wearing mala beads daily?
One of the benefits of wearing mala beads is the healing properties. It helps you to eliminate negative thoughts from your mind. Beside that, Whether you are chanting out loud, whispering, or repeating a phrase silently, tracing the beads of the mala with your fingers can help you keep track of the japa. Mala beads are also accessories, they are also a stuff for meditation. On the other hand, mala beads can be used for healing extremely effectively.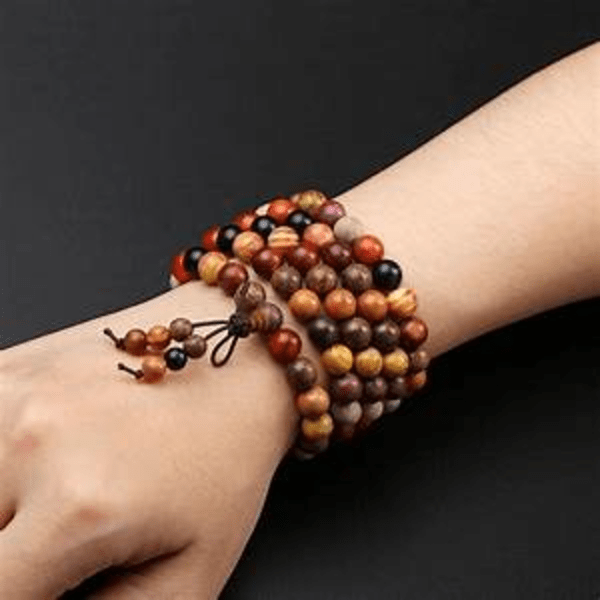 In addition, wearing mala beads can bring prosperity for your business or real estate , consultants, environments, main banks,…  It also helps raise the power of mental strength to overcome all difficulties, challenges and storms in your life. If you do not like to use it as a bracelet, you can use it as a necklace. Your simple daily outfit will have a special point. Your clothes will look more glamorous than before.
5. Some hottest Mala beads that we recommend for you:
5.1 Agarmoon 108 beads mala -classic:
This agarmoon 108 beads have five colors for you to choose from. Special pattern along the string can absorb the good energy and eliminate your sorrow and negative thoughts.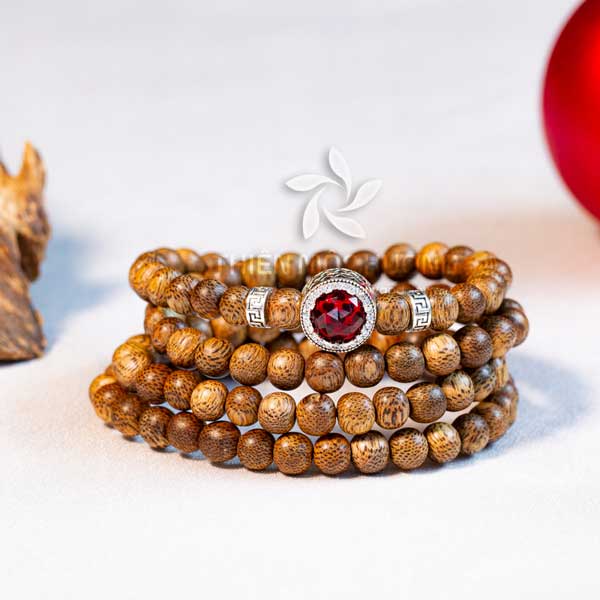 This one is the information about this product, you can see in here: Agarmoon 108 beads mala -classic
5.2 Laos 108 mala beads bracelet:
This bracelet is one of the best sellers at our shop. With the simple design, this products is suitable for all of you. Laos 108 mala beads bracelet can soothe your soul and purify the mind. Helping you to enhance the perception of spirituality.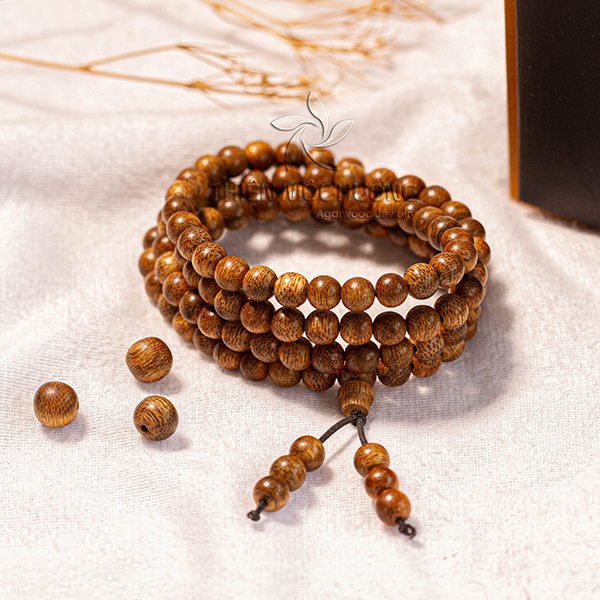 If you are interested in these beads, please check out below: Laos 108 mala beads bracelet:
5.3 Tibetan 108 beads bracelet- classic:
Tibetan 108 mala beads bracelet help get rid of the sorrow. soothes your soul, brings good fortune and wash bad energy and negative thoughts away. The speciality of this one is the point of 5 Black Feng Shui stones in length.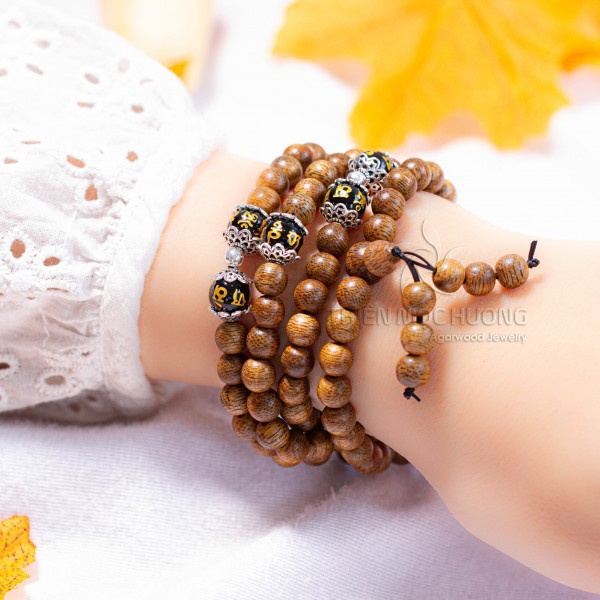 You can check out this link below about our product Tibetan 108 mala beads bracelet 
5.4 Gem 108 beads with birthstone- classic:
With a Blue gem stone along the mala bracelet. These 108 beads are a good string for your meditation and yoga . This will be an extremely meaningful gift for everyone.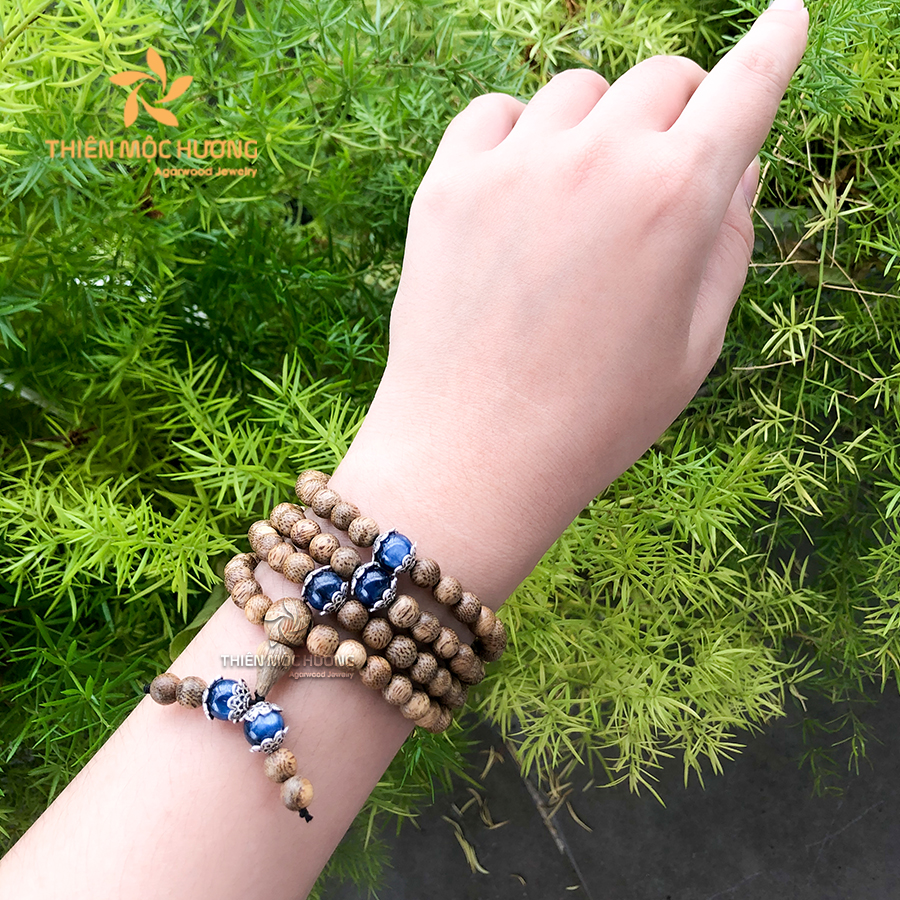 Please check this link below to have more information about this product: Gem 108 beads mala with birthstone- classic:
5.5 Nine-tailed fox 108 beads agarwood bracelet with 24k- Gold:
Nine-tailed fox 108 beads mala agarwood represents outstanding luck on the career path, love and families. Furthermore, it brings luck, prosperity and creation. Release stress and anxiety for its owners.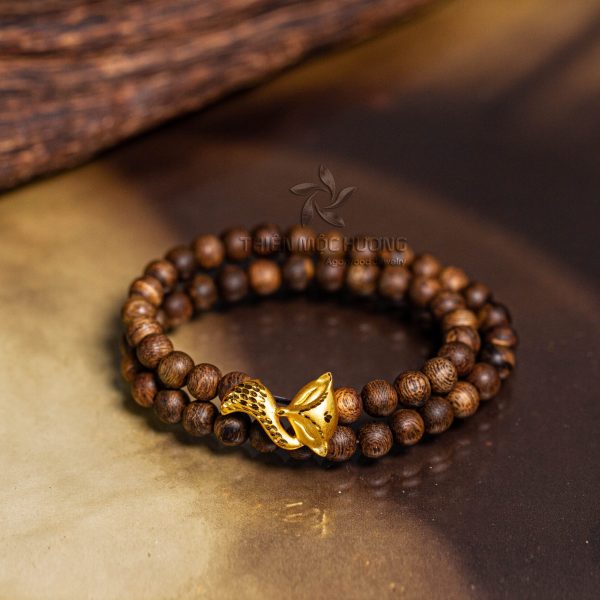 If you want to know more about the information of agarwood, please contact with Thien Moc Huong store. We are always willing to answer all of your question. Please leave your thoughts in the comments section below.
Besides, you can see and check out this content of 108 mala beads: Gem 108 beads mala with birthstone- classic