The chain of 216 beads with the meaning "FOREVER – BEST – FORTUNE" has been favored by many customers. Therefore, we have improved the design, as well as selected more suitable bass blanks to launch this new 216 series.
Agarwood bracelet chain 216 beads
Crafted from Agarwood from Laos. Agarwood beads are made from 216 Agarwood beads with a gentle, faint scent that makes the wearer feel comfortable and comfortable. The bracelet with 216 beads is a meaningful agarwood bracelet that many customers of Thien Moc Huong like and choose.
When using agarwood bracelets, will rub against the skin of the hands or objects and emit an agarwood scent to help keep the spirit fresh and clear, reducing stress in work and daily life.
An Agarwood bracelet with 4 cups for wearing on the wrist or neck with a necklace of agarwood beads not only brings a lot of luck to the bearer, but also can exorcise evil, do business successfully, work is convenient, life peaceful, and eliminate harmful gases that are not good for health.
More specifically, this is a very meaningful item in feng shui because frankincense is best known because it attracts the aura of heaven and earth to create a natural fragrance. Agarwood with a light, the sweet scent helps your spirit to always be in a refreshed state, avoid stress and always be cheerful.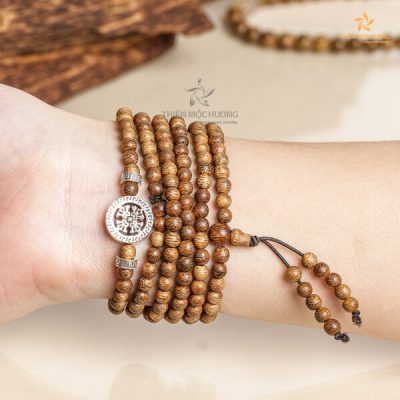 What is the meaning of the number 216?
So what does the 216-grain frankincense ring mean? The number 2 means "forever". The number 1 means "MOST". The number 6 means "LOC". Agarwood bracelet 216 is the meaning of pursuing the BEST things, EVERY LOC PHAT. In addition, the 4-cup – 216-grain agarwood ring is also connected by a concentric knot, symbolizing rigor, durability, and sustainability.
In, 216 agarwood beads are meticulously and delicately selected. The owner will keep his mind peaceful. Stay away from the air that is not good for your health and mood. Most importantly, the confident and attractive beauty of women will be doubled when owning a bracelet with 216 beads.
Bringing peace and convenience
Because they are feng shui bracelets, when worn, they will bring serenity, and emotional intelligence to work as well as in life. Especially for men. Wearing a bracelet on the left hand in meetings, auctions, and important conferences will help homeowners face bad luck and gain advantages.
Agarwood bracelet with 216 unique beads – separate
Agarwood bracelet 216 Beads is a combination of the rosary that brings peace and trendy jewelry. Owners of agarwood beads will keep their mind peaceful, away from the market. And often stay in mindfulness while also exuding a gentle, sophisticated but no less luxurious and noble fashion style. The bracelet can also be combined with other charms, depending on the preferences of the wearer.
The process of making Agarwood bracelets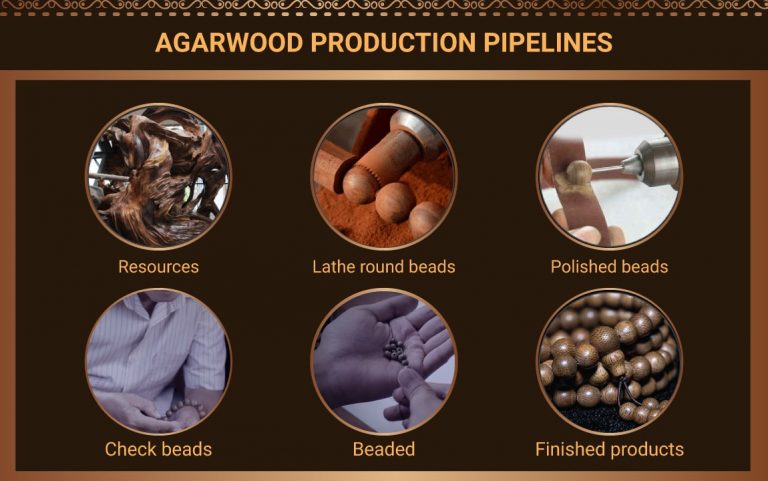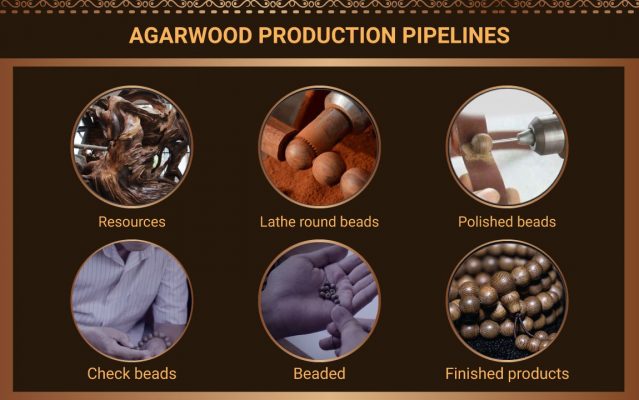 The wood chips of Agarwood have gone through many years of agarwood to be processed. From the process of turning round beads to polishing, the ring artisans always put all their enthusiasm, care, and love into Agarwood. Beads after being carefully checked will be strung. Since then, the product Agarwood Bracelet 216 Beads was born and delivered to customers.
BUY NOW Agarwood Bracelet 216 Beads to receive a discount and free fast shipping from Thien Moc Huong.