The product is made from Vietnam Toc Agarwood which is taken from the natural environment, not affected by human hands. In particular, agarwood originates from Ha Tinh forest, growing naturally, so the ring quality is much better than other fasteners on the market. With the characteristic dark brown color and deep, sharp veins, the product promises to bring high aesthetics and many great uses to the wearer.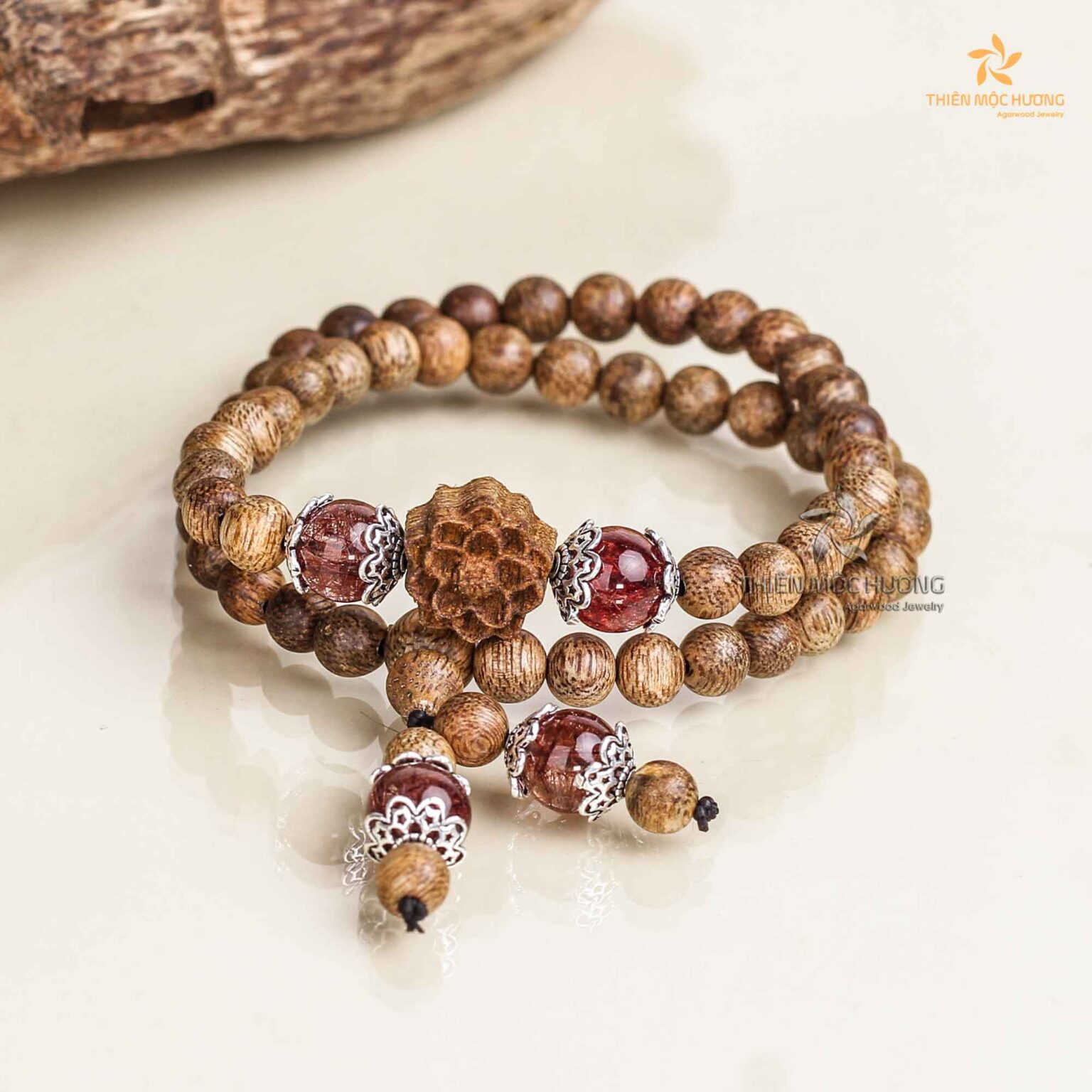 I. Information about Lotus Double Agarwood Bracelet with Gemstone
Material: Agarwood 100%
Country of Origin: Vietnamese Toc Agarwood
Number of seeds: 54 beads
Agarwood ages: 12 – 14 years
Usage:
+ Female
+ Gifts for relatives, friends or colleagues
+ Brings good luck, helps mental comfort, reduces anxiety and stress
+ Meaningful presents toward Buddha, Business
II. Product description of Lotus Double Agarwood Bracelet with Gemstone
Crafted with precision and care, the Lotus Double Agarwood Bracelet features two strands of genuine Agarwood beads, carefully sourced and hand-selected for their exceptional quality. Known for its enchanting aroma and rich symbolism, Agarwood is believed to bring good luck, positive energy, and a sense of calm and serenity.
Embracing the elegance of the lotus flower, a symbol of purity and enlightenment, this bracelet showcases a delicate lotus charm adorned with shimmering gemstones. The gemstones, meticulously chosen for their brilliance and color, add a touch of glamour and sophistication to the bracelet, elevating its beauty to new heights.
The Lotus Double Agarwood Bracelet is not only a stunning accessory but also carries deep spiritual meaning. It serves as a reminder to stay grounded, find inner peace, and embrace the beauty of life. Whether worn as a fashion statement or as a personal talisman, this bracelet is a perfect addition to any jewelry collection.
Trendy jewelry for the modern women
The Lotus Double Agarwood Bracelet is an exquisite piece of jewelry designed for women. Inspired by the flower symbolizing high beauty and complemented by premium Vietnamese Agarwood, which embodies the essence of heaven and earth, the Lotus Double Agarwood Bracelet is a sophisticated and luxurious accessory that exudes high aesthetic appeal. Moreover, it carries the meaningful wish for peace and harmony within the family, aiming for a warm and prosperous life.
Agarwood, known as a gift from heaven and earth, possesses abundant spiritual energy that brings luck, good health, tranquility, and prosperity to its owner. When combined with the auspicious golden peony petals, emitting their vibrant radiance, the result is the creation of a refined and elegant strand of Lotus Double Agarwood bracelet with Gemstone.
III. The benefits of the Lotus Double Agarwood Bracelet with Gemstone
The natural agarwood bracelet has the ability to attract celestial energy, absorbing the essence of heaven and earth, thereby granting its owner abundant luck and great fortune.
The Agarwood Lotus Bracelet has captivated countless women. Unlike other accessories, it not only exerts a strong and compelling allure on jewelry enthusiasts but also carries high value in terms of mysticism, feng shui, health, wealth, and luck.
IV. The process of making Lotus Double Agarwood Bracelet with Gemstone