The product is made from Vietnam Toc Agarwood which is taken from the natural environment, not affected by human hands. In particular, agarwood originates from Ha Tinh forest, growing naturally, so the ring quality is much better than other fasteners on the market. With the characteristic dark brown color and deep, sharp veins, the product promises to bring high aesthetics and many great uses to the wearer.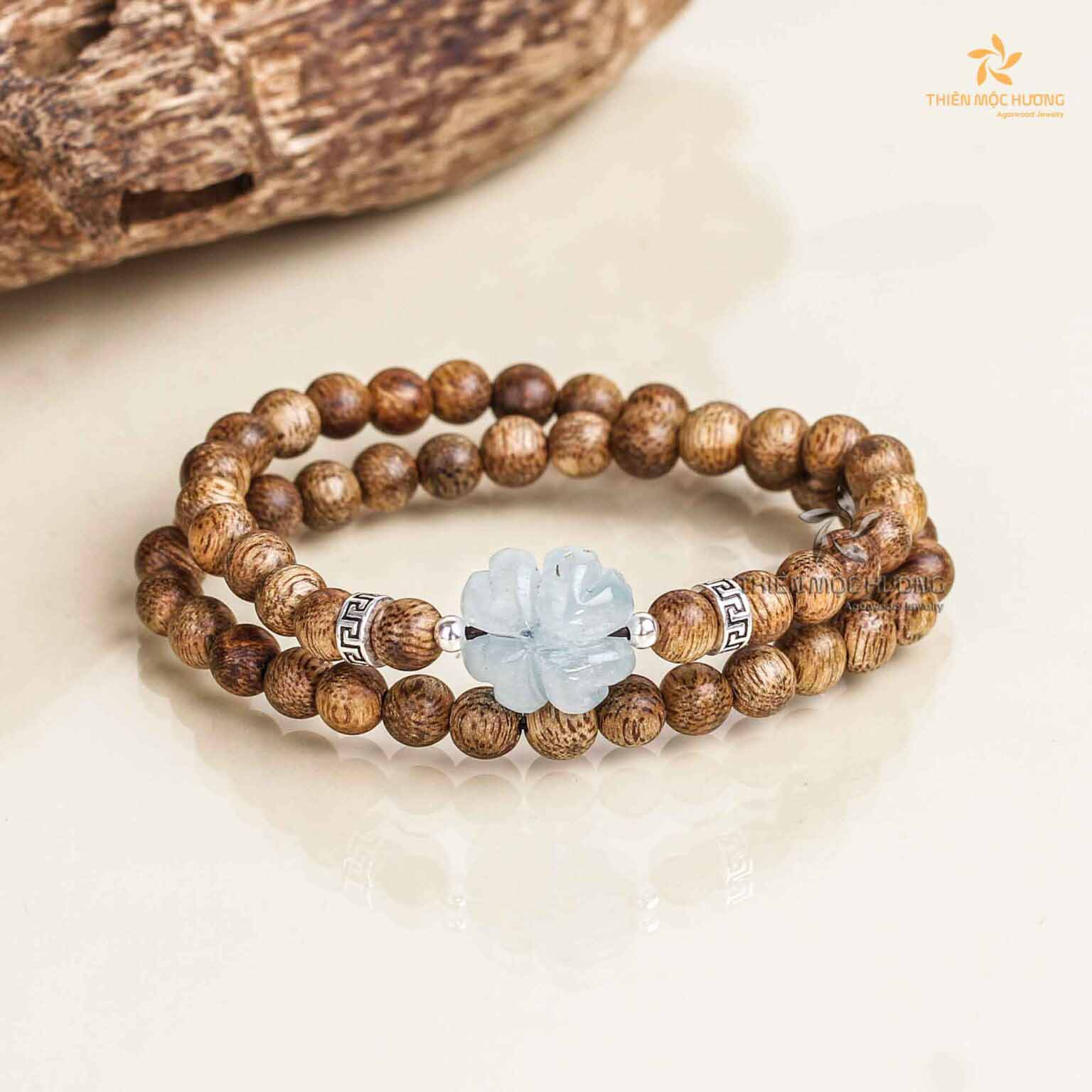 I. Information about Four-leaf Clover Double Agarwood bracelet
Material: Agarwood 100% + Gemstone
Country of Origin: Vietnamese Toc Agarwood
Number of seeds: 54 beads (Depending on hand size)
Agarwood ages: 12 – 14 years sedimentary
Usage:
+ Female
+ Gifts for relatives, friends or colleagues
+ Brings good luck, helps mental comfort, reduces anxiety and stress
II. Product Description of Four-leaf Clover Double Agarwood bracelet
The bracelet is made from 54 beads of Agarwood, emitting a gentle and subtle fragrance that brings a pleasant and comfortable sensation to the wearer. This bracelet is a meaningful gift and exquisite jewelry for everyone.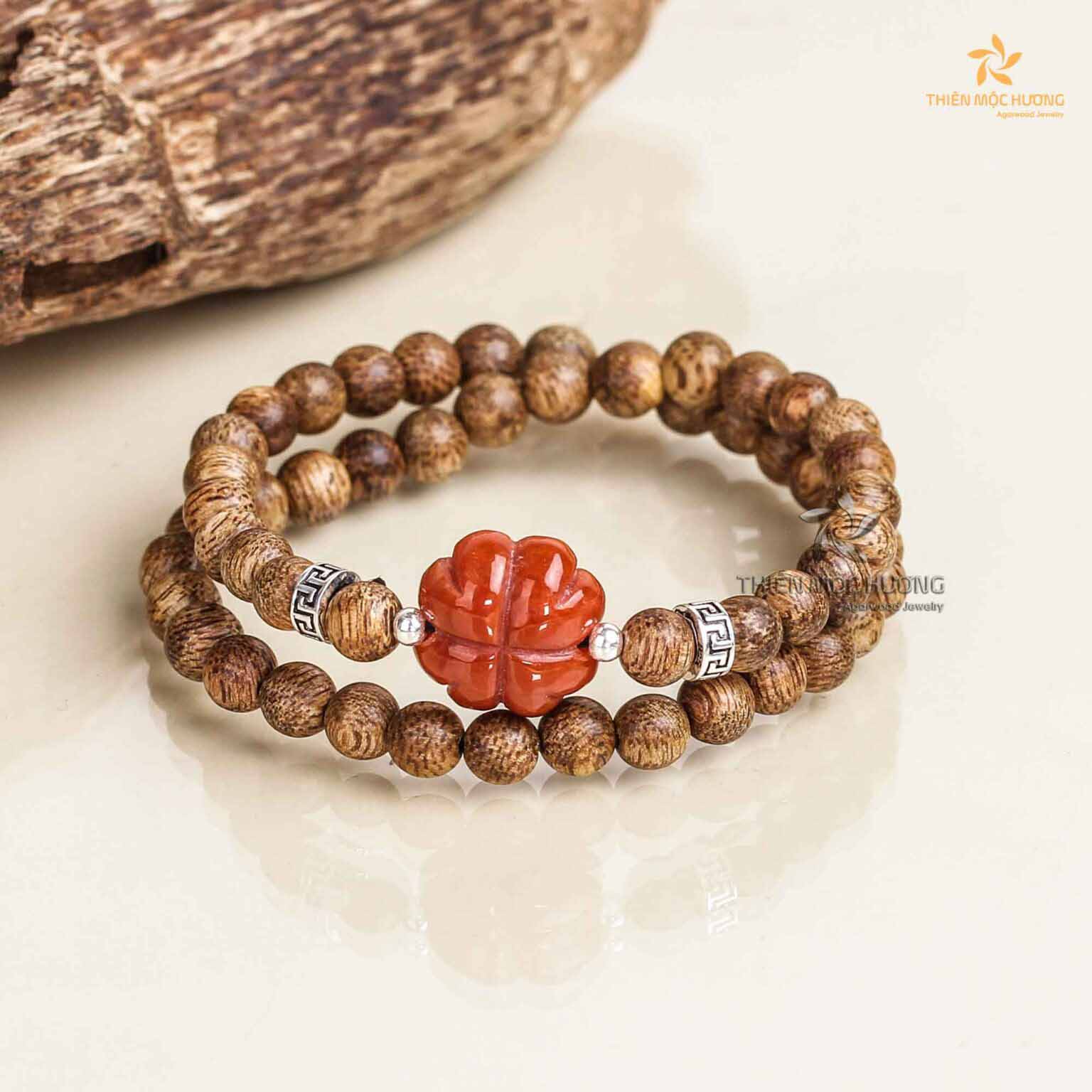 Drawing inspiration from the lucky plant – the Four-Leaf Clover. It is believed that a brave child in the world, venturing deep into the forest, enduring numerous obstacles with a courageous heart, will find a type of herb called "Four Treasures" – leaves that will bring everlasting happiness, the innocent joy of children. When finding a four-leaf clover, the child will stand in the wind, place the clover in their warm heart, and sing a folk song. Each leaf on the branch of the Four Treasures represents the most precious things in life.
First Leaf: Faith
Second Leaf: Hope
Third Leaf: Love
Fourth Leaf: Luck
III. The Benefits of the Four-leaf Clover Double Agarwood bracelet
The Agarwood Four Treasures Bracelet is an exquisite and luxurious piece of jewelry, with high aesthetic value. The scent of agarwood helps dispel heaviness, reduce stress, eliminate negative energy, attract luck and wealth, and bring about peace. In married life, the couple harmonizes, understands each other, and experiences deepening affection and strong bonds. Above all, it symbolizes wishes for peace and prosperity for the family, aiming for a warm and harmonious life.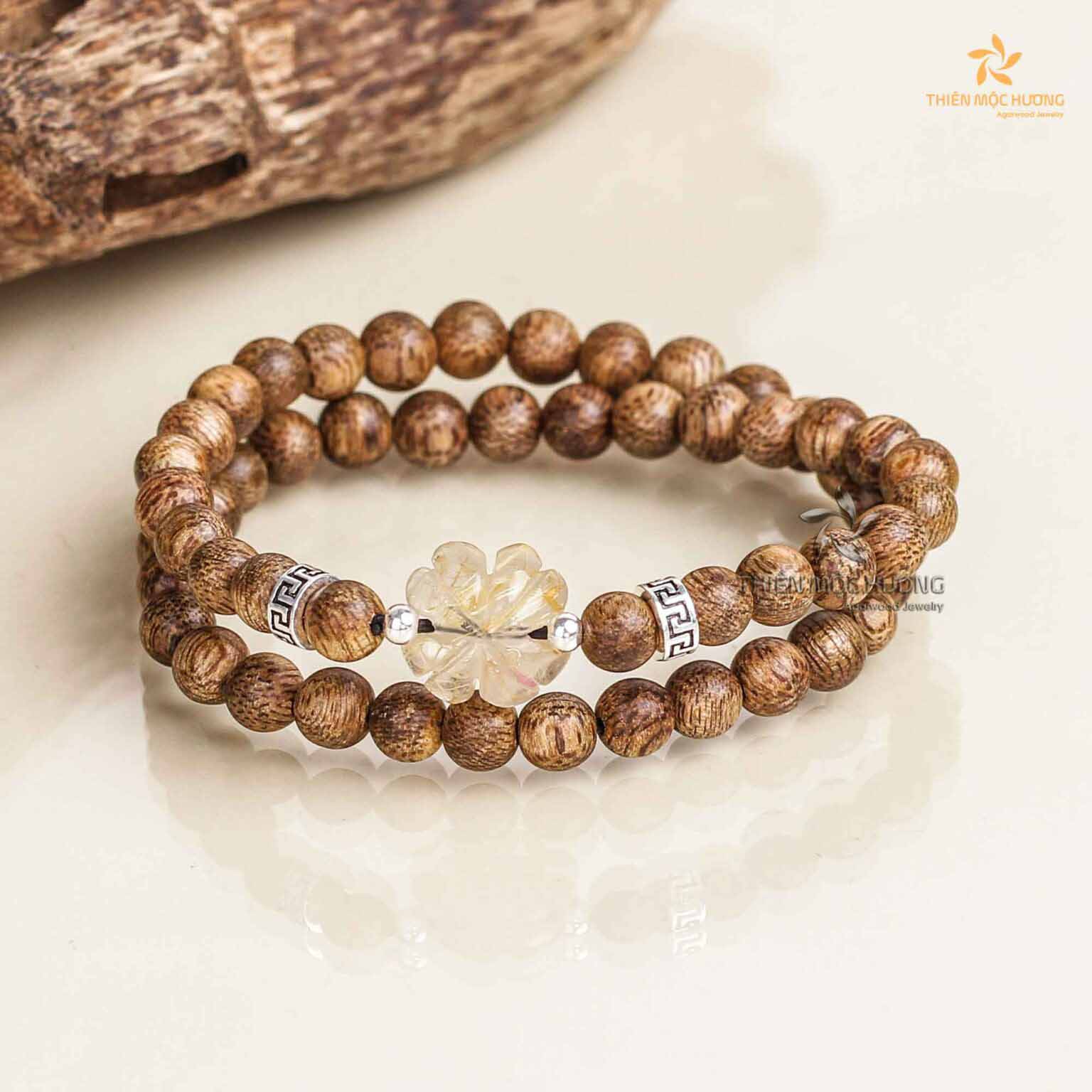 By finding a suitable bracelet based on one's destiny, it brings wealth and also promotes tranquility and enhances intellectual and emotional well-being in both work and personal life, especially for modern women. The simple Agarwood Bracelet will make them more attractive and confident. It is simple yet sophisticated and elegant.
IV. Process of making Four-leaf Clover Double Agarwood bracelet with Gemstone