Wearing the red thread has a lot of advantages for health as well as for fashion. There are a variety of types of this bracelet. Especially for the baby, it is really helpful to have a good sleep. Your son and daughter will be stronger. The families who have a new-born, they usually buy this bracelet for their children. Moreover, the belief of people who follow Buddhism is more popular than. This one for people from Asian countries. Due to these material values , they can feel happier in life. If you want your thread more beautiful, you can add your optional charm followed your preferences. Wearing a red bracelet for baby helps to enhance the inner strength to overcome many difficulties in life. And if you wonder about the meaning of the red bracelet baby, this content will supply information for you. 
I. What does a red bracelet for baby
1. The bracelet for the babies
The red bracelet for baby has a lot of special meaning. The children can also wear this bracelet.  Throughout history, the red bracelet was for protection, faith, luck, strength and connection.  There are different views about the function of this bracelet. It is viewed as a strong power across cultures. In ancient times, people made this bracelet by fleece, believing that the red bracelet baby can protect the babies from evil and ghosts. Moreover, they also believe that if you are always wearing this bracelet, you will be lucky all the time. Your children will stronger and More docile due to not being disturbed by spirits when sleeping at midnight. It may not sound very realistic, but if you are a believer in spirituality then you will understand what this article is about.
With that meaning, people also created the agarwood bracelet. The  beads and bracelet are made from agarwood. Not only is the agarwood bracelet good for Feng Shui and your destiny, but it also has a good scent. This smell makes you feel more comfortable and relax after a hard working day.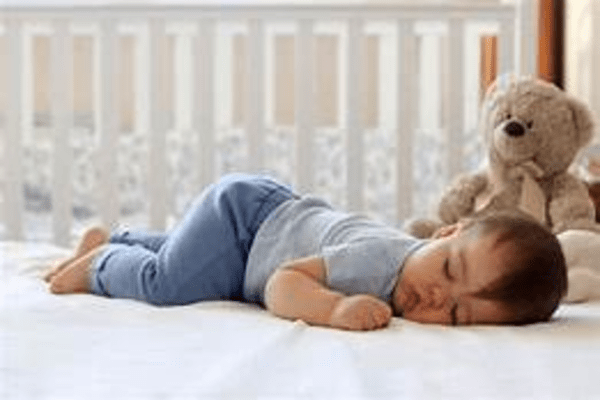 2. The origin and the meaning of this bracelet in Buddhism:
Red bracelet for baby means having a personal instrument of luck and protection. It is believed that Buddha's bracelet can ward off evil spirits. While making knots, they repetitively recite mantras for the goodwill of the wearer. If the monk wears it on your wrist, you are lucky. 
Not only do they not stop at the meaning of protection, but also Chinese has more meaning than that. Beside The idea of meeting your predestined individual, the red bracelet baby also connects us to people who will create a deep impact on our lives. This can be our relatives and friends. Moreover, wearing the red bracelet for baby also helps enhance prosperity and property for homeowners. 
The agarwood bracelet also has the same meaning as the red bracelet baby. Moreover, it has many sizes for you to choose. Besides the small size for babies, it also has the bigger size than usual for those who like comfort.
II. The use of bracelet for baby:
Each bracelet has a different special meaning which has its origin in its region. The bracelet is also an accessory that makes your outfit more brighten. If you do not like wearing it on the wrist, you can use it as a gift or exhibition. This gift will make the receiver will really happy because of your attention. Especially, the agarwood is a precious item that you should have to affirm your self worth. Not only the agarwood bracelet baby is good, red string bracelet for baby is also as good as agarwood bracelet. 
1. Agarwood bracelet for baby
Agarwood bracelet is an item that allows the wearer to carry with its owner. It is also as a precious gift for your physics and mental health. Bracelets are not only jewelry but also a gift to give to relatives and friends on special occasions: birthdays, family gatherings, housewarming meals,…There are a lot of material to make into an agarwood bracelet. Today there are a lot of bracelets for babies from fake agarwood because sellers want to achieve high profits without thinking about the safety and health of consumers. So you should know how to distinguish agarwood properly to avoid buying the wrong fake agarwood. Moreover, the agarwood bracelet has a lot of advantages which having many good impacts on your life. Your perception in the Buddhism or Catholicism. Any religion is good but different. As long as you live in accordance with the standards and ethics of society, do not harm anyone and bring many benefits to the community and society.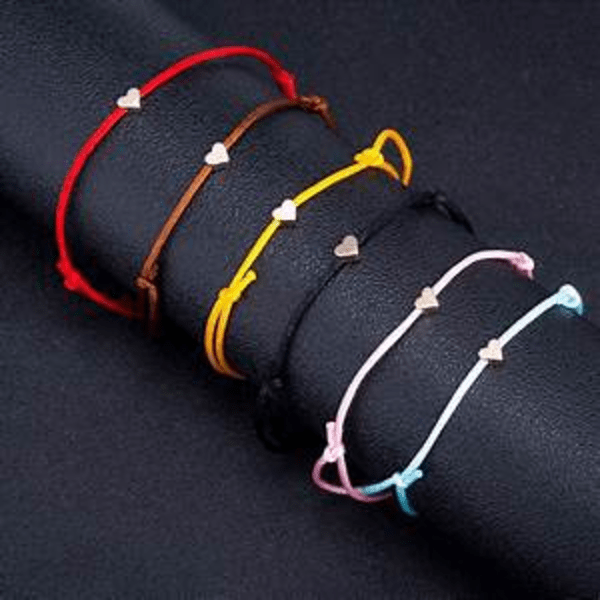 If you want to have for your own-making red string, you can visit here: how to make red string bracelet
2. Red string bracelet for baby
New-borns who wear red bracelet  baby will be calm and healthy while they sleep. The red represents the power of the Guardian who protects the babies from the evil and negative energy. Moreover, these bracelets are also spectacular and sophisticated. It also has a big size for everyone. Especially, the Christian and Catholics especially wear this bracelet regularly. Due to the fact that this bracelet helps them sooth sorrows and repent the sin committed. They also can add the optional charm that they like. For the Catholics and Christian, they usually have the cross charm to distinguish it from other bracelets. This one has a special meaning with them. Because people will be closer to God at that time and will always love and help one another in life. When you start praying, you must wear a red bracelet for baby in your hand.
III. How to wear red bracelet baby correctly?
You just need to wear a red bracelet for baby on your wrist. It is likely a light in the form of a Chinese red bracelet that holds blessing and positive negative for its owner. This is the red thread that will help you purge negative thoughts. At the same time, protecting the position of the bracelet will always follow to protect and suit you. No matter what happens, just believe that you will be strong and overcome all those difficulties and storms in your life. So if you want to choose a red bracelet follow your preference.  Beauty has no standards. Feel free to wear whatever bracelet or beads that you like.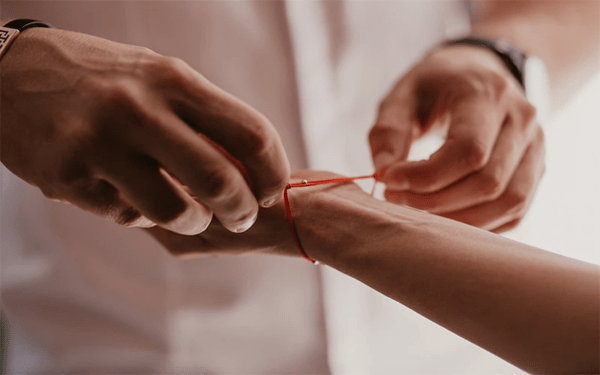 There are some articles where you can choose a red bracelet for baby more easily that we supply for you below:
 1.Style
The red bracelet baby which has low weight, small and cute beads is the most suitable for your son and daughter. Beside, the bracelet mixed with silver charm can also help protect your kids from harmful winds. Ìf you like that the bracelet look more luxury, you can add the 24k gold charm into the red bracelet for baby. In addition, you also must notice the smell. The bracelet which has a pleasant smell is better. 
2. Material
It is much better for wearing an authentically natural Agarwood bracelet because the artificial agarwood could be harmful for kids, especially those kids like holding their fingers in mouth and the smell, either, could cause bad things for them. The skin of baby are also is effected. The blisters appear and make the skin more sensitive. 
3. Price:
Maybe this is one of the most important things that you notice about it. An affordable bracelet is better for you. An expensive red bracelet baby is not really beautiful. A beautiful bracelet is which one suitable for you most.
In another culture, red is considered a powerful luck talisman. This can be rooted in the Chinese belief that red is the most auspicious colour. Bringing the red bracelet baby is also change your unlucky fate.
IV. How to wear red bracelet baby correctly?
People believed that men should wear red bracelet for baby on the left and women should wear bracelets on the right wrist. Anyone can wear this bracelet, as long as it is the right size for your wrist width. This is the belief of adults in ancient times.  More than that, a Chinese good luck bracelet is a perfect gift for your lover or your parents. It is really comfortable to wear and touch. When you touch and touch the bracelet you will feel very comfortable and feel the softness of the material that makes this bracelet.
Chinese red bracelet meaning to simply rest on your wrists. It's a guiding light in the form of a string bracelet that holds infinite wisdom and blessings of enlightened gurus. Every challenge like a reminder that you always have to live well and be ethical you take, you will achieve the state that directs your mind towards success. Moreover, it's like a reminder that you always have to live well and be ethical. In addition, wearing this bracelet for the children, you should be caution as well. This is also danger if the children put the  bracelet baby into the mouth. The size of thread or agarwood bracelet is need to fix with the size of children's wrist. This is quite important, in case of the children make the bracelet loose. 
V. Top 4 bracelet for baby at Thien Moc Huong store:
There are a lot types of agarwood bracelet for baby today. So, you need to have the information about agarwood and the usage of it to choose one which is the most suitable for your children. You also can choose one for yourself. We have some agarwood bracelets from Thien Moc Huong store that wanting to recommend for our customer.
1. Bell baby agarwood beaded bracelet with silver s925- classic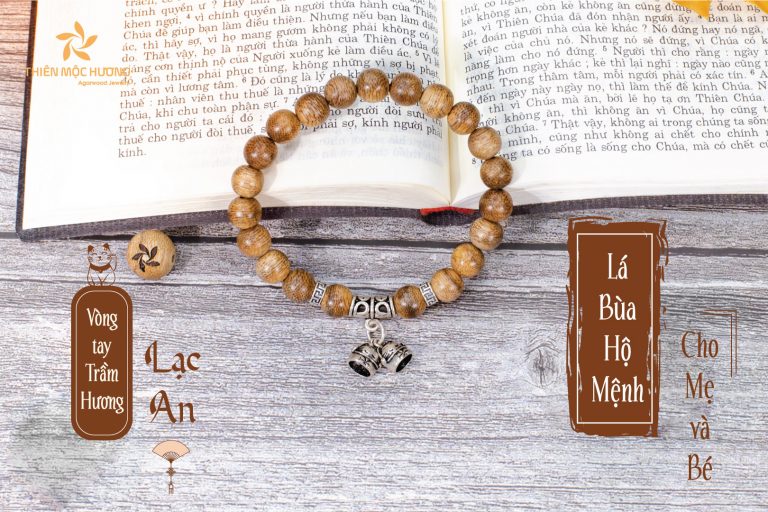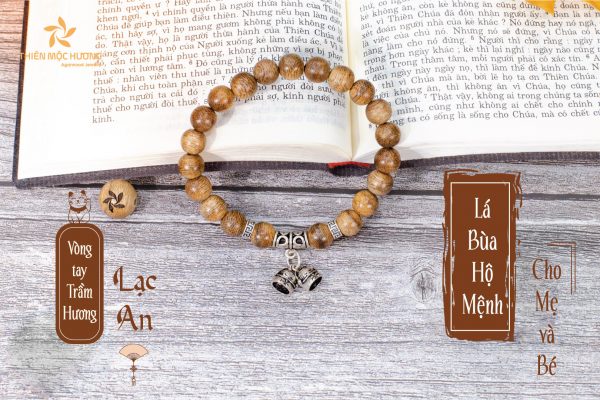 This bracelet really suitable for the baby. It helps for the sleeping better. Bell baby agarwood beaded bracelet with silver s95-classic make your baby out of evil and negativity. Help your baby always playful, happy and more optimistic.
If you are concerned about this bracelet, you can see it at here: Bell baby agarwood beaded bracelet with silver
2. Crown agarwood beaded bracelet with silver s925- classic:
It named Tinh An. Tinh An Agarwood bracelet is a product which is designed for babies that parents can notice. Because the agarwood have a pleasure scent that make your son and daughter feel comfortable. So , wearing this bracelet can make your baby become more and more stronger.
Please see and check out the information of this bracelet at here: Crown agarwood beaded bracelet with silver s925- classic:
3. Milky way agarwood beaded bracelet with silver s925- classic: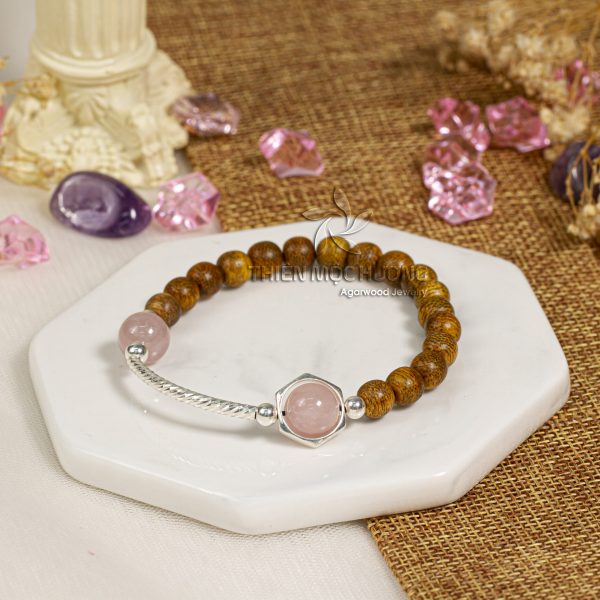 The vast and vast milky way agarwood beaded bracelets. You also read the mantras during hold this bracelet on your hand. It is likely a reminder of Guardian that containing the dreams, aspiration and desire of each person. The owner of this bracelet are also attract luck, success, happiness and prosperity.
The information of agarwood bracelet for baby in this content: Milky way agarwood beaded bracelet with silver s925- classic:
4. Maitrenya agarwood beaded bracelet with silver s925 classic: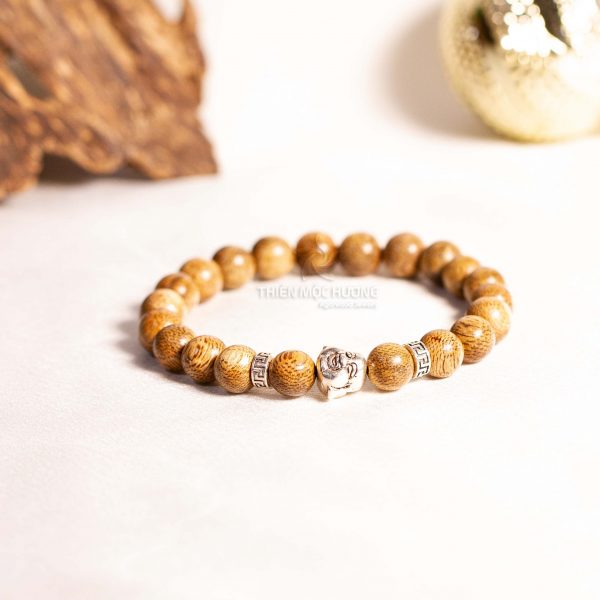 The Maitreya agarwood bracelet is made from 100% authentic agarwood. This bracelet is safety for baby to wear. This one also have a lot of good usage such as: easily for sleeping, pleasant scent. This one is the combination of s925 silver charm and agarwood beads which is protect the baby from strong wind and diseases.
Here is the information of this bracelet, you can see and check out at: Maitreya agarwood beaded bracelet with silver s925 classic:
Wearing the bracelet is a good way to make your life become more and more lucky and prosperity, which attract more fortune and money into your pocket. If you wonder about the bracelets and agarwood beads, you can contact direct Thien Moc Huong at here. Please leave your comments and information so that our staff can support you in the most enthusiastic way.
(64)
Chia sẻ bài viết