Product Description
The product is made from Vietnam Toc Agarwood which is taken from the natural environment, not affected by human hands. In particular, agarwood originates from Ha Tinh forest, growing naturally, so the ring quality is much better than other fasteners on the market. With the characteristic dark brown color and deep, sharp veins, the product promises to bring high aesthetics and many great uses to the wearer.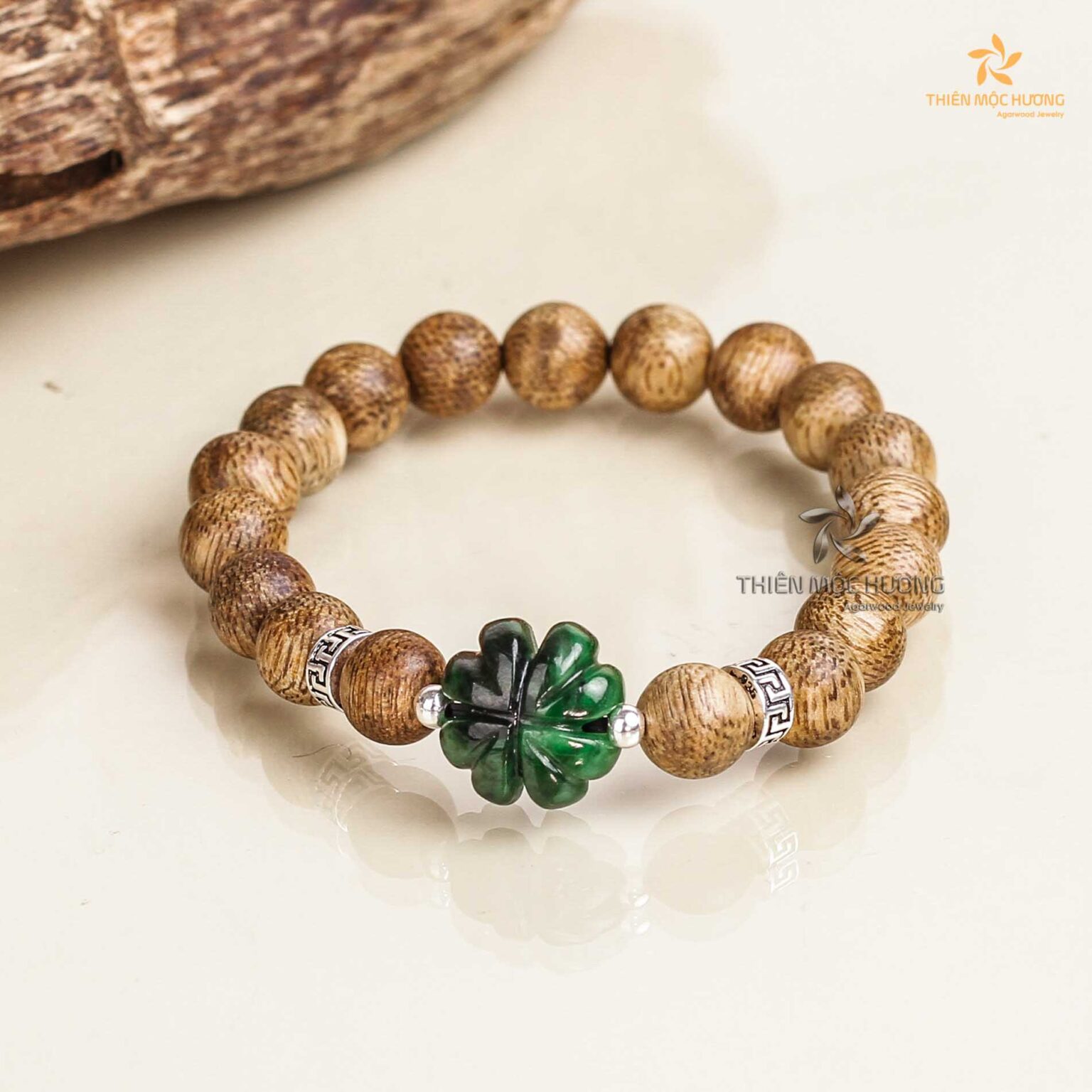 I. Information about Four-leaf Clover agarwood beaded bracelet with gemstone
Material Agarwood 100% + Gemstone
Country of Origin: Vietnamese Toc Agarwood
Number of seeds: Depending on size
Agarwood ages: 12 – 14 years sedimentary
Usage:
+ Female
+ Gifts for relatives, friends or colleagues
+ Brings good luck, helps mental comfort, reduces anxiety and stress
II. Product Description of Four-leaf Clover agarwood bracelet
Typically, the bracelet consists of 17 to 21 agarwood beads. The number of beads is chosen based on the rule of the cycle of "birth, aging, illness, and death", aiming to bring good luck to the wearer. It is recommended to select a number of beads that is divisible by 4 with a remainder of 1. Consequently, the last bead will fall under the category of "birth". The agarwood bracelet emits a fragrance almost eternal, helping the wearer dispel fatigue, sadness, and alleviate stress, providing solace in life.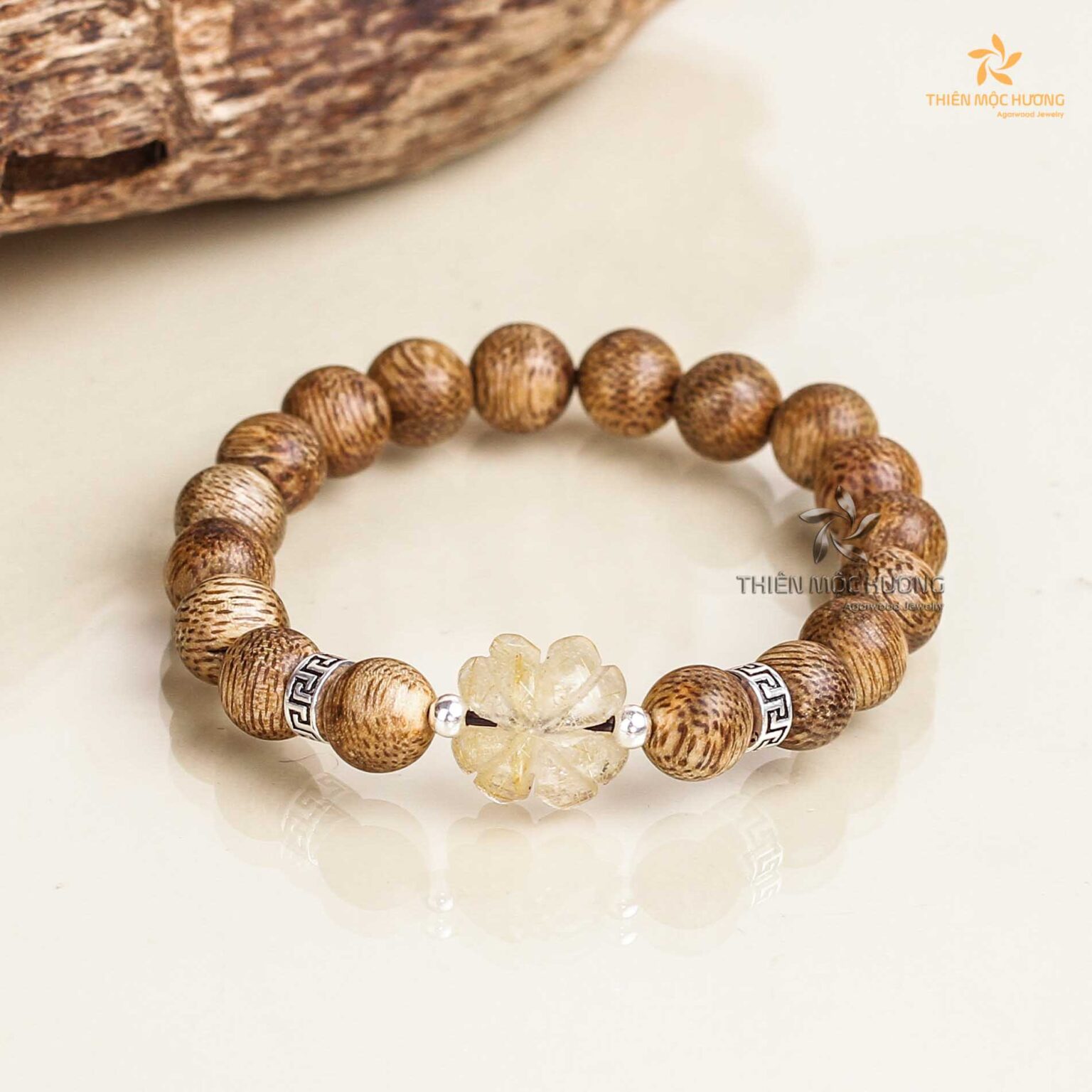 The Four-Leaf Clover Agarwood Bracelet comes in 5 colors, each with its own significance, representing 5 desires of human beings:
Golden Quartz (yellow color) – Majesty, nobility: It carries the pure color of sunlight, symbolizing sincerity, care, concern, and respect towards others.
Aquamarine (light blue color) – Ambition and Desire: It represents the ultimate inspiration and longing of each individual in life.
Red Jasper (red color) – Peace and Prosperity: It drives away negativity and brings about blessings and well-being.
Jadeite (green color) – Progress and Success: It possesses a simple yet gentle beauty, providing a sense of security, lightness, and freshness. It symbolizes growth, vitality, success, and progress for the wearer.
Amethyst (purple color) – Nobility and Mystery: It evokes a sense of noble qualities, symbolizing power and honor, creating a mysterious feeling. It is also a symbol of luxury and the right choice to bring wealth and peace.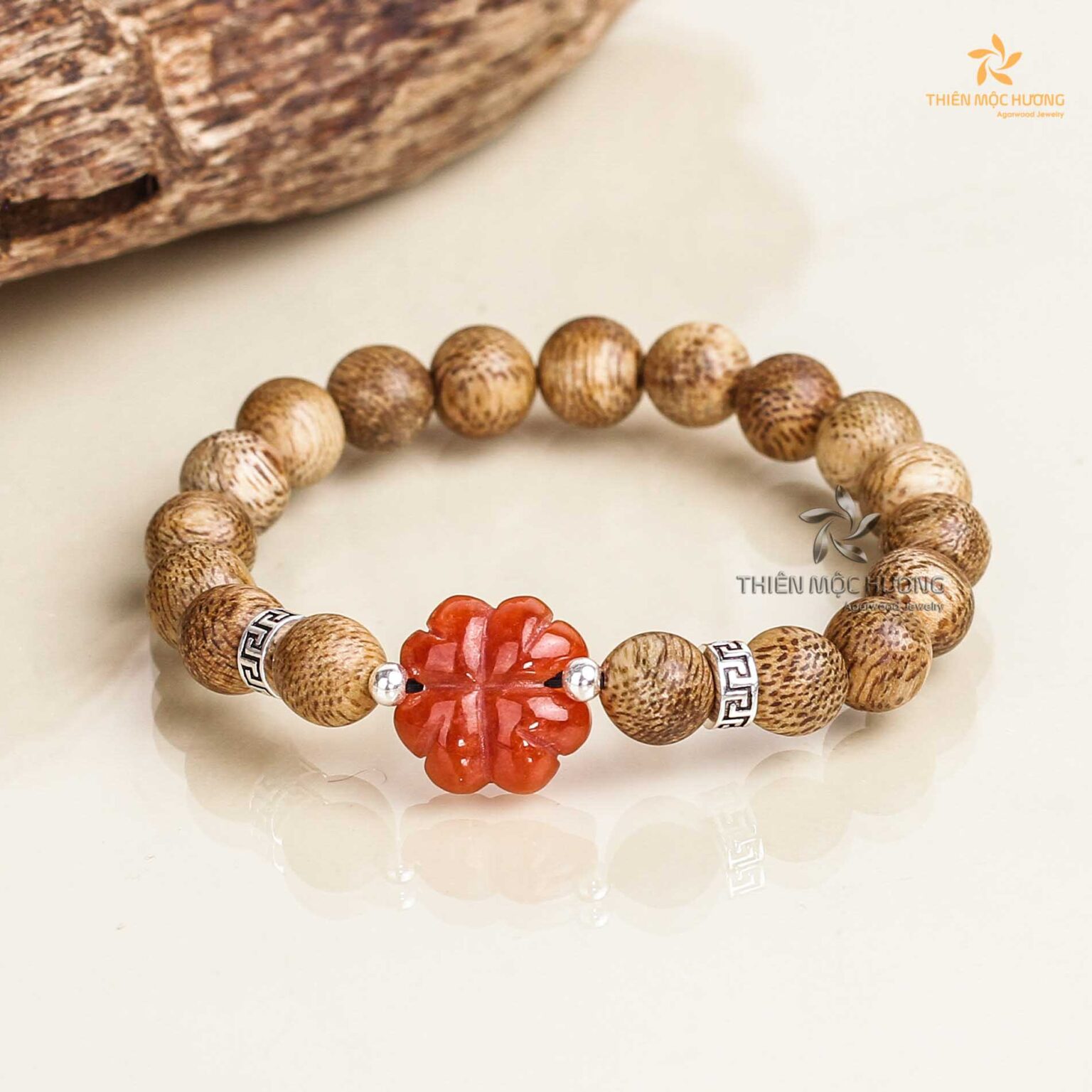 III. Significance of the Four-Leaf Clover Bracelet
According to tradition, a child with a brave heart venture into a deep forest, enduring many obstacles, to find a plant called the Four-Leaf Clover – leaves that will bring eternal happiness, the happiness of childhood. When finding a four-leaf clover, the child stands in the wind, places the clover in a warm heart, and sings a folk song. Each leaf on the Four-Leaf Clover represents one of life's most precious things.
First Leaf: Represents BELIEF
Second Leaf: Represents HOPE
Third Leaf: Represents LOVE
Fourth Leaf: Represents LUCK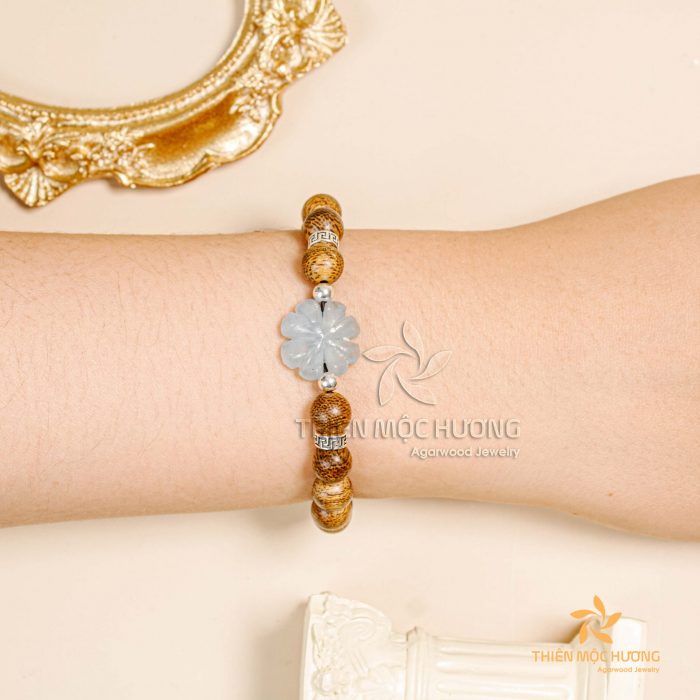 IV. The Benefits of the Four-Leaf Clover Agarwood Bracelet
The Agarwood Bracelet is an amulet that seeks good fortune for the wearer. The scent of agarwood helps dispel heaviness, reduce stress, eliminate negative energy, attract luck and wealth, and bring about peace. In married life, the couple harmonizes, understands each other, and experiences deepening affection and strong bonds.
By finding the suitable bracelet based on one's destiny, it brings wealth and also promotes tranquility and enhances intellectual and emotional well-being in both work and personal life, especially for modern women. The simple Agarwood Bracelet will make them more attractive and confident. It is simple yet sophisticated and elegant.
V. Agarwood Production Process