Today, sandal wood mala is used more popular.  This wood is rare with many values. It has a unique beauty, pale yellow to gold with the dedicated woody and exotic scent of sandalwood. In addition, these products related to the sandalwoods are really good for praying, especially to Buddha. If you don't know how to distinguish the sandalwood mala beads, this post can be full of information about it for you. 
I. What is the meaning of sandal wood mala?
1. Its meaning in region
People used sandal wood mala as medicine in modern times for incense, aromatherapy, carvings, malas (prayer beads), Ayurvedic, perfumes, and essential oils, where it is said to bring one closer to the Divine.
In ancient India, Egypt, Greece, and Rome, people use it for over 4000 years for purposes as diverse as building Hindu temples, and embalming.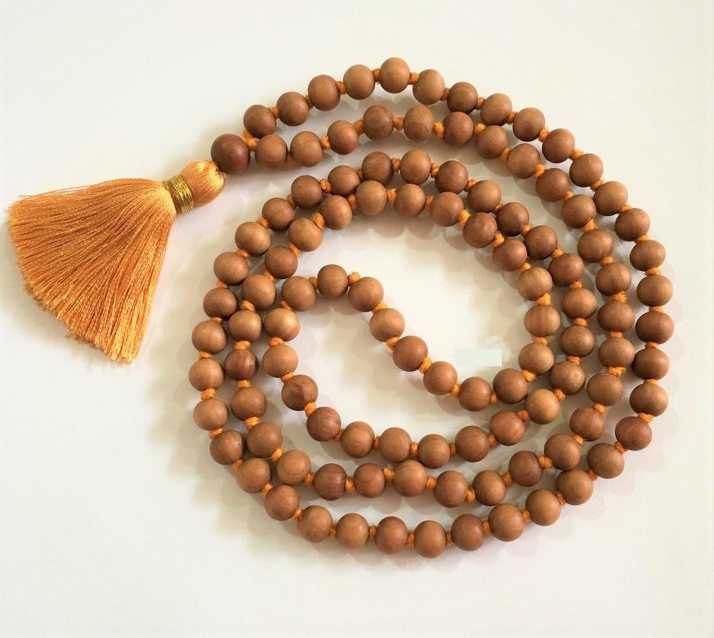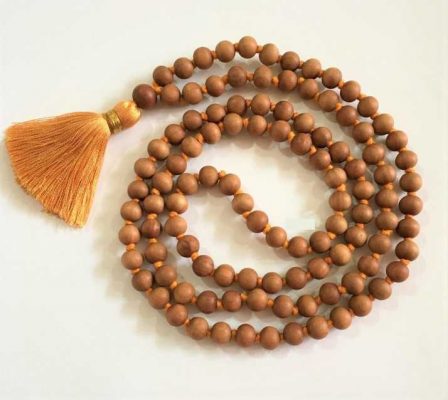 On the other hand, sandalwood is a sacred wood with a lovely aromatic scent. Sandalwood's scent is both excellent for staying present and alert during meditation, which makes it wonderful for ritual and spiritual practice. In addition, its scent is said to transform desires, and also to bring emotional balance.
2. The origin of sandal wood mala
In alternative healing, Sandal wood mala is used in Ayurvedic medicine, and used to treat. It  can be very value of many type disease as: headache, insomnia, stress, anxiety disorders, cough, dry skin, fever, antiseptic,…. etc. On the other hand, sandalwood is better supports for sex. Note that healing meaningful are spiritual supports to healing and are not prescriptions or healthcare information.
Grown in Asia and East India, sandalwood mala was originally used at funeral ceremonies. Sandal wood mala is known to be an extremely powerful anti-septic. It has many healing qualities including human: antidepressant, antiseptic, antiphlogistic, antispasmodic, aphrodisiac, astringent, bactericidal, carminative, cicatrizant, diuretic, expectorant, insect repellent, sedative, and tonic.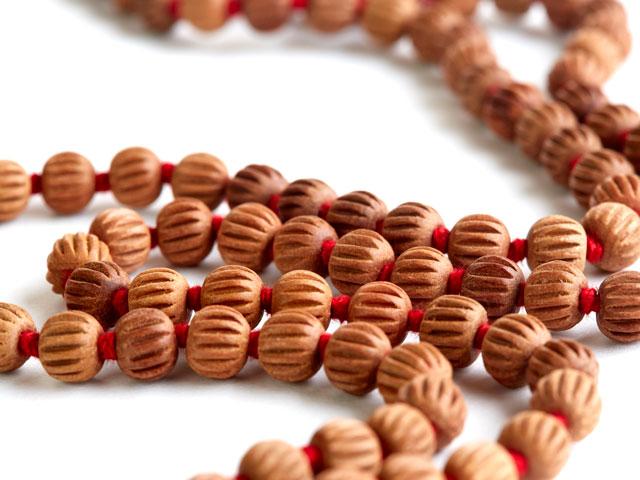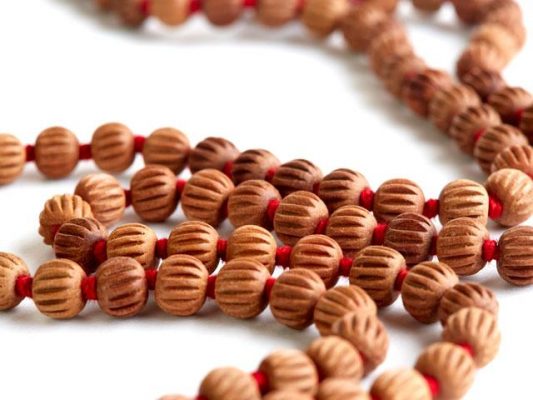 The extension of Sandalwood mala seems to be the power of spirit. This is a symbol of respect and origin to achieve the highest awareness.  Besides, sandal wood mala is also a reminder that you should live well and be virtuous. Due to these good things you do, you will receive a lot of other luck that you do not expect again. This is a good thing that Buddha always wants us to become the one that they want to be. Moreover, the bracelet is a beautiful accessory for you to update yourself better. 
In addition, sandalwood mala beads can combine with many optional charms that you like. Each of Feng Shui stones has a different special meaning. 
Aventurine: protects the hears, emotional calm and harmony, dissolves negative thoughts and emotions

Crystal: balance and positivity

Tiger Eye: uplifting, grounding, laughter and humour.

Turquoise: protection, inner calm. Especially is that finding your true path in life
And there are a lot of different meanings that are suitable for each aim of wearing it. You can consider and choose for yourself a suitable stone to coordinate with the bracelet of sandalwood mala beads
3. Uses of sandalwood mala beads
Sandalwood mala beads enhance your meditation and increase the power of your wishes. This could raise the positive thoughts which are good for your mind. It also help in healing Properties at a glance:
Soothing, peaceful, fragrance, clear perception, tranquility, positive frame of mind.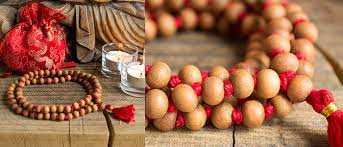 Besides, sandal wood mala also has the effect of exorcism, bringing good luck, health, peace and bringing good omens when used for remembrance or worn around people. When in contact with the skin, sandalwood mala bead helps to balance the heat in the body; helps meditators and meditators to focus more to reach the highest realm.
II. The advantages of sandal wood mala in spirituality:
For spirituality: Wearing sandal wood mala beads, you will have the peace. Moreover, your mind is always still and feels like being reminded to always live virtuously. When you wear it, the guardian angel will follow you to protect and help your mind to be more clear in making decisions before any situation.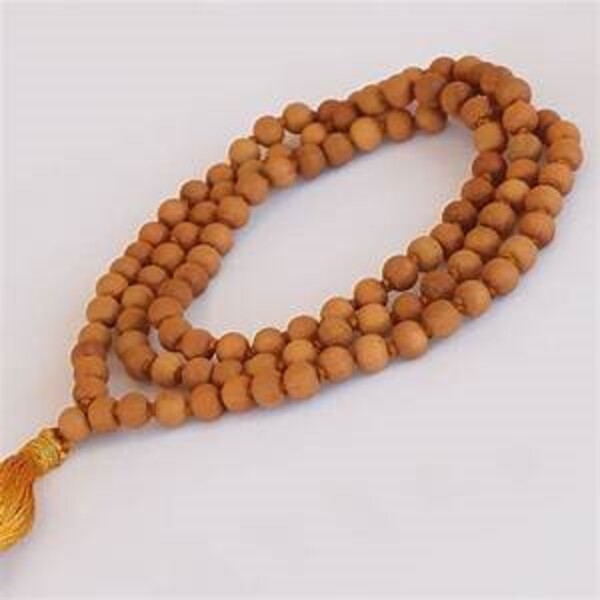 Firstly, this bracelet symbolizes for luck and wealth
Secondly, it help support meditation to bring peace and calmness
Thirdly, your body will be regulated and kept balance.
Finally, sandal wood mala represent richness and prosperity
For meditation, you can wear it during the time of meditation. You will feel comfortable and peaceful during this time. It helps to purify the bad energy all day, you just remain clear of thoughts and calm mind. In addition, sandalwood mala  beads also help to increase and lead life, creating a strong belief in spirituality. Removing the scary and angry. 
III. How to wear sandalwood mala beads correctly?
Sandal wood mala meaning to simply rest on your wrists.  It's a guiding light in the form of a string bracelet that holds infinite wisdom and blessings of enlightened gurus. Every challenge is like a reminder that you always have to live well and be ethical . Your desire will be real in life. You will achieve the state that directs your mind towards success. Your target will be urged when you glance or see it. Moreover, it's like a reminder that you always have to live well and be ethical. To decorate your sandalwood mala beads, you can put the cross charm into the bracelet. It is also beautiful.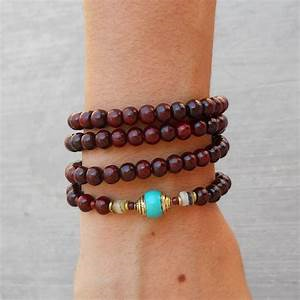 However, from ancient times, our grandparents had the saying "Male left, Female right". So in this article, we will show you how to wear a Chinese red string bracelet in the following way:
a girl or woman should wear it on the right hand

boys or man should wear it on the left hand 
On the other hand, you can wear it as a necklace. Wearing 108 sandal wood mala beads is really beautiful. This is a convenient way to bring it follow you.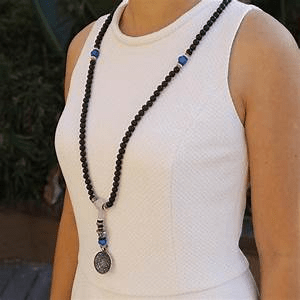 IV. 5 hottest sandalwood mala beads today
 This is a good present to give for your relatives and friends on many occasions: birthday, ceremony, anniversary,…. So, we recommend for you 5 type of sandalwood mala beads for wearing daily: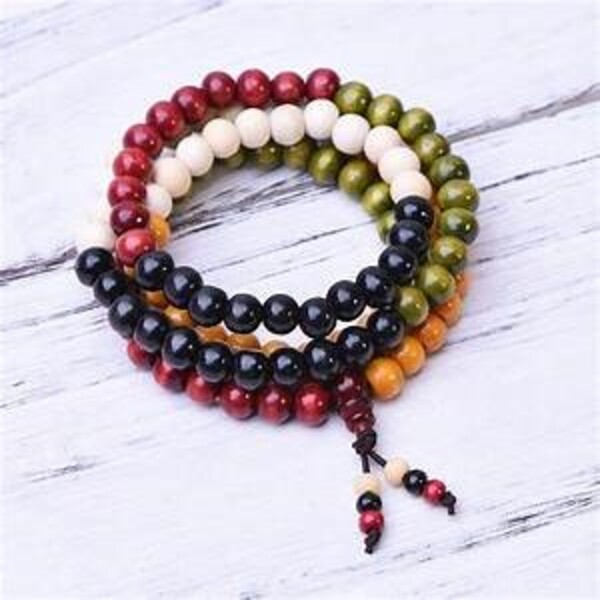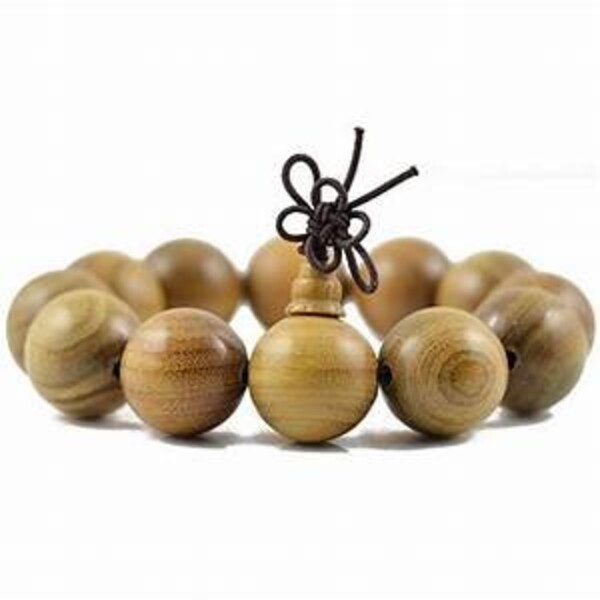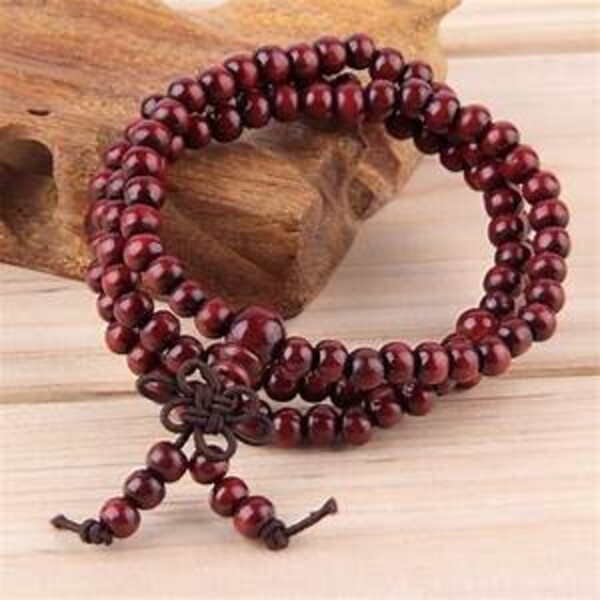 Remember that the most important thing when wearing sandal wood mala beads is comfort. The purpose of mala is to help you with whatever you set forth intentions for it. How to wear sandal wood mala beads? With the content above, we think that you can choose one which is suitable for yourself. 
You want to know more others products ralated to bracelet or accessory, you can visit at our store at
71 Nguyen Khac Nhu, Co Giang Wart, District 1, Ho Chi Minh City
120 Hai Ba Trung, Hoan Kiem Ward, Hanoi City
You can refer and see more agarwood – best wood in the world bracelet below:
Jade Lotus 108 mala beads bracelet- classic
Tibetan 108 mala beads bracelet- classic