The product is made from Vietnam Toc Agarwood which is taken from the natural environment, not affected by human hands. In particular, agarwood originates from Ha Tinh forest, growing naturally, so the ring quality is much better than other fasteners on the market. With the characteristic dark brown color and deep, sharp veins, the product promises to bring high aesthetics and many great uses to the wearer.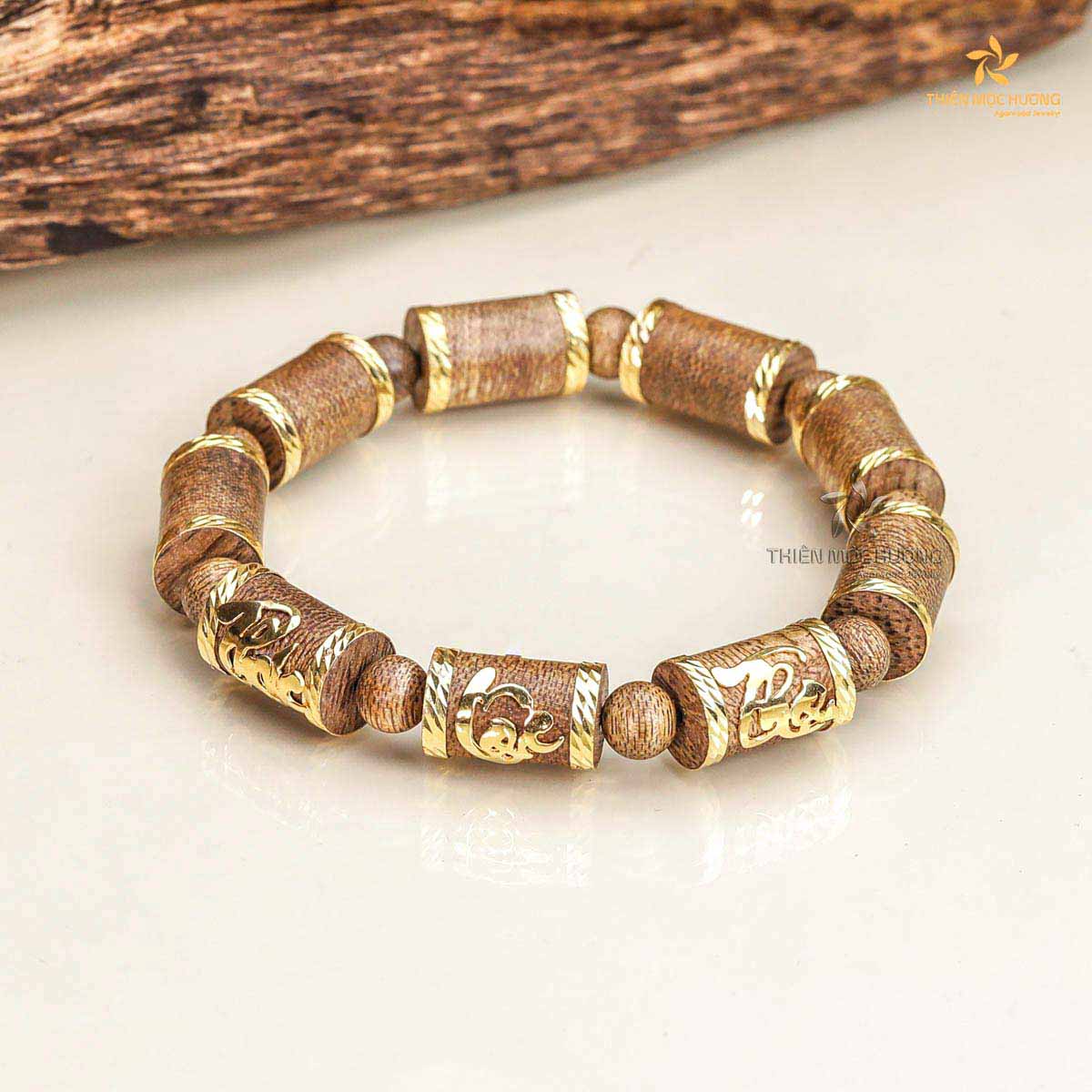 I. Information about Golden Phuc Loc Tho Agarwood Bracelet
Material: Agarwood 100% + Gemstone
Country of Origin: Vietnamese Toc Agarwood
Number of seeds: Depending on size
Agarwood ages: 12 – 14 years
Usage:
+ Male
+ Gifts for relatives, friends or colleagues
+ Brings good luck, helps mental comfort, reduces anxiety and stress
II. Product description of Golden Phuc Loc Tho Agarwood Bracelet
The Agarwood Prosperity, Fortune, Longevity Bracelet is made up of 17 to 21 beads (varying depending on the wearer's hand size). The number of beads is chosen based on the cycle rule of "birth – aging – sickness – death" to bring good luck to the owner. It is recommended to select a number of beads that is divisible by 4 with a remainder of 1. As a result, the last bead will represent "birth."
What makes this bracelet special is that the Agarwood beads not only have a simple and primitive appearance, being perfectly round, but they are also crafted into cylindrical shapes. These cylindrical beads are all covered in a luxurious and exquisite layer of pure gold. The three characters representing Prosperity, Fortune, and Longevity are prominently wrapped in 18K gold on the bracelet.
III. The meaning of Phuc Loc Tho Charm
The imagery of Prosperity, Fortune, and Longevity represents the three celestial bodies in the sky. The Prosperity deity symbolizes the planet Jupiter, which is one of the nine planets in the solar system. It governs auspicious energy and brings joy and happiness to people. The Fortune deity represents the sixth star in the Van Xuong Quan constellation, responsible for matters of education, career, and wealth. The Longevity deity is the Giac star in the 28 constellations, known as the Eastern Dragon cluster, granting people health, longevity, and protection from illness.
Prosperity, Fortune, and Longevity refer to the three fundamental aspects of a fulfilling life that humans always aspire to: Good things, children (Prosperity), prosperity, luck (Fortune), and longevity (Longevity). If any of these three elements are missing, a person's life will not be complete and satisfying.
IV. Luxury Agarwood Braclet for both Men 
The Agarwood bracelet wrapped in gold with the design of Prosperity, Fortune, and Longevity features intricate craftsmanship, with cylindrical beads adorned in gold, representing strength and decisiveness. Each layer of gold wrapping exudes sophistication. As a feng shui bracelet, wearing it brings tranquility and enhances intellectual and emotional clarity in both work and life. Wearing an Agarwood bracelet on the left hand during important meetings, bidding sessions, or conferences can help the wearer turn misfortune into fortune and achieve favorable outcomes.
Get yourself an Agarwood Prosperity, Fortune, Longevity Bracelet for a successful career path and abundant luck in life.
V. The combination of Agarwood and Phuc Loc Tho Charm
The combination of Agarwood and the imagery of Prosperity, Fortune, and Longevity has specific benefits. Natural Agarwood, through years of absorbing the essence of heaven and earth, acts as an amulet for the wearer, emitting a fragrant scent that contains various compounds to relieve mental stress, reduce heavy burdens, and alleviate stress. Consequently, it helps the wearer maintain mindfulness, calmness and eliminates irritability. Interpersonal relationships and personal emotions become harmonious, joyful, and happier.
Agarwood is also a feng shui item that provides a sense of safety and convenience in life, improves health, and eliminates harmful elements, dispelling negative energy and resolving unfavorable circumstances around the wearer.
The naturally crafted Agarwood bracelet with gold engravings of Prosperity, Fortune, and Longevity holds significant value in guiding the wearer toward a more fulfilling, complete, and abundant life. The entire inscription and cylindrical beads are made of genuine 18K gold, creating a design that is prestigious, prominent, and luxurious for the wearer.
VI. Agarwood Production Process