The product is made from Vietnamese Toc Agarwood which is taken from the natural environment, not affected by human hands. In particular, agarwood originates from Ha Tinh forest and grows naturally, so the ring quality is much better than other fasteners on the market. With the characteristic dark brown color and deep, sharp veins, the product promises to bring the wearer high aesthetics and many great uses.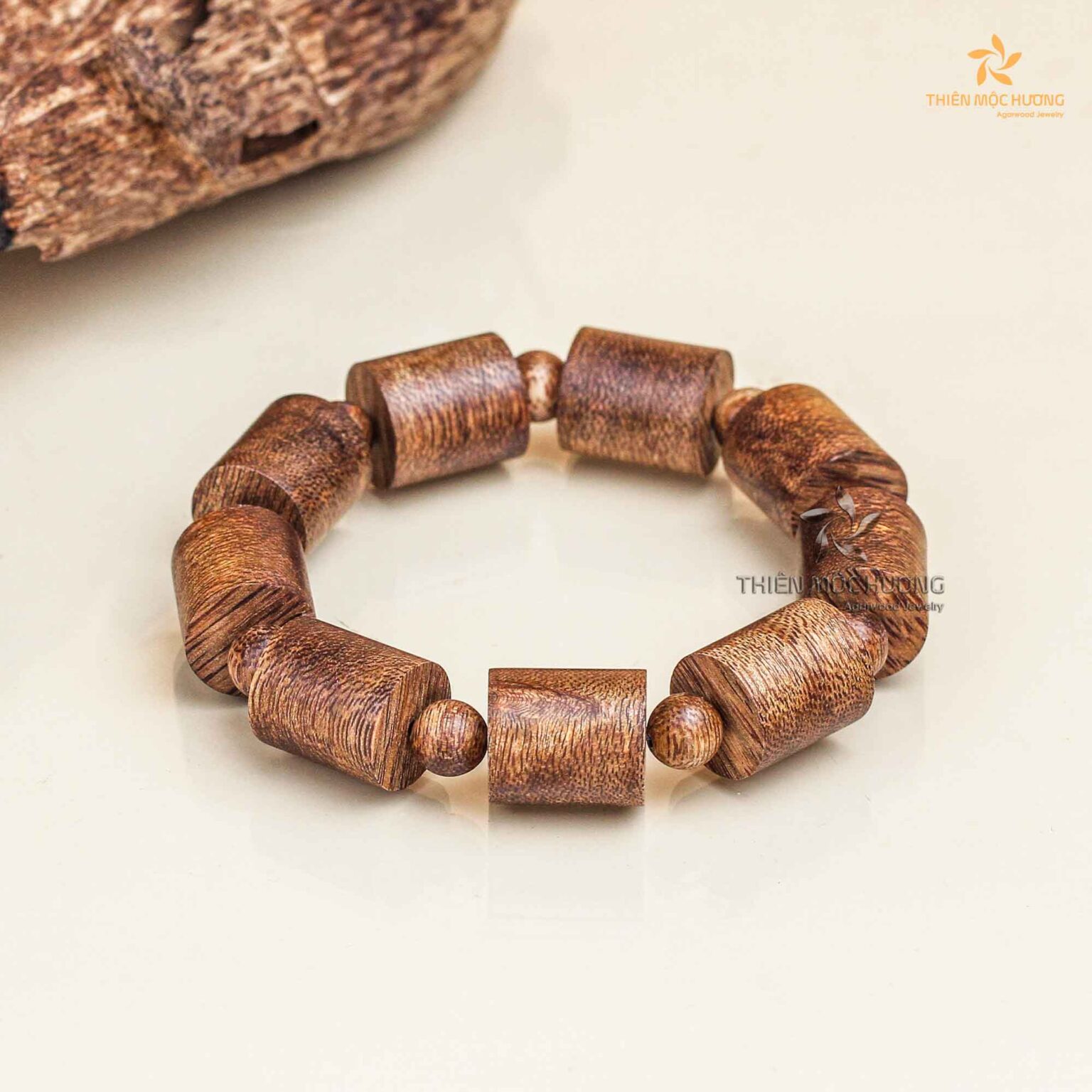 I. Information of Single bamboo agarwood bracelet
Material: Agarwood
Country of Origin: Vietnamese Toc Agarwood
Beads size: 8mm-12mm
Number of beads:  9 cylinders with 9 beads
Agarwood ages: 12-14 years sedimentary
Usage:
Male/Female
+ Gifts for relatives, friends or colleagues, subordinates
+ Bring good luck, peace to your mind and eliminates sorrow.
II. Single bamboo agarwood bracelet description:
1. Single Bamboo Agarwood Bracelet – The power of will and indomitable
A single Bamboo Agarwood Bracelet is made from Agarwood from Vietnam. Usually bracelets will be made from 9 pillars and 9 beads, often called "Cửu Cửu". According to the Eastern concept, the number 9 is the largest in the series of natural numbers, carries a positive pole and contains a lot of auspicious meanings. The number 9 also symbolizes sustainability, meaning long-lasting money, prosperity.
The special thing here is that Agarwood beads not only have a simple and primitive appearance, which is a single round but nested in it is Agarwood crafted into a highly sophisticated and luxurious cylinder.
A single Bamboo Agarwood Bracelet belongs to the collection of Agarwood bracelets for Men, popular at Thien Moc Huong.
2. The meaning of cylindrical Agarwood beads
This bracelet is associated with the image of the bamboo tree – a tree familiar to life, which has become a symbol of the noble temperament of people. Bamboo symbolizes the gentleman because this tree is sturdy but still supple, falls without breaking, hollow symbolizes the solidity and resilience of people in the face of many storms and storms. The soul is still at peace, free, not chasing after authority and material things.
Agarwood bracelet with the shape of burning bamboo gives the wearer positive energy, confidence, and determination to the end, promoting a successful and good business. It is not by accident or by chance that Thien Moc Huong chose the bamboo burning image as the design for her products.
3. Trendy Jewelry
Vietnamese Agarwood Truc Don wooden bracelet with sophisticated design and cylindrical beads exalts the strength of men's resilient and sustainable character. Because they are feng shui bracelets, when worn, they will bring serenity, emotional intelligence to work as well as in life. Wearing a bracelet on the left hand in essential meetings, bidding sessions, conferences will help homeowners with bad luck and gain advantages.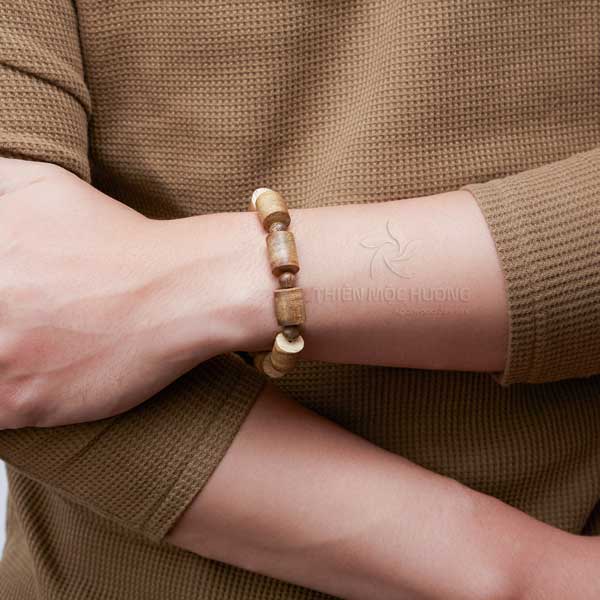 4. Uses of Agarwood Pillars Bracelet
Agarwood has a mild scent, helps our spirit feel comfortable, refreshed, comfortable, dispels frustration, fatigue, and brings new energy full of luck to the wearer. Agarwood is a feng shui object helping the wearer always feel safe and convenient in life, improves health and eliminate toxic properties. As an amulet, the purpose is to dispel all evil spirits, darkness and neutralize bad omens around the wearer.
No frills, fussy with details such as statues or charms, Agarwood Agarwood Bracelets embody simple, gentle, luxurious but resilient, tough beauty mixed with a bit of mysterious spirituality that Thien Moc Huong wants to give to her customers.
In addition, Agarwood also brings freshness to the wearer through sophistication and fashion in design, very luxurious and exudes nobility. Wearing an Agarwood Bracelet, we will feel the positive changes it brings. More favorable at work, joy and luck will come, health will improve, and many other changes.
BUY NOW, Single bamboo agarwood bracelet
III. Agarwood Production Process