Agarwood Bracelet Tibetan Talisman – Item of Tam Tai Relief, bring good luck
Tibetan Agarwood Ring – a unique and harmonious combination of Agarwood and Tibetan amulet charm with special Buddhist meanings – opens the mind of compassion, charity, bringing many blessings to yourself and spread positive energy to everyone around.
Agarwood bracelet Tibetan Talisman (CHARM STONE) is made of 12-14 year old agarwood pieces originating from Vietnam. Agarwood bracelets usually have from 13 to 17 agarwood beads (can be changed depending on the wishes of the buyer). The amount of beads used on the agarwood ring will be determined based on the principle of the cycle of "birth – old age – illness – death" to bring luck to the wearer. Therefore, you should choose seeds that divide by four with a remainder of 1. In this way, the last seed will fall on the word "birth".
Agarwood bracelet emits an endless scent to help the wearer soothe melancholy feelings, relieve stress, relieve stress, and ease the sorrows of life. The Tibetan Agarwood Amulet Bracelet is a unique and harmonious blend of Agarwood and Tibetan amulet stone charm with Buddhist meaning. The product is meant to open the heart of compassion as well as charity and bring many blessings to the wearer and those around.
Product information Agarwood bracelet Tibetan Amulet
The collection of Agarwood Bracelets Tibetan Amulet Thien Moc Huong delivered to customers includes:
Agarwood bracelet Tibetan Amulet charm natural stone, high quality
Membership card issued by Thien Moc Huong (member card)
Instructions for storing the bracelet properly so that the car ring can promote its full feng shui effect
Set of beads and spare wire.
Spare wire and beads to help customers change strings, change beads quickly if they want to increase or decrease the size of the ring to fit the best. The member card allows customers to go to any nearest Thien Moc Huong store to get a lifetime warranty for the product (replacing wire, polishing beads) completely free of charge.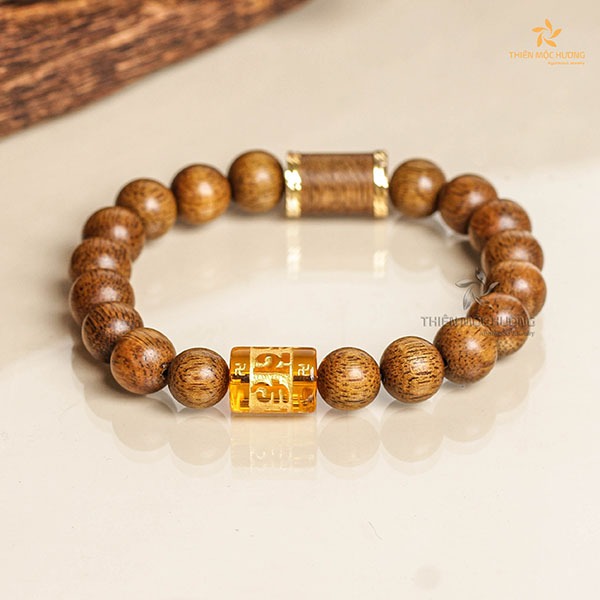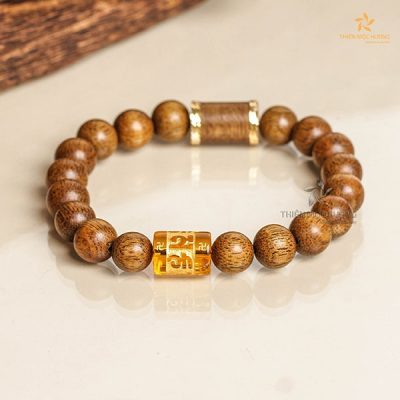 Meaning of Tibetan Talisman
The famous and very inspiring "Om Mani Padme Hum" mantra of Bodhisattva Avalokitesvara is known as the most commonly used guardian mantra in Buddhism. The six syllables in the mantra represent the six paramitas and are associated with the six wisdoms. All represent the pure and noble characteristics of the Buddha.
The artisans of Thien Moc Huong have been extremely meticulous and delicate when integrating the mantra into the natural Agarwood ring. The bass column is carefully symmetrically designed, covered with 24k gold with a solemn and beautiful design that helps exude a luxurious look without losing its core meaning. Tibetan Agarwood Bracelet helps to exorcise evil spirits, neutralize calamities, have a lot of luck and advantages in life.
Great jewelry for men and women
Because it is a feng shui bracelet, when worn, the Tibetan Agarwood Amulet Bracelet will bring serenity and perfection in both outer beauty and inner soul, especially for men. Wearing a bracelet on the left hand will be very suitable for everyone to wear in company parties, important meetings, weddings.
Charm Charm is made from a unique feng shui stone, combined with the simplicity of Agarwood beads, adding to its charm and personality. Wearing a Tibetan amulet bracelet on your hand will create a feeling of slim, soft and extremely mysterious bracelet.
The perfect combination of Agarwood ring and Tibetan Amulet
Agarwood brings a pleasant scent, helps to refresh and relax the soul. Helps relieve stress and fatigue, like bringing luck and new energy to the wearer. This Tibetan Talisman bracelet is similar but it has a very specific meaning. It is a feng shui item that can help the wearer feel secure and comfortable in life, improve health, and remove afflictions.
The makers have combined Agarwood with Tibetan talisman in a unique and delicate way. Thien Moc believes that this is a very elegant, simple but delicate piece of jewelry and brings good luck to its owner.
Crafting process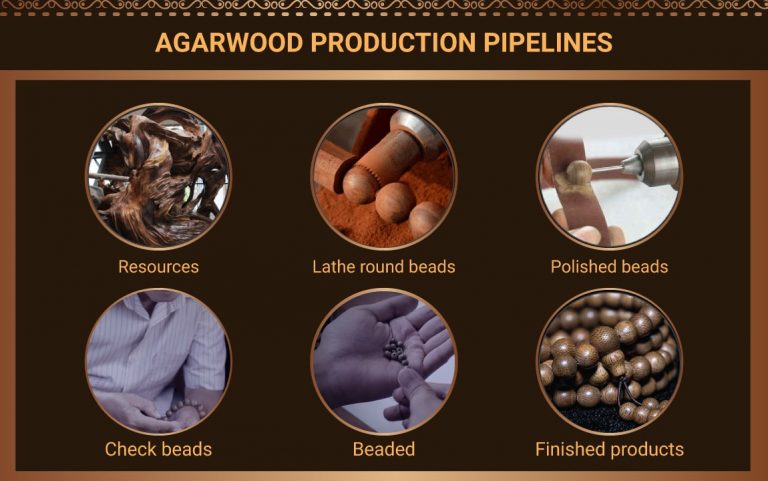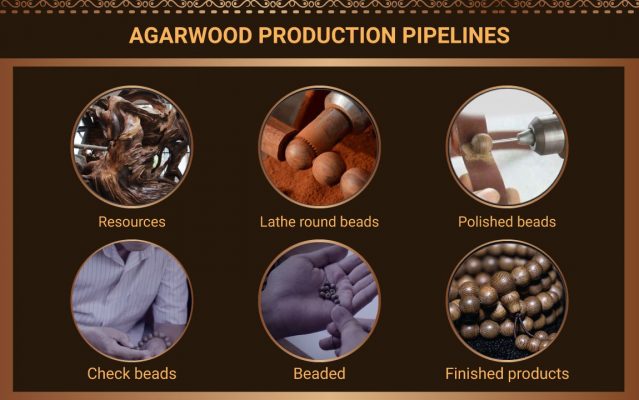 BUY NOW to get discount and free fast shipping from Thien Moc Huong.