The product is made from Vietnam Toc Agarwood which is taken from the natural environment, not affected by human hands. In particular, agarwood originates from Ha Tinh forest, growing naturally, so the ring quality is much better than other fasteners on the market. With the characteristic dark brown color and deep, sharp veins, the product promises to bring high aesthetics and many great uses to the wearer.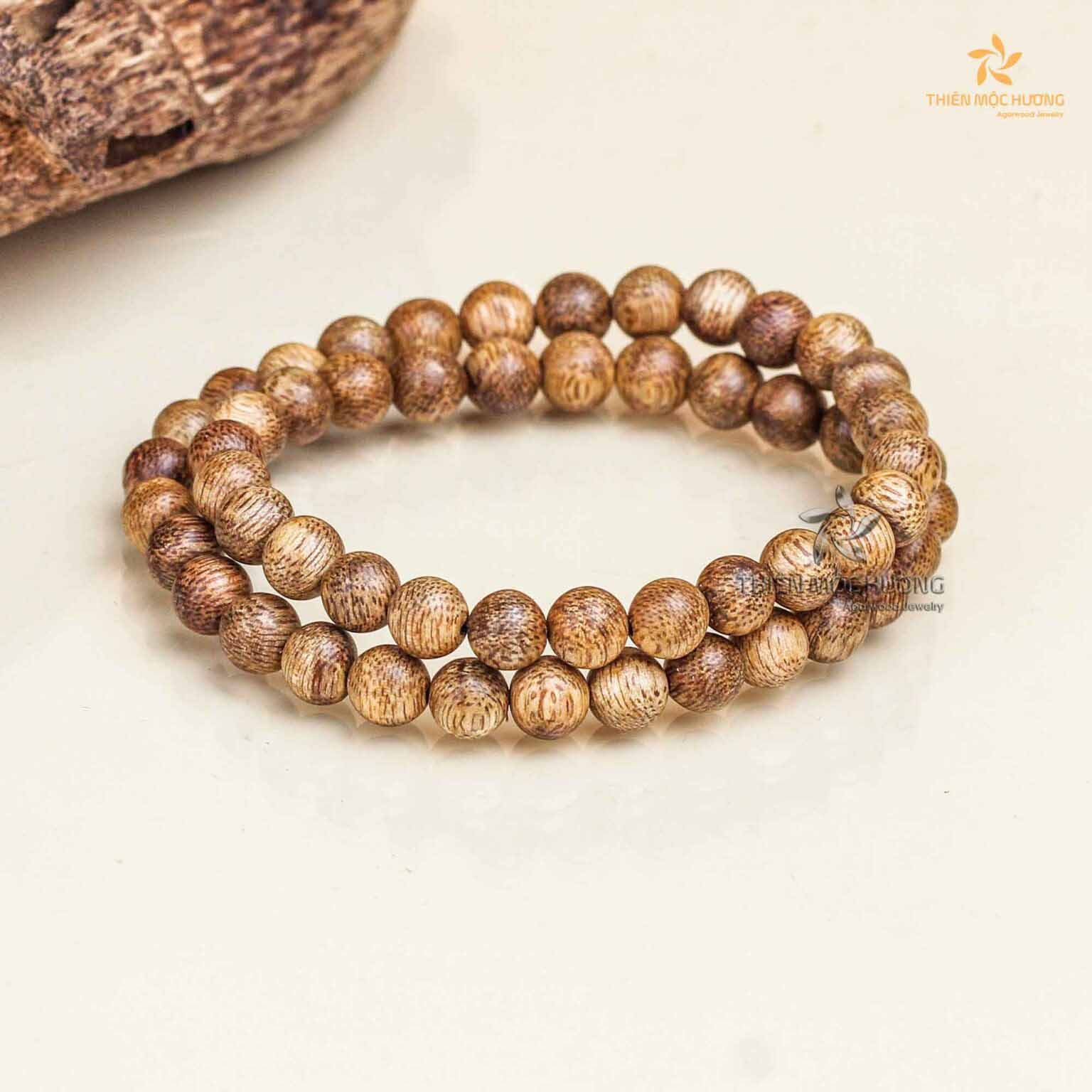 I. Information about Double round Basic Agarwood Bracelet
Material: Agarwood 100%
Country of Origin: Vietnamese Toc Agarwood
Number of seeds: 50 – 54 beads (10 mm)
Agarwood ages: 12 – 14 years
Usage:
+ Male/Female
+ Gifts for relatives, friends or colleagues
+ Brings good luck, helps mental comfort, reduces anxiety and stress
+ Meaningful presents toward Buddha, Business
II. Product Description of Double round Basic Agarwood Bracelet
The Double round Basic Agarwood Bracelet is made from high-quality Agarwood with a wonderful sweet fragrance. It is crafted by skilled artisans who carefully select and shape each bead to achieve a perfect and familiar bamboo-like design, which is popular among Agarwood enthusiasts. This product falls into the affordable segment, making it easier for people to choose and experience the authentic Natural Agarwood scent.
When wearing the Agarwood bracelet for a period of time, the wood grain becomes more distinct, the bracelet becomes shinier, and the fragrance becomes deeper, depending on each individual's body chemistry.
III. The benefits of the Double round Basic Agarwood Bracelet
Agarwood has long been known for its various spiritual and health benefits. Wearing the Double round Basic Agarwood Bracelet can help the wearer attract fortunate wealth on their entrepreneurial journey.
Furthermore, Double round Basic Agarwood Bracelet helps the wearer ward off negative energies. The scent emanating from sandalwood promotes peace of mind, good sleep, and stress reduction.
The Vietnamese Toc Agarwood bracelet offers numerous advantages, such as:
Reducing stress and fatigue, facilitating restful sleep.
Bringing wealth, luck, and prosperity on the path of business endeavors.
Warding off negative energies, misfortune, and ill luck.
IV. The process of making Double round Basic Agarwood Bracelet