For customers in foreign countries and territories:
Ding dong ding dong. Sleigh Bells ring, are you listening?
What will you do to enjoy the best season of the year and ready for a happy, more peaceful New Year?Christmas has come, which is also the time when we send each other good wishes, meaningful gifts to dispel the cold of winter and welcome the new year. Thien Moc Huong would love to send our beloved customers an extremely attractive gratitude event with the hope that they will have a peaceful and warm Christmas.
SPECIAL GIFT: 500K VNĐ RED LUCKY Agarwood Bracelet.
SUPPORT 50% of the international shipping fee.For customers in Vietnam:
Buy 1 – 12% OFF
Buy 2 – 21% OFF
SPECIAL GIFT: 500K VNĐ RED LUCKY Agarwood Bracelet.
SPECIAL GIFT: 100K-OFF Voucher for Gon Cung Concept's products.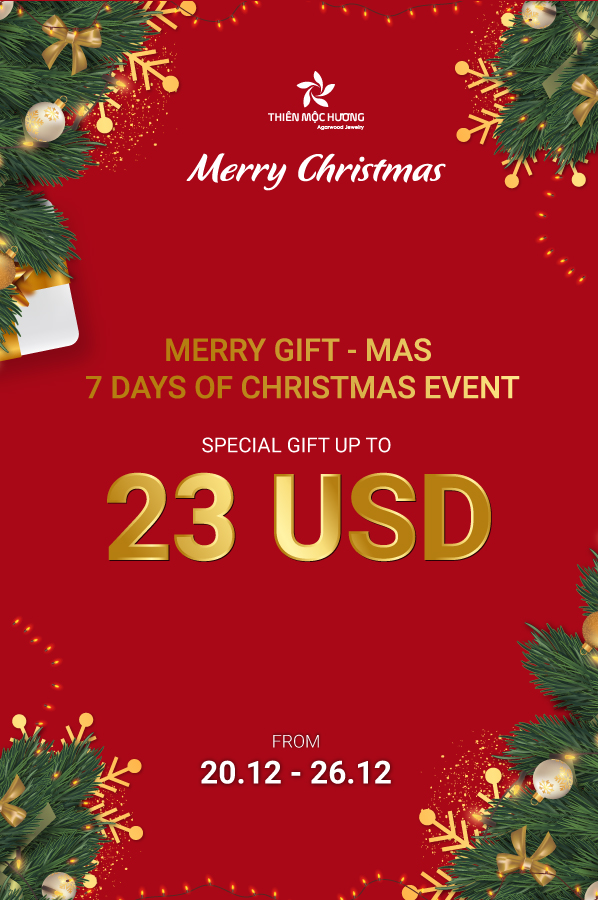 * Applicable for orders from 1,990,000 VNĐ
– Not applicable for Gold-mixed and sunken agarwood bracelet.
– From 20/12 to 26/12/2020
Let's bring joy to your loved ones and be merry in this most wonderful time of the year.
Please inbox now for Thien Moc Huong to have a very happy Christmas‼️‼️‼️‼️
The most anticipated event of the year, only available at Thien Moc Huong from 20/?2/???? to ?6/?2/????
At Thien Moc Huong, products are also exclusively designed according to the individual requirements of customers, accompanied by attractive after-sales policies.No needy words to PR, just really quality products, confirmed by the experience and feedback from customers is proof. most authentic.
GET 12$ OFF WITH CODE GS12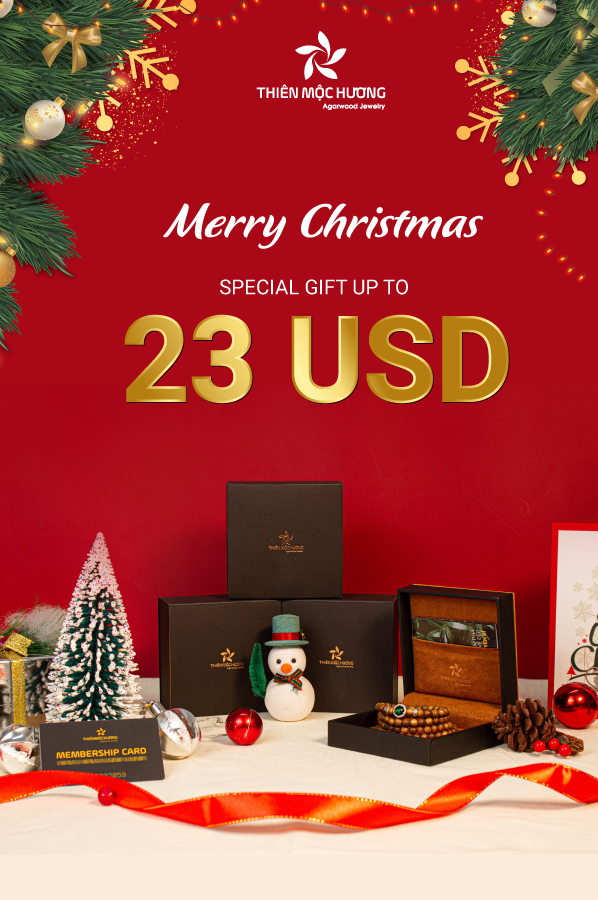 LET'S LOOK BACK TOP 5 BEST SELLERS OF TMH
1. Gem 108 beads mala with birthstone
Bracelet made from Agarwood type of origin from Laos. With 108 beads, this will be a gift, extremely meaningful jewelry for everyone.
2. Agarmoon 108 beads mala
Eliminating negativity, for the mind to be calm and lucky. Dispel bad and negative energy. A bracelet made from 108 seeds has a gentle, faint aroma that makes the wearer feel comfortable and comfortable.
3. Double round nine-tailed fox Agarwood beaded bracelet
Nine-tailed fox stone Agarwood bracelet brings outstanding luck on the road of love, marriage, keeping the happiness in a couple. Furthermore, it brings good luck, creates comfortable feelings, and relieves anxiety and stress for the owners.
4. Four-leaf Agarwood beaded bracelet
CloverLeaf Agarwood Bracelet designed for both men and women, bringing luck, happiness, and health for the wearer. Made from 100% natural Agarwood and premium S925 silver.
5. Tibet Agarwood beaded bracelet with stone
Tibetan Agarwood – a unique, harmonious combination of Agarwood and Tibetan amulet charm – opens the mind of compassion, charity, bringing many blessings to oneself and spread positive energy to everyone around.