Product Description
108-bead starlight mala beads bracelet eliminates sorrow, soothes your soul, brings good fortune, and wipe away bad energy.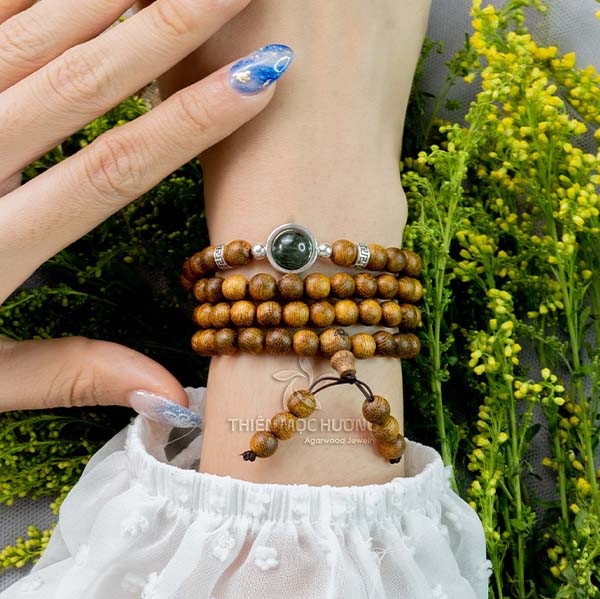 I. Information about 108-bead starlight
Material Agarwood 100%
Country of Origin: Laos
Number of seeds:  108 seeds (depending on arm size)
Beads size: 6mm – 7mm – 8mm
Agarwood ages: 12 – 14 years sedimentary
Usage:
+ Female's favorites
+ Gifts for relatives, friends or colleagues, subordinates
+ Brings good luck, eliminates sorrows
+ Meaningful presents toward Buddha
II.1 08-bead starlight Description
This agarwood beaded bracelet product belongs to 108 Mala Beads Collection hence it is the most preferable product for women at the Thien Moc Huong store. Most notably, they used silver material to create a bracelet that has a compact design, precise but very aesthetic, charm bell. It has many very attractive uses that not all types of bracelets have.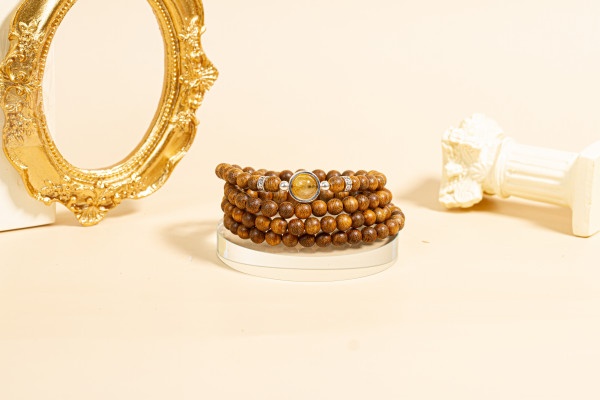 1. The origin of 108-bead starlight
Inspired by the shining star on the Milky Way carrying the simple yet delicate beauty. The round silver halo surrounding the quartz stone represents the nebula that surrounds the planet, always treasures and keeps it as safe as possible, and is meant to surround and nature.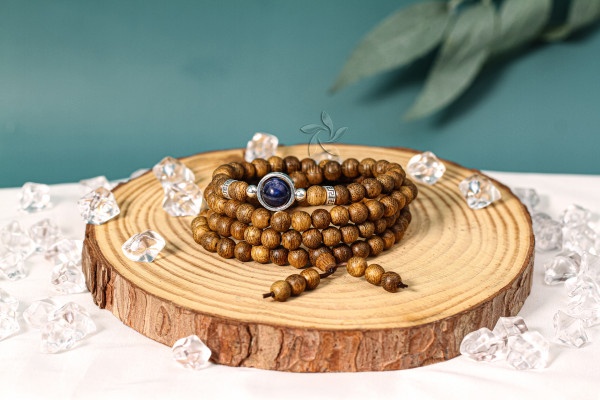 2. The combination of 108 mala Beads and starlight
Classic 108 mala Beads of Thien Moc Huong has always been the BEST-SELLER with the function "eliminating 108 types of pressure, helping the wearer feel calm, reduce stress". Combining two meanings of "pure and peaceful mind" of 108 mala Beads and the limitless wisdom of Agarwise Blissful Bean, this bracelet is worth the first choice.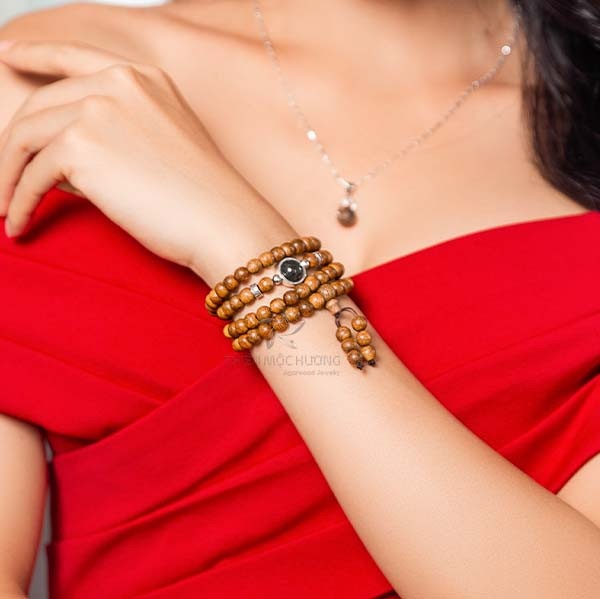 A natural gemstone with 5 colors representing 5 Stars around the solar system, suitable for each duty in the five elements
+ Blue Star – Mercury
+ Red Star – Mars
+ Tiger-Eyed Star – Saturn
+ Green Star – Jupiter
+ Gold Star – Venus
In Buddha, the number 108 means "Full" and "Intellectual"; besides, the same 108 number represents 108 human sorrows. Humans are born with ears, eyes, nose, tongue, body and mind. The eyes see the scenery, the ears listen to the sound. The nose smells the scent, the tongue tastes the sweet, sour and bitterness. The body feels the heat, the cold which brings happy-sad. These feelings either make humans be at peace or in confusion. 108 feelings come from the past, the present and the future.
III. Agarwood Production Pipelines