Product Description
Happiness agarwood 108 mala beaded bracelet – classic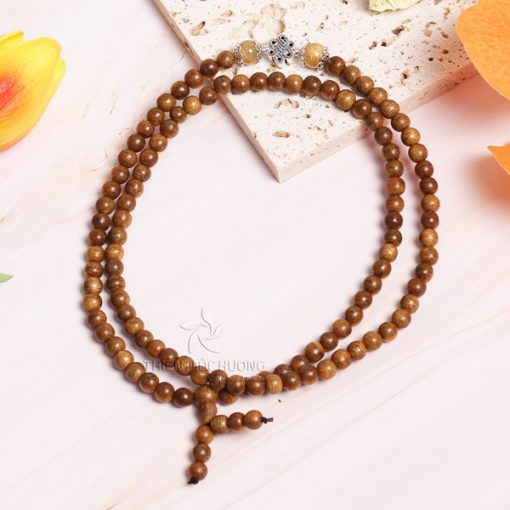 I. Information about Happiness agarwood 108 mala beaded bracelet – classic
Material Agarwood 100%
Country of Origin: Lao
Number of seeds: 108 beads (8-10mm/seed) (depending on size)
Agarwood ages: 12 – 14 years sedimentary
Usage:
+ Female favorites
+ Gifts for relatives, friends or colleagues
+ Brings good luck, helps mental comfort, reduces anxiety and stress
II. Product Description
Happiness agarwood beaded bracelet is one of the hottest Agarwood bracelets of the new collection launched for females in April 2022 in Thien Moc Huong.
Happiness agarwood beaded bracelet is crafted from the type of agarwood from 10 to 14 years of sedimentary origin from Laos. Normally, bracelets will be made into 17-21 beads (may vary depending on the size of the wearer's hand). The number 108 means represents 108 human sorrows. The bracelet resembles the spirituality of Buddha and also represents the Samàdhi that cleanses sorrows. With 108 beads, this is a meaningful gift and jewelry for relatives, friends, and Buddha.
The meaning of Happiness agarwood 108 beads bracelet
Happiness agarwood beaded bracelet is the connection of a string made from a long rope, the end of the tail is connected, be lovey-dovey, closely connected with each other, so the knot often carries the meaning of a couple's love, "Fall in love", "Eternity". 
Charm Happiness agarwood beaded bracelet from silver 925, Ngoc Bao Stones combined with agarwood brings women modernity, youthfulness, and gentleness at the same time.
This agarwood bracelet product belongs to Pandora Agarwood Collection hence it is the most preferable product for women at Thien Moc Huong store. Most notably, they used silver material to create a bracelet that has a compact design, and a precise but very aesthetic, charm bell. It has many very attractive uses that not all types of bracelets have.
Uses of Agarwood Bracelet 
The agarwood Bracelet is a lucky charm for the wearer. Frankincense emanates to help dispel feelings of heaviness, reduce stress, neutralize bad omens, attract luck, and fortune, and bring peace. In married life, husband and wife always get along, understand each other, affection is sublime, durable. Find a bracelet that fits your destiny and gives you money
III. Agarwood Production Process