Mala beads have a variety of colors. Each color has a special different meaning such ads blue beads meaning, red, yellow… If you are a follower of Feng shui, you will better understand the meaning of these colors. Any kind of spiritual bracelets are a string of prayer or meditation beads commonly used for spiritual practice. This one is really good for your belief in spirituality. In yoga and especially in meditation, monks or people use spiritual beads during the time of this process. They can feel that they have to concentrate on their own higher-self. People have worn it as a necklace or necklace and it is often made from a range of materials such as: stone, wood and metal (silver, stainless steel,..). And what is spiritual beads color meaning ?
1. Mala beads meaning by colors
1.1 White in spiritual beads color meaning:
This color represents holistic inner peace. The color includes all 7 colors of the rainbow, which is why it is considered to represent spiritual purity and completeness. The color is associated with angels and allows you to connect deeply with the spiritual world. On the other hand, White is also represents the purify, clarity, efficiency and Pristine. White combined with black is a couple of perfection in laws of yin and yang.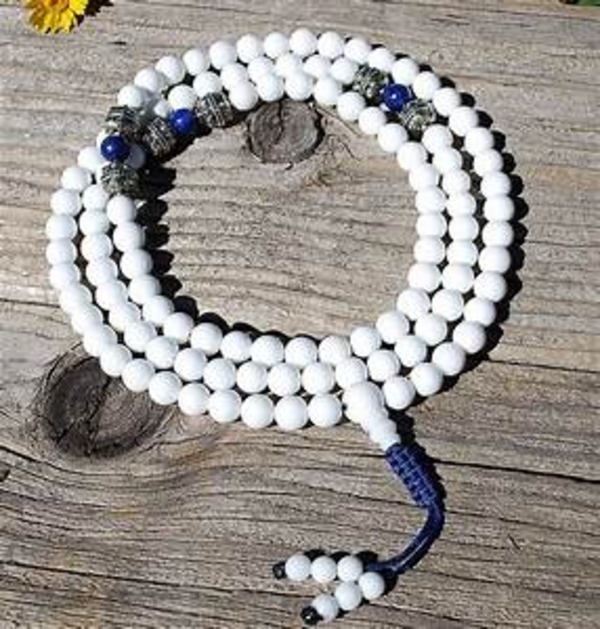 1.2 Black mala beads:

 
this color is a symbol of protection and success. The color protects its owner from negative thoughts and evil, releases mental stress and motivates you to succeed. The black represents grounding strength and increases your perception of potential and possibility. This color is used in Feng Shui accessories a lot. It is powerful, empowering, strong and dynamic. Besides, Spiritual beads color meaning. In Feng Shui, the laws of yin and yang. Since ancient times in China people have had this belief. 
1.3 Brown mala beads:
Brown is the color of the earth element, symbolizing mother nature's love for heaven and earth and the natural environment. If you are a person of the Water element, it will be very suitable for brown color. Because Fate Water matches with Fate Wood . The soil will be very suitable for water.
The brown and wooden beads enhance the perception of spirituality. It can promote awakening and spiritual awareness. You become more dedicated to your faith and provide mental stability. It can inspire self-confidence and improves relationships with friends and family. It can help you forgive and release bitterness from your heart. 
1.4 Blue beads meaning in mala bracelet
This color brought personal growth and increased opportunity. Green mala beads bracelets or agarwood bracelet green also represent prosperity, money and luck. As it is seen to be a spiritual beads color meaning. This color also has a connection to the heart chakra. The chakra is extremely connected to the heart which brings the energy of self-love and love for other people.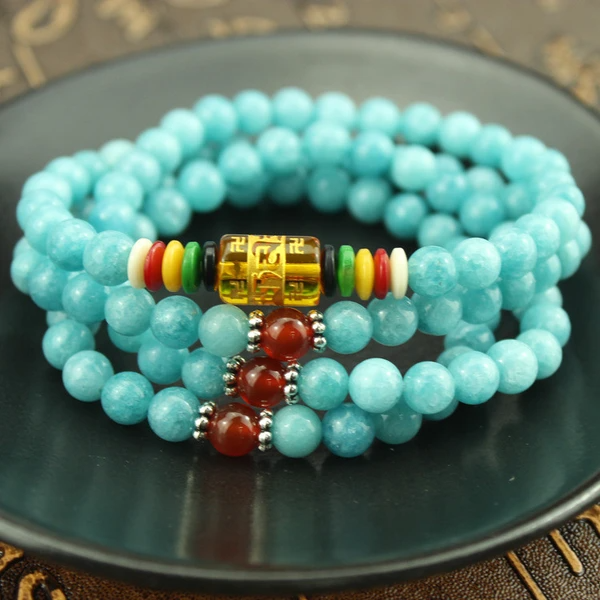 Blue mala beads can improve your communication skills and makes you true to yourself. Leaders should wear these beads as it eliminates fear and encourages creativity and success.
2.Does each material and spiritual beads color meaning?
Each of the spirituals beads color meaning to help you achieve the desired goals. The beads can help you maintain your spirituality, improving communication skills and mental stability,. It can be easier to connect with your parents, friends and your loved ones when you practice mindfulness. Especially the material to make the bracelet or necklace is equally important
2.1 Agarwood beads: 
Agarwood beads are used as a bead to mark the cycle of prayers. The beads help the meditator focus on the recitation; meditation; meditation easier. Whenever a finger touches an Agarwood bead; you feel the smoothness and comfort from this material brought for you. The believer controls the number of prayers by the minimum of conscious effort to concentrate the mind and energy of prayer.
Moreover, Agarwood seeds after religious rituals are also imbued with the essence; the blessings from the Guardian and ancestor, the faithful cherished with them. Moreover, the bead becomes a believer among the gods and followers; always guarding for an ethical lifestyle. From this lifestyle, your quality of life more and more develop and enhance. 
Muslims, Buddhists, etc. It can also use Agarwood beads as an ornament to show respect for their religion. Besides, Agarwood seeds can be worn on the neck or on the neck of the hand; or simply carried along as an amulet, a fortune teller.
2.2. amethyst mala beads
This one is a type of stone. It helps you to be enhanced with high blue beads meaning spiritual vibrations and protective values. Balancing your emotions and reason out your highs and lows. This stone for a clear and pure mind and deeper connection with your higher-self and your spirituality.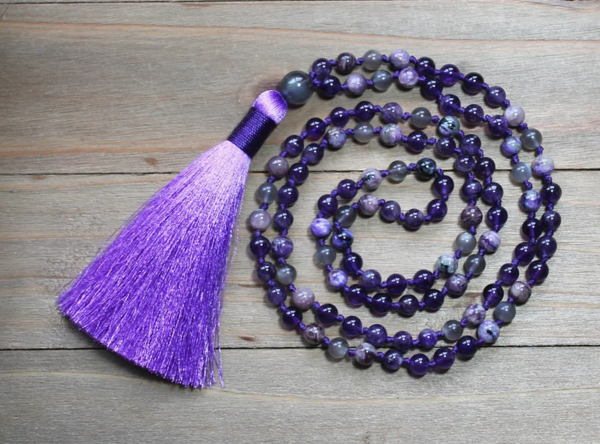 2.3 sandalwood mala beads 
Sandalwood mala beads are made from carved from naturally occuring Sandalwood trees in East India and Asia. Besides, sandalwood mala also has the effect of exorcism, bringing good luck, health, peace and bringing good omens when used for remembrance or worn around people. When in contact with the skin, sandalwood mala bead helps to balance the heat in the body; helps meditators and meditators to focus more to reach the highest realm. It has brown as its spiritual beads color meaning.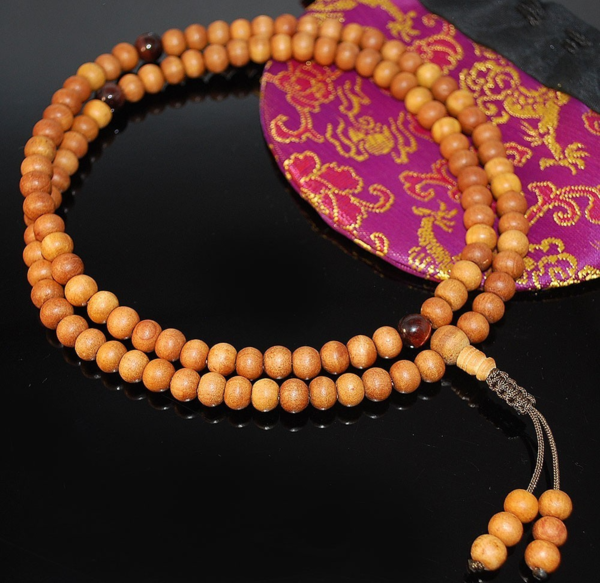 First, this bracelet symbolizes luck and wealth

Second it helps support meditation to bring calmness and peace 

 Next, your body will be regulated and kept balanced between the emotions and reason. 

Finally, sandalwood mala represent richness and prosperity
To have more information about sandalwood mala, you can check out here: What are the significance of sandalwood mala
2.4. Ebony mala beads
Ebony is a heavy and dense wood. It is a dark color, usually is black in spiritual beads color meaning. The meaning of this wood represents purity, protection and balance. Not only Your relationships will become better and more better everyday when you wear the bracelet, but also he ebony mala is also good for metal and mind health.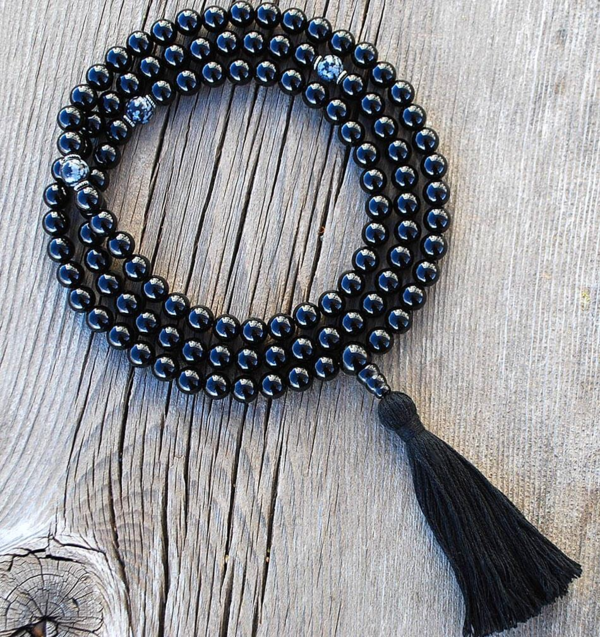 2.5. Agates mala beads:
Wearing the bracelet or necklace, you will feel the sense of humanity. The power of protection from your spiritual protection team. Your Guardian and God will pray for you to have inner strength. Inner voice and pure mind more and more percept about spirituality. It is effective in treating emotional trauma and regaining emotional balance. Spiritual beads color meaning is really important in any aspect of our life.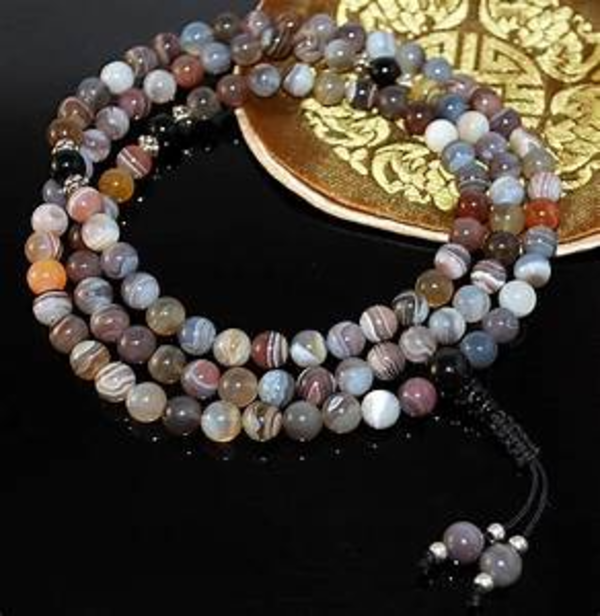 3.What is spiritual beads color meaning used for?
Spiritual beads color meaning of every kind of material. The meaning of colors help you know about the total and clearly about these woods. From that, you can choose a suitable material that you like and good for you. The good material is that it is comfortable when you touch it. This is really important. Because these materials are not cheap and precious.
So you need to choose it carefully. A beautiful bracelet is a bracelet which is suitable and fit for you. By the way, color is equally important. If you are a person who follows Feng Shui, the color of material and stone is a thing that you care about. More than that, each color has a different meaning in spirituality and life.
3.1 Red mala beads meaning
 Red is associated with empathetic, creative and grounding energy. This one helps you be extremely focused on studying and lifestyle. Besides, some people say it can reduce allergies to animals and calm them when they feel overwhelmed.
 3.2 Blue beads meaning:
This color of beads can improve your communication and the truth. You are the one that trusts in yourself. Monks and leaders should wear the blue beads meaning bracelet or necklace. As it wash fear and shyness. From that encouraging creativity and success. 
3.3 Green mala beads meaning:
Green represents freedom and fresh energy. Your energy will increase and recover after meeting bad situations or different circumstances. Leading for you to feel more comfortable and healing promotes well- being. More than that, it supply for your promotion and calmness.
4. Four Special pattern of Agarwood bracelet at Thien Moc Huong
We have many patterns of agarwood at Thien Moc Huong store: Agarwood beaded bracelet, 108 mala beads bracelet, rosary bracelet,…. Below, we recommend some agarwood bracelets at Thien Moc Huong Store. Hopefully, you can choose one that is suitable for your preference and favour.

4.1 Agarwood beaded bracelet basic- classic: 
This one is one of the best sellers at our store, from ordering on website to store. Laos agarwood bead bracelet is a good choice for those who like simple and minimalist styles. Moreover, sophisticated samples of agarwood bracelets represent the brighten from Sun to enhance your perception in spirituality.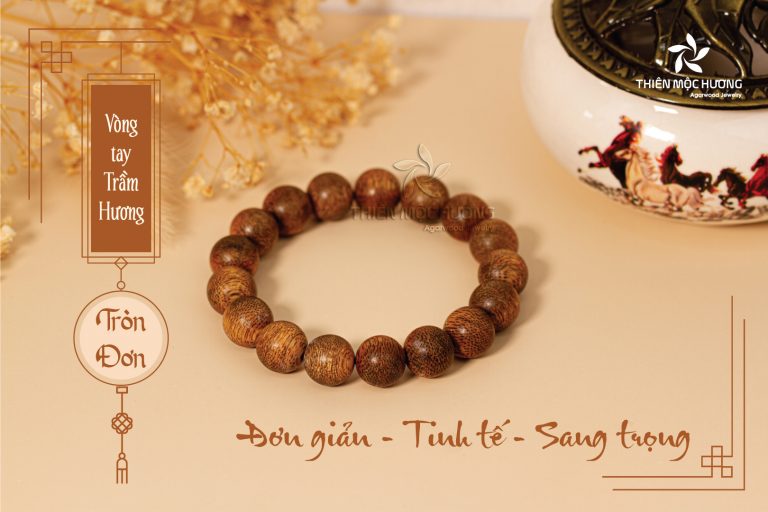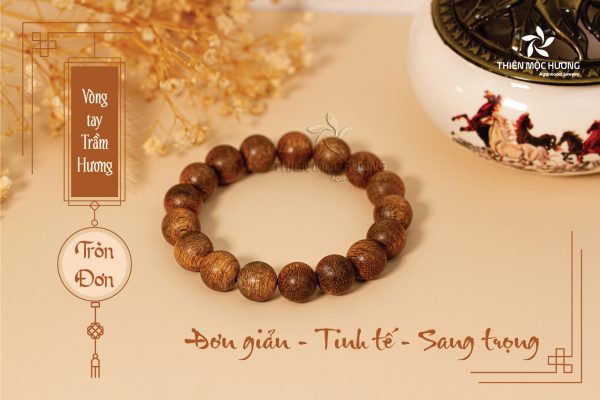 You can refer to this product here: Agarwood beaded bracelet basic
4.2 Tibetan 108 mala beads bracelet- classic:
This bracelet can wash negative thoughts and bad energy away you mind. Especially after a hard working day. Tibetan 108 mala beads eliminate sorrow, soothes your soul.  Besides, it also recharges your energy again.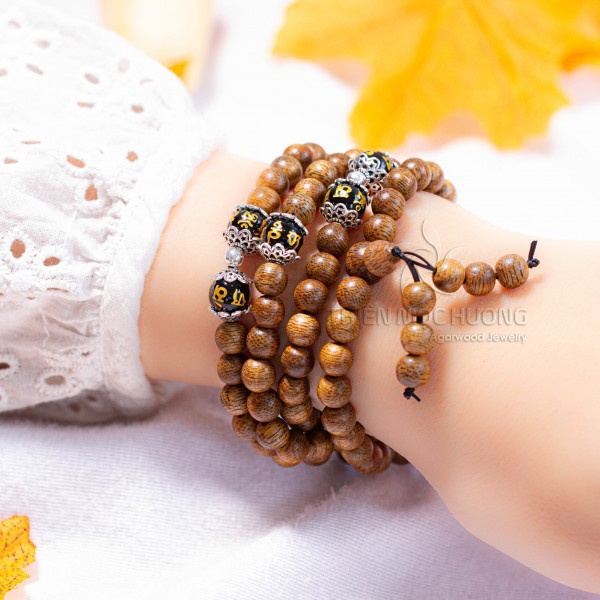 If you are interested in this bracelet, you can see the link below: Tibentan 108 mala beads bracelet
4.3 Double round Jade Lotus agarwood beaded bracelet:
The design of this bracelet has the green lotus flower charm. In addition, it contains high energy, supports you to have a good mood, happiness and be calm.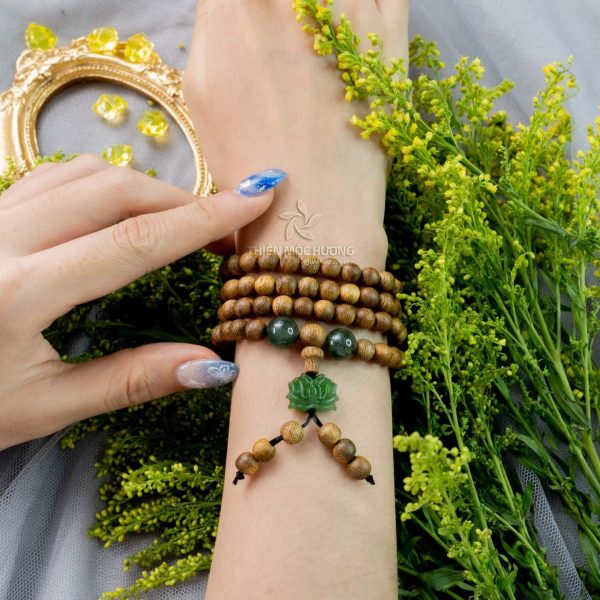 If you are interested in this bracelet, you can see the link below: Double round Jade Lotus agarwood bracelet 
4.4 108 beads starlight mala beads bracelet- classic:
This design is 108 beads made from agarwood. The speciality is the point of Pink quartz which is absorb negative energy. From that, it helps you enhance the energy of your self-love. Moreover, Agarwise Blissful beans 108 mala beads soothe your soul, brings good fortune.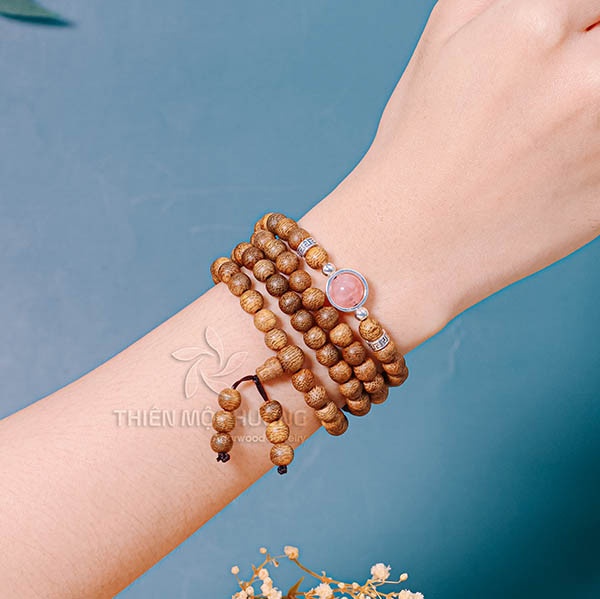 With the content that we supply for you, hopefully that you can have more knowledge about the meaning of these colors. This link below is all about the product, you can choose and buy it at: 108 beads starlight mala beads bracelet