The product is made from Vietnam Toc Agarwood which is taken from the natural environment, not affected by human hands. In particular, agarwood originates from Ha Tinh forest, growing naturally, so the ring quality is much better than other fasteners on the market. With the characteristic dark brown color and deep, sharp veins, the product promises to bring high aesthetics and many great uses to the wearer.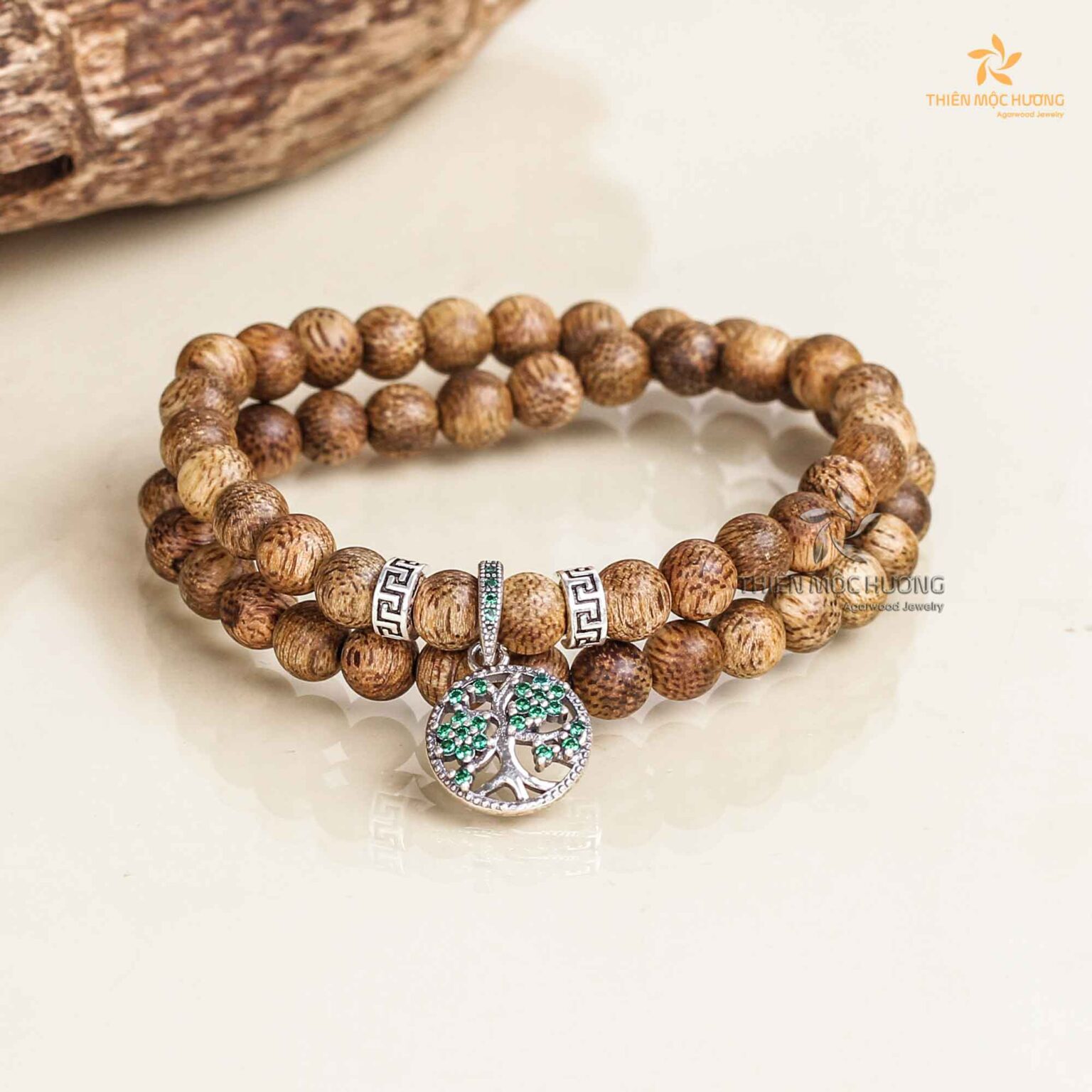 I. Information about Happy Family Agarwood beaded bracelet
Material: Agarwood
Country of Origin: Vietnamese Toc Agarwood
Number of seeds: 50 – 54 beads (depending on hand size)
Agarwood ages: 12 – 14 years sedimentary
Usage:
Female
Gifts for relatives, friends or colleagues
Usable for babies
Brings good luck, helps mental comfort, reduces anxiety and stress
Meaningful presents toward Buddha
II. Product description of Happy Family Agarwood bracelet
1. General description   
The Happy Family Agarwood bracelet is inspired by the sacred bond of family. With an exquisite and unique design, it aims to bring peace and good fortune to you and your loved ones.
No matter who you are, where you go, or what you do, family is always the anchor and the most important place for you to trust and return to. Family is like a mighty tree, with parents and ancestors as the roots and siblings as the branches and leaves. A happy and harmonious family, like a thriving tree, is the foundation for the craftsmen of Thien Moc Huong to design the Happy Family Agarwood bracelet.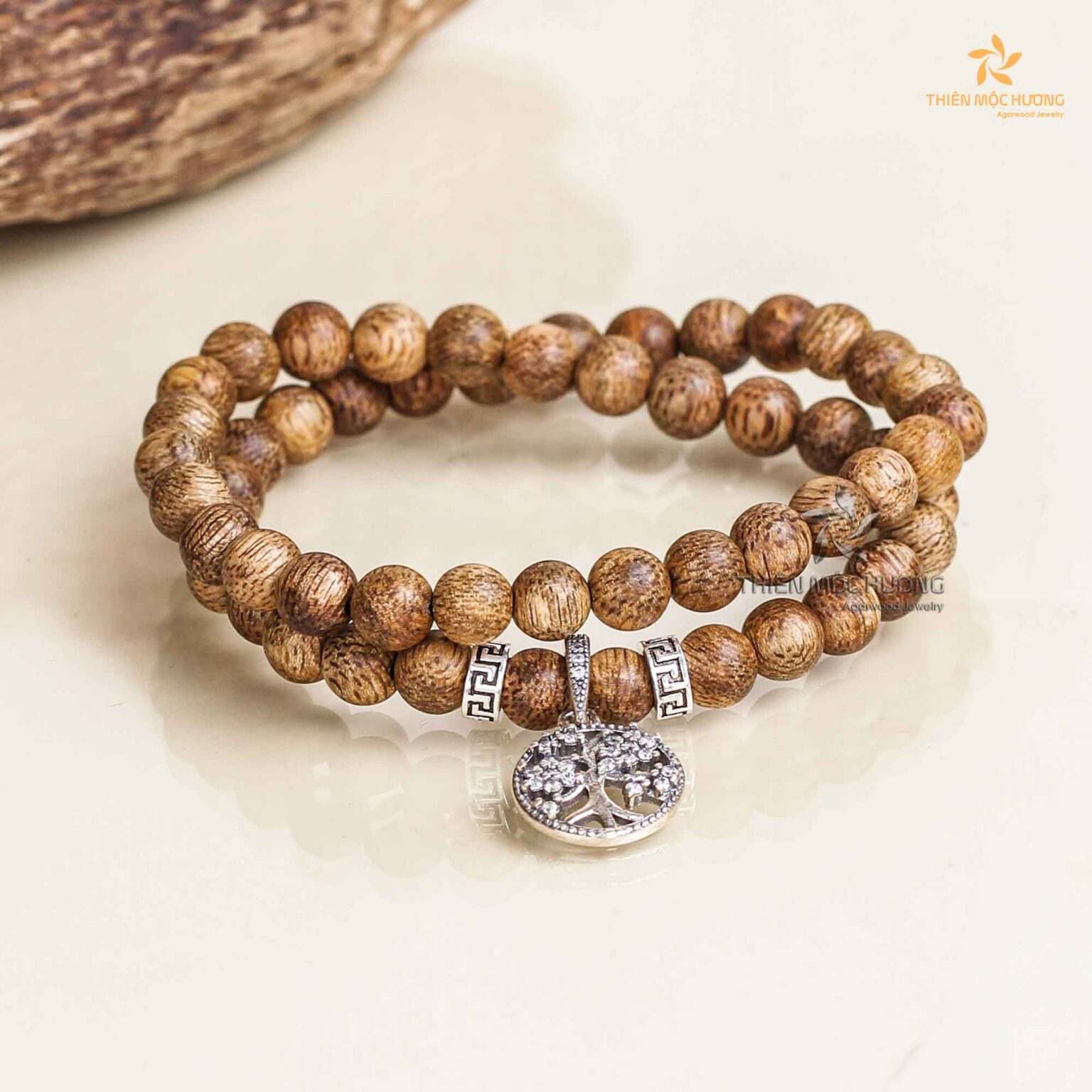 CHOOSE NOW for yourself a Happy Family Agarwood bracelet, suitable for your personality and destiny to have a favorable relationship, career advancement and good luck in life.
2. Explore the meaning of Happy Family Agarwood bracelet
The significance of the Tran Huong Phuc Gia An bracelet lies in its natural agarwood, which has absorbed the essence and spirituality of many years in the deep forest. It combines the energy of the earth and sky, bringing emotional balance and a sense of loving life. It helps the wearer feel increasingly youthful and confident from the inside out.
Furthermore, our family is the source of our lives. If this is the beauty of Vietnamese culture, then the distinctive feature of this bracelet is peace and prosperity.
3. Functions
Brings comfort and robust health
The natural fragrance of agarwood creates a soothing atmosphere, providing warm, peaceful, and harmonious moments with your family. Moreover, the gentle scent of agarwood helps our spirits feel comfortable, refreshed, and at ease, dispelling worries and fatigue, as if it brings a new source of lucky energy to the wearer. As a result, family relationships become smoother and stronger.
The Happy Family Agarwood bracelet brings prosperity and serenity.
It acts as a protective charm, dispelling negative energies, darkness, and resolving bad omens surrounding the wearer. Additionally, the agarwood brings a sense of freshness due to its elegant and fashionable design, radiating a luxurious charm. Wearing such a bracelet, we can feel the positive changes it brings. It brings greater convenience to our work, invites lucky moments, improves our health, and brings about various positive transformations.
The bracelet is suitable for all astrological signs and is not limited by age, making it easy to choose.
Choose your own Happy Family Agarwood bracelet that matches your personality, astrological sign for career advancement, and abundant blessings in life.
III. AGARWOOD PRODUCTION PROCESS