Agarwood bracelet 108 Vietnamese Mala beads over 14 Years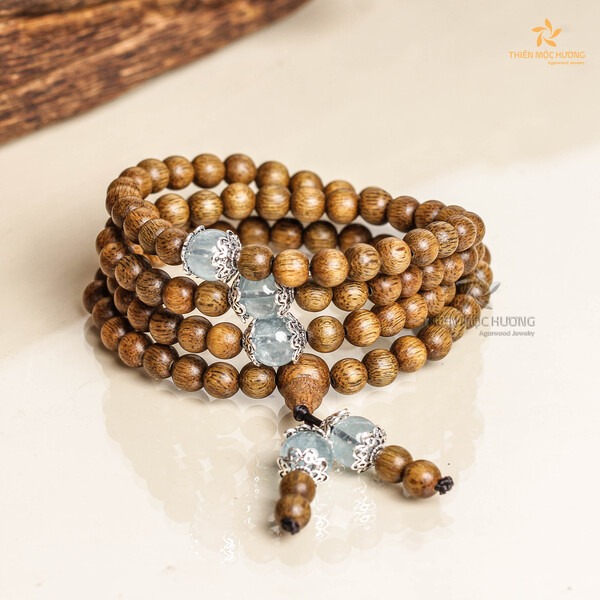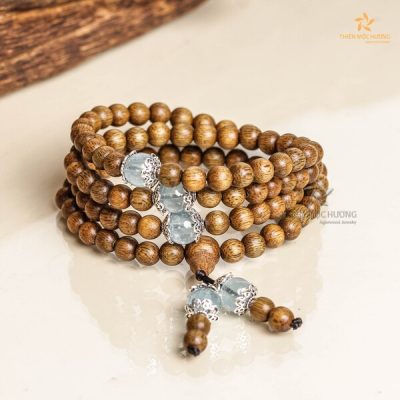 Gem 108 beads mala with birthstone
The bracelet is made from Agarwood from Vietnam agarwood aged 12-14 years. The bracelet is made from 108 Agarwood beads with a gentle, faint scent that makes the wearer feel comfortable and comfortable. The bracelet also carries a spiritual symbolism in Buddhism, which is representative of the request to realize the Samadhi Dharma to eliminate defilements. With a number of beads 108, this will be an extremely meaningful gift and jewelry for everyone.
Mala stone has a fanciful, pure color that is very suitable for making feng shui jewelry, suitable for each zodiac sign Metal – Wood – Water – Fire – Earth.
The meaning of the number 108 and the image of 5 Ngoc Bao stones
In Buddhism the number 108 means Full and Deep, in addition, it is also 108 types of human afflictions. People are born with ears, eyes, noses, tongues, bodies, and consciousness. Eyes see the scenery, ears listen to sounds. The nose perceives the scent, the tongue touches the sweet and sour taste. The body feels hot and cold, causing a feeling of joy-sadness. These emotions make our body and mind pure or confused. 108 mixed emotions from past, present, and future.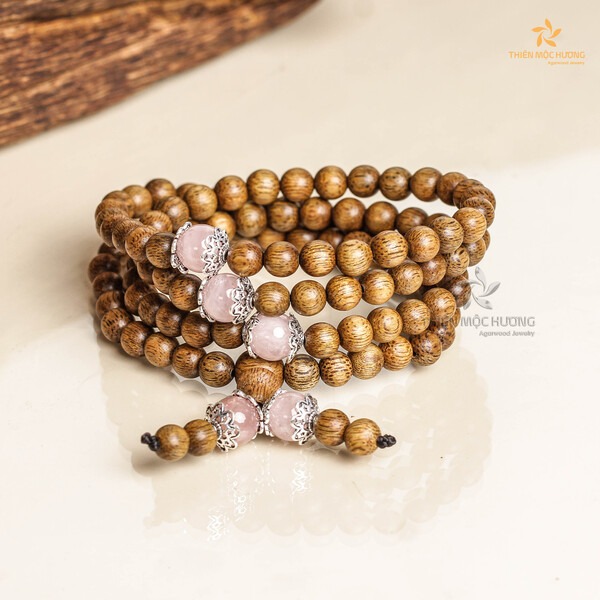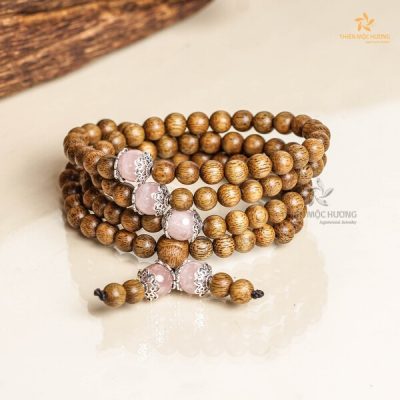 5 jewels attached to the bracelet seem to light up the whole world, gentle but delicate. There are 5 types of jewels suitable for each par Metal – Wool – Water – Fire – Earth.
As a symbol of love and luck along with the subtlety and lightness that bracelets bring, it is not wrong to say that this is great jewelry for us women. Each color of the pearl exudes elegance and class as it symbolizes the nobility of modern Vietnamese women of the 21st century.
Uses of Agarwood and Pearl Seeds
Agarwood is inherently a child of heaven and earth, fully converging spiritual energy to bring the owner luck in work, health, peace, and fortune. As a feng shui item – a talisman for the homeowner, when combined with precious gems with destiny, creating a delicate and elegant Agarwood bracelet. It is inherently not picky, but when it comes to this combination, it makes the beads more delicate and increases spiritual power. Adding to the elegance of Agarwood also makes people more choices when buying feng shui items Agarwood.
The 5 shiny, round, and round Jade Jewels radiate aura of mutual support to help CLEAR OVERVIEW, RADIANT SPIRIT, partly expressing the profound beauty emanating from deep within the soul of the owner.
The Agarwood bracelet was born not only to bring peace to Life but also to brighten the wearer's spirit, creating an attractive but delicate and gentle color.
Crafting process