Pixiu agarwood beaded bracelet with Silver S925
Palladium and attract fortune
Pixiu agarwood beaded bracelet is a luxurious and fashionable piece of jewelry that brings peace and patience. The product is made from Vietnam Toc Agarwood which is taken from the natural environment, not affected by human hands. In particular, agarwood originates from Ha Tinh forest, growing naturally, so the ring quality is much better than other fasteners on the market. With the characteristic dark brown color and deep, sharp veins, the product promises to bring high aesthetics and many great uses to the wearer.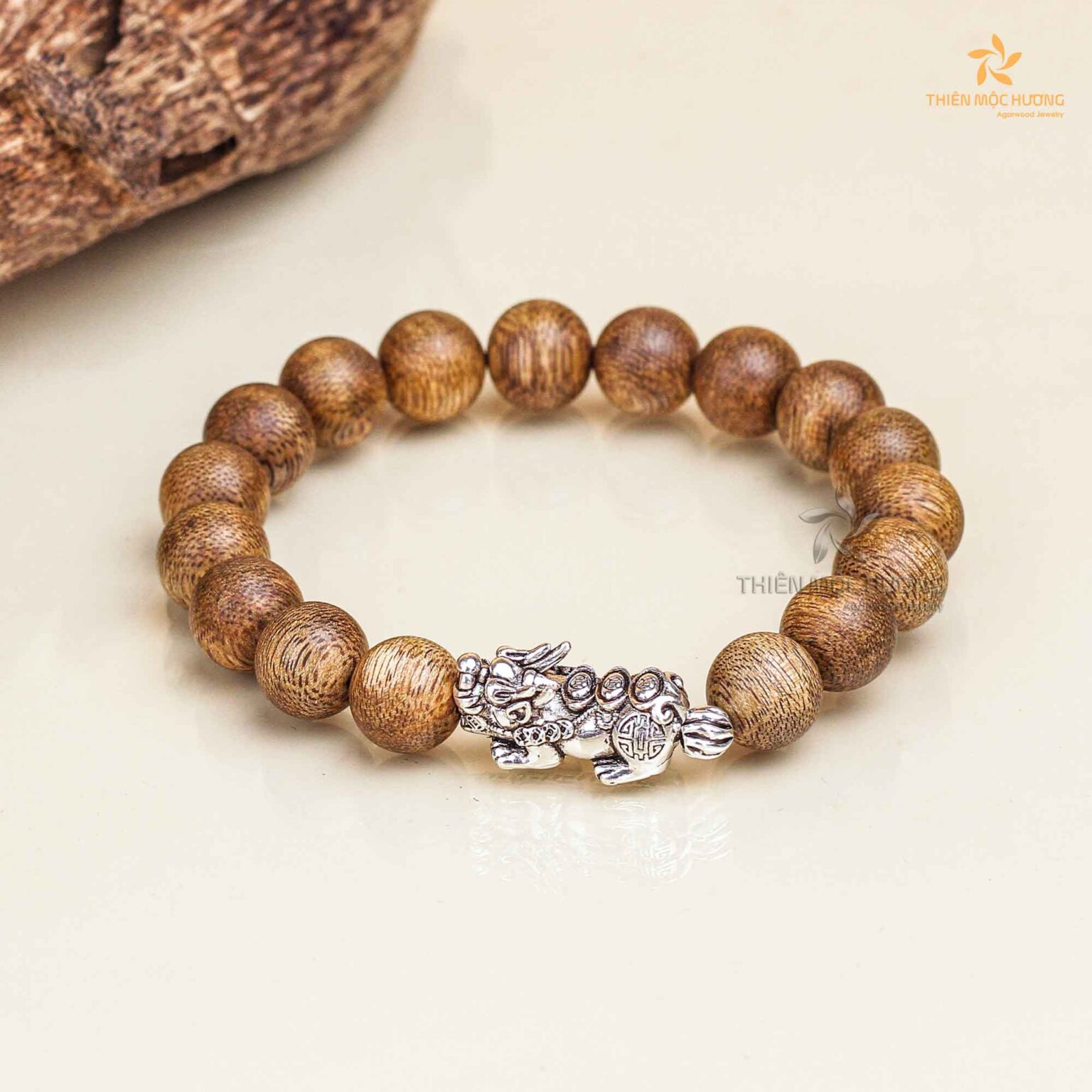 I. Product information of Pixiu Agarwood beaded Bracelet with Silver S925
Material

Vietnamese Toc Agarwood + Silver S925

Source

Vietnam

Number of beads

14-17-21 beads (depending on the size of the wearer's hand)

Age

12-14 years

Use for

Male/Female

This is a gift for relatives, superiors or friends.

It brings luck and fortune in the way of fame.

Fashion accessories
II. Description of Pixiu Agarwood beaded Bracelet with Silver S925
The Pi Xiu Silver Single Round Agarwood Bracelet will usually be made from 17 to 21 beads (can vary depending on the size of the wearer's hand). The number of seeds will be selected based on the rule of the cycle of "birth – old age – illness – death" to bring luck to the owner. It is recommended to choose the number of seeds that are divided by 4 with remainder 1. Accordingly, the last seed will fall into the word "birth". The Pi Xiu Charm is made from Silver S925, adding premium value to the bracelet and its wearer.
1. The meaning of the image of Pixiu
Legend has it that Pixiu is a mascot that can neutralize the five emperors of the Great Slaughter – the type of killing that is detrimental to health and fortune. If you have Pixiu by your side, you can be assured of its spiritual value. Pixiu loves to eat gold and silver, but he doesn't have an anus, so he only eats it without spitting it out.
In addition, Pixiu has a brave nature, specializes in biting the blood of demons, so they do not dare to approach. Therefore, carrying Pixiu also has the effect of protecting and exorcising evil.
2. Trendy bracelets for both Men and Women
The Simple Round Bracelet carries the ultimate simplicity but is extremely delicate, combined with the Silver Pixiu charm to enhance the elegance and elegance. This Agarwood Pixiu bracelet is designed to be extremely suitable for men, especially those who pursue minimalism and classicism but are full of aesthetics.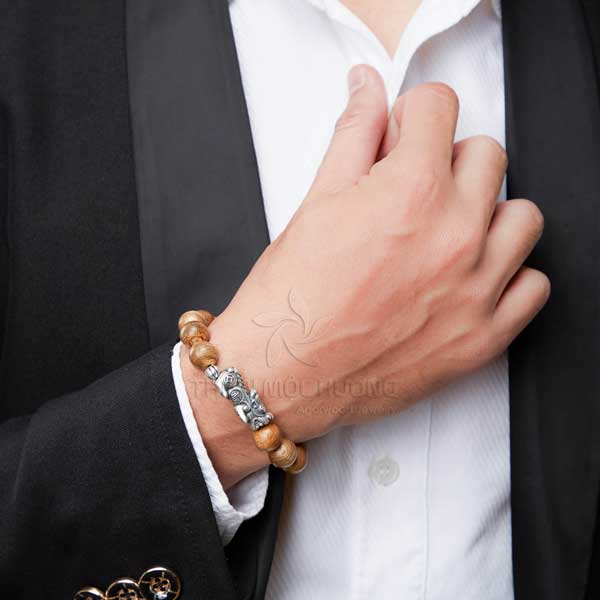 The design is extremely suitable for women who pursue minimalism, classicism, sophistication, and class.
CHOOSE a Silver Pixiu Agarwood Bracelet for career advancement and good luck in life.
3. The perfect combination between Agarwood and Pixiu
Silver Pixiu Agarwood Round Agarwood Bracelet is a treasure formed by the unique crystallization of Agarwood – the Spirit of heaven and earth and Pixiu – the beast that protects wealth and brings wealth. The Agarwood mascot brings in the quintessence of heaven and earth, enhances the transmission of spiritual energy to awaken the Spirit Beast of Pixiu and makes him strongly clear Thien Loc. From there, it helps the owner to attract wealth, keep fortune, and ward off evil spirits.
This is the perfect combination of carefully selected agarwood beads and exquisitely sculpted silver Pixiu to create an agarwood bracelet that is valuable in terms of spirituality and exudes a luxurious, classy and outstanding look.
III. Why should you choose Pixiu agarwood beaded bracelet?
Agarwood bracelet in single silver Pixiu is a treasure formed by a unique crystallization from Agarwood – the quintessence of heaven and earth and Pixiu – a mascot that protects wealth and brings wealth. Therefore, helping wearers keep fortune and warding off evils. This is a prominent design in the agarwood bracelet collection at present Thien Moc Huong.