From July 15 to 22, Thien Moc Huong incense brand celebrates 42 years of establishment and marks a milestone with 100,000 customers accompanying the brand. Within the framework of this anniversary week, Thien Moc Huong organizes a series of attractive promotions and incentives to show gratitude to its customers. At the same time, this is also a special occasion to look back at Thien Moc Huong's 42-year journey of spreading the value of agarwood both at home and abroad.
42-year journey on agarwood journey
Starting the journey of agarwood in the 1980s on the land of Thuy Xuan in Thua Thien Hue, people with love and knowledge of the precious wood of agarwood have together formed the Thien Moc Huong brand. In the beginning, Thien Moc Huong was the first and only place to buy and manufacture quality products from natural agarwood in Vietnam. The basic products that made the brand's name in the early days can be mentioned, such as agarwood miniatures, agarwood incense sticks, and agarwood blocks,…
The period 1990-2000 can be considered the flourishing period of agarwood and its products. This wood's great uses in terms of health and feng shui are well known. Since then, agarwood products are not only famous in the country but also popular in many markets worldwide. 
And thanks to its prestige and quality, Thien Moc Huong brand has constantly expanded and dominated the market. Thien Moc Huong constantly conquers customers with new product lines such as agarwood perfume, agarwood cosmetics, tea, and all kinds of rings,… Fine art products are developed with many beautiful designs. under the skillful hands of longtime agarwood artisans.
2005 marked an important turning point when Thien Moc Huong officially brought agarwood products to the market in Ho Chi Minh City and southern provinces. This is considered a special mark on this brand's journey to bring the value of agarwood throughout the country.
Up to now, after 42 years of establishment and development, Thien Moc Huong has launched many different product lines made from agarwood, such as agarwood bracelets, agarwood incense sticks, and agarwood incense sticks, and powders. Agarwood,….. These products aim to bring the value of agarwood closer to customers.
Achievements on the road of frankincense
Within the framework of the Ship for Southeast Asia – Japan Youth Program (SSEAYP – The Ship for Southeast Asian and Japanese Youth Program) held in 2017 and 2018, Thien Moc Huong was honored to become a platinum and product sponsor. Agarwood of the brand has become a gift representing Vietnam to more than 10 Heads of State and more than 30 heads of international exchange delegations in other countries.
After 42 years of establishment and development, Thien Moc Huong's products have accompanied more than 100,000 customers in more than 20 countries worldwide.
In addition to being famous for product quality, Thien Moc Huong also creates sympathy with customers through the quality of service. In addition to selling directly to customers coming to the showroom, the brand also ships to everyone across the country and supports shipping fees. Warranty and after-sales policies always put customer satisfaction first.
Up to now, Thien Moc Huong is still evaluated by domestic and foreign customers as the number 1 brand of agarwood in Vietnam in terms of both prestige and quality.
Thien Moc Huong and the journey to conquer the international market
This agarwood dream doesn't just stop at the Vietnamese market, Thien Moc Huong is and will make relentless efforts so that the world can know and recognize the products that come from the hands of Vietnamese people and the quality of agarwood. Vietnamese flavor.
2020 is a milestone marking Thien Moc Huong becoming the world's leading agarwood distribution and manufacturing brand. With more than 100,000 members in more than 20 different countries, Thien Moc Huong is gradually completing the mission of bringing Agarwood to become an International Jewelry. In addition, these efforts also help raise the level of Vietnamese agarwood so that international friends know about the quality of Vietnamese agarwood.
Challenges on the journey to conquer agarwood
For its agarwood products to reach as many customers as possible, in 2018, Thien Moc Huong invested in building more showrooms in Hanoi to expand the northern market officially.
Initially, there were difficulties in maintaining the operation of these showrooms, but with their prestige and quality, after the first time, everything was stable. Thien Moc Huong is also associated with more than 10 agents in provinces and cities across the country, along with a system of points of sale at international airports throughout Vietnam.
When expanding the market abroad, selecting agents also becomes a big challenge for Thien Moc Huong. Distributors of Thien Moc Huong's products must ensure the brand's core values. In addition, they must commit to their reputation in terms of quality and service.
42 years of the quintessence of agarwood – conquering challenges
Celebrating 42 years of establishment is also an opportunity to mark the milestone of 100,000 customers who have accompanied Thien Moc Huong. Looking back on the past journey, in addition to the proud glory, there were also many ups and downs, but with the companionship of all those who love the value of natural agarwood, Thien Moc Huong has overcome those difficulties and continues to develop to bring agarwood products to everywhere both at home and abroad.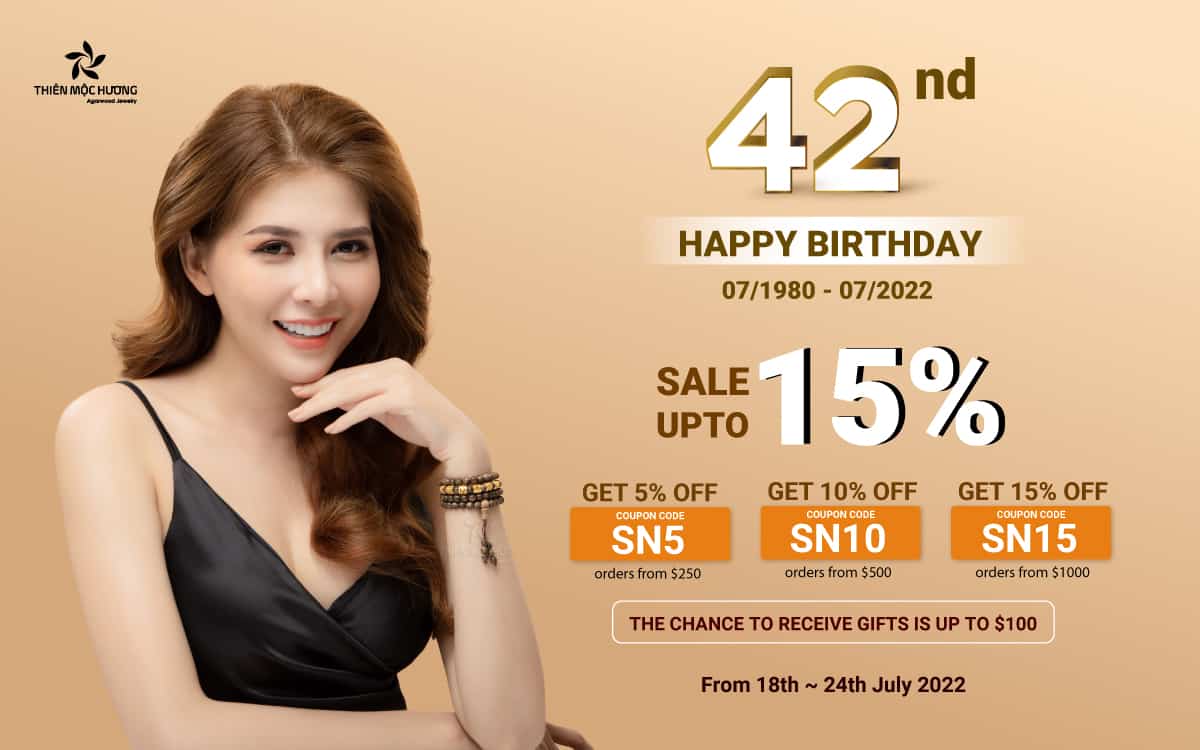 And on this important milestone, Thien Moc Huong brings special promotions to express gratitude to all customers who have always trusted and accompanied the brand throughout the past journey. Specifically:
? Sale up to 15% with countless gifts up to 100$
– For orders from $250, enter coupon SN5 to get 5% off
– For orders from $500, enter code SN10 10% off
– For orders from $1000, enter code SN15 15% off
? Support 50% international shipping fee
* Applicable for orders from VND 1,590,000 in Vietnam
– Not applicable for Gold, VIP, Sink products
– Valid from July 18 to July 24, 2022
Are you ready to celebrate this special occasion? All customers, please quickly contact Thien Moc Huong to get answers to questions and participate in receiving these limited offers.