The cold air is filling the streets, which means the holiday season is upon us. This is not just an ideal time to enjoy amusement and make new acquaintances, but is also the most anticipated event of the year as there will be a lot of "super big" sales to aid you in your search for your favorite products at a great price.
With this festival Christmas season, Thien Moc Huong has announced the promotion "CELEBRATE CHRISTMAS – RECIVE A LOT OF PRESENTS" with an offer that can be as high as 5%. With amazing offers and lots of beautiful gifts, now is the opportunity to purchase high quality and valuable Agarwood Bracelets that you can offer to your loved ones.

CELEBRATE CHRISTMAS – RECIVE A LOT OF PRESENTS
In this season of Christmas, Thien Moc Huong would like to offer our loyal customers the offer "CELEBRATE CHRISTMAS – RECIVE A LOT OF PRESENTS" If you're purchasing agarwood bracelets that are available for both offline purchases as well as online purchases. You'll receive two rewards 5% discount percent and get meaningful Christmas presents.
Thien Moc Huong sale 5% of all items + free red thread ring with purchases starting at 84.48$.
Note: Except for the Philip Agarwood bracelet gold, gold Agarwood bracelet and the perennial Agarwood bracelet.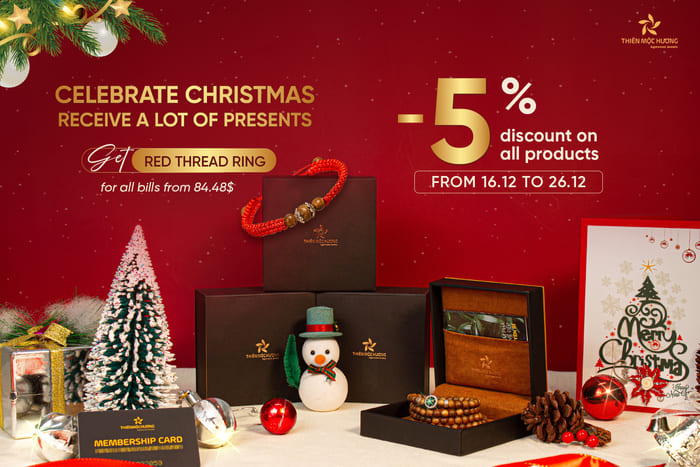 Time application
The Christmas 2022 celebration on Thien Moc Huong is scheduled to run between December 16 and December 26th 2022. This is an opportunity to shop sales and get top-notch agarwood rings for your loved ones at unbeatable prices. To make sure you don't pass up fantastic savings at Thien Moc Huong, be sure to take note of this sale as soon as you can.
As a thoughtful gift, Thien Moc Huong sends the most appealing promotion during the final month of this year, to express her sincere gratitude to the clients who've always been there, supported and utilized the product ours throughout the during the past. Thien Moc Huong wished you and your loved ones peace, happiness and a joyous Christmas.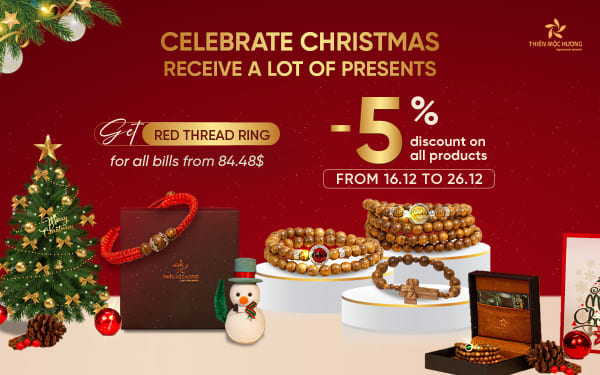 If you have any questions regarding the program, contact us via your phone number or email us directly using the contact form below for the most up-to-date information.
Store HCM: 71 Nguyễn Khắc Nhu, P.Cô Giang, Q1, TPHCM

Store HN: 120 Hai Bà Trưng, Quận Hoàn Kiếm, Hà Nội

Hotline: 0933 348 368 (HCM) – 093 179 5658 (HN)

Web: https://tmhagarwood.com/
(0)
Chia sẻ bài viết