Nine-tailed fox agarwood beaded bracelet brings outstanding luck on the road of love, marriage, keeping the happiness in a couple.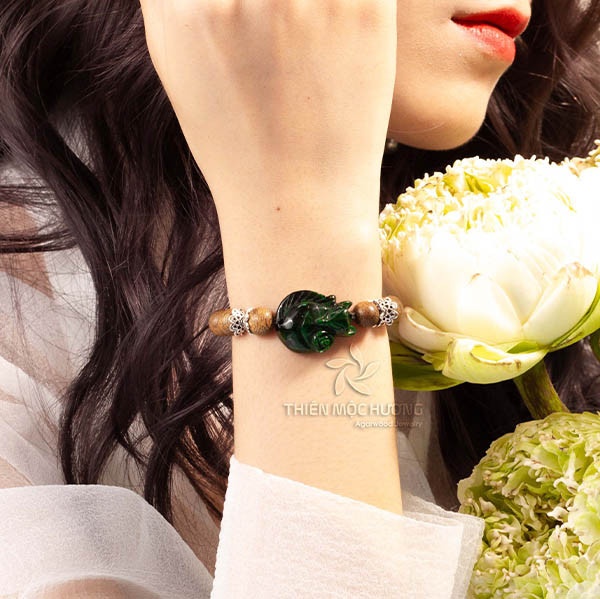 I. Information about agarwood beaded bracelet
Material Agarwood 100%
Country of Origin: Lao
Number of seeds: 17 – 21 beads (8-10mm/seed) (depending on size)
Agarwood ages: 12 – 14 years sedimentary
Usage:
+ Female's favourites
+ Gifts for relatives, friends or colleagues
+ Brings good luck, helps mental comfort, reduces anxiety and stress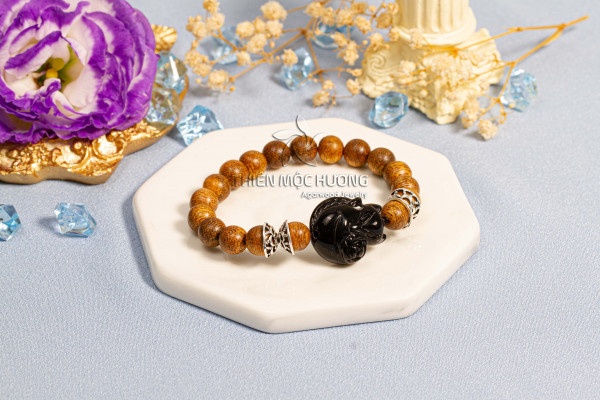 II. Product Description
1. Nine-tailed fox agarwood beaded bracelet Research
The nine-tailed fox agarwood beaded bracelet is the best-seller at Thien Moc Huong, made from the same type of Agarwood which originated from Laos. Usually, bracelets have 17 to 21 beads (may vary depending on the wearer's arm size). The number of beads will be selected based on the rules of the cycle of "Birth – Ages – Disease – Death" to bring fortune to the homeowners. It is recommended that the number of seeds is divided by 4 remainders of 1. Accordingly, the word "birth" will be on the last beads.
Nine-tailed fox stone is made from marble, or quartz … with fanciful colours, pure very suitable for making feng shui jewellery. Nine-tailed fox agarwood beaded bracelet has many colours suitable for each destiny of Metal – Wood – Water – Fire – Earth.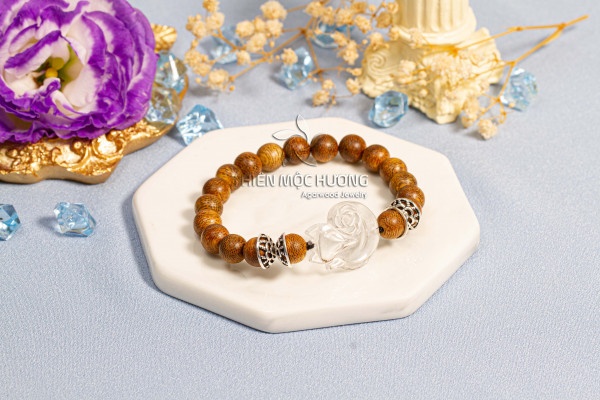 This agarwood beaded bracelet product belongs to Pandora Agarwood Collection hence it is the most preferable product for women at the Thien Moc Huong store. Most notably, they used silver material to create a bracelet that has a compact design, precise but very aesthetic, charm bell. It has many very attractive uses that not all types of bracelets have.
2. Nine-tailed fox agarwood beaded bracelet
The image of the nine-tailed fox is used as a symbol of beauty, cunning and power. Especially for women, owning a succubus bracelet will bring luck in love, wisdom in communication and behaviour in life.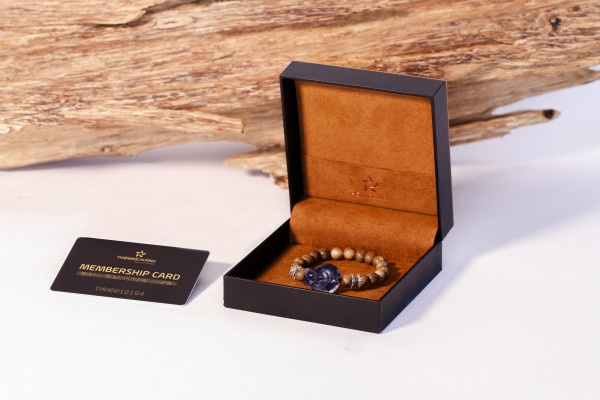 For businesswomen or managers, owning a succubus will help them have more confidence in their power. From there, give the most accurate directions and decisions, and also get the respect of colleagues and subordinates. Additionally, the succubus is also meant to bring wealth to the owner.
SELECT NOW a Nine-tailed fox agarwood bracelet for career advancement and good luck in life.
4. The combination of Agarwood
A method of preserving love
– If you are single, this symbol will attract faithful and sincere people to stay with you because they not only make your love more sustainable but also enhance the romance in love.
– With the lover, the symbol will help a stable relationship and go to marriage. When owning this item, the person who used to be emotionally damaged can heal the wound, the altruistic, the spirit and the open heart. Put on succubus bracelets along with you, so they can bring into play. 
As a silk thread to connect the couple's affection
The Nine-tailed fox is an animal that helps prevent the emotional development of a third person. So, if you are afraid your husband has a different joy, you can use a Black Nine-tailed fox (an icon made from black stone) to help protect your family. In this case, the black stone Nine-tailed fox agarwood beaded bracelet will help you prevent and destroy possible sexual relations with a third person.
Items that help attract fortune
The nine-tailed fox agarwood bracelet also helps business people to be alert to all suggestions, able to persuade customers and help increase understanding, thereby having enough business experience. Therefore, women who are doing business or trading should wear the Succubus agarwood bracelet to attract fortune.
III. Agarwood Production Process