Symbol of life reunion and peaceful life
Product information
Material

Agarwood + 24k Gold

Country of Origin

Laos

Number of beads

17-21 beads

(

See the manual size measurement

)

Agarwood ages:

10 – 14

years sedimentary

Usage:

Female

Gifts for relatives, friends or colleagues, subordinates

Meaning reunion, peaceful
Product description
1. Information about this product:
Single round lotus agarwood beaded bracelet is made from the agarwood of Laos. This bracelet is also designed from 17-21 agarwood beads with a gentle, faint scent. Its smell helps owners feel comfortable, reduce stress, clear and refresh their mind. It will be a gift, an extremely meaningful jewelry for everyone.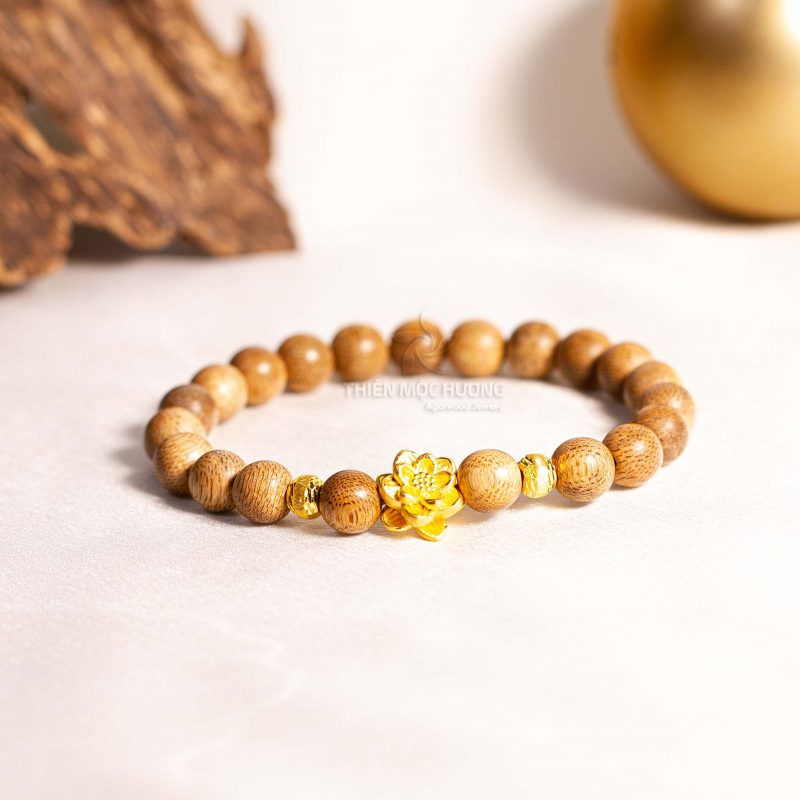 This is a product of the most popular collection of Agarwood bracelet for female in Thien Moc Huong, made by artisans of Thien Moc Huong with a lot of enthusiasm. This is a combination between Laos Agarwood and 24K Feng shui Gold Charm. Each design is a special gift from Thien Moc Huong.
2. The meaning of Golden Wealthy Lotus
24K Gold Lotus Charm: In the stinking mud, lotus still flourished and gave off a distinct aroma. Despite being fragile, it is strong, pure and it has a gentle, discreet aroma.  The image of lotus is a symbol of sacred spirituality, sincerity and temptation. Its petals represents stability and persistent, beauty and freedom.
3. An exquisite jewelry for women
Being inspired by the flower symbolizes of spring plus the high quality of Agarwood, this golden lotus bracelet is definitely a luxurious and fashionable jewelry which means to bring peaceful and patience in life. High aesthetics and above all express the meaning of wish for peace for the family, towards a full and gathering life.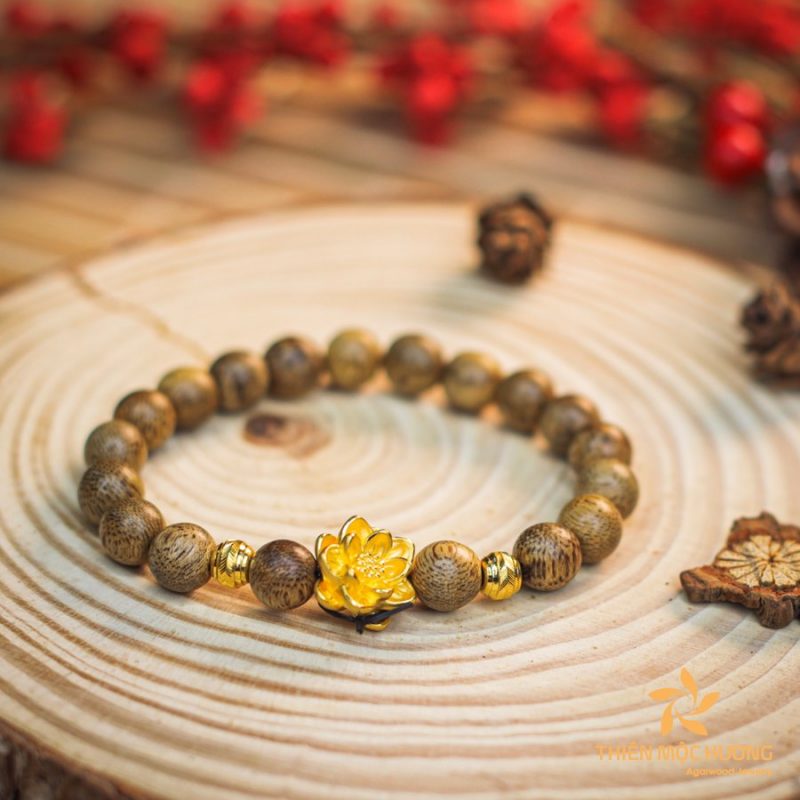 Agarwood actually is a son of Mother Nature which has magic to bring good luck, good health, prosperity to the owner. It is also a feng shui bracelet, a talisman whenever there is a combination between agarwood and Golden Pixiu. It is suitable for everyone and becomes the very first option to be chosen as an elegant jewelry.
Quickly become one of the modern customers who own this trendy bracelet TODAY.
Some informations about Agarwood
Source
Agarwood is used to make Silver Circle Ty Huu mainly from Laos with a reasonable price, beautiful oil and cosy fragrance. Agarwood from Laos has the value of rare and high-class, giving customers a wonderful experience from scent to finished products.
Size of 10-14 years
Commit 100% of natural Agarwood products, with 10-14 years of sediment accumulation, no impregnated chemicals, quality assurance, detect fake alcohols 100% of the product value.
Placement of essential oil
The higher the age of Agarwood is, the more clear is Van Tram, the more oil content is contained in Agarwood. The essential oil helps to relax and especially sleeps better with incense.
Fragrance
The value of Tram Huong increases with the time of possession, the more it is worn, the more beautiful it is. The gentle aroma brings a sense of relaxation, comfort, and calm. Tram from Laos puts on a softness, serenity and a sweet taste that anyone will feel refreshed to use.
AGARWOOD PRODUCTION PROCESS