I. Information about agarwood bracelet
Material Agarwood 100%
Country of Origin: Laos
Number of seeds:  6mm, number of seeds designed on age and size of children
Agarwood ages: 12 – 14 years sedimentary
Usage:
+ Female's favourites
+ Gifts for relatives, friends or colleagues
+ Brings good luck, helps mental comfort, reduces anxiety and stress
II. Product description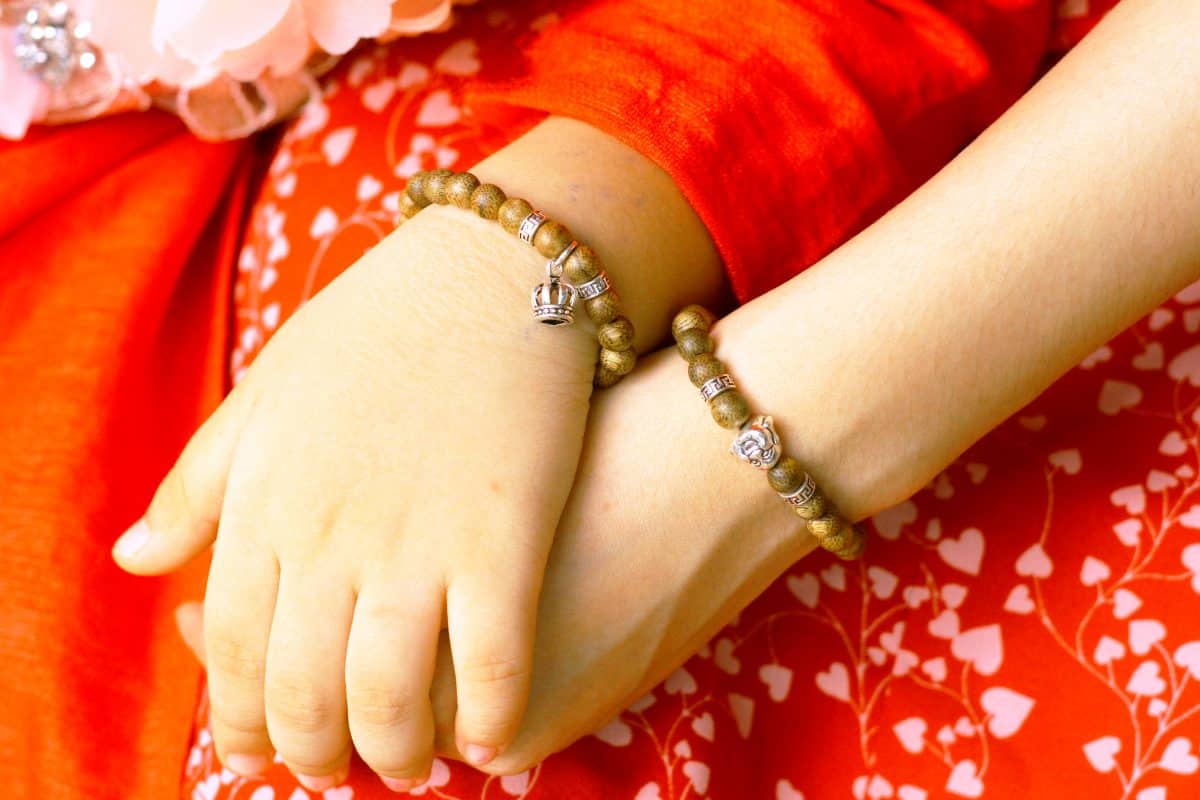 1. General Description
Maitreya agarwood beaded bracelet with a gentle aroma helps soothing spirit will help the baby obedient and gentle. Agarwood naturally absorbs the essence of earth and sky, helps children grow quickly, completely benign and suitable for young children.
Round material: 100% natural Frankincense, smooth, evenly rounded beads, very safe for young children combined with 925 silver charm
2. The meaning of the combination of Agarwood and Maitreya
Maitreya Buddha – also known as the "Laughing Buddha" – is the absolute symbol of happiness in feng shui, happy, joy, forgetting all worries and sorrows. According to legend, the greatest joy of this Bodhisattva is turning sadness, anger, human pressure into happiness. Maitreya's smile is so strong that it always shines on the gentle face of his goodness, and wherever he is, there is happiness. Additionally, Maitreya Buddha loves children and vice versa, children also love this Bodhisattva so we often see the image of Maitreya Buddha smiling is worn around children.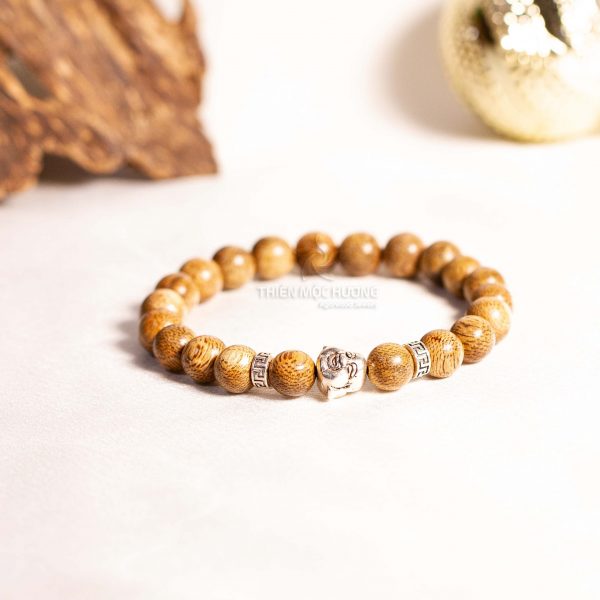 Therefore, Agarwood with Maitreya Buddha's face is a product that many parents and grandparents believe to buy as gifts for babies on birthdays, or holidays with wishes: children always receive what is best as well healthy, playing well, sleeping well, not being startled.
This agarwood beaded bracelet product belongs to Pandora Agarwood Collection hence it is the most preferable product for women and babies at Thien Moc Huong store. Most notably, they used silver material to create a bracelet that has a compact design, precise but very aesthetic, charm bell. It has many very attractive uses that not all types of bracelets have.
3. The use of Maitreya agarwood bracelet
Parents know, "Perhaps the first stage of life is the most difficult time for parents when children don't know anything except crying that make parents sleepless nights, make mothers tired from staying up all night taking care of children, making father sleepy early in the morning when he was working to feed children. A baby cried and then got stuffy, the fever and parents had to take them to the hospital. When growing up children often irritable, uncomfortable face
Maitreya agarwood bracelet helps baby sleep well, sleep deeply without crying at night, ward off evil and also help him to be docile and gentle. Agarwood naturally absorbs the spirit of the earth, helping children grow up and obey their parents.
Maitreya bracelet is purchased by many parents and grandparents for the little angels in the family with the wish: The baby is always happy, obedient and gentle.
Agarwood bracelet with a gentle fragrance helps the baby feel relaxed, peace, optimism and joy.
Non-toxic, non-chemical. Completely natural and safe and good meaning
Silver material avoids windy, very good for children, helps children healthy, steal food quickly grow.
Suitable: Children 6 months and older.
III. Agarwood Production Process