Product Description
Agarmoon agarwood beaded bracelet symbolizes the Moon radiating a brilliant light illuminating every path for life to be more successful and smooth, balancing the vital flows in the body. Great combination between JEWELRY and FENG SHUI, between DELICATE beauty and LUCK.
I. Information:
Material 100% natural Agarwood
Country of Origin: Laos, Indonesia
Number of seeds: 50-54 beads ( depending on wrist size)

Agarwood ages: 10 – 14 years to accumulating in the forest
Usage:
+ Female
+ Gifts for relatives, friends or colleagues, subordinates
+ Bringing luck, prosperity.
+ Modern and delicate jewelry
II. Product description about Agarmoon agarwood beaded bracelet:
1. Learn about Agarmoon agarwood beaded bracelet:
Agarmoon agarwood beaded bracelet is one of Thien Moc Huong's best sellers.
The bracelet was made by both Laos and Indonesia Agarwood which has 10 – 14 years to accumulating. The number of beads is flexible because it depends owner's wrist size, usually be 50 – 54 pieces. According to rules of samsara "birth – growth – sickness – death", the surplus should be 1 when number of beads divides 4 to fall into "birth".
2. Different fascinating colors of stone: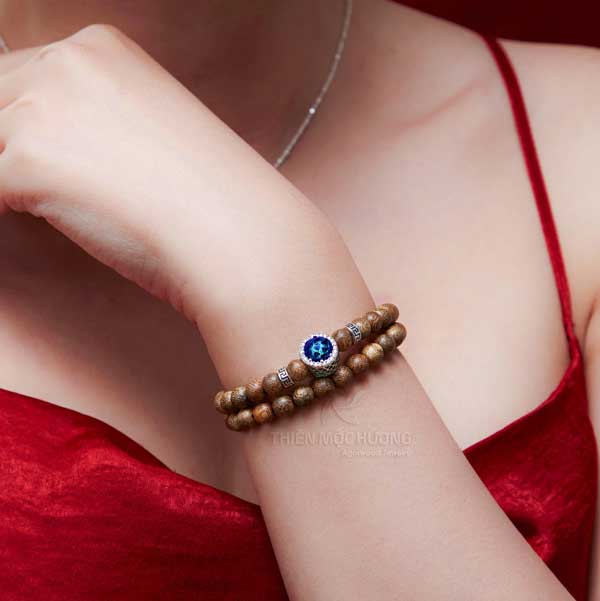 Agarmoon agarwood beaded bracelet is a wonderful combination between JEWELRY & FENG SHUI. Like the women, it is full of mystery, attractive!
Bracelet with blue stone – Water/Wood
The stone is surrounded by high quality S925 Silver, create colorful and luxury bracelet.
Bracelet with red stone – Fire/Earth
The design of wristlet is exquisite, as a precious gift to honor women in the journey to show beauty and their own values.
Bracelet with yellow stone – Mental/Earth
It is really easy to own a beautiful and impressive Jewelry Bracelet, but Moon Blue Agarwood Bracelet is not only beautiful but also has the meaning of luck, protection for the wearer.
Bracelet with pink stone – Fire/Earth
Each element has different colors of mutuality, helping to replenish the power of one's own element, thereby attracting fortune, luck, fortune, peace.
This agarwood beaded bracelet product belongs to Pandora Agarwood Collection hence it is the most preferable product for women at Thien Moc Huong store. Most notably, they used silver material to create a bracelet that has a compact design, precise but very aesthetic, charm bell. It has many very attractive uses that not all types of bracelets have.
CHOOSE NOW the bracelet that fits your element to reach success and luck
3. Perfect combination between Agarwood and Full Moon stone:
When compacts with agarwood, which absorbing heaven and earth quintessence, the stone will be elevated function that helps owner to be luckier and peace.
The bracelet evoked the desire to possess of so many women, brings not only beauty but also spiritual value, health and luck.
III. Agarwood Production Process