Product Description
Four-leaf Clover 108 mala beaded agarwood bracelet with gemstone – classic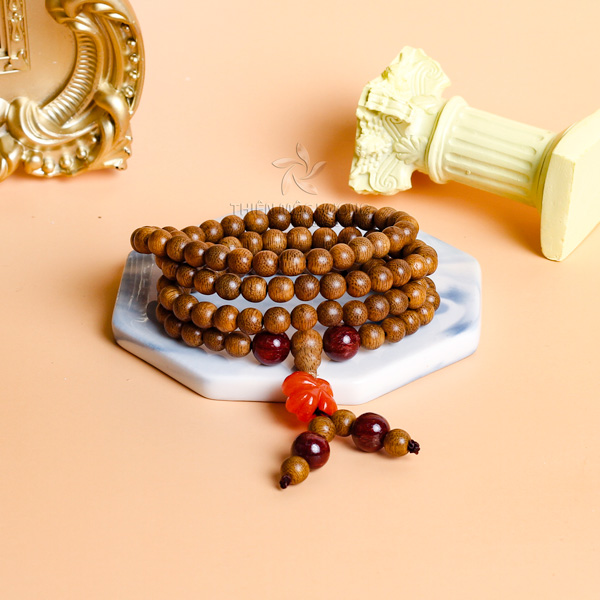 I. Information about Four-leaf Clover 108 mala beaded agarwood bracelet
Material Agarwood 100%
Country of Origin: Lao
Number of seeds: 108 beads (8-10mm/seed) (depending on size)
Agarwood ages: 12 – 14 years sedimentary
Usage:
+ Female favorites
+ Gifts for relatives, friends or colleagues
+ Brings good luck, helps mental comfort, reduces anxiety and stress
II. Product Description
The Four-leaf Clover mix 108 beads Agarwood bracelet is a perfect combination of two lucky symbols. Four-leaf clovers, aside from being considered good luck which used by many people as an item that brings good luck. 
One legend has it that the luck factor comes from Eve herself. As Adam and Eve were leaving the Garden of Eden, Eve is said to have plucked a single four-leafed clover as a souvenir of paradise, and this religious connection has led to them being considered lucky ever since. The Celts considered four-leaf clovers to have magical powers of protection, able to ward off evil and bad luck. It was also believed that carrying a clover allowed the bearer to see fairies. Celtic fairies were dangerous little creatures who might play deadly tricks or steal your children, so carrying a clover meant that you could take evasive action if you spotted one
The first leaves stand for FAITH

The second leaves stand for HOPE

The third leaves stand for LOVE

The fourth leaves stand for SUCCESS
In Buddha, the number 108 means "Full" and "Intellectual"; besides, the same 108 number represents 108 human sorrows. Humans are born with ears, eyes, nose, tongue, body, and mind. The eyes see the scenery, the ears listen to the sound. The nose smells the scent, the tongue tastes sweet, sour, and bitter. The body feels the heat, the cold which brings happy-sad. These feelings either make humans be at peace or in confusion. 108 feelings come from the past, the present, and the future.
III. Agarwood Production Process