Agarwood silver charm bracelet are not only significant items of spiritual feng shui, they are also wonderful jewelry since they can represent each personality of each different customer. Join Tram huong Thien Moc Huong to find out the following three types of silver charm bracelets will represent which personality of you.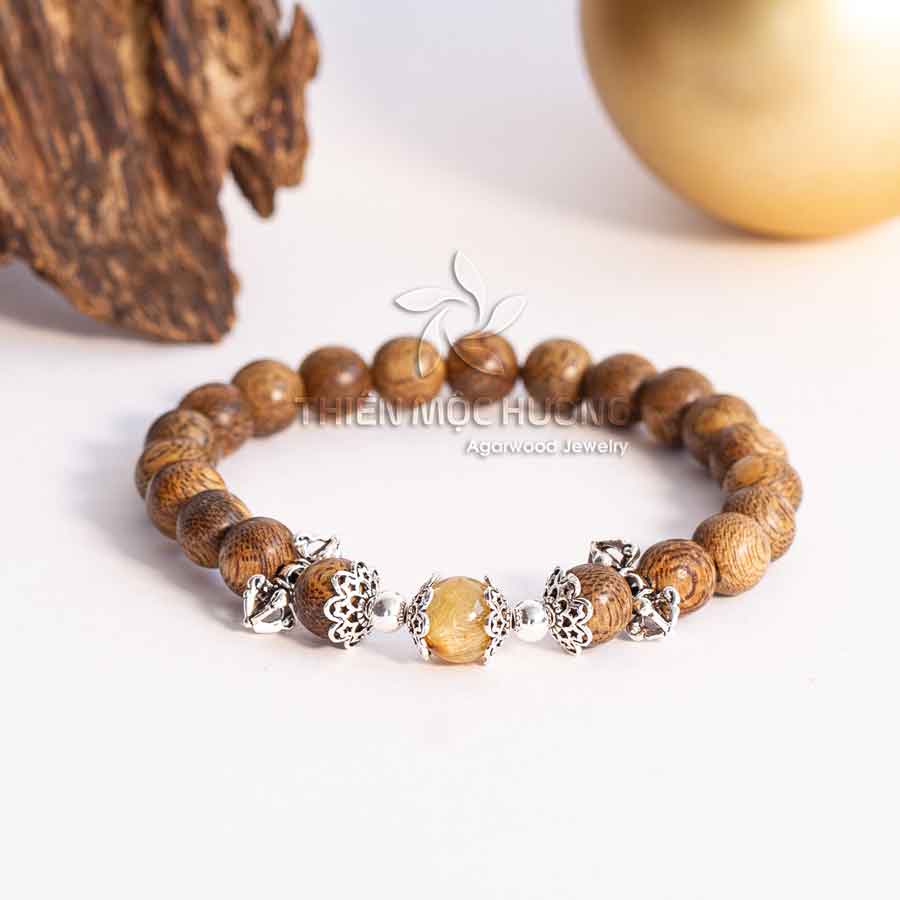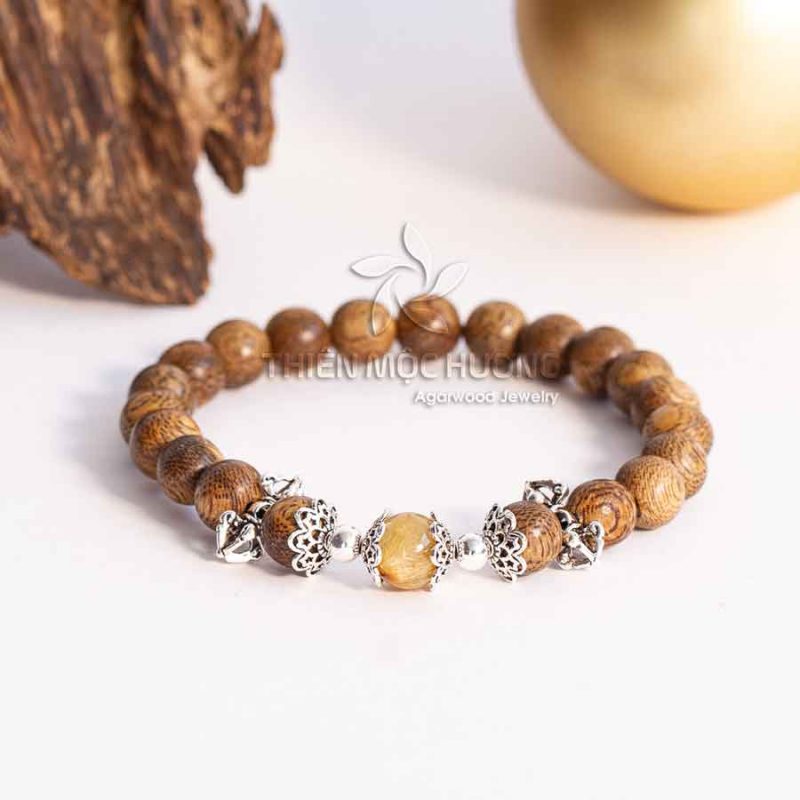 I. Uses of Agarwood
Wearing Agarwood bracelets can help homeowners ward off evil, bring good luck, and prosperity. Business will become smooth and go swimmingly. Moreover, the owner's career will rise like kite meets the wind so they are interested by entrepreneurs.
Agarwood essential oil is often used to steam indoors to help creating fresh air, deep sleep. Using it also helps homeowners feel more awake, strong-minded and think more carefully.
Agarwood bracelets are often used by women on most occasions such as luxurious occasions like parties, or elegantly wear when going to the coffee shop with friends. In addition to the aforementioned uses, agarwood bracelets are also versatile in treating headaches, reducing stress, etc.
II. 3 Agarwood models silver charm bracelet represent your personality
1) Agarwood bracelet represents traditional personality
Referring to tradition, people often think of the image of Vietnamese women in association with the image of the family, cook, and children. Because the woman in the family is considered a big, green tree, covering her husband and children.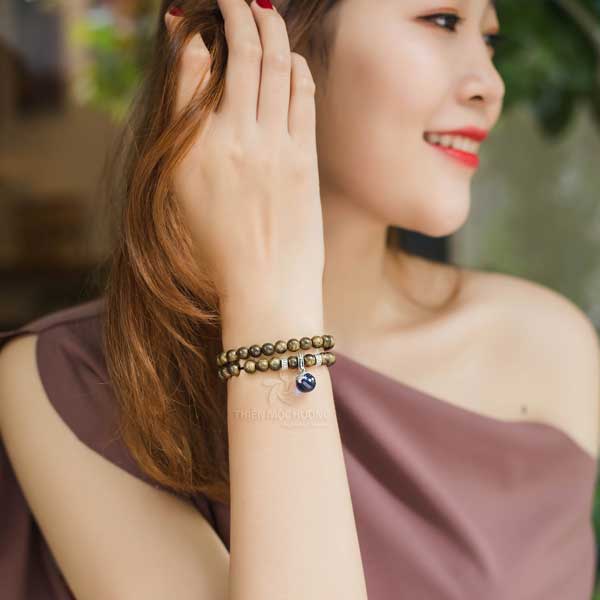 The tradition here does not carry the meaning of sexism or feudalism in the old days. The tradition is about historical significance, about honoring the kindness, hard-working, loving and caring for the family of a woman. Agarwood bracelets both express the desirable standard of personality, the spirit of Vietnamese women, over many times but are always sacrificed for the family, and also are meaningful jewelries, can be gifts for mother or wife, lover.
Family tree agarwood beaded bracelet is also a talisman, dispel all evil, dark, neutralize bad luck around the wearer. stylish and stylish in design, very luxurious and exudes a sense of nobility.
No matter who you are, wherever you go, what you do, Family is always the fulcrum and the most important place for you to trust and return. The family is like a great tree, parents and grandparents are the roots and children, siblings are flowers and leaves. A family of happiness, peace, and fulfillment is like a lush, healthy giant tree. That is the premise for the artists Thien Moc Huong to design the Phuc Gia An bracelet. This bracelet also has many interesting meanings.
2) Agarwood bracelet represents characteristic personality – silver charm bracelet
If we say that Vietnamese women in the past were strong in traditional spirit, Vietnamese women today will be interspersed with tradition the personality of independent women. Why is it called characteristic? Because they really know themselves, know their personalities, know what they want and need. Besides, they can live independently, regardless of anyone. Married women themselves will also take care of the family the way they want. From there, each person will be an independent and perfect individual, with his/her own individuality.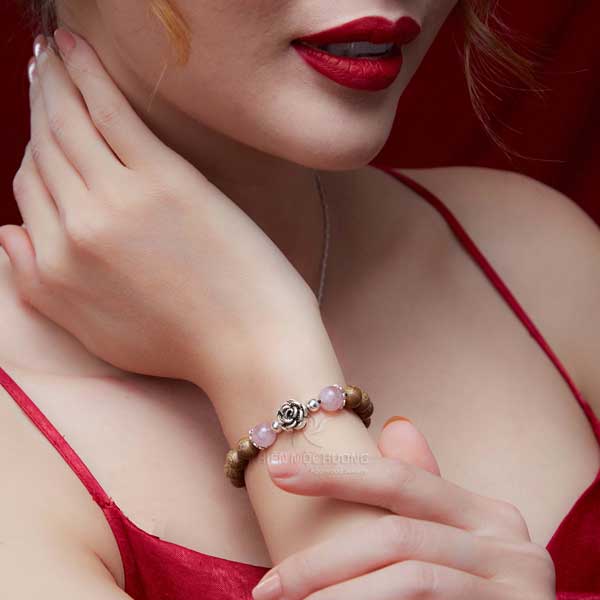 Why does Agar-leaf Agarwood bracelet represent personality in each person? The agar-leaf is the embodiment of nobility, a symbol of full vitality, imparting the wearer a sense of freshness and novelty. For young people, it brings a full of energy, helps to fully enjoy each passing day. For the elder, the youthfulness is reborn once again from within their souls, making life fresher and more beautiful.
The image of a stylized leaf made from high quality 925 silver brings even more modernity, slenderness and personality of Vietnamese women. This is a combination of Agar-leaves made from high quality Thailand silver and Agarwood beads from Laos or Indonesia.
Natural Agarwood is an item that is considered to be "the convergence of the spirit of the earth", a precious treasure that strongly contains the disposition and spirituality absorbed over the years. Because of its formation in the deep forest, agarwood brings the energy source of life from Mother Nature combined with the fairy's wing leaves to bring emotional balance and create a sense of love, joy, excitement in the spirit. God. Helping the owner to be more and more young, happy and confident, dynamic from the inside to the outside.
3) Agarwood bracelet represents tender personality – silver charm bracelet
Hidden in both the traditional personality or the modern independent personality full of characteristic, women are always tender, standard, especially for those they really love. Representing this personality is the Peace agarwood bracelet. 
Why do we say this bracelet represents tenderness? It is not only the icon of money that brings many fortune and fame. The rounded sphere also represents homogeneity and undivided. It can be seen that the sky and mother earth are all round to protect and show love gently and warmly to the creatures living all around the world. The silver bracelet also helps women exude tenderness and lightness when dating, meeting friends and relatives.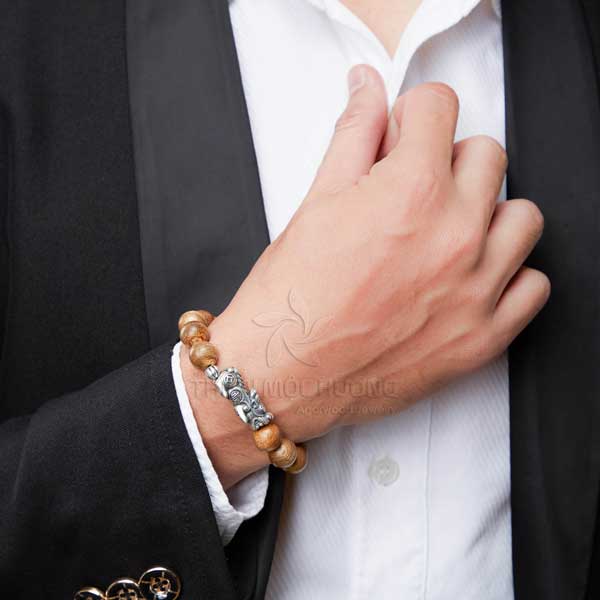 Regardless of personality traits, it can be seen that Thien Moc Huong agarwood bracelets are always suitable for all audiences, all personalities, especially for women. Hopefully after reading this article, dear customers can choose for yourself an agarwood bracelet that suits you best and you like it the most.
Read more: AGARWOOD BEADS AND GEMSTONES, THE BENEFITS WITH STYLE