Rhodochrosite peach stone makes people curious about this special name it. I don't know how this stone has the properties and characteristics, but it is called with such a strange name. If you are as curious as KingGems, let's explore right here in this article to better understand this stone below.
1. What is Rhodochrosite Peach Stone?
Rhodochrosite is actually a mineral of manganese carbonate. This stone is classified as a semi-precious stone and is named according to the characteristics of the stone. Rhodochrosite has a red-pink color with unique white patterns and makes people excited at first sight.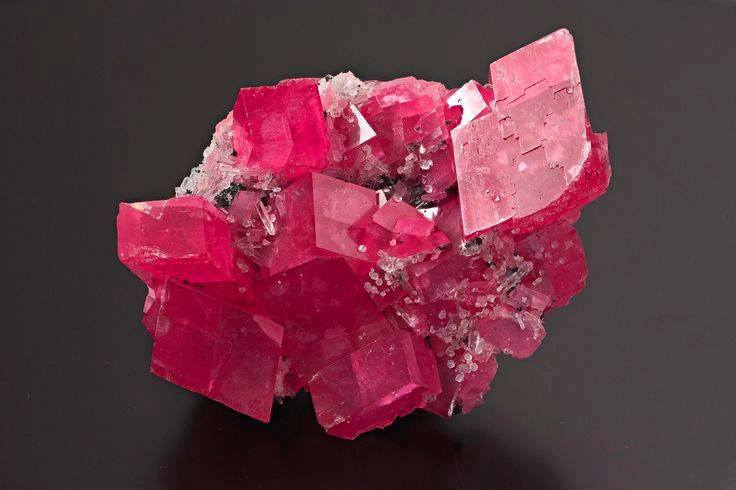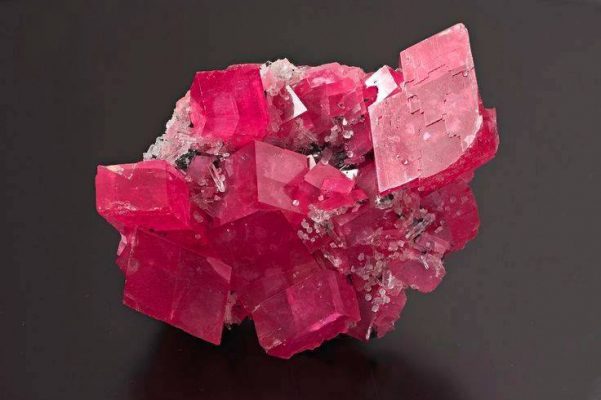 2. Formation origin of peach stone Rhodochrosite.
Rhodochrosite rocks are formed in the post-magmatic phase. This rock is found in hydrothermal veins with various types of Manganese, Fluorite, Sphalerite, etc. And they also see the characteristic black dotted magma remnants.
This stone was also only discovered in 1974 and has been put into use as gemstone jewelry in recent times. The gemstone processing technology is becoming more and more modern, so it is possible to process soft stones like Rhodochrosite and use it as popular as it is today.
The name Rhodochrosite is derived from the Greek words "Rhoson" meaning "rose" and "chroma" meaning "color". The Romans also believe that  "Peach Flower" stones have such color and specialty. Because the souls of the roses have penetrated and formed such a beautiful colored stone.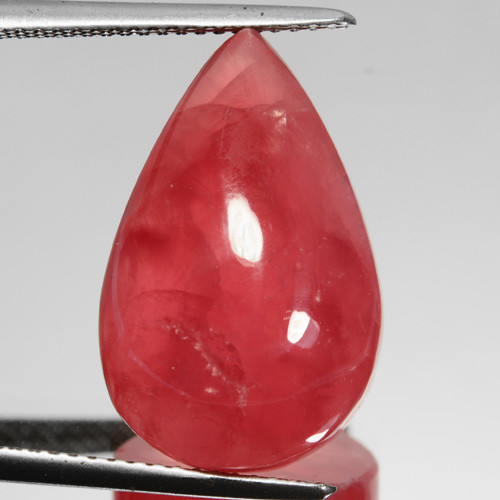 3. Chemical properties of rhodochrosite peach stone.
Common name: Rhodochrosite peach stone.

Chemical formula: MnCO3.

Chemical composition: Mn, CO.

Color: Rose red, purple-green, and black dots.

Mohs Hardness: 4/10.

Density: 3.45-3.70.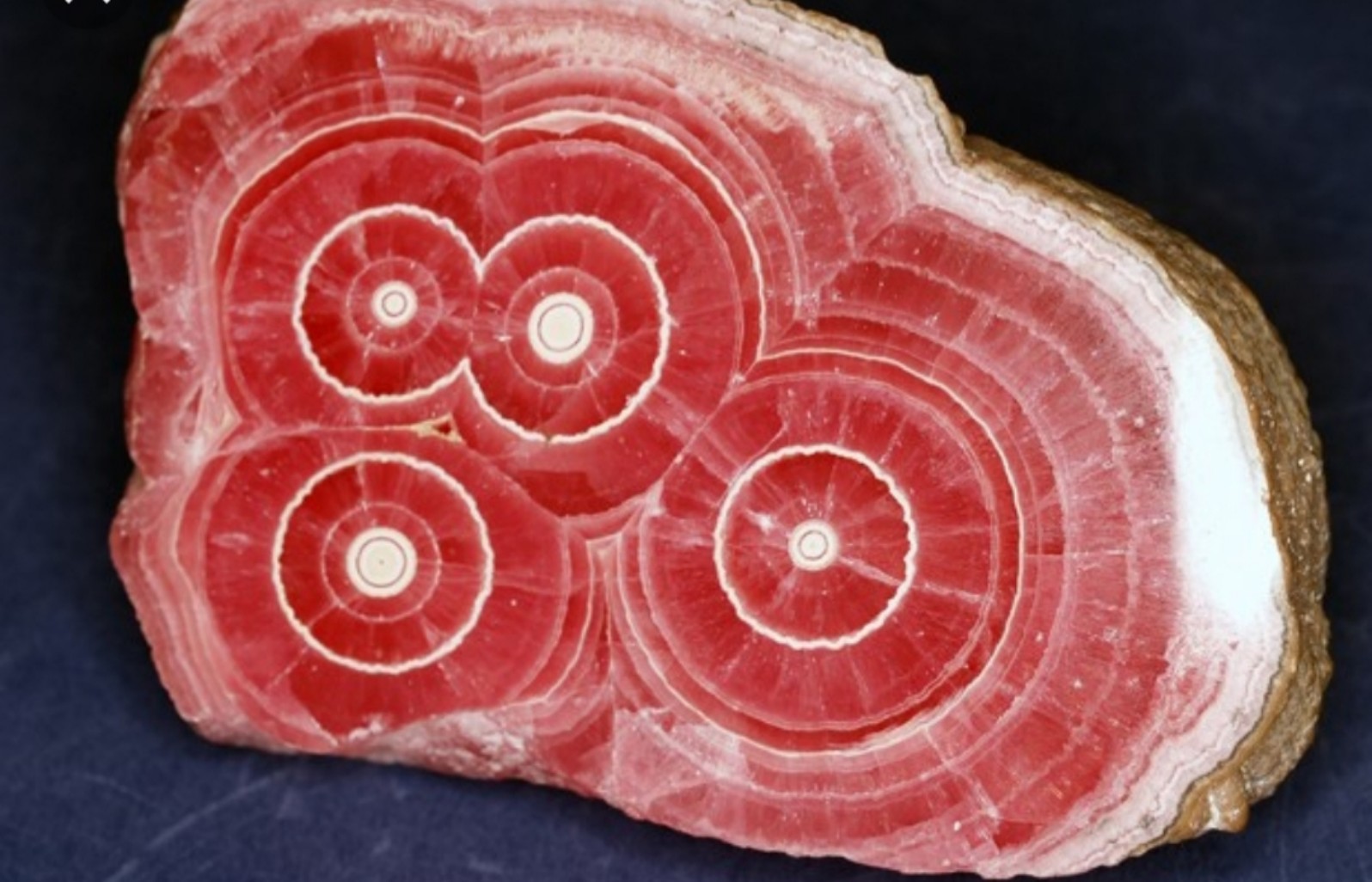 4. Physical properties of rhodochrosite peach stone.
Due to its low hardness, Rhodochrosite is relatively softer than some other feng shui stones. This stone is available in both opaque and transparent varieties. People use Rhodochrosite to make jewelry. However, making a stone with a low hardness like Rhodochrosite is also difficult and not easy. The more dark-colored stones and fewer black dots, the higher the value will be.
Above is the basic information so that readers can better understand what  "Peach Flower" is. Now, let's find out more about the uses and meanings of Rhodochrosite below.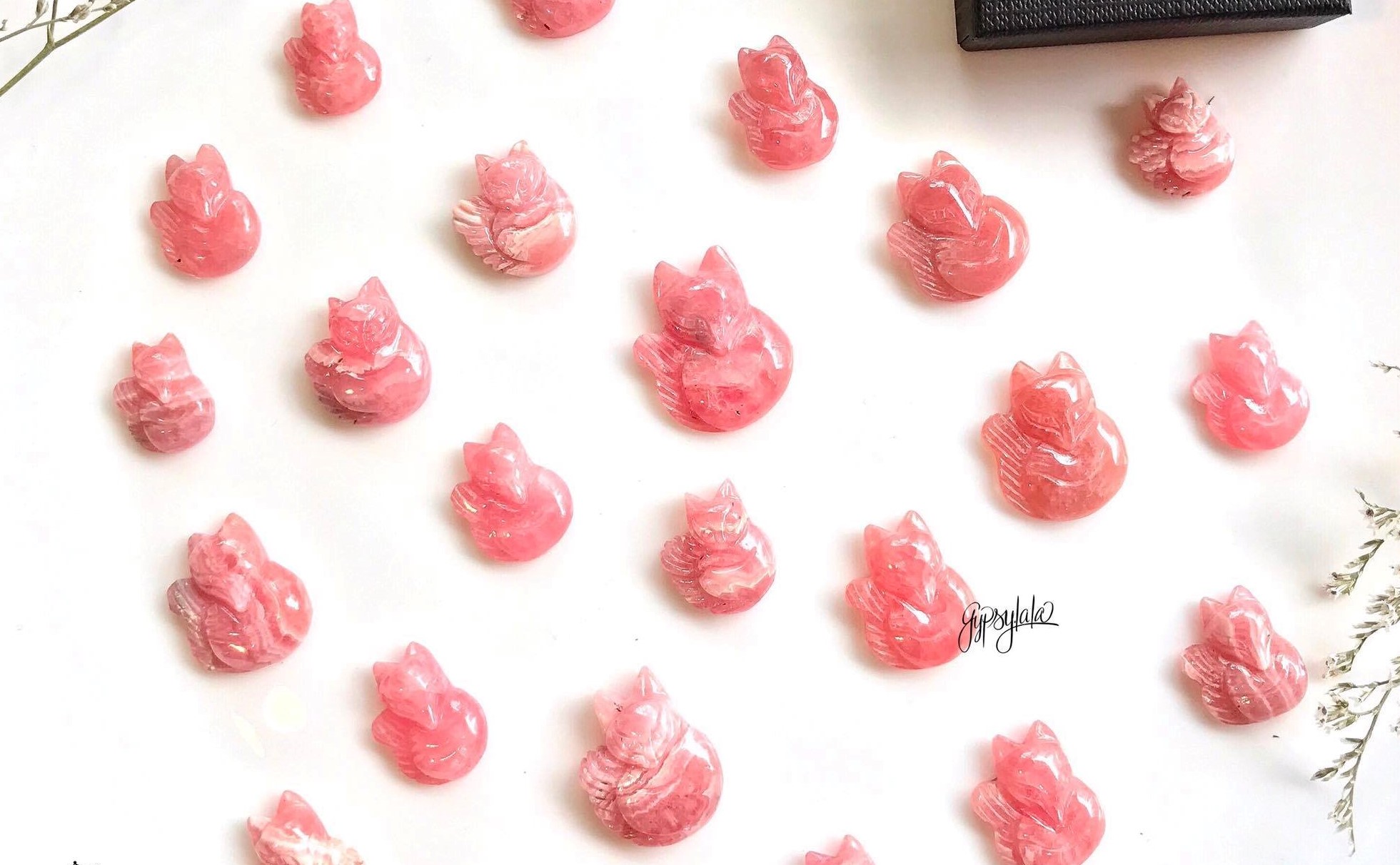 4. What is the use and meaning of Rhodochrosite stone?
People use Rhodochrosite stone as a feng shui item because it has many different uses and meanings. So What is Rhodochrosite crystal meaning?
4.1 What is the use of Rhodochrosite peach stone?
According to research, this type of Rhodochrosite stone has positive effects on the health of the nucleus. Specifically:
This stone possesses positive energies, so it has a good effect on the blood circulation system. It helps the circulatory system to circulate better, stabilize blood and help give the owner a healthy heart. At the same time, it can prevent stroke or heart failure, heart attack, etc. Helps to stabilize blood pressure.

This stone also helps the owner to reduce stress and fatigue due to the pressure of work and life. It acts on the nervous system to keep it working properly. Thereby helping Rhodochrosite users always feel comfortable and comfortable.

Thanks to its positive effect on the nervous system. The owner of Rhodochrosite stone also helps to reduce headaches, good for those who have just woken up.

For those with chronic insomnia, spontaneous or unexplained insomnia. Owning these stones and placing them in the area close to the head of the bed will help bring the owner deeper sleep. , pleasant and less prone to nightmares.

In addition, this rhodochrosite stone can also help reduce digestive system symptoms, help improve the immune system. Besides, it enhances bone and muscle function, and effectively relieves pain.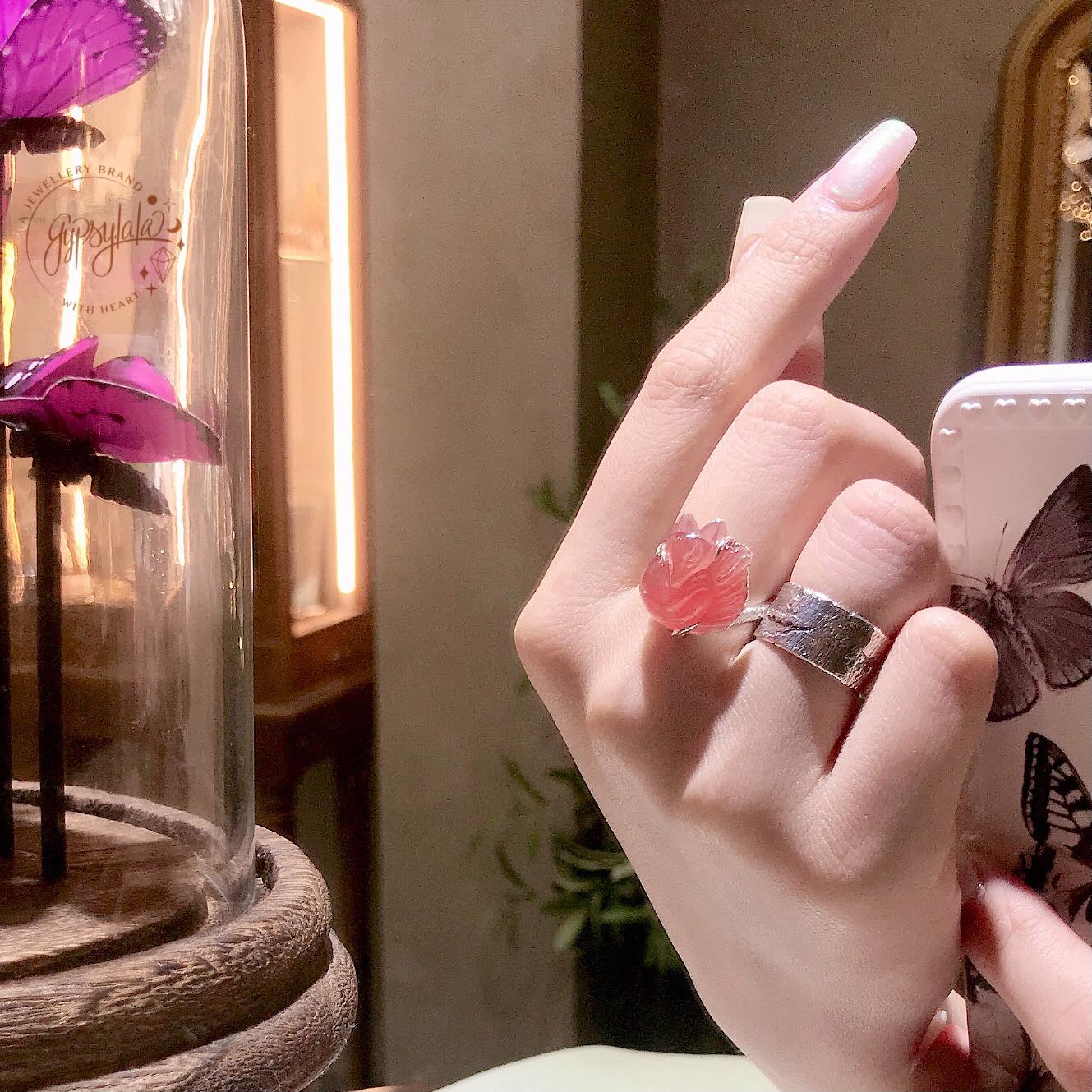 4.2 What is the feng shui meaning of Rhodochrosite peach stone?
Rhodochrosite has the following positive feng shui meanings:
Rhodochrosite helps to increase the luck of peach blossom exactly as its name suggests. It is good for couples who love each other, helps them to like each other more. Moreover, it helps to connect and is easy to understand. It also helps single people find their true love soon.

Rhodochrosite also helps owners find luck and peace because the energy from Rhodochrosite can attract positive energies and dispel bad energies, it helps to drive away evil spirits to protect the owner.

Rhodochrosite also helps control emotions to help the owner have a more peaceful temperament and help the user feel more open, happy and sociable with people. Therefore, always receive love from others.

Rhodochrosite also brings the owner luck and better creativity, so this stone is often used by many people when doing business.

In addition, Rhodochrosite also has a positive effect on the owner when it helps the owner to increase his assertiveness as well as bring the owner with burning passion and desire, enthusiasm for any issue.

In general, with this feng shui stone, you already understand the use and meaning of Rhodochrosite stone through the information above. However, this stone is not suitable for everyone. So if you are looking for the best stone, let's see who is right for you.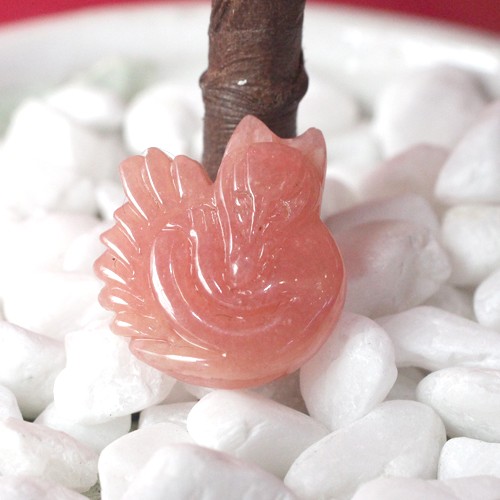 5. Which zodiac sign is suitable for Rhodochrosite peach stone?
Because of its characteristic purple-pink color, Rhodochrosite is suitable for people of the Earth and Fire zodiac signs. Those who now own Rhodochrosite stone will help bring positive things in life and bring luck in fortune and fame.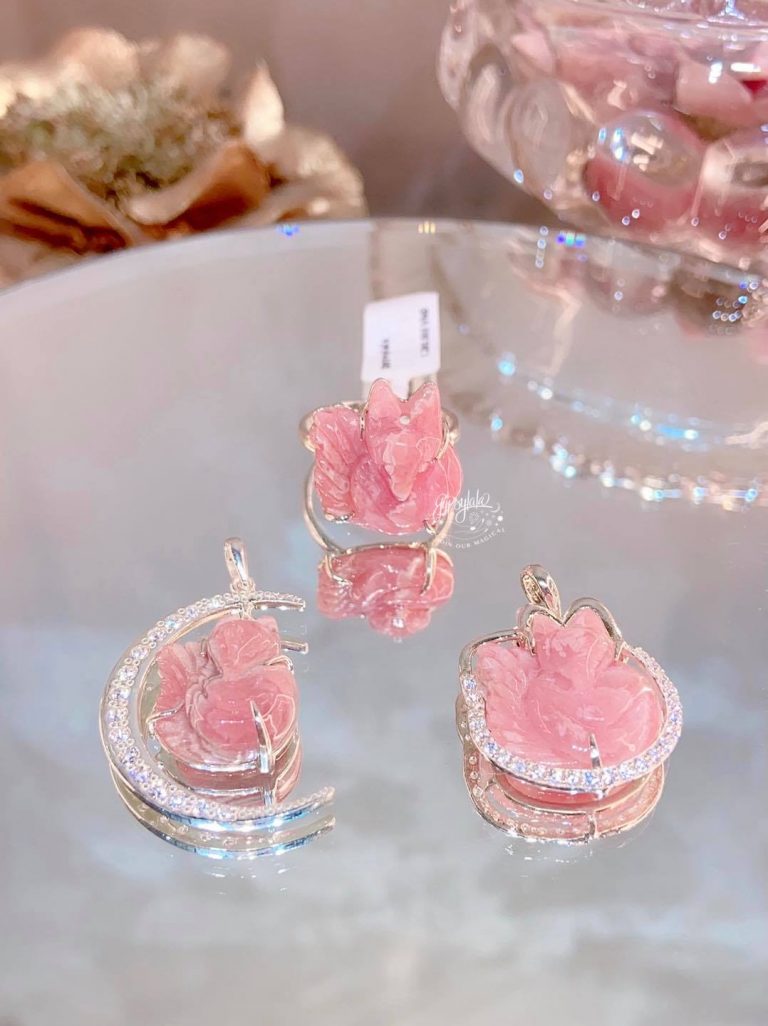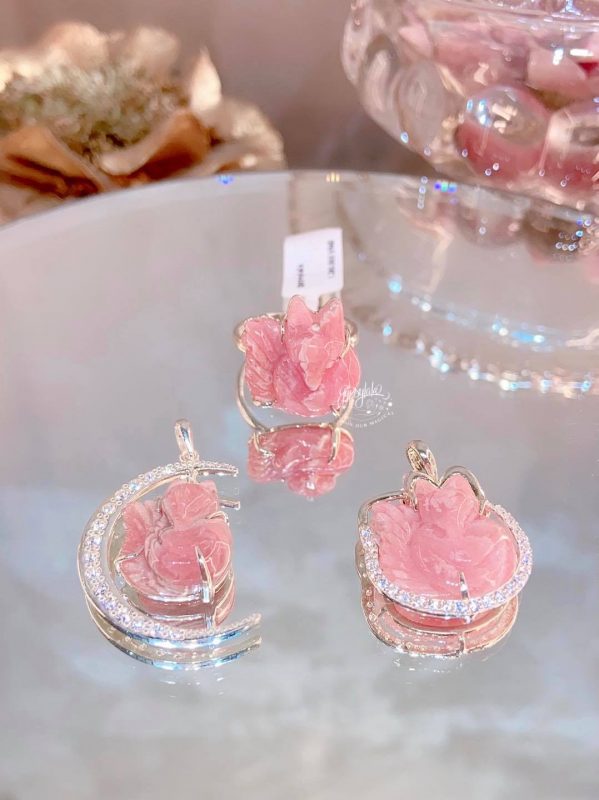 6. How to distinguish real Rhodochrosite stone?
At present, the market is very unlikely to have fake Rhodochrosite because the specific gravity of Rhodochrosite is very high and close to ruby but the hardness is low, so the ability to counterfeit is very difficult. This stone on the market also has a high value, so to ensure 100% peace of mind, you can check it at reputable establishments.
Readmore: Jasper stone (red jade): Effects and feng shui meaning

Readmore: What is raw sodalite? The effect and meaning of feng shui