Gemstone jewelry is rich in color and diverse in design. A piece of jewelry with small stones can mean a lot in many ways.
To choose a suitable gemstone, you need to consider many factors:
The location of the gem,

the quality of the stone, and the cost whether it is financially viable or not.

Even the design or material of the jewelry to go with the chosen stone is taken into consideration.

But there is another aspect that many people easily overlook: the feng shui (or spiritual) meaning that the stone has.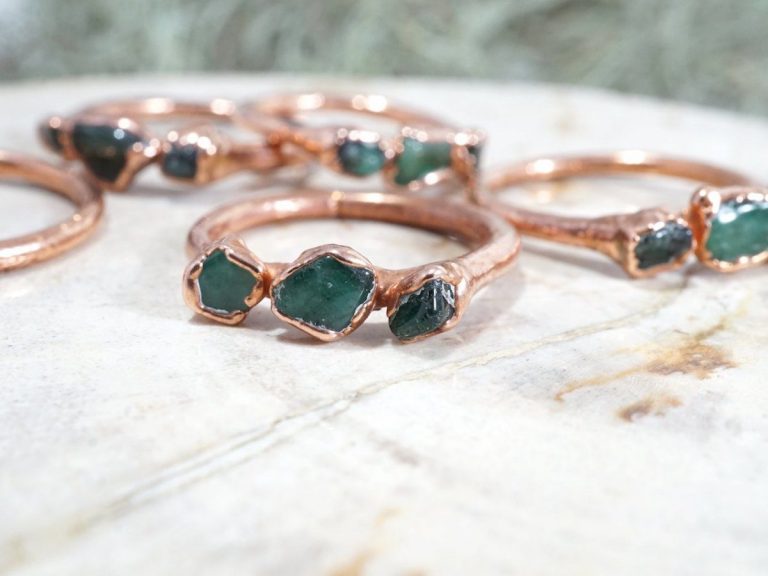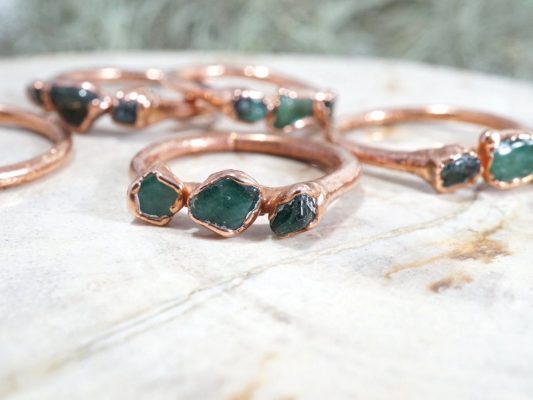 Did you know that when buying jewelry for someone, paying attention to its meaning is a great expression of a delicate soul and shows special deep care for the other person? Today, we will help you learn the meaning of each stone, according to Eastern feng shui and Western astrology.
1. Which gemstone jewelry are you for each of the five elements?
In the feng shui of the East, using gemstone jewelry with the right color for one's destiny will bring prosperity and luck in life or simply make one's life full of laughter. and happy. The selected stone can be used as everyday jewelry, meaningful anniversary gifts, or even decorative items for your home.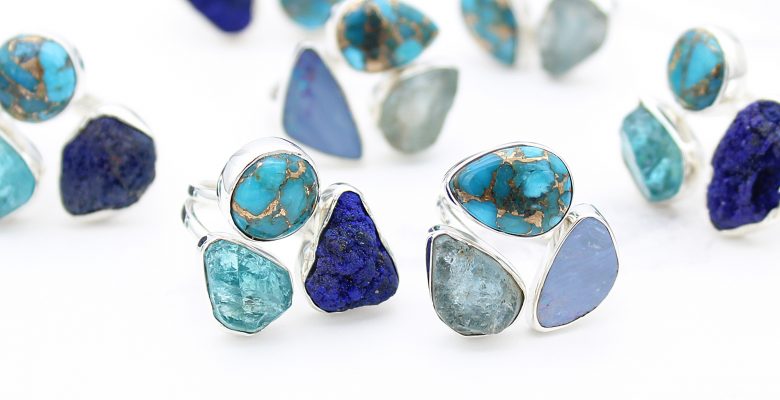 You should note that in the philosophy of the five elements, each "element" has a color of mutuality (nourishing, fostering, producing) and compatibility (supporting, developing, promoting) corresponding to different gemstones. . The following reference information about the gemstone parity table will help you find the stone you want. To learn more about the meaning, purpose, and common names of other rocks, you can see the details of each type of stone at the bottom of all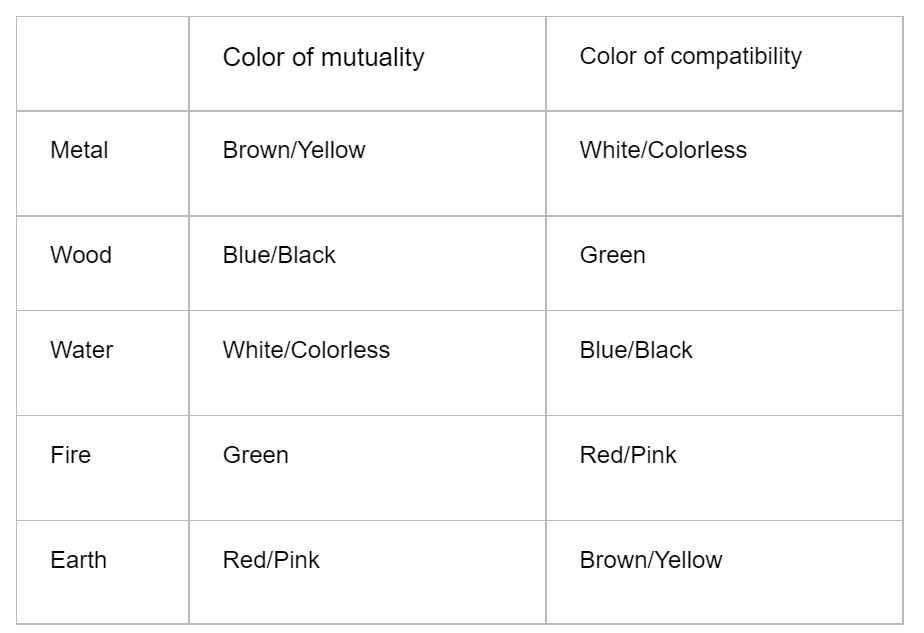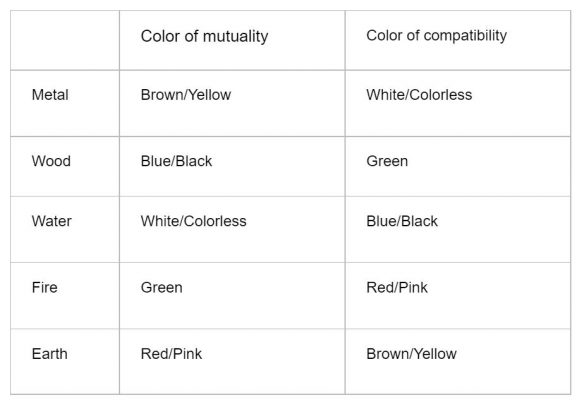 1.1 Metal
Stones brown or yellow Compatible: Yellow or Brown Diamond, Yellow Sapphire, Yellow or Brown Spinel, Citrine Yellow Quartz, Brown Tourmaline, …
Compatible White Stones: Colorless Diamond, Pearl, White Topaz, Moonstone, Non-Zircon Color …
1.2. Wood
Blue or black stones are similar: Blue Diamond, Black Diamond, Black Spinel, Blue or Dark Blue Sapphire, Blue Topaz, Aquamarine, Blue Zircon, Smoky Quartz, Onyx black …
Green stones interoperability: green diamond, Emerald, Sapphire blue, Garnet tsavorite, Marble, stone Peridot …
1.3. Water
Similar white stones: Colorless Diamond, Pearl, White Topaz, Moonstone, Colorless Zircon…
Compatible blue or black stones: Blue Diamond, Black Diamond, Spinel black, Blue or dark blue Sapphire, Blue Topaz, Aquamarine, Blue Zircon, Smoky Quartz, Black Onyx…
1.4. Fire
Green stones are similar: Green Diamond, Emerald, Green Sapphire, Garnet Tsavorite, Marble, Peridot…GemstonesGemstones
Compatible Red or Pink: Red or Pink Diamond, Ruby, Red or Pink Garnet, Amethyst Amethyst…Red or Pink
1.5. Earth
Diamond Red or Pink, Ruby, Red or Pink Garnet, Amethyst Amethyst…
Similar brown or yellow stones: Yellow or Brown Diamond, Yellow Sapphire, Yellow or Brown Spinel, Citrine Yellow Quartz, Brown Tourmaline, …
Read more: Tips choosing feng shui color suitable for five elements
2.

Gemstone jewelry of you for Western birth month 
In modern life, today's dynamic young people tend to follow different cultures. fresh and modern. If you are such a person, choose gemstone jewelry according to Western astrology.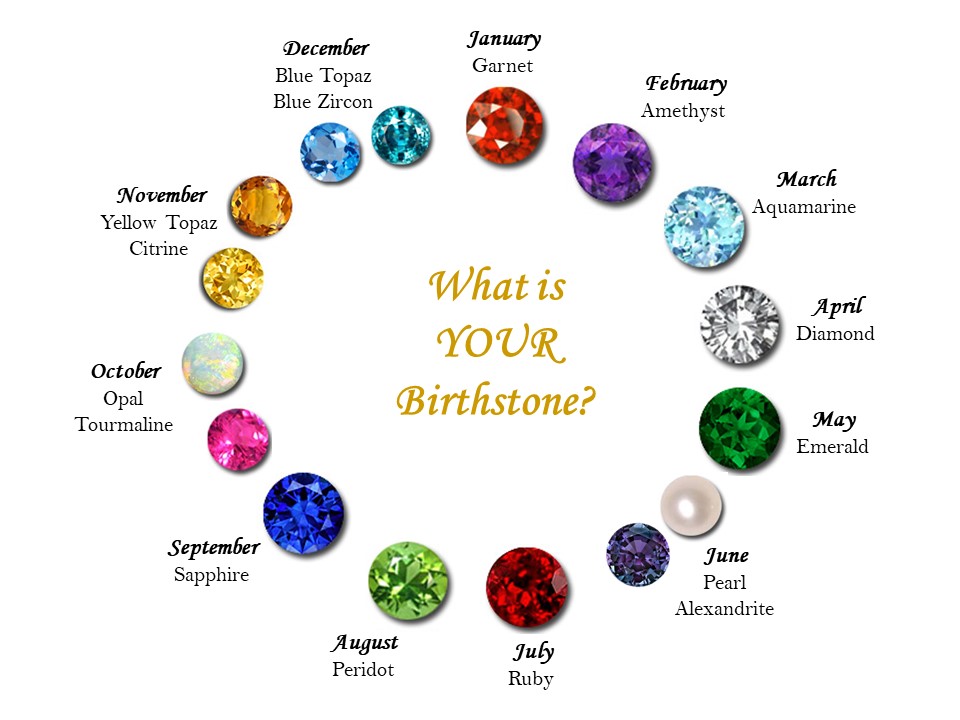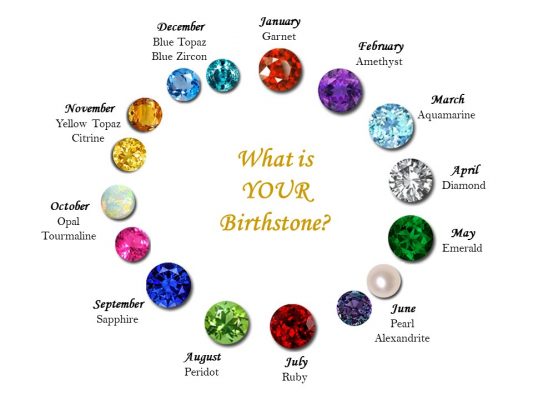 Since time immemorial, precious stones have been revered as vessels with mystical properties. There are scientific claims that prove the correlation between birthstones and their far-reaching influence on human life. According to them, each stone provides the wearer with special powers in each respective astrological period. To learn more about the meanings uses and other common names of the stones, you can see the detailed information of each stone at the end of the article.
January: Garnet Birthstone

February: Amethyst Birthstone

March: Aquamarine and Bloodstone Birthstone

April: Diamond Birthstone

May: Emerald Birthstone

June: Pearl, Alexandrite, and Moonstone Birthstone

July: Ruby Birthstone

August: Spinel and Peridot Birthstone

September: Sapphire Birthstone

October: Tourmaline and Opal Birthstone

November: Citrine and Topaz Birthstone

December: Tanzanite, Zircon, and Turquoise Birthstone
3. Overview of what gemstone are you and how to care for gem jewelry
Buying the right gemstone jewelry takes quite a bit of work. Therefore, the preservation of gemstone jewelry is also very important. Based on our experience in contacting and working with many types of gemstone jewelry, we gather the knowledge of preservation with the hope that your jewelry will be durable and beautiful for a long time.
3.1. Diamond
10 points (highest) on the Mohs hardness scale.
Dubbed the king of gems, diamonds can beat any of the most demanding jewels. As an immutable symbol of eternal love, diamonds are favored by all art connoisseurs in the world. In particular, colorless diamonds are suitable for everyday gemstone jewelry, which can go with jewelry made of yellow gold or white gold.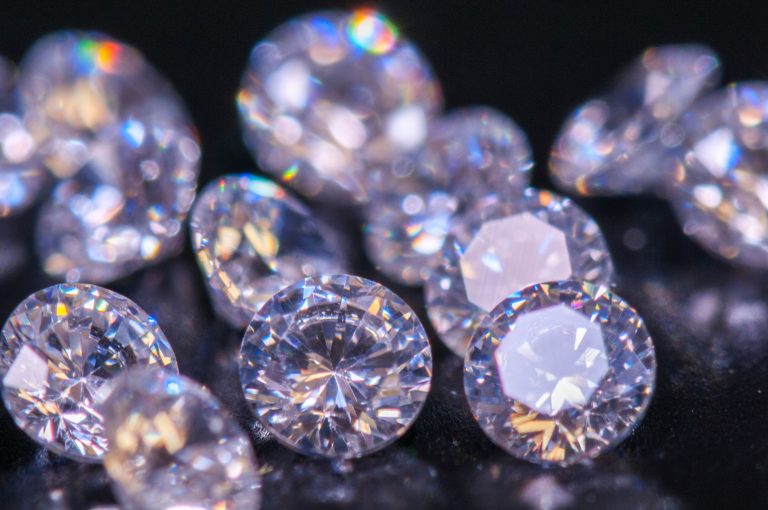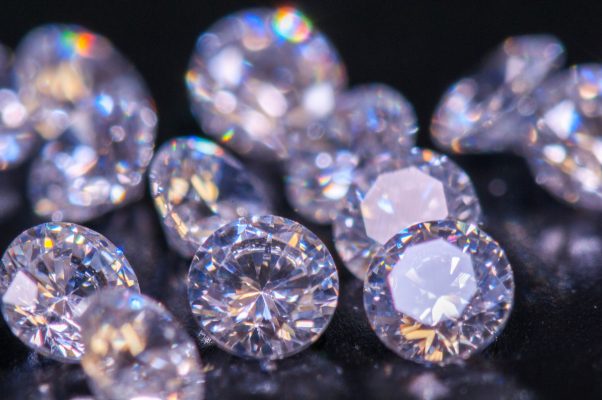 Diamond is hard with almost absolute scratch resistance. Known as oil magnets, if you want your stones not to lose their sparkle, you should store them away when cooking and clean them regularly by soaking them in dish soap twice a week. Remember to scrub the stone with a soft brush.
3.2. Alexandrite
8.5 points on a Mohs hardness scale.
Alexandrite is the messenger of kindness, openness, and a sensitive soul. The stone is also a symbol of the longevity and prosperity of a family or an entire country. Which is suitable for everyday gemstone jewelry such as rings or bracelets.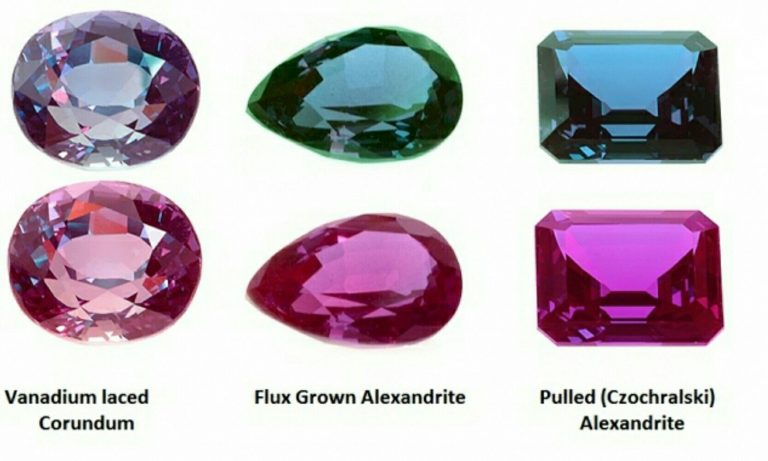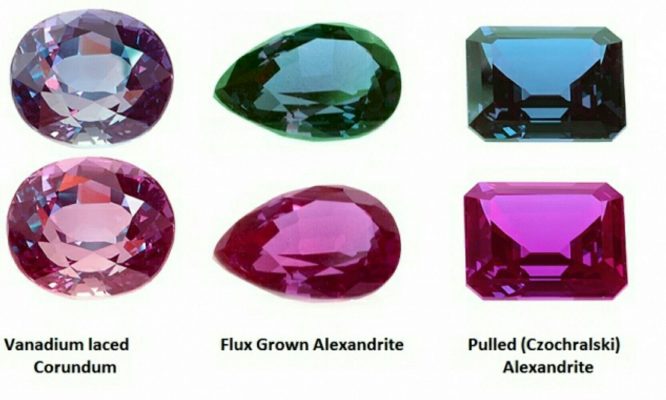 Alexandrite has excellent hardness and strength and is difficult to leave. This stone can be cleaned in many ways such as using soap, ultrasonic waves or steam, .. with a soft cloth or brush. The stone is suitable for every day jewelry such as rings or bracelets.
3.3. Ruby
9 points on the Mohs hardness scale.
Ruby symbolizes revitalization and re-energizing. The stone represents romantic love and loyalty. This stone is very popular in Vietnam and around the world for famous jewelry models of wedding rings or wedding rings.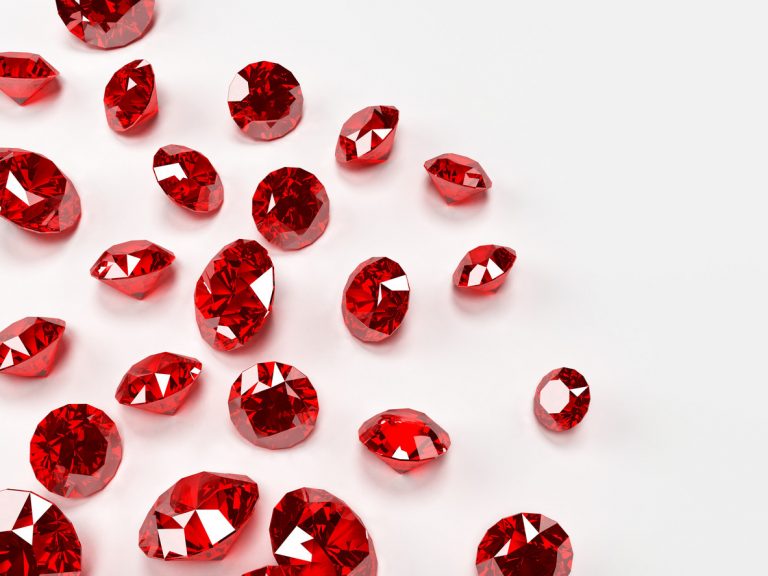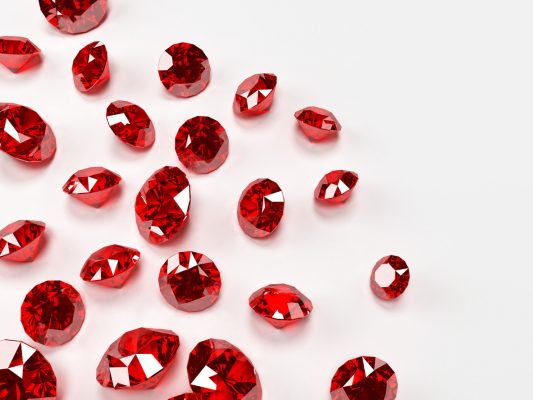 Ruby has a high hardness and durability that is hard to scratch, suitable for all types of jewelry, and easy to maintain. Cracked or untreated rubies can be cleaned with ultrasound or steam. On the contrary, they should only be cared for with warm soap and a soft brush when there are cracks or past treatments.
3.4. Sapphire
9 points on the Mohs hardness scale.
Sapphire is a symbol of lasting love, wealth, and a healthy spirit. Sapphire is also commonly used as a great gift for a 5 or 45th wedding anniversary. This is a gemstone used by many famous jewelry brands in the world because of its beautiful color.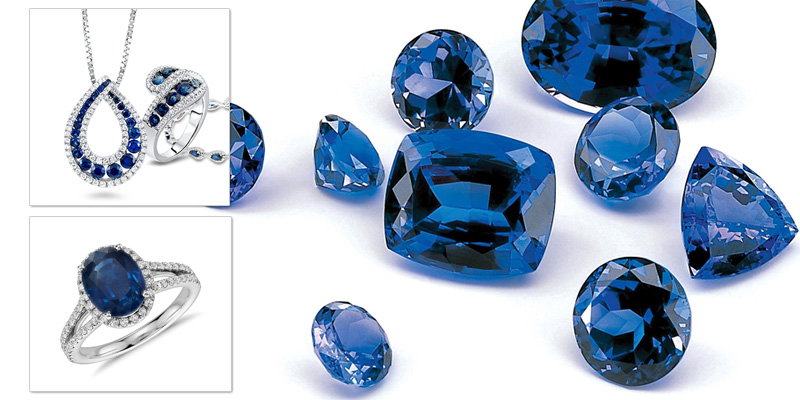 Sapphire is durable and suitable for all types of jewelry and is easy to maintain. To clean the stone, simply take a soft brush with warm water or dishwashing liquid, soap with mild detergent. While Sapphire is not easily scratched by other stones (except diamonds), you should still store your stone very carefully from other metals when traveling.
3.5. Emerald
7.5-8 points on the Mohs hardness scale.
Emerald is a stone of imagination and creativity and brings prosperity and vitality, resilient with constant growth. Which is also often given as a gift on 55th wedding anniversaries.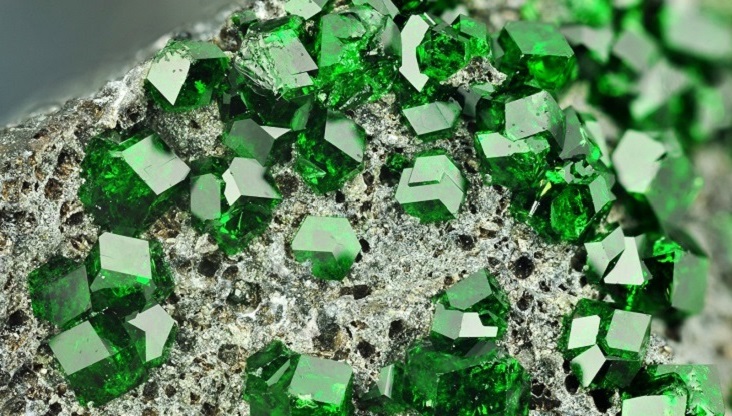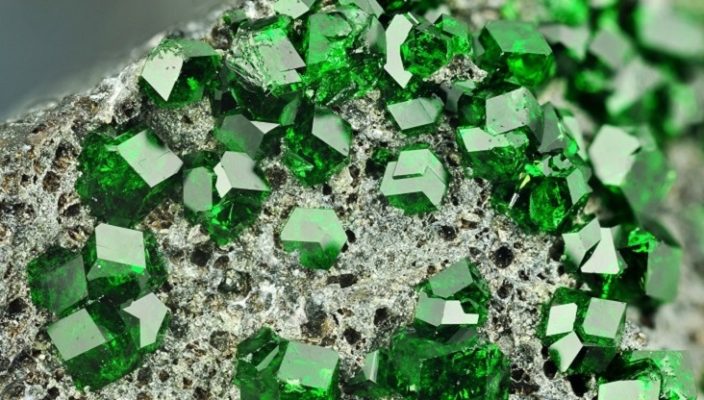 Emerald is quite durable and is famous for its beautiful gem jewelry sets including rings, necklaces, and earrings. According to experts, 90% of emeralds on the market have cracks, so cleaning with ultrasonic waves or steam will destroy the stone. Care for your stone regularly with warm soapy water and a soft, soft cloth.
3.6. Spinel
8 points on the Mohs hardness scale.
Spinel is an endless source of inspiration for creativity, emotional balance, and clarity of mind. The stone was born for workaholics.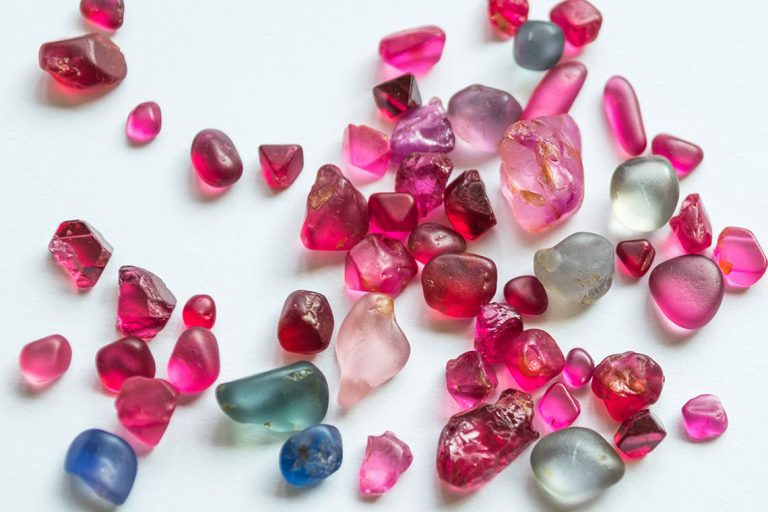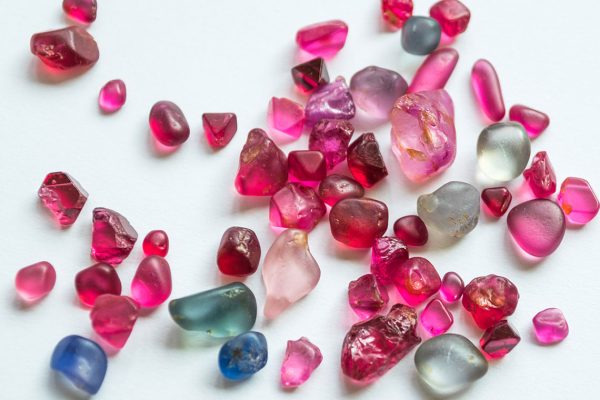 Spinel has great durability for any type of jewelry. The stone only needs to be preserved by avoiding strong impacts and cleaning it regularly. Warm soap is always the safest option, but Spinel can also be cleaned with ultrasound and steam with pellets that do not appear to crack.
3.7. Pearl
2.5 points on the Mohs hardness scale.
Born in the sand, pearls are said to be a symbol of purity and holiness. The meaning of this stone is the convergence of 5 personalities: Humility, kindness, wisdom, justice, and courage.
Pearls are quite soft and easily scratched gemstones, so care should be taken during use. Pearls should only be cleaned with warm soapy water and dried with a soft, soft cloth. If the stone is yellow, do not immerse it in water (water can weaken the stone's texture), soak a soft cloth in soapy water and gently wipe the pearl.
3.8. Garnet
6.5-7.5 points on the Mohs hardness scale.
Garnet is known as the stone of a confident and inspired soul, creating a strong attraction to the opposite sex in love. The stone is also extremely useful in feng shui Bagua, bringing good luck and happy reconciliation to a warm family.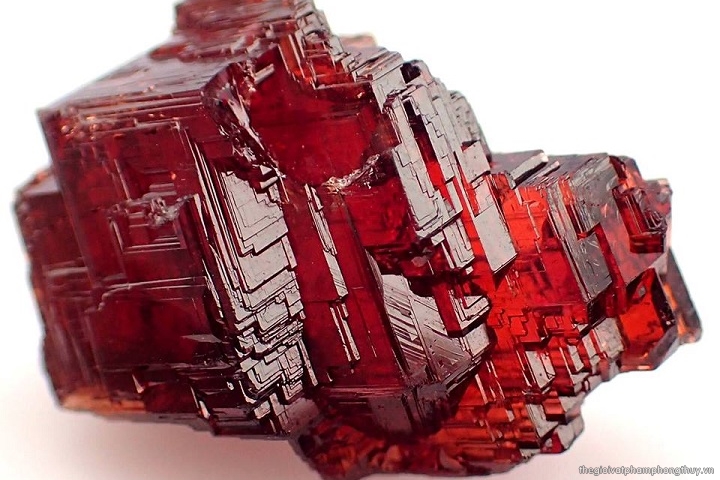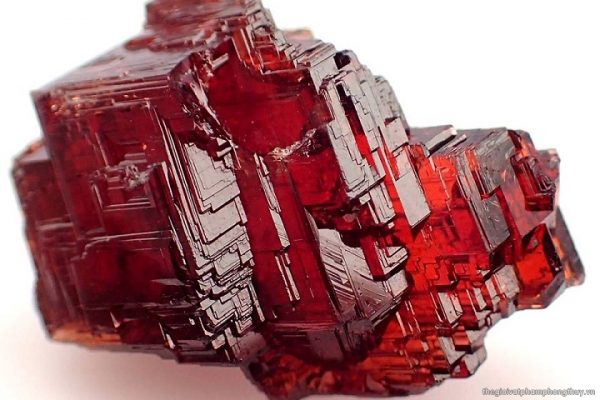 Garnet is often used as gemstone jewelry because of its variety of colors and relatively stable durability. Store the stone carefully in a soft cloth or gem case during intense activity and clean the jewelry regularly with organic dish soap and a soft cloth.
3.9. Quartz
7-8 points on the Mohs hardness scale.
Consisting of Amethyst Amethyst, Citrine Amethyst, Ametrine Amethyst, Quartz Quartz Quartz is a group of the most popular gemstones in the world, comprising a multitude of varieties ranging from amethyst, violet, and rhine smoke brother, yellow amethyst,… and each type has its own meaning. In general, the quartz family is a stone that contains abundant energy, clears the blood, and helps the mind to be clear, bringing fortune to the wearer.
Quartz stone is durable and used to make any kind of stone. What jewelry can be worn every day? However, quartz stone can still crack under strong impact. You should avoid letting quartz come into contact with metal. Clean the stone on a weekly basis with soap or mild detergent.
Read more: How to clean quartz countertops scientifically and best?
3.10. Topaz
8 points on the Mohs hardness scale.
Topaz often represents luck and fortune in life, helping women become beautiful and charming and men will be strong and generous.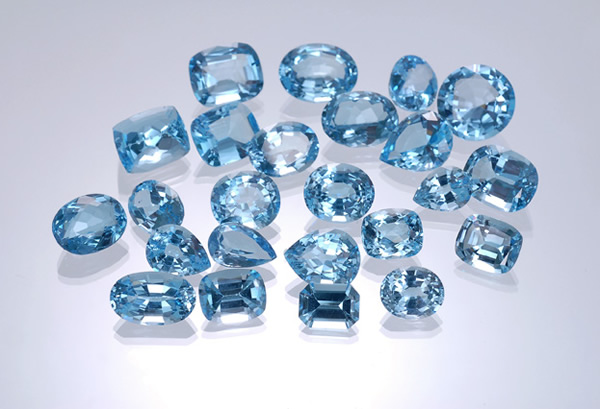 Due to its fragile structure, Topaz has a hardness of 8 n, but its durability is quite poor, making the stone suitable for jewelry that is surrounded or protected by objects such as pendants or pins. 
To resist everyday wear and tear, topaz is often coated with a metal oxide solution, so topaz jewelry is best cleaned with mild soap
3.11. Aquamarine
7.5 – 8 points on the Mohs hardness scale.
With the color of the ocean, turquoise has the power to soothe the soul and help you regain calm and nobility.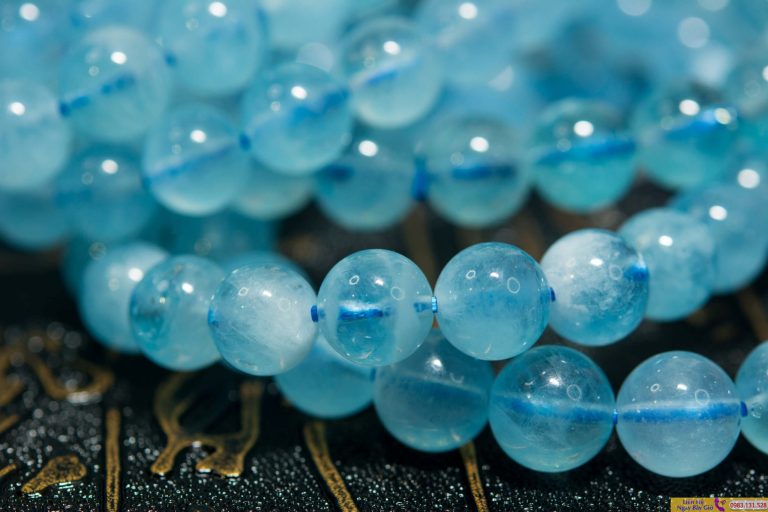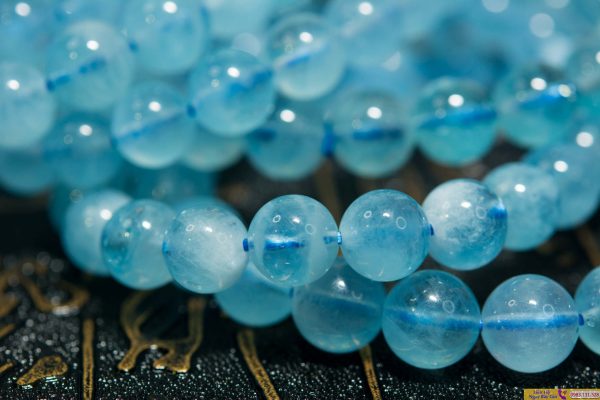 This is a durable gemstone for a variety of jewelry as long as it is cleaned and handled with care. Warm soapy water is always a safe way to clean Aquamarine. You can also use the ultrasonic or steam method if the stone has no cracks in the surface.
3.12. Tourmaline
7 – 7.5 points on the Mohs hardness scale.
Tourmaline is widely used in traditional healing methods. Wearing Tourmaline jewelry, your beauty not only shines, but they are also a talisman for the client's health. Tourmaline stone has stable durability, resistant to light and chemicals. 
However, the stone may discolor under bright light or high temperatures. Clean the stone with mild soap or dishwashing liquid, ultrasonic and steam cleaning methods are not recommended.
3.13. Tanzanite
6 – 7 points on the Mohs hardness scale.
Tanzanite has the ability to regenerate cells and help the body strengthen the immune system. The stone also relieves stress and anxiety syndrome, helps mental health, increases concentration and acumen at work.
Tanzanite is quite stable under normal temperature and light conditions, but exposure to sudden environmental changes should be avoided.
Like many gemstones on the same scale, ultrasonic waves and steam are never recommended. Clean your stone with warm soapy water.
3.14. Zircon
6 – 7.5 points on the Mohs hardness scale.
Zircon is a stone of confidence, forgiveness, and virtue, removing jealousy and embracing a new relationship.
That is softer than other more expensive gemstones such as ruby, sapphire, or emerald, but is still used in a variety of gemstone jewelry such as rings or necklaces due to its good refraction. Zircon jewelry should avoid exposure to high temperatures and harsh detergents in makeup.
3.15. Jade
7 points on the Mohs hardness scale.
Marble is a rare and extremely valuable stone with the ability to connect the body and the spirit. The stone has the ability to soothe damaged and chaotic souls.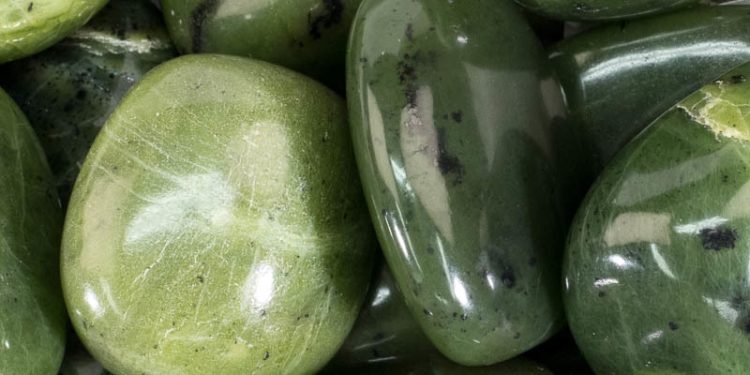 With a pretty good hardness, marble is a pretty safe gem for your daily wear. However, it is necessary to limit immersion in water and use ultrasonic or steam cleaning methods. A soft brush and mild soap solution is a safe choice for a marble.
3.16. Onyx
6.5 – 7 points on the Mohs hardness scale.
Onyx helps people avoid dangerous conflicts and has the ability to treat diseases of nerves and internal organs. The stone is also used in architectural art.
Onyx should avoid soaking in water or getting wet but should be cleaned with a cloth or soft brush gently scrubbing the surface.
3.17. Peridot
6.5 – 7 points on the Mohs hardness scale.
Because it was formed in the heart of a volcano, Peridot stone has an abundant source of heat, helping people to clear the meridians and provide spiritual support for those whose souls are stuck.
Peridot is a pretty good choice for gemstone jewelry because of its relatively good hardness and durability, but care must be taken to avoid scratches or strong impacts. Clean the stone only with warm water or mild soap and don't let your jewelry come into contact with the chemicals in your makeup.
3.18. Bloodstone
6.5 – 7 points on the Mohs hardness scale.
Possessing magical powers, Bloodstone has the ability to fight evil and bring fortune to the client. The stone also emits a strong magnetic field and is widely used in medicine.
Gemstone jewelry needs to be handled with care as they are prone to wear and tear over time. Bloodstones can easily be cleaned at home with warm soapy water and a soft brush, keeping them away from harsh chemicals or extreme heat. You should not clean them with a dry cloth as they are easily scratched and avoid using the stone when performing vigorous activity.
3.19. Moonstone
6 – 6.5 points on the Mohs hardness scale.
Like the name, Moonstone symbolizes peace, helps people avoid conflicts, keeps a calm and clear mind. The stone is also a symbol of poetic and soaring love.
Moonstone is very susceptible to scratches, so especially avoid ultrasonic cleaners and steam. To clean, simply use warm (not hot) water with mild soap to clean and pat dry with a soft towel. Avoid cleaning methods with ultrasonic waves, steam, or strong detergents.
3.20. Opal
6.5 points on the Mohs hardness scale.
Opal carries in itself a huge source of energy from the mother earth, helping people to strengthen both physical and mental strength. The stone also represents a deep and mature mind.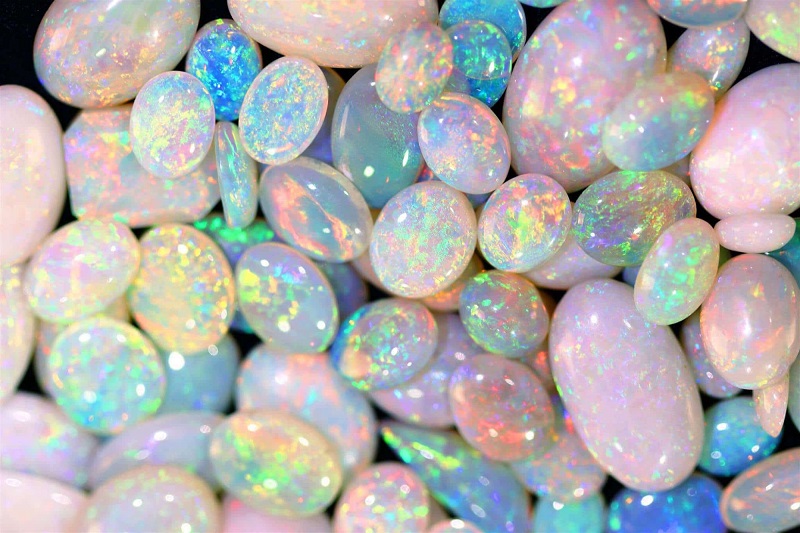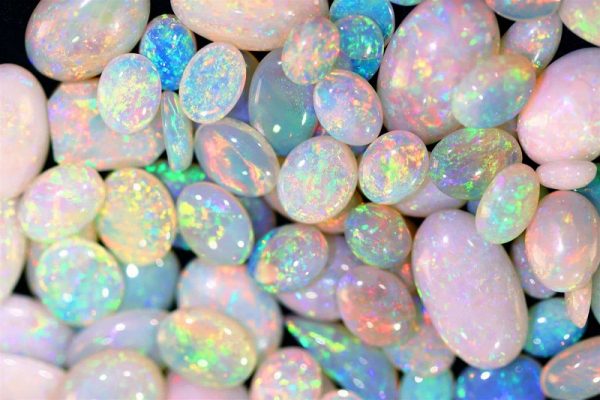 Cat's eye stone is quite soft, the hardness is equal to glass, so the use and preservation of Opal-mounted gem jewelry requires care and avoids collisions as much as possible. Clean the stone with mild soap and a soft cloth, completely avoiding bleach, ultrasonic waves, or steam as these can destroy the stone's texture.
3.21. Turquoise
5 – 6 points on the Mohs hardness scale.
This stone is dedicated to women with a symbol of tranquility, femininity, and a soul full of privacy but sophistication.
The stone is stable to light but high temperatures can damage the surface and change color when exposed to chemicals. To be safe when cleaning turquoise jewelry, use warm soapy water, but never steam or ultrasonic waves. Heat or solvents can damage the surface of treated stones.
Read more: Agarwood beads – beaded bracelets and gemstones, the benefits with style

Read more: Tips choosing feng shui color suitable for five elements