Quartz is considered stone jewelry that is significantly diverse and has numerous unique benefits. Let's dive into an individual variation of quartz in this post – the tiger's eye stone. Although the tiger's eye stone is well-known and popularly used for the positive energy. And the benefits it brings to the owner's health and wealth. There have been countless fake versions of it spreading on the market whose origin is unknown. Therefore, it is crucial to learn about the tiger's eye stone as much as possible before buying any product relating to it.
I. What is the tiger's eye stone?
Also known as the tiger's eye gemstone, the tiger's eye stone is a special variation of quartz. This is a mutating type of stone whose color varies from yellow to reddish-brown. While its surface has a "silky lustre" effect. Moreover, this stone has been frequently used since the times of ancient Rome. When Roman soldiers used to wear spiritual amulets carved from it. The stone is believed to help calm the soldiers, making them brave hence bringing definite victory to the battle.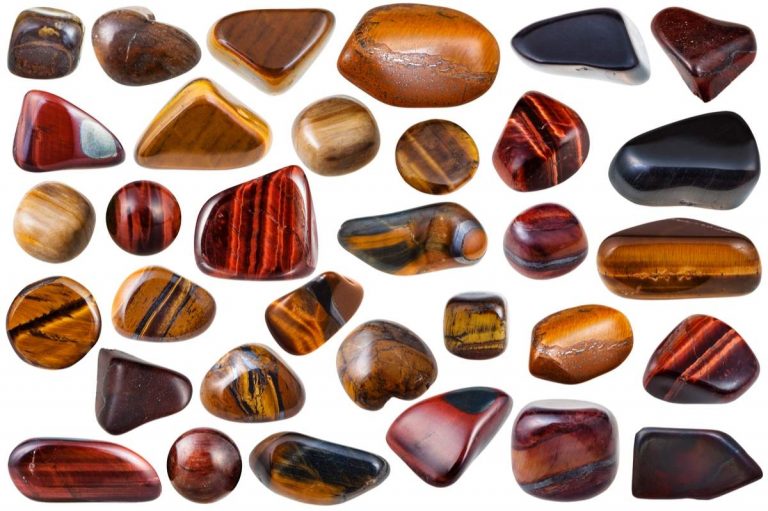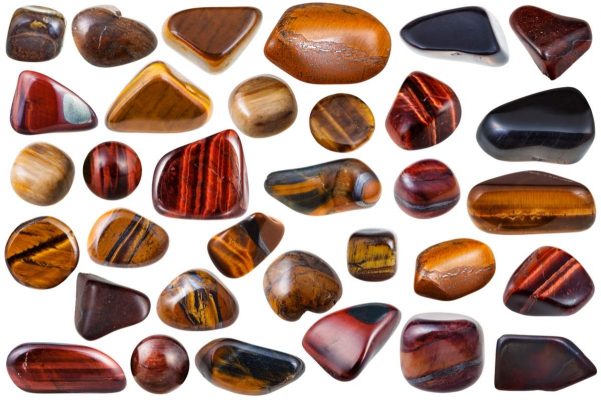 II. The basic properties of the tiger's eye stone
Although this stone is very diverse in design and color. However, there are countless ways to identify real tiger eye stones. Here are a few basic features you can refer to:
| | |
| --- | --- |
| Chemical composition | Silica Dioxide SiO2 and iron ion |
| Class | Oxide |
| Group | Quartz |
| Elemental System | Rhombus |
| Stiffness | 6,0 – 7,0 Mohs |
| Proportion | 2,64 – 2,71 g/cm3 |
| Cracks | Seashell |
| Light | Silky |
| Distribution in the world | South Africa, Australia, India, Russia |
| Distribution in Vietnam | Nghe An and some other central provinces |
| The advancements | Base on the accumulation of Sodium Silicate fibers and iron ions in the intrusive Magma Acid. |
III. The significance of tiger eye stone
1. The uses of tiger eye stone
Researchers have demonstrated the energy of this stone to have an effect on the neurological system. Make individuals feel secure and ready to face difficulties. Furthermore, it aids in the clearing of the mind and attains the goals in life. Wearing a tiger's eye stone bracelet solves issues more effectively and quickly.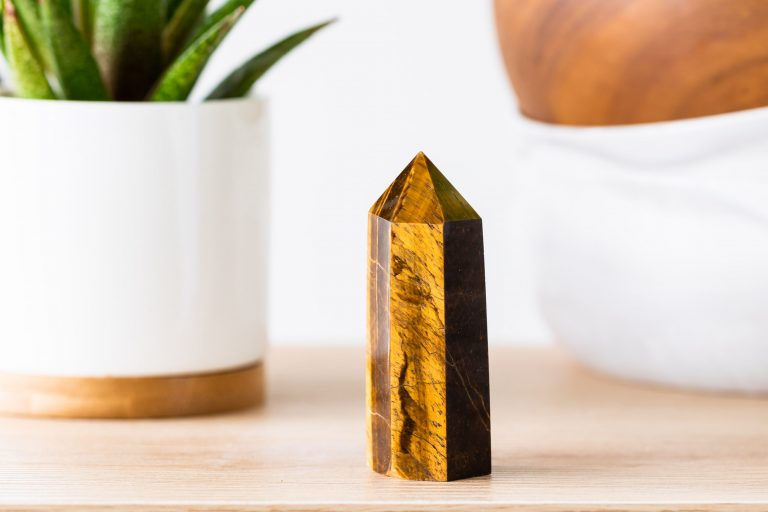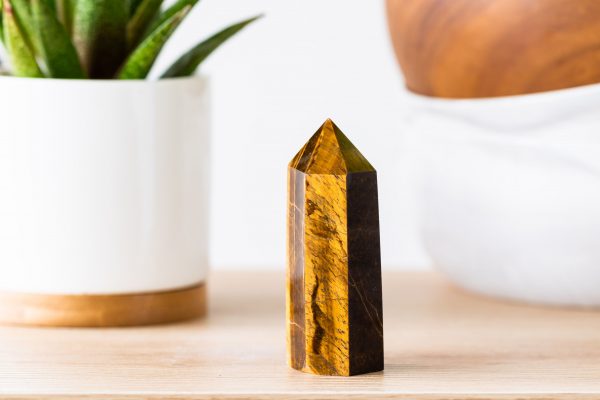 2. Meaning in feng shui
This stone has potent feng shui properties. It helps reduce the time to fulfill the wearer's wishes. You are having breakthroughs in your career and finding pleasure in your romantic life. In Eastern culture, this stone is supposed to bring good fortune, success, and wealth. It also represents concentration, serenity, and bravery.
3. Applications in real life
Tiger's eye is a beautiful stone famous in the jewelry industry—typically made in bead's form to make feng shui bracelets or feng shui balls.
Read more: What gemstone are you?
IV. Classification of tiger eye stone bracelets
1.Tiger's eyes stone 
It's a common type of tiger eye with golden or yellowish-brown color, translucent or slightly translucent. Salient features are strong luster and silky, well-arranged pattern within the stone that looks like a tiger. The yellow tiger's eye is a symbol of prestige. It can help to heal and bond with plenty of various relationships, especially love.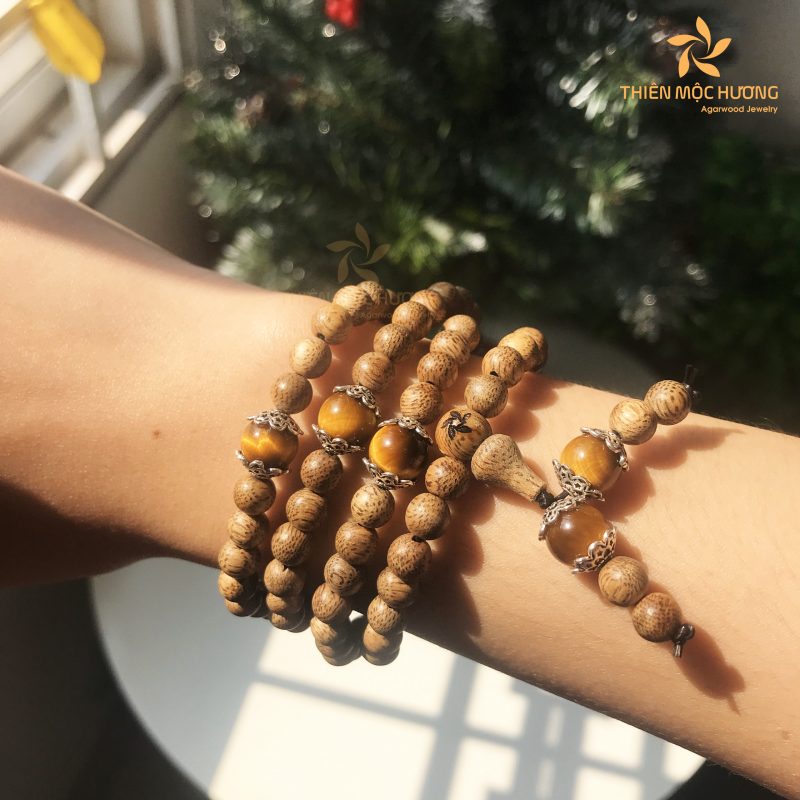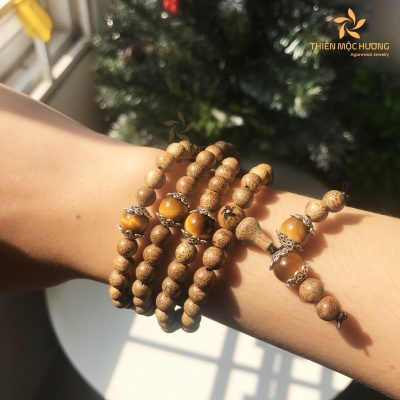 2. Ox's eye stone
The Indians consider the red tiger's eye to be a sacred stone. It's loved by a mysterious beauty and a spiritual meaning. This is an amulet to exorcise evil and bring peace. Wearing red tiger eye stones helps to enhance vitality, improve intelligence, concentration, and memory.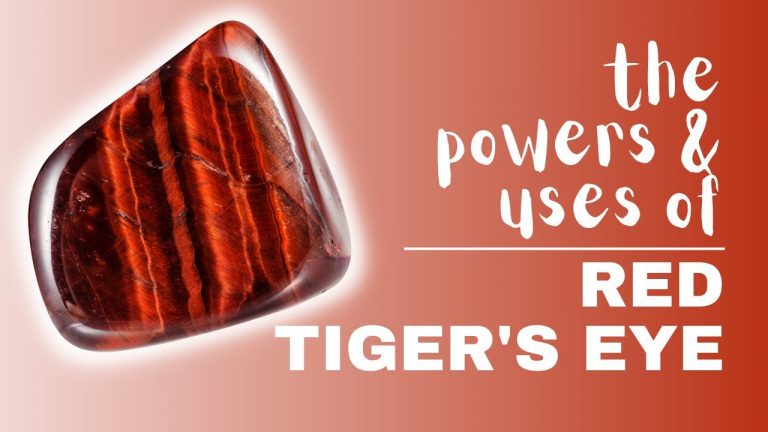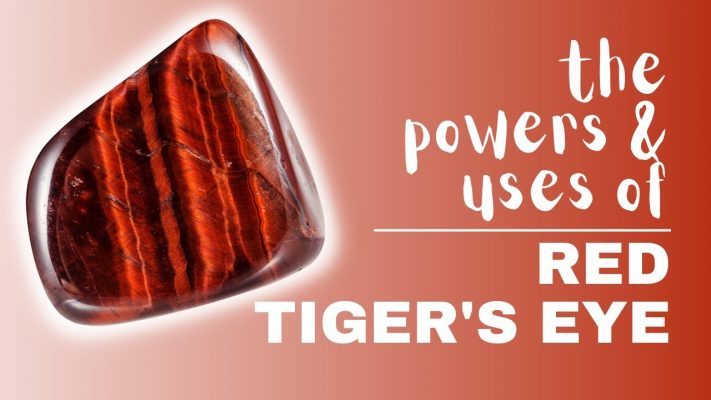 3. Hawk's eye stone 
Blue tiger's eye is known as Hawk"s eye stone with the inclusion of blue asbestos fibers. It is indeed one of the most expensive tiger's eyes varieties. Owning a Blue tiger's eye bracelet benefits warding off evil spirits, keeping the peace, and facing challenges.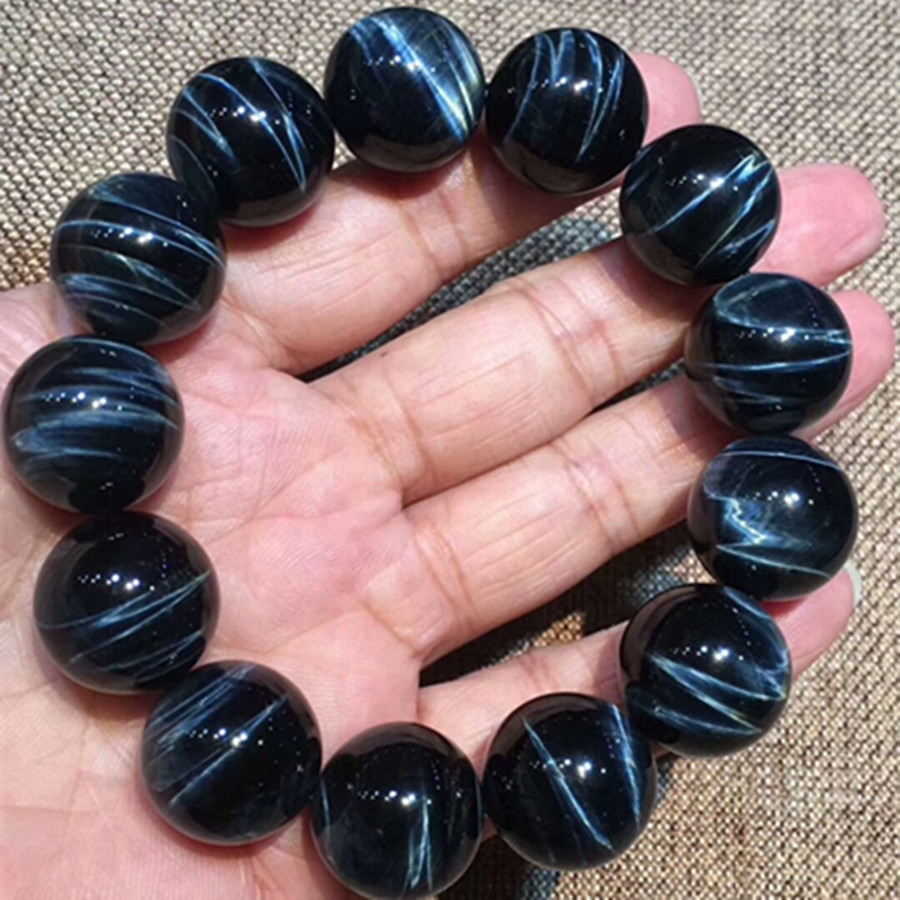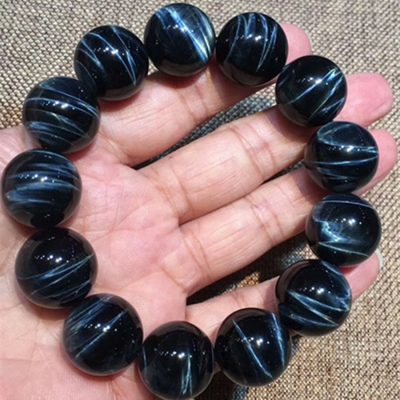 4. Green tiger's eye
Green tiger's eye is famous as blue falcon's eye stone with a structure of quartz crystals formed on layers of Crocidolite with a gray-green color that changes color. By washing toxic energy and building a safe and strong foundation, which is helpful for the mind is sharp. Nowadays, people also research that energy irradiated from tiger eye stones can cure psoriasis, asthma.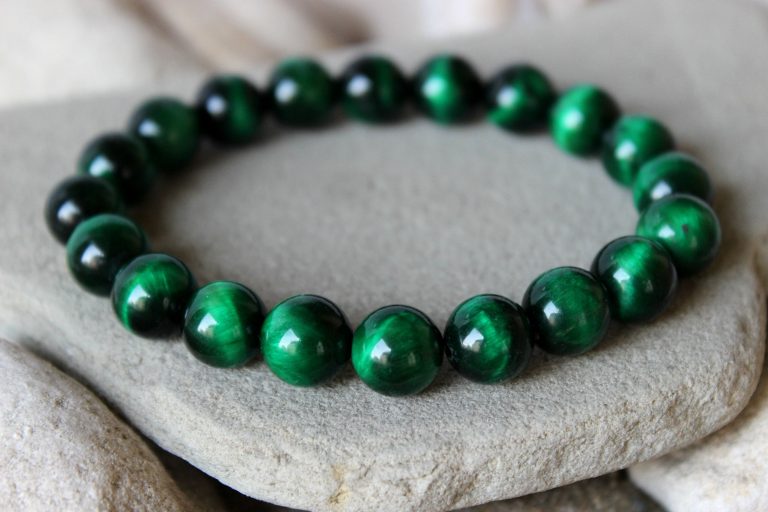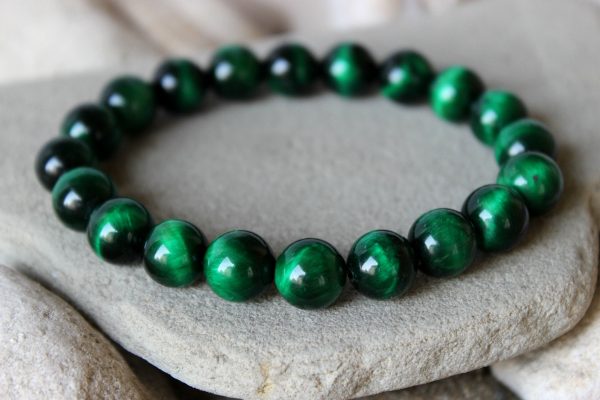 V. How to identify the original tiger's eye stone
1. Looking at the Physical Characteristics
The way to identify this tiger eye stone is quite simple through the color of the stone. They usually exist in less than three primary colors: yellow-brown, blue-black, and red-black. So you have ruled out a lot of fake models on the market today. Besides, you will see the uniformity and the same color in the imitation stones because they are dyed. There are no ridges or cracks like natural stones.
2. Tactile
You can touch to identify stones based on the coolness and lightness of the stone. Natural stone usually feels cooler to the touch than fake stone. Don't be fooled if the shop owner is displaying counterfeit goods inside the air-conditioned room. Besides, natural stone is usually heavier than counterfeit stone.
3.Overtime
For the above methods, this requires a very long time for you to verify. Natural stones will have a better luster over time. If you use a tiger's eyes stone bracelet frequently, you will notice that the stone becomes more glossy, shiny, and beautiful than when you first bought it. This feature does not exist in fake stones.
Read more: What is the most expensive gemstone