Agarwood is an extremely expensive wood not only for its rarity and scent, but also for the unique uses that it brings. Along with Thien Moc Huong review 5 uses of Agarwood that we should not miss when learning about Agarwood.
1. Usage of Agarwood in healing
Today, the effects of Agarwood are always discovered and recognized. More especially, Agarwood is a medicine used in the treatment of diseases in ancient folk.
Agarwood powder is placed as aromatic bags, or used as a pillow filling because of the gentle scent, which is effective in reducing headaches, depression, helping the spirit of comfort and relaxation. In addition, Agarwood is also used to treat small children's diseases.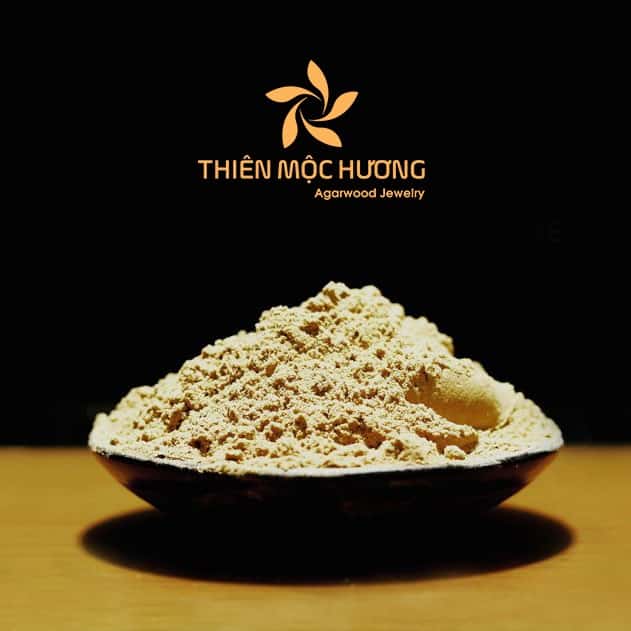 In Eastern Medicine, Agarwood provides great medical benefit such as for people with dyspnea and heart failure. Agarwood is also used in kidney treatment, enrich positive energy, and warm the body. Drinking tea made from Agarwood helps purify the body.
2. Agarwood essential oil can also cure illness
Using a little essential oil in a cup of warm water and stirring is a "golden formula" to help treat sore throats, coughs, hoarseness, runny nose, … At the same time, the use of essential oils gives you a healthier digestive system, the "enemies" in the intestines such as stomach pain, diarrhea, … from now on will no longer be your concern.
In addition, the use of essential oils in room space is also beneficial for the respiratory system. The scent of aquilaria essential oil has the ability to kill viruses in the air, clean the airway, create a fresh air, do not worry about the flu.
3. Agarwood is also used in wine
Names like cider, garlic wine, snake wine, ginseng wine, … are all too familiar with our folk. So have you ever heard of wine made from Agarwood? One of the extremely special uses of Agarwood is soaking alcohol. Agarwood alcohol has a tonic effect on the kidneys, positive air, stabilizes the mind and warms the body. Moreover, Agarwood alcohol is also effective in relieving chest pain, vomiting, and asthma. Just soak Agarwood directly and wait about two weeks to be able to use. For best results, use only one small glass a day and do not overdo alcohol.
3. Agarwood is also made into exquisite jewelry
Society today is growing, so "demand" for beauty, jewelry increased significantly. The jewelry products made from Agarwood became popular, causing many women to go crazy. The most special product is Agarwood Bracelet with many different designs and types of charm that suit the interests of many people.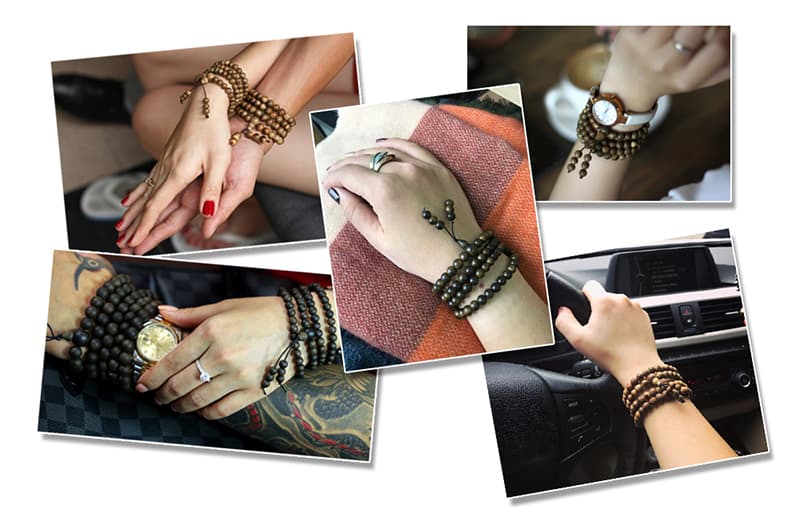 Agarwood bracelets bring elegance, class but not too simple because of the high value they bring. Those who wear the bracelet will encounter lucky things, receive good fortune of fortune and health. Agarwood is a heaven and earth item, so it has a very high feng shui value. Because it is Agarwood, when making bracelets does not pick up the wearer. Besides, Agarwood bracelets emit a unique aroma, depending on the number of years Agarwood that the product will have a strong or gently different scent.
4. Usage of Agarwood in feng shui
It is said that Agarwood has an extremely profound meaning in feng shui because it is a valuable item given by Mother Nature. They are formed from the gourd tree sap and undergo so many natural effects should be considered as "aura of heaven and earth". In feng shui, Agarwood is a guardian, helping her owner to ward off evil spirits and omens. Good luck, fortune, good temperament should be used as feng shui products.
Today, Agarwood is crafted into bracelets so that everyone can easily wear them. As a "heavenly wood" so when buying Agarwood products, you will not have to worry much about the destiny. The Agarwood bracelet is always a meaningful choice, bringing good luck to the people you love.
The decorative products made from Agarwood are placed inside the house, on the desk with the meaning of "transforming the evil" for its owners.
5. The use of Agarwood in meditation
Agarwood incense can be considered as an optimal "medicine" to help us reduce pressure after a stressful working day, full of fatigue. Incense when burning will bring comfort, lightness, stimulate creativity and thinking when working.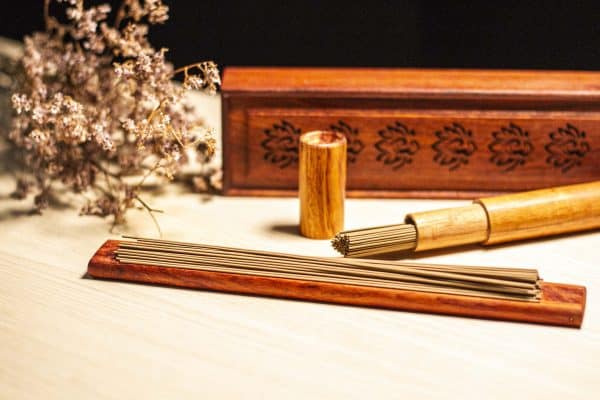 Incense sticks are also very popular in countries with too long attachment to tea ceremony culture like Japan. In tea ceremony (or meditation), the fresh air and serenity is one of the prerequisites for full enjoyment. Agarwood absorbs the aura of heaven and earth that forms, so the scent will be felt differently by people. The pure scent, without impurities of this product will help yourself more balanced, gentle and more relaxed.
To better understand this rare and extremely expensive wood, you can refer to What is Agarwood? Origin and value of Agarwood and surely you will not be surprised to understand all about this tree.