Agar wood bracelet is always a jewellery product made from Agarwood which is welcomed by many people. Not only by the high aesthetics, the sophistication and elegance that they bring but also by the unexpected benefits.
Agar wood bracelet – a neutral ground between spiritual and fate
Traditionally, people often think that feng shui for men and women will have different aspects. For example, in feng shui, men and women often differ, different in the name, location of feng shui, date … But, when buying bracelets, you will not have to worry about this whether male or female.
Agarwood is a kind of "sacred wood" sacred and precious. Because it is a "spiritual wood", your fate does not matter but also suitable for your zodiac. Thien Moc Huong will suggest you 5 models of bracelets that are suitable for both men and women or couples lovers. 
Top 5 models of bracelets suitable for both men and women
1. Agar wood Bracelet lucky 4-leaves
The lucky 4 leaves bracelet is a feng shui, helping the wearer always feel safe, convenient in life, improve health and eliminate toxicities. It is a symbol of luck in many countries around the world. The four wings of the four-leaf clover symbolize loyalty, hope, divine love and luck. Therefore, those who have clover will have a lot of luck in life.
2. 108-bead Agar wood Bracelet
108-bead Agarwood Bracelet is a combination of the rosary that brings peace and trendy jewellery. Owners of agarwood beads will keep their mind calm, often staying in mindfulness and exuding a gentle.
108 is a number in Buddhism meaning full and profound. Additionally, 108 also means 108 human afflictions. Wearing a 108-bead bracelet helps you dispel worries, brings luck and adds sophistication and elegance to the wearer.
3.  Tibetan Amulet
Agarwood Tibetan Amulet – a unique, harmonious combination of Agarwood and Tibetan amulet charm. It brings the special meaning of Buddhism – opens the mind of compassion and charity. As a result, it is bringing many blessings to the body and spread positive energy to everyone around.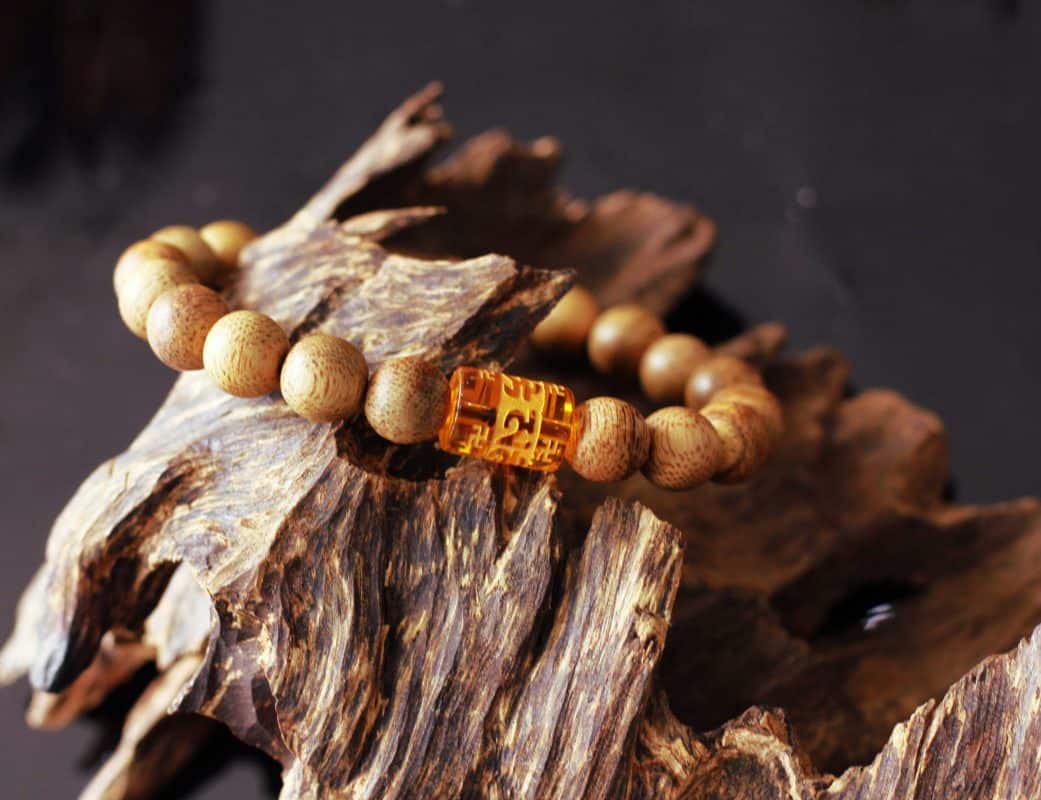 Tibetan bracelets have 5 colours: Green, White, Black, Yellow, Red. Customers can choose a charming colour that best suits their tastes. Therefore, they can custom their bracelets by themselves.
4. Golden Pixiu 
Golden Pixiu bracelet is a treasure formed by a unique crystallization from Agarwood – energy from heaven and earth, and the gift from Pixiu – the sacred beast protects and brings wealth. The Spirit of Agarwood carries the quintessence of heaven and earth. Thus, it enhances the transmission of spiritual energy to awaken the sacred beast and keep fortune and ward off evil.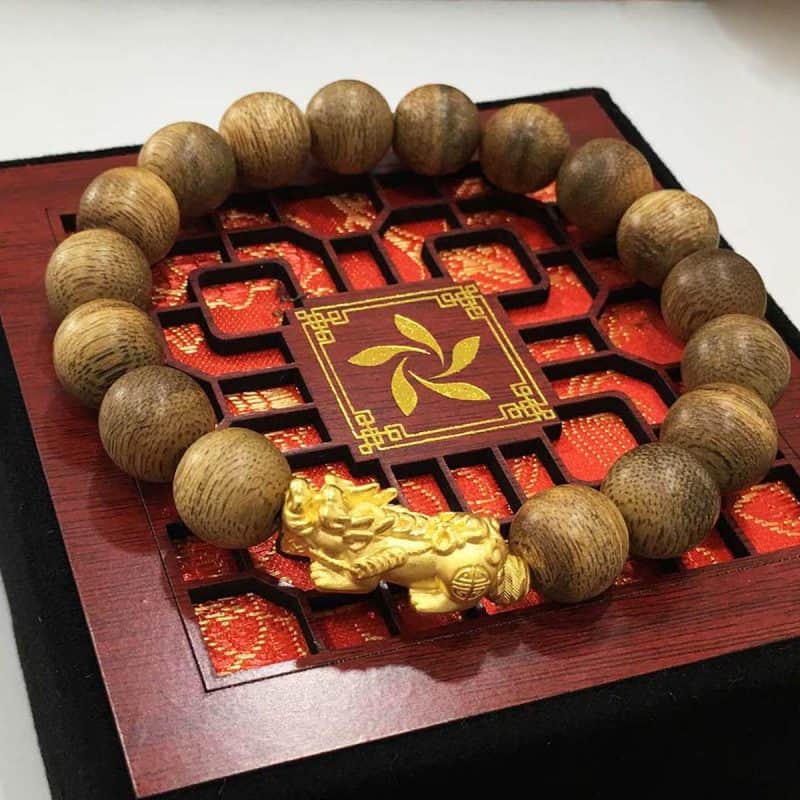 5. Indonesian Natural Agarwood Bracelet of Fortune – Wealth – Life
Natural Agarwood Bracelet of Fortune – Wealth – Life helps wearers have a fuller, more complete and full life. All the letters and the cylinder are made from real 18k gold. Along with classy, ​​outstanding and elegant design for the wearer.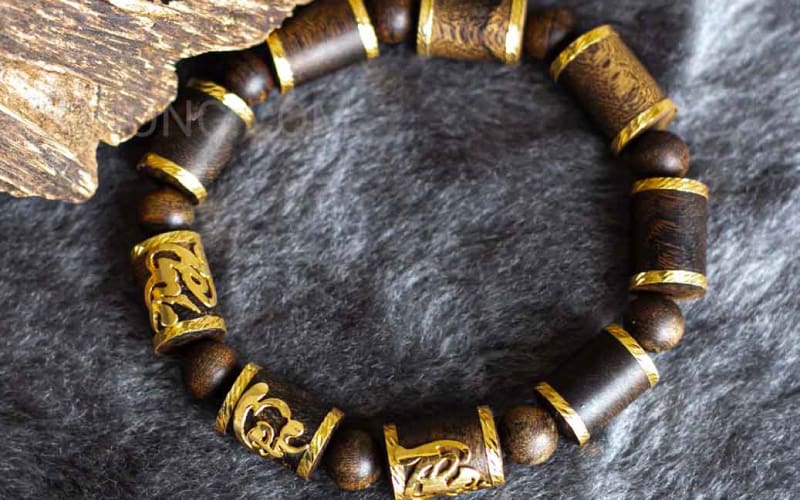 In addition to these 5 products, customers can refer to many other bracelet models, especially the Best Sellers Collection – the most popular bracelet models today.