The trend of wearing Rudraksha beads in Buddha is more popular. Rudraksha has a lot of types. And especially applied in spiritual culture from the times of India and Tibet is the Rudraksha beads, also known as the bodhi vajra. Wearing Rudraksha gradually releases oneself from the fluctuating emotions and protects against psychic disturbances,people usually gift a Rudraksha as a great blessing and sign of good luck. If you are wondering about Rudraksha beads meaning. And how it can good for your life, this content will help you know about it clearer. 
I. What does Rudraksha beads mean?
1. The origin of Rudraksha beads meaning
Vajrasattva is the seed of the Rudraksha tree – the scientific name is Elaeocarpus ganitrus, commonly found at the foothills of the Himalayas, the Ganges Delta and Southeast Asia. Rudraksha fruit after ripening will be harvested, peeled, then dried in the sun and made into bracelets or prayer beads. Rudraksha beads are really special. The Buddhist believed that wearing it can bring a lot of luck and strength for your mental health. 
Rudraksha beads usually have four colours: dark red, white, yellow and black. But they usually are yellow and black. In ancient times, Indians and Asians usually used it to practice, pray, and balance energy in meditation for the purpose of deification and soul. In addition, wearing this bracelet can help you rise your  prosperity in business and richer in money.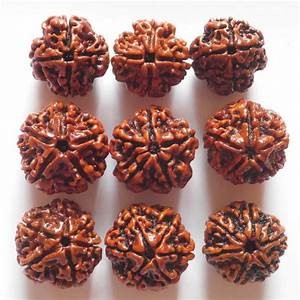 The extension of Rudraksha seems to be the power of spirit. This is a symbol of respect and origin to achieve the highest awareness. Besides, Rudraksha beads meaning is also a reminder that you should live well and be virtuous. Due to these good things you do, you will receive a lot of other luck that you do not expect again. This is a good thing that Buddha always wants us to become the one that they want to be. Moreover, the bracelet is a beautiful accessory for you to update yourself better. 
2. Constellation meaning of Rudraksha beads
Rudraksha  found in nature: seed, leaves and trees. The Rudraksha tree are almost 50 feet to 200 feet in height growing in the North Indian River Plain of the Himalayas to South-East Asia, Nepal and Indonesia. Its fruit is covered with a green when fully ripe. It is also for this reason that Westerners call this plant blueberry. Indian used the seed of the tree to make prayer beads, the scientific name of the tree is E.Ganitrus. Rudraksha beads contain 0.95% nitrogen, 50.031%, carbon 17.897 %, hydrogen and 30.53% oxygen. So it is really effective in improving your sleeping. Moreover, your breathing can easy to breath.
Rudraksha beads meaning is so magnificent. The single-sided Vajra represents a link between consciousness and super consciousness or a symbol of the connection between Earth and Heaven. For those who wish to be freed from the sufferings and afflictions of past and future lives or those who wear the bracelet wishing to be liberated from the endless cycle of birth and death. One-sided Vajra talks about the spiritual enlightenment of the wearer and liberates them from the delusions of material things, money, wealth…. It is recommended to do a prayer ceremony to purify the rosary before wearing it.
Moreover, the Rudraksha beads meaning also have many advantages for your mind and mental health. In ancient India, people use Rudraksha more popular. Beads are strung for the purpose of sanctifying the body, mind and soul. Your energy and positive thoughts will increase after a long time that you wear. 
II. What are the benefits of Rudraksha beads?
Due to its special uses, It helps prevent harmful use of peace of mind; good for heart, blood pressure; peace of mind; central nervous system regulation; Increase awareness and enhance positive thinking. It keeps the bodies bioenergy in balance and harmonises the environment around oneself or in the place the seeds are kept. Rudraksha beads meaning is really felt at home where you mostly keep the Rudraksha. 
Besides, Rudraksha also has the effect of exorcism, bringing good luck, health, peace and bringing good omens when used for remembrance or worn around people. When in contact with the skin, Rudraksha helps to balance the heat in the body; helps meditators and meditators to focus more to reach the highest realm.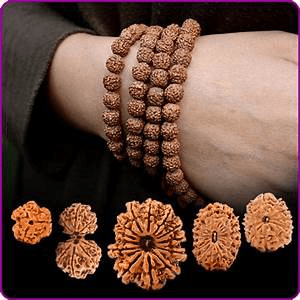 Rudraksha beads meaning has some advantages in many parts of your life. 
For meditation, you can wear it during the time of meditation. You will feel comfortable and peaceful during this time. It helps to purify the bad energy all day, you just remain clear of thoughts and calm mind. In addition, Rudraksha beads also help to increase and lead life, creating a strong belief in spirituality. Removing the scary and angry. 
Spirituality: In India, Indian diamonds are considered as a luxury jewelry, equivalent to gemstones, suitable for jewelry as well as religious for everyone. In particular, when the bead has hard aspects, it has the function of circulating the blood at the 10 fingertips, the beginning of the meridians is very good for health. Moreover, it is also has many good uses such as:
Other benefits of rudraksha beads 
Known as a protective stuff

Symbolizes luck and wealth

Support meditation to bring calmness and peace

Regulate and keep balance for the body

Rudraksha beads are the symbol of health and prosperity.

 

 Finally, it is Good for health: About blood, heart, liver and stomach related diseases
III. 5 hottest Rudraksha beads today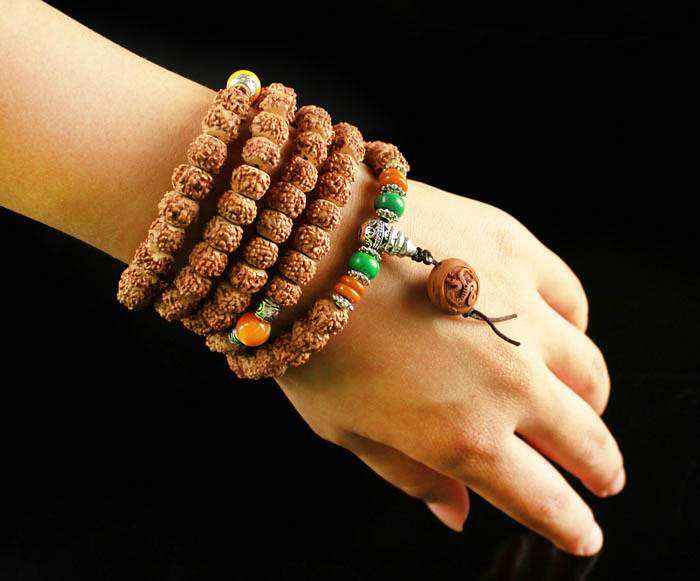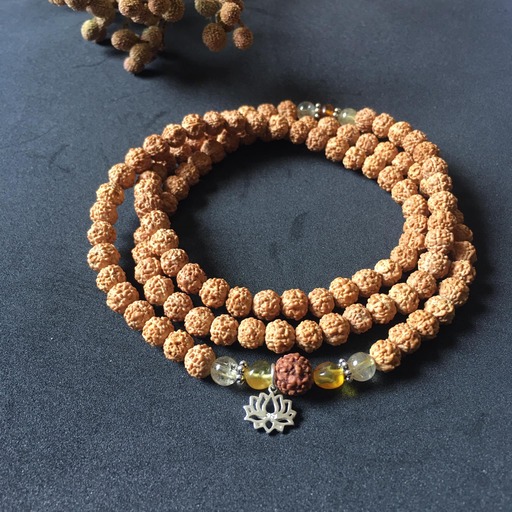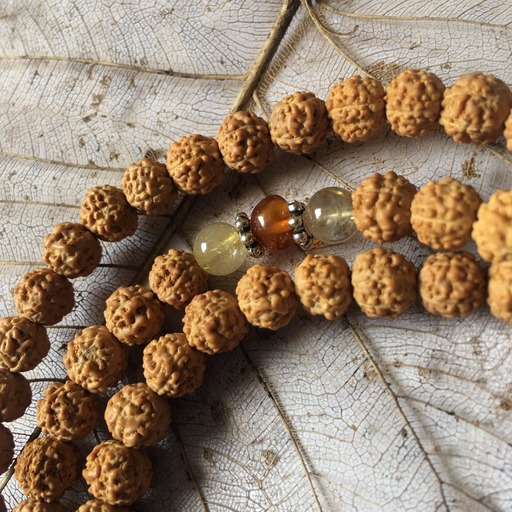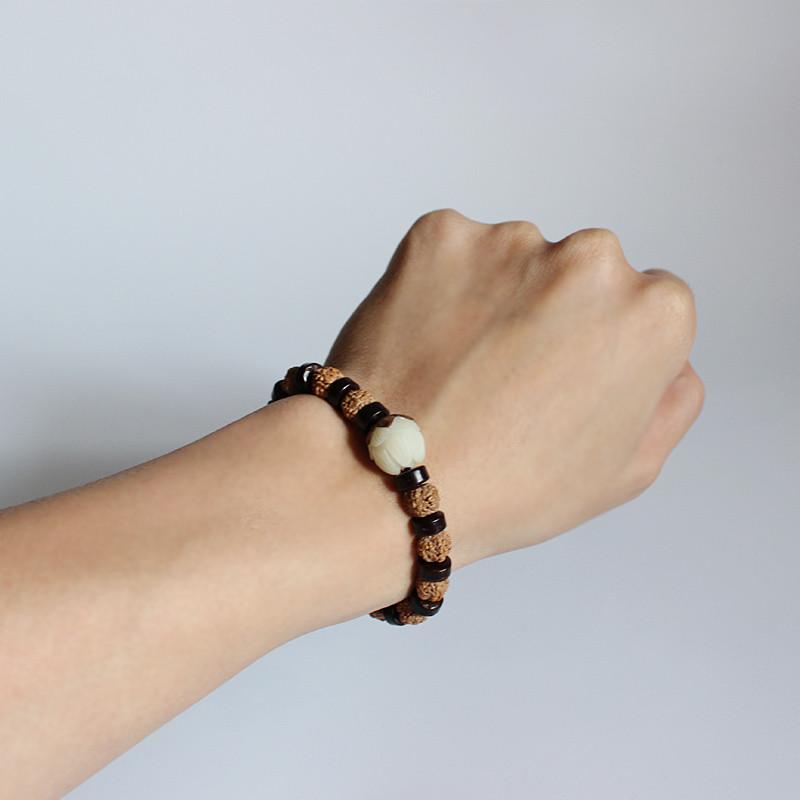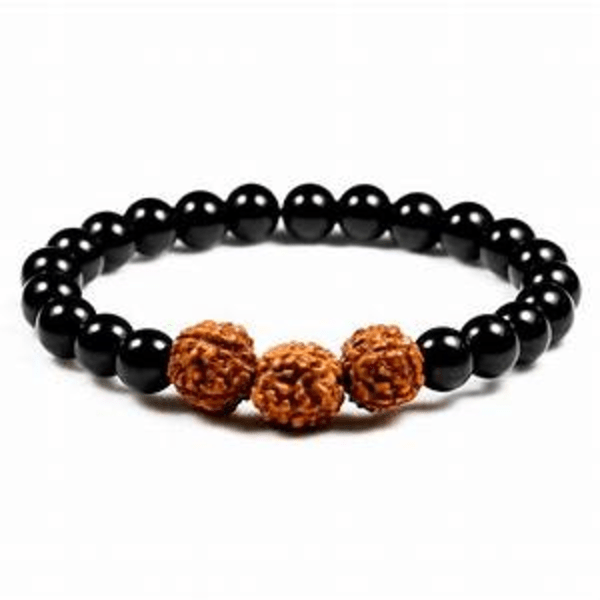 The Rudraksha seed is a blessing to keep and wear because of its powerful vibration which protects against all kinds of negative thoughts and energy. It also protects against stressed after a hard-working day.
On purpose, the meaning of Rudraksha beads is quite interesting. If you want want to know more information about another kind of wood such as Agarwood – best kind of wood in the world, you can visit this article: 6 important notes when wearing agarwood bracelet and uses of it
You can see more information about mala beads: How many beads in a mala bracelet