Vietnamese 108 beads Agarwood Bracelet eliminates sorrow, brings good fortune and wipe away bad energy and negative thoughts
I. Information of Vietnamese 108 beads – Zuxury Agarwood
Material Agarwood 100%
Country of Origin: Vietnam
Number of seeds:  108 seeds (depending on arm size)
Beads size: 6mm – 7mm – 8mm
Agarwood ages: 25 – 28 years sedimentary
Usage:
+ Female's favourites
+ Gifts for relatives, friends or colleagues, subbordinates
+ Brings good luck, eliminates sorrows
+ Meaningful presents toward Buddha
II. Vietnamese 108 beads Description
This agarwood beaded bracelet product belongs to 108 Mala Beads Collection hence it is the most preferable product for women at Thien Moc Huong store. Most notably, they used silver material to create a bracelet that has a compact design, precise but very aesthetic, charm bell. It has many very attractive uses that not all types of bracelets have.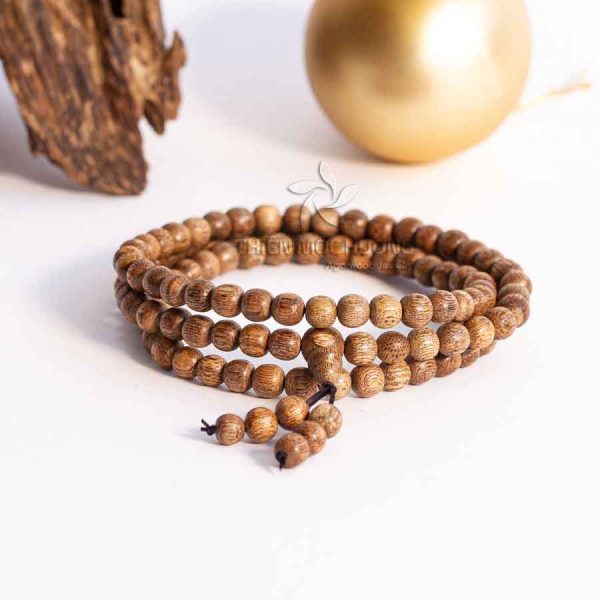 1. Vietnamese 108 beads bracelet
Vietnamese 108 mala bead bracelet is produced from a type of agarwood originated from Vietnam. Agarwood country of origin is Vietnam which is the most valuable and the most expensive for its rareness and functionality, especially for medicinal. The bracelet is made from 108 agarwood beads that have a gentle and delightful fragrance which helps the wearers feel relaxed and comfortable. The bracelet resembles the spirituality in Buddha and also represents the Samàdhi that cleanses sorrows. With 108 beads, this is a meaningful gift and jewellery for relatives, friends and Buddha.
2. Number "108" meaning in 108 beads
In Buddha, the number 108 means "Full" and "Intellectual"; besides, the same 108 number represents 108 human sorrows. Humans are born with ears, eyes, nose, tongue, body and mind. The eyes see the scenery, the ears listen to the sound. The nose smells the scent, the tongue tastes the sweet, sour and bitterness. The body feels the heat, the cold which brings happy-sad. These feelings either make humans be at peace or in confusion. 108 feelings come from the past, the present and the future.
3. Peaceful and modern
Since this is a feng shui bracelet meaning it will bring peace, wisdom in both the mind and the feels toward life and work. 108 beads agarwood bracelet emits an elegant aura that is luxurious, strong and rich in determinations in a unique way. Thien Moc Huong ensures this is a fashionable product that both suitable for male and females alike. Wearing the bracelet on your left hand during meetings, negotiations or important ceremony will help the wearer to cast away bad luck and bring in good fortune.
4.

Vietnamese 108 beads bracelet

brings uniqueness and speciality 
Vietnamese 108 mala bead agarwood bracelet is a combination of the string of beads that brings peace and the bracelet that is modern and luxury. The owner will have a clear state of minds, immune to gossips that usually originates from Sammasati that also emits a luxury and modern vibe. The bracelet also can be combined with other charms depends on the wearer's preferences..
III. Production Process of Vietnamese 108 beads – Zuxury Agarwood