Product description of gold charm Tibetan Agarwood bracelet
The Agarwood bracelet Tibetan Amulet is made from agarwood stem from Indonesia. Agarwood bracelets will usually have from 13 to 17 beads (can be changed according to customer wishes) agarwood beads. The number of beads will be selected based on the rule of the cycle of "birth – old age – illness – death" to bring luck to the owner. It is recommended to choose the number of seeds that are divided by 4 with the remainder of 1. Accordingly, the last seed will fall into the word "birth". The Agarwood bracelet radiates an almost eternal fragrance, helping the wearer dispel the feeling of fatigue, and melancholy, relieve stress as well as soothe the sadness in life.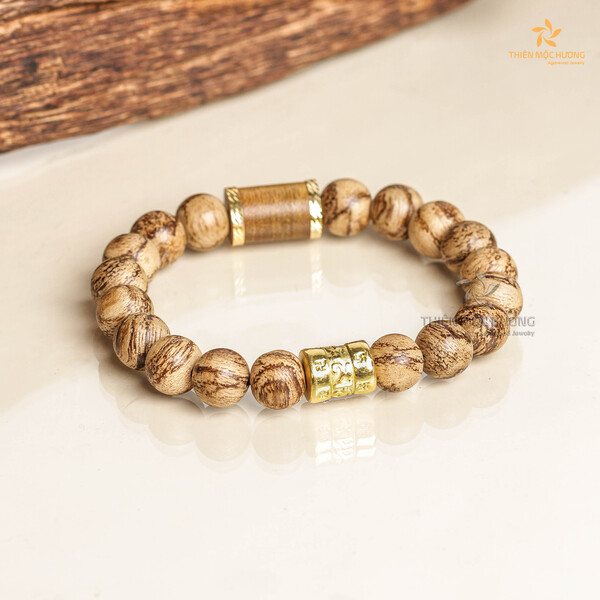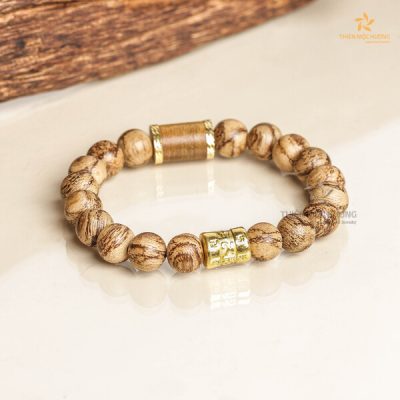 Tibetan Agarwood Ring – a unique and harmonious combination of Agarwood and Tibetan amulet charm with special Buddhist meanings – opens the mind of compassion, and charity, bringing many blessings to yourself and spreading positive energy to everyone around.
The set of Thien Moc Huong Agarwood bracelets delivered to customers includes:
1 natural agarwood bracelet, a box with high-quality materials to celebrate the 40th anniversary of TMH
Luxury membership card of Thien Moc Huong (member card)
Instructions for preserving the bracelet so that the bracelet can promote its full feng shui effect
In addition, comes with a high-end box, and there is also a set of spare beads and strings
Strings and beads so that customers can easily change strings, change beads in case they want to expand or shrink the bracelet for the best fit. Member card helps customers to go to any store in Thien Moc Huong for a free lifetime product warranty (replace wire – polish beads) for life.
Uses of Indonesia gold Tibetan amulet bracelet product
Because they are feng shui bracelets, when worn, they will bring serenity, and emotional intelligence in work and life, especially for men. Wearing a bracelet on the left hand in important meetings, bidding sessions, and conferences will help homeowners with bad luck and gain advantages.
Charm is made from a special feng shui stone combined with the simplicity of Agarwood beads, adding to the charm and uniqueness, especially for women. Wearing them on your hand will create a feeling of a slim, soft, and extremely mysterious bracelet.
Because they are feng shui bracelets, when worn, they will bring serenity and perfection in both outer beauty and inner soul, especially for women – beauticians. Wearing a bracelet on the left hand will be very suitable for our sisters at company parties, important meetings, and weddings.
The perfect combination of Agarwood and Golden Tibetan Amulet
Agarwood has a mild fragrance, helps the spirit to feel refreshed and comfortable, and dispels all frustration and fatigue as if bringing a new source of lucky energy to the wearer. The Tibetan Talisman Bracelet is similar, but it has a very specific meaning. This is a feng shui object, helping the wearer always have a feeling of safety and convenience in life, improving health and eliminating toxic properties.
The artisans have combined Agarwood and Charm Charm delicately and uniquely. Thien Moc Huong believes that this is an extremely simple, delicate, and luxurious piece of jewelry, as well as brings luck to the owner.
The charm of the 24k gold amulet is to bring peace and neutralize afflictions and bad luck combined with 24k gold material to bring a wealth
The process of making frankincense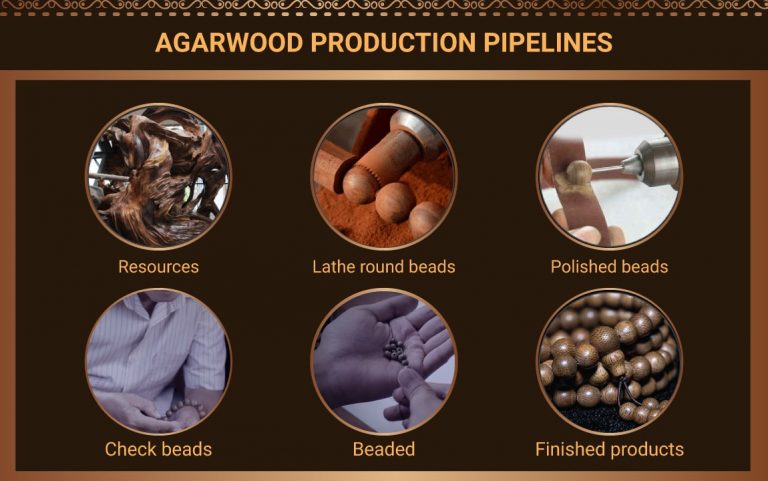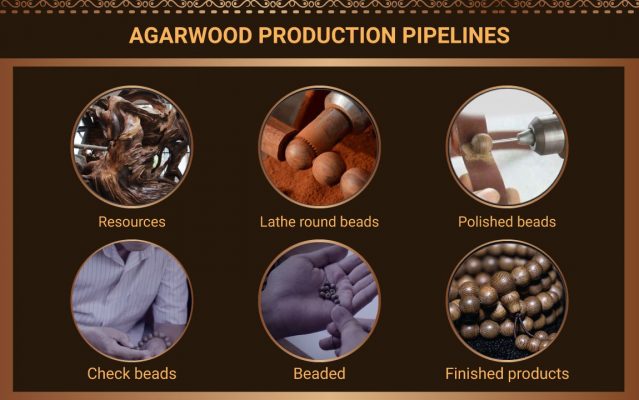 BUY NOW to get a discount and free fast shipping from Thien Moc Huong.