The product is made from Vietnam Toc Agarwood which is taken from the natural environment, not affected by human hands. In particular, agarwood originates from Ha Tinh forest, growing naturally, so the ring quality is much better than other fasteners on the market. With the characteristic dark brown color and deep, sharp veins, the product promises to bring high aesthetics and many great uses to the wearer.
I. Information about Starlight Single Agarwood Bracelet
Material: Agarwood 100%
Country of Origin: Vietnamese Toc Agarwood
Number of seeds: 17 – 21 beads
Agarwood ages: 12 – 14 years
Usage:
+ Male/Female
+ Gifts for relatives, friends or colleagues
+ Brings good luck, helps mental comfort, reduces anxiety and stress
+ Meaningful presents toward Buddha, Business
II. Product description of Starlight Single Agarwood Bracelet
Like a bright star shining on the Milky Way, exuding simple yet elegant beauty. The silver ring encircles the quartz stone, symbolizing the nebula enveloping the planet, always treasuring and keeping it safe, representing protection and nurturing.
The Starlight Charm features five colors, each representing the five celestial elements surrounding the sun, corresponding to the five elements in the universe:
Blue-Green Charm: Water Celestial Element
Red Charm: Fire Celestial Element
Tiger's Eye Charm: Earth Celestial Element
Green Charm: Wood Celestial Element
Yellow Charm: Metal Celestial Element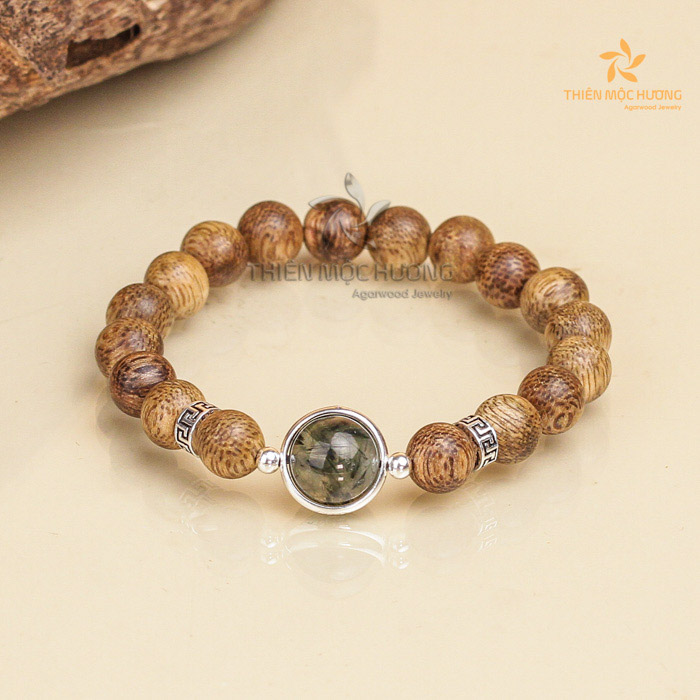 The Starlight Agarwood Bracelet at Thien Moc Huong is crafted from the heartwood of Agarwood, aged for 10 to 14 years, sourced from Vietnam. Typically, the bracelet consists of 17 to 21 Agarwood beads. The number of beads is selected based on the cycle of "birth – aging – illness – death" to bring good luck to the wearer. Therefore, it is recommended to choose a number that is divisible by 4 with a remainder of 1. Accordingly, the last bead falls under the category of "birth." Additionally, the bracelet combines the mystical and pure colors of the Ngoc Bao stone, making it an ideal feng shui jewelry piece suitable for individuals with different astrological signs of Metal, Wood, Water, Fire, and Earth.
III. The meaning of Starlight charm
Like a bright star shining on the Milky Way, exuding simple yet graceful beauty, the circular silver band encloses a quartz stone that symbolizes the nebula enveloping planets, treasuring and keeping them safe. It represents the concept of protection and nurturing.
A fashionable jewelry
This fashionable piece of jewelry brings about a sense of tranquility and heightened intellect and emotions in both work and life, especially for modern women. The simplicity of the Starlight Agarwood Bracelet enhances their allure and confidence, exuding both simplicity and elegance.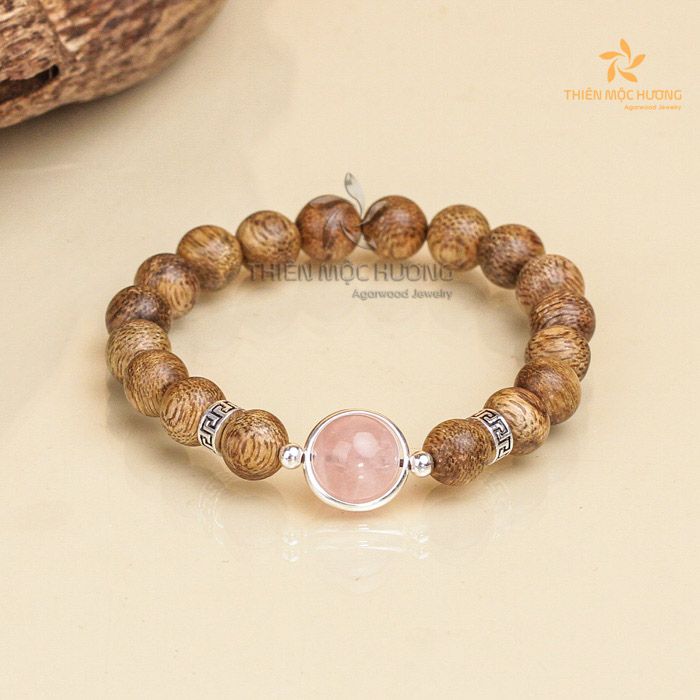 IV. Uses of Agarwood Bracelets
Starlight Agarwood Bracelet serves as an amulet for the wearer, seeking good fortune. The scent of agarwood helps dispel heaviness, reduce stress, counteract negative energies, attract luck and wealth, and bring about a sense of peace. In marital life, it fosters harmony and mutual understanding between spouses, elevating their love and strengthening their bond. Find the bracelet that aligns with your destiny and attracts prosperity for yourself.
V. Process of making Starlight Single Agarwood Bracelet