The product is made from Vietnam Toc Agarwood which is taken from the natural environment, not affected by human hands. In particular, agarwood originates from Ha Tinh forest, growing naturally, so the ring quality is much better than other fasteners on the market. With the characteristic dark brown color and deep, sharp veins, the product promises to bring high aesthetics and many great uses to the wearer.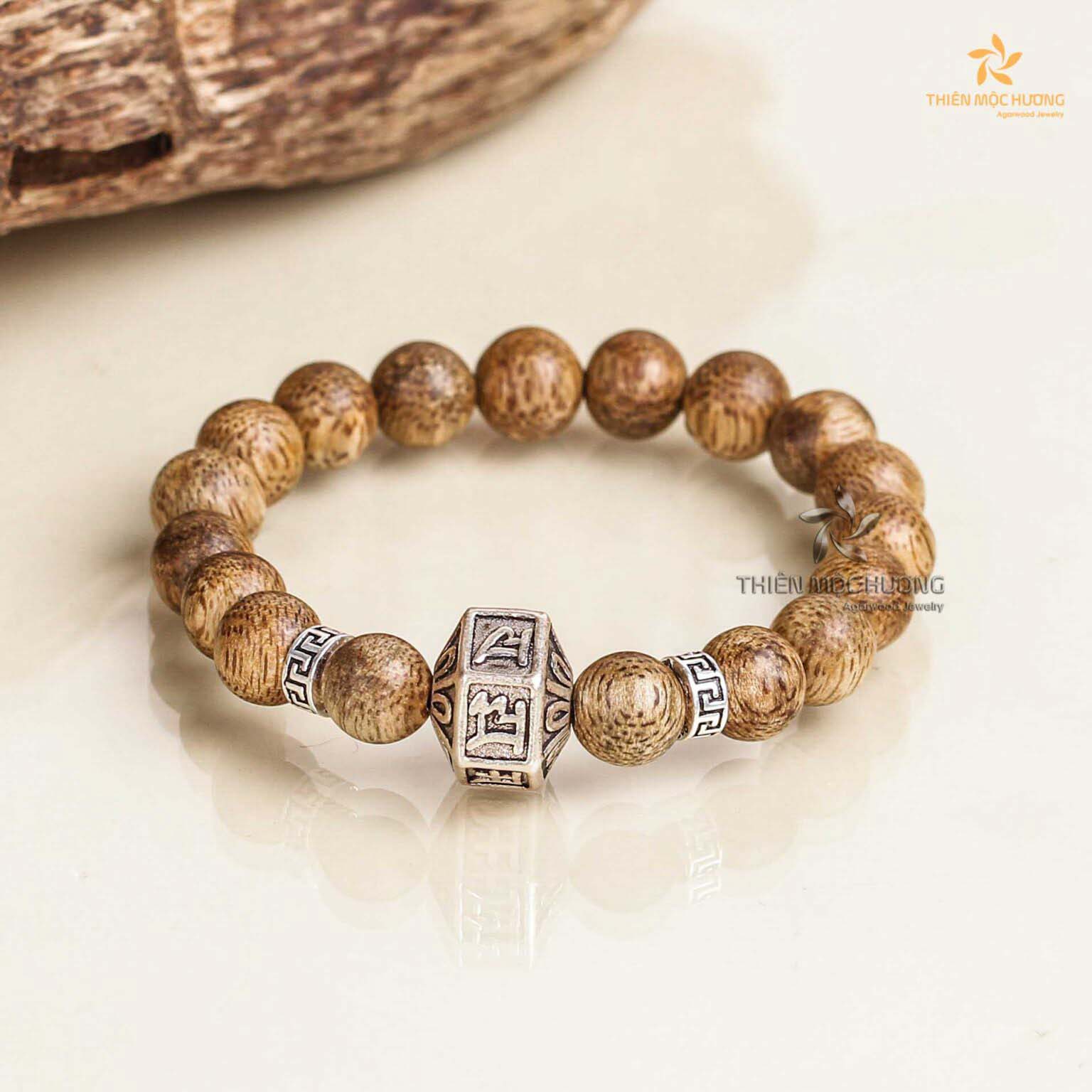 I. Information about Sanskrit Wheel Agarwood Bracelet
Material: Agarwood 100% + Silver S925
Country of Origin: Vietnamese Toc Agarwood
Number of seeds: 17 – 21 beads
Agarwood ages: 12 – 14 years
Usage:
+ Female
+ Gifts for relatives, friends or colleagues
+ Brings good luck, helps mental comfort, reduces anxiety and stress
+ Meaningful presents toward Buddha, Business
II. Product description of Sanskrit Wheel Agarwood Bracelet
Taking inspiration from the teachings of the past generations, the Sanskrit Wheel Agarwood Bracelet combines the essence of Agarwood from heaven and earth with the Six-Syllable Mantra "Om Mani Padme Hum", which has the ability to purify the six root afflictions, the manifestations of ignorance that cause us to engage in harmful actions of body, speech, and mind, creating a cycle of rebirth and suffering. These afflictions include pride, envy, desire, ignorance, attachment, and anger.
The Agarwood bracelet at Thien Moc Huong is crafted from Agarwood logs aged between 10 to 14 years, sourced from Vietnam. Typically, the bracelet will have 17 to 21 Agarwood beads. The number of beads is chosen based on the principle of the cycle of life "birth – aging – illness – death," aiming to bring good luck to the wearer. It is recommended to choose a number of beads that is divisible by 4 with a remainder of 1.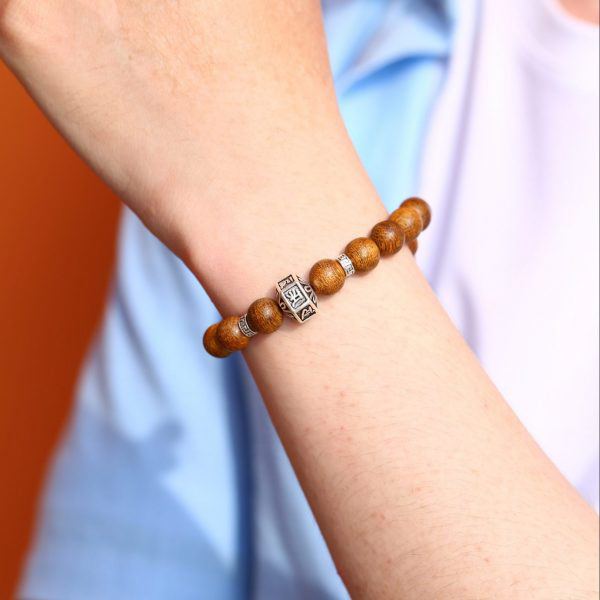 As a result, the last bead will fall on the "birth" syllable. In addition, the bracelet is also combined with precious Jade stones with mystical and pure colors, making it a suitable piece of jewelry in feng shui, corresponding to each elemental sign of Metal, Wood, Water, Fire, and Earth.
The meaning of the Sanskrit Wheel Charm
The Sanskrit Wheel Agarwood Bracelet represents a jewelry piece that exudes sophistication and modernity while maintaining an elegant and simple design, suitable for all personalities. Agarwood has a gentle fragrance that refreshes the spirit, bringing comfort and dispelling worries and fatigue, as if bringing a new source of positive energy and well-being to the wearer.
Furthermore, it serves as a protective amulet, safeguarding the owner from misfortunes and instilling a sense of safety, confidence, and convenience in life, improving health and dispelling harmful energies.
A trendy jewelry
The Agarwood bracelet emits an almost everlasting fragrance, helping the wearer dispel feelings of weariness, sadness, and relieving stress as well as soothing the sorrows of life. Additionally, the silver wind guard helps the wearer avoid harmful winds. It is also suitable as a gift for loved ones or family members.
Being a feng shui bracelet, when worn, it brings tranquility and intelligence in both work and emotional aspects of life, especially for modern women. The simple Agarwood bracelet enhances their charm and confidence. Simple yet elegant and sophisticated.
Benefits of the Agarwood Bracelet
The Agarwood Bracelet is a talisman seeking good fortune for the wearer. The aroma of Agarwood helps dispel heaviness, reduce stress, neutralize negative energy, attract good luck and prosperity, and bring peace. In married life, it promotes harmony, mutual understanding between spouses, and flourishing love, ensuring a strong and lasting relationship. Find a bracelet that suits your destiny and bring wealth to yourself.
III. Process of making Sanskrit Wheel Agarwood Bracelet